I'm not sure chicken diavolo actually exists. Certainly there's no agreement on a recipe. This version is garlicky and lemony. Heavy on the herbs. If that sounds good to you then maybe this is your chicken diavolo.
This is the first time I write down this recipe. I've made if forever, mind you. It's based on a vague memory of a show I saw once. A cooking show starring this crazy singing Italian chef. He mumbled and he had this wicked accent. Never could understand him so this is probably not his chicken diavolo either.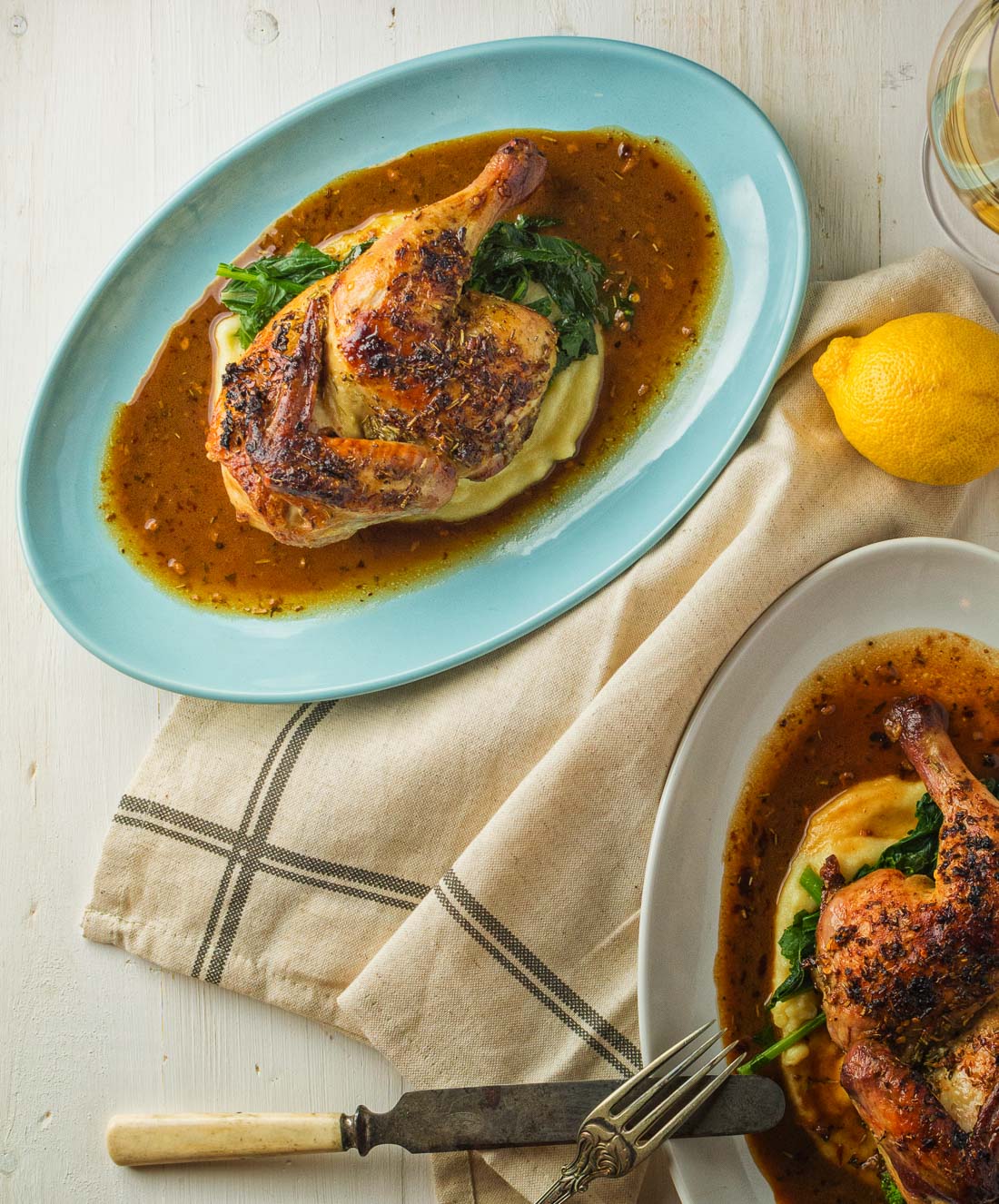 I use dry herbs in this recipe as you broil the chicken at the end. That blast of heat can cause problems. You have to be careful with the garlic. Fresh herbs wouldn't stand a chance.
I serve it here with parmesan polenta and rapini. Garlic mashed potatoes or pureed cauliflower would both work equally well.
chicken diavolo
Garlic, lemon and lots of herbs give this chicken diavolo recipe big flavours. A touch of heat comes from black pepper and dried chili flakes
Ingredients
1 chicken, halved
¼ cup white wine
½ lemon, juiced
1 cup no sodium chicken stock
Marinade
2 cloves garlic, minced
½ tsp dried sage
½ tsp dried thyme
½ tsp dried savory
½ tsp dried rosemary
½ tsp crushed chili flakes
¼ tsp salt
¼ tsp pepper
3 Tbsp olive oil
Instructions
Set your oven up so one rack is in normal roasting position and the other is ready to broil.
Pre-heat a large skillet capable of holding the two chicken halves in a 400F oven.
Combine the marinade ingredients. You want to make a slurry. If it's too thick add a bit more olive oil.
Rub marinade over chicken.
Place chicken in the skillet skin side up. Roast for 10 minutes.
Remove skillet from oven and pour off the accumulated fat.
Turn chicken over and add white wine. Roast for 10 minutes.
Turn chicken skin side up again. Add lemon juice. Roast for 5-10 minutes - until an instant read thermometer reads about 160F. Remove skillet from oven.
Turn on the broiler. When hot, broil the chicken to brown deeply, rotating the skillet as needed. Watch it closely. Don't let the garlic burn.
Remove from oven and remove chicken from the pan. Place pan on heat.
Add chicken stock and boil until reduced by at least half.
Half the chicken halves (so you have two legs and two breasts) and serve with sauce.
Notes
If you use low or regular sodium chicken stock decrease the salt in the marinade.