Lobster bisque. This is soup for when you want to impress. Creamy. Rich. Luxurious. It's everything wrong with French cooking. And it's everything right with French cooking. Wonderful stuff indeed.
The traditional approach is a lot of work. Cook whole lobsters. Shell them. Flambe the shells. Make lobster stock. Then start making soup. That's the completely over the top way to do it. It's amazing. But it's a lot of prep. And have you ever smelled lobster stock cooking? That's something best done outside.
This is a simpler approach. It's still lobster bisque but clam juice replaces lobster stock. Canned lobster meat replaces whole. Aromatics and mushrooms, tomato paste, white wine and sherry add complexity. A hint of cayenne for a bit of bite. And lots of cream of course. This is fine dining after all.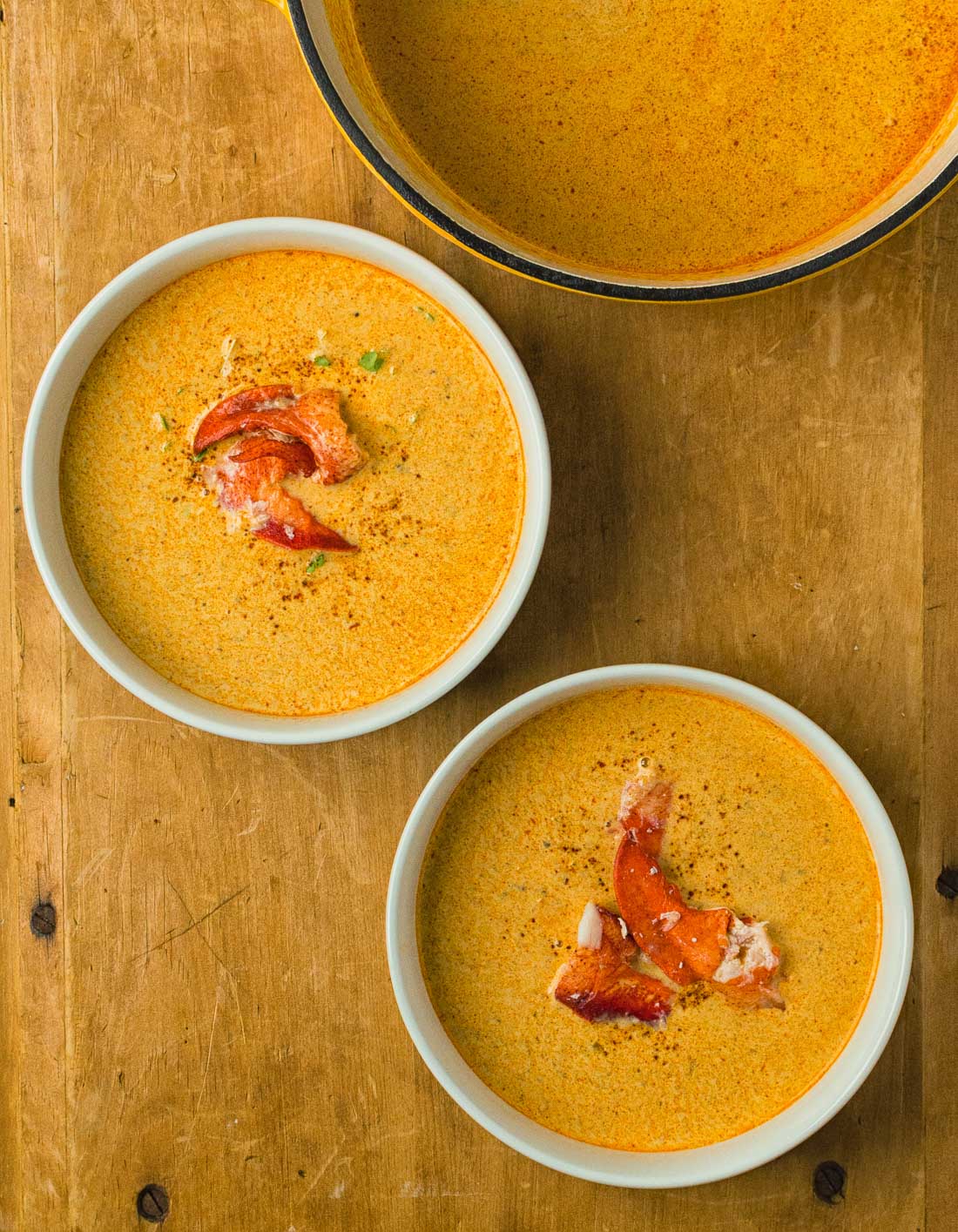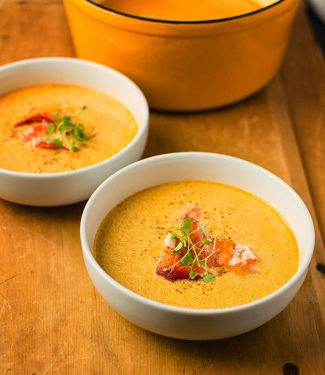 lobster bisque
A simple version of a French classic soup. Clam juice replaces lobster stock to and whole lobsters are replaced by canned lobster meat. Plan on small portions. This is a rich dish.
Ingredients
4

Tbsp

butter

1/2

cup

shallots

diced

1/4

cup

carrots

diced

3/4

cup

white mushrooms

diced

1/4

cup

celery

diced

2

Tbsp

tomato paste

1 1/2

cups

chicken stock

1

cup

clam juice

12

oz

can lobster meat

juice reserved

1/4

cup

white wine

1/4

cup

sherry

1 1/2

cups

whipping cream

35% milk fat

1/8

tsp

cayenne

salt to taste
Instructions
Heat a sauce pan or pot large enough to hold all ingredients over medium low heat.

Melt the butter. Add the shallots, carrots, mushrooms and celery. Cook until onion is translucent, about 10 minutes. Add tomato paste and cook a minute more.

Add stock, clam juice and reserved lobster juice and simmer 10 minutes more.

Separate the larger lobster pieces (claws) and set aside. You should have about 1/2 cup little bits left over.

Puree the soup along with the 1/2 cup of little bits of lobster. Wipe the pot out. Return the pureed soup to the pot.

Mix in white wine and sherry and simmer, loosely covered for about 30 minutes.

Add cayenne. Simmer 5 minutes more.

Add whipping cream and heat through.

Adjust salt.

Add large lobster pieces and serve.

Garnish with a bit of paprika or piment d'esplette if you can get it.
Recipe Notes
This bisque is fairly thin. If you want a thicker bisque mix a bit of cornstarch into 1/4 cup of the soup before you add the cream. Bring to a simmer. Once you have the texture where you want it (or a bit thicker than you want it) add the cream and heat through.