Portuguese grilled chicken done well is an absolute delight. Done poorly – well, it sucks. When its good, it's lemony, spicy and a bit salty. Dripping with grilled chicken goodness. That's what you're after here.
There are just a couple things you need to consider. Charcoal is always important but here it's key. Don't think I'd bother with this one on a gas grill. Just use your oven. It will be better than on a gas grill. You'll get all those pan drippings. Delicious that way. Completely different but really good. A good soak in lemon juice and salt adds a nice tang. Don't let it go more than an hour though. Lemon is an acid. Acids cook chicken – think ceviche. You want the heat to cook the chicken, not the lemon. Chicken ceviche isn't a famous dish for a reason.
Other than that you want to make sure you catch all the drippings from the chicken as it rests. That's called board sauce and it's magic. It's always magic so make a point of drizzling it on your chicken every time you grill.
That's about it. Portuguese grilled chicken. Easy. Fast. Perfect summertime fare.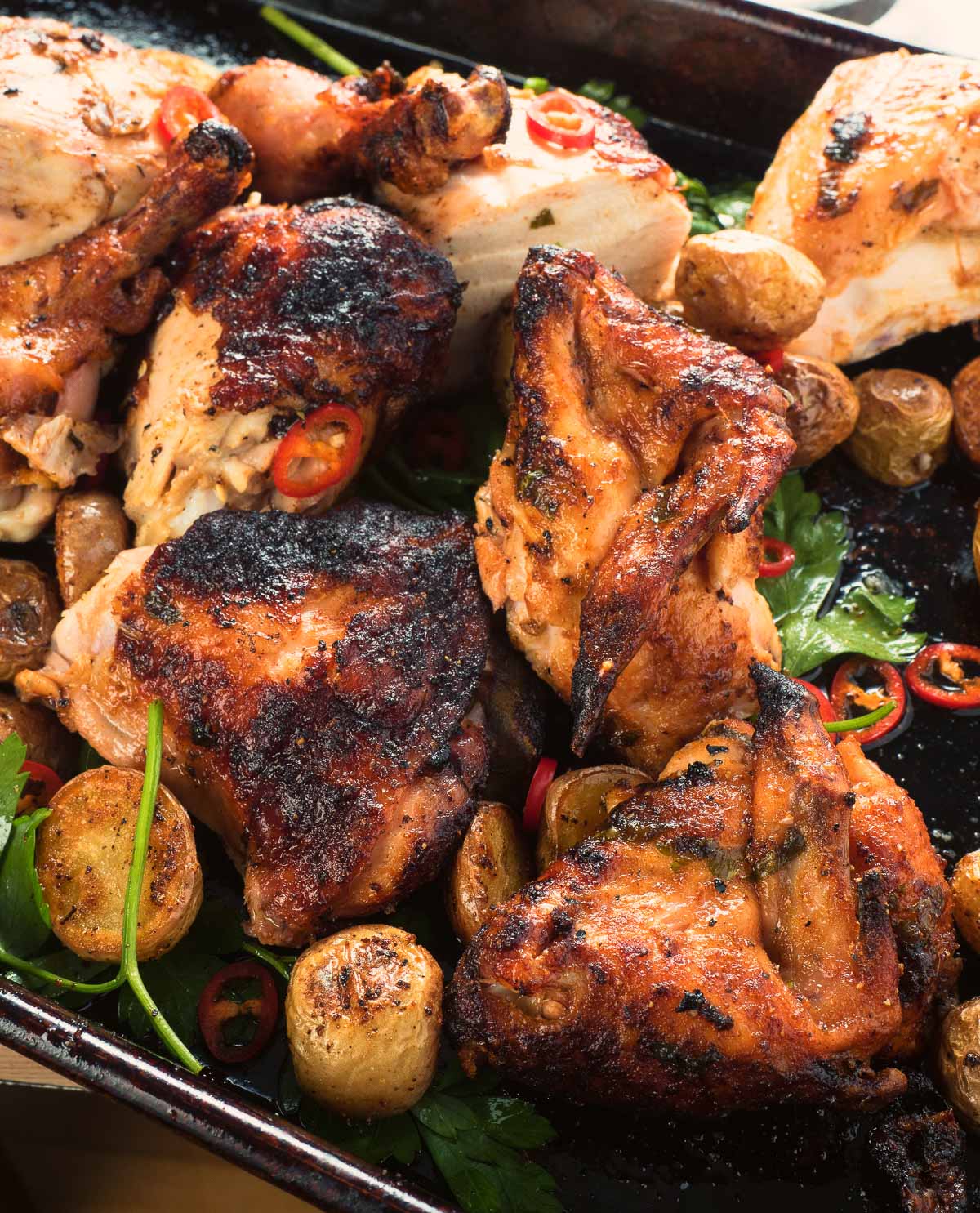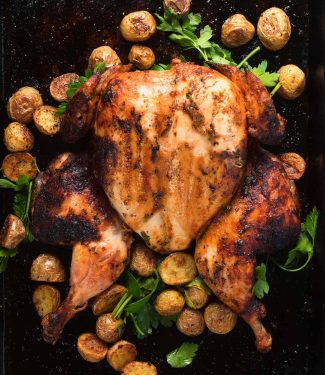 portuguese grilled chicken
Portuguese grilled chicken is a great way to add a new twist to your usual BBQ chicken.
Ingredients
1

chicken

1

lemon

1/2

cup

white wine

1/2

cup

olive oil

3

cloves

garlic

- smashed (not crushed)

1

Tbsp

paprika

1/2

tsp

black pepper

2

Tbsp

piri piri sauce

1

Tbsp

fresh parsley

- chopped

salt
Instructions
Combine all the ingredients except the chicken, lemon and salt in a bowl. You will be basting out of this bowl so choose wisely.

Spatchcock the chicken. That's a fancy word for cut the backbone out of the bird, lay it out flat and push down hard on the breast to flatten it. Now you know.

Salt the chicken liberally. Place it in a large ziplock bag and squeeze the juice of a lemon onto it. Seal the bag and place it in the fridge for about an hour.

Light your grill and prepare it for indirect heat. You want it running pretty hot - about 400F. Place. drip pan under the grate.

Drizzle a bit of olive oil onto the chicken. Rub the olive oil to coat the skin side of the chicken.

Place the chicken, skin side up and grill, covered, for 10 minutes.

Baste the chicken liberally with the marinade. Cook 5 minutes. Repeat a total of three times.

Flip the chicken and baste the chicken a final time. Cook 15 minutes and then flip the chicken again.

Continue to cook until the breast registers 165F using an instant read thermometer.

Transfer chicken to a cutting board and let rest 5 minutes.

Cut the chicken into serving pieces and serve with any accumulated juices spooned overtop the chicken.