Indian restaurant vindaloo curry doesn't have to be blow your head off spicy. It can be. Maybe it should be. But it doesn't have to be. It can be a flavourful, hot, sour and tomato flavour bomb that lets you taste your dinner. Or it can be palate searing napalm. It's your call and this recipe lets you do what you want.
Vindaloo is a Goan dish. Goa, if you haven't heard of it, is a city on the west coast of India. Interesting thing about Goa. That's where the Portuguese landed when the came. Who cares you ask? I do. You should too if you like Indian food.
The Portuguese brought chili to India. They brought potatoes as well but chili was the big one. Before the Portuguese the Indian's had pepper. Don't get me wrong. I like pepper. But I like chili better. Imagine a vindaloo without chili. Imagine an Indian restaurant that spiced everything with nothing but pepper. See my point? Here's to the Portuguese!
This is a master Indian restaurant vindaloo curry recipe. You can make it with pre-cooked chicken, lamb, beef or use paneer, pre-cooked potatoes, lentils, mixed vegetables or fried eggplant for vegan options.
Before you start do your prep. That's important. Make your curry base and have some heated and ready to go. Pre-cook your meat. Measure out your ingredients. Have everything ready. Put on an apron – a bit of splatter is part of the fun.
If you have not read the guide to Indian restaurant technique yet, do it now. It has pictures to help you understand the recipe. There's also a guide to Indian ingredients in that post.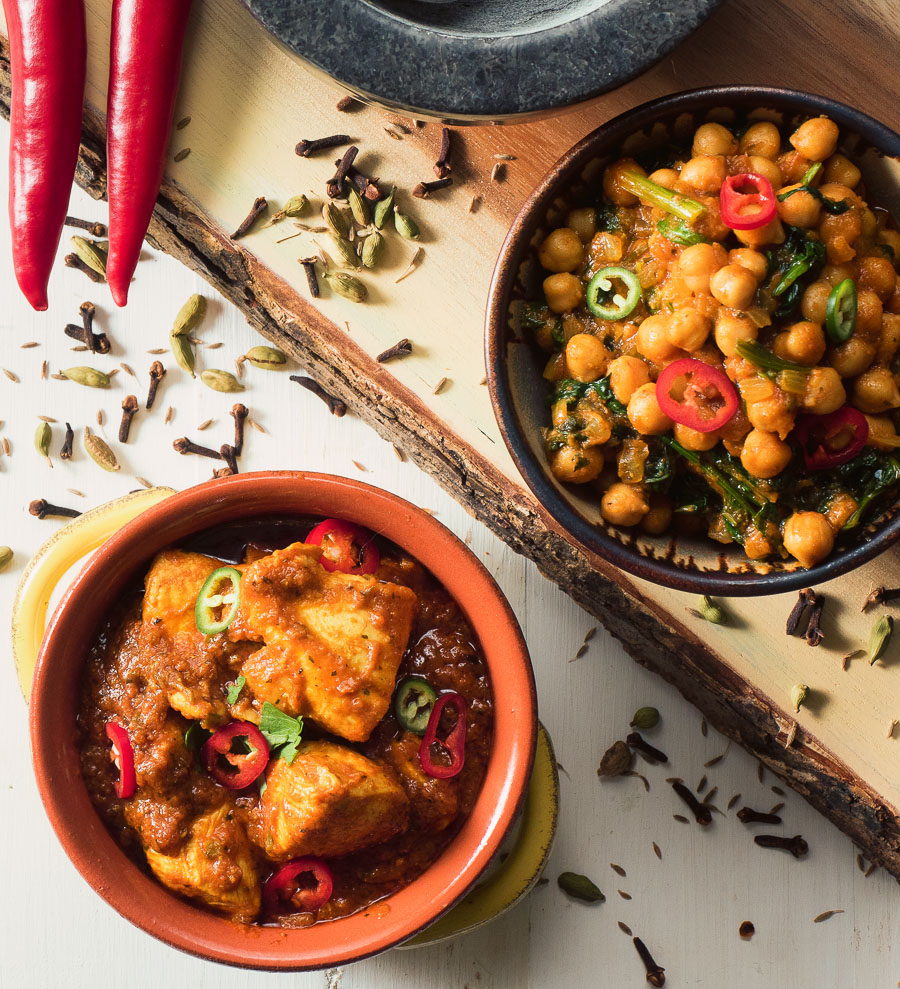 indian restaurant vindaloo curry
Indian restaurant vindaloo curry can be as hot as you like it. As written it's moderately spicy. If you want that famous screaming hot vindaloo just up the chili powder to 2 tsp and swap out the Kashmiri chili powder for an extra hot Indian chili powder, Watch the sweat run off your nose.
Ingredients
Spice mix
2 tsp madras curry powder or Indian restaurant spice mix
1 tsp Kashmiri chili powder or ¼ tsp cayenne plus ¾ tsp paprika (plus whatever additional heat you want to add - hot or extra hot Indian chili powder)
1 tsp kasoor methi (dried fenugreek leaf)
¼ tsp black pepper
½ tsp kosher salt
Vindaloo
3 Tbsp vegetable oil
1 Tbsp garlic ginger paste
1½ Tbsp double concentrate tomato paste mixed with 3 Tbsp water
1 green chili, seeded and diced
1 Tbsp cilantro stems and stalks (not roots), minced
2 tsp malt vinegar
1 tsp sugar
1 Tbsp tamarind sauce (optional)
15 oz curry base
10-12 oz pre-cooked chicken or lamb
Instructions
Make the spice mix.
Dilute the tomato paste with enough water to get to the consistency of passata.
Heat your frying pan (don't use non-stick) briefly over medium heat. Add the oil.
When the oil starts to shimmer add the garlic ginger paste and cook, stirring constantly, until it stops sputtering.
Add the cilantro and green chili and cook for 15-20 seconds, stirring constantly.
Turn down the heat and add the spice mix. This is the critical step. Stir it constantly for 30 seconds. If it starts to darken lift the pan off the heat. You want the spice mix to cook in the oil but not burn.
Turn the heat up to medium high. This is important. The heat is what caramelizes the onion in the curry base and gives the curry it's Indian restaurant flavour. As you become more comfortable with this technique try pushing it. Add the diluted tomato paste and stir until bubbles form (the oil will likely separate). This takes around 30 seconds to one minute depending on the heat.
Add 3 oz of curry base. Stir until bubbles form (little craters really), around 30 seconds. Think lively boil. Watch the edges of the pan. The curry can stick here. Sticking is OK. Just scrape it back into the base. Burning is bad.
Now add 6 oz of curry base and stir briefly. Let it cook until the bubbles form again. This takes 1-2 minutes.
Add the rest of the curry base and let cook until the bubbles form.
Mix in the malt vinegar, sugar and optional tamarind sauce.
Turn the heat down to low and add the pre-cooked lamb, beef or chicken.
Let the curry simmer for about 5 minutes. If it gets too thick add a bit more curry base. Don't add water.
Garnish with a bit of chopped fresh cilantro and serve.