Korean style pork chops take about 5 minutes to prep and cook up in no time flat. A few ingredients, a quick marinade and your ready to go. Gochujang is the secret ingredient. It takes this recipe from run of the mill asian to something special.
I have a thing for Korean food. Not sure why it isn't more popular. It's a little bit spicy. And it's different from other Asian cuisines. Distinct.
It's not all about kimchi and Korean BBQ either. Korean is a rich culture with diverse cooking styles and tastes. It's getting known though. I have a Korean grocery near my house now. And most Asian groceries carry a lot of Korean these days.
Korean is a little bit spicy. Not mouth searing like some Asian cuisines but it does have a bit of a kick. Balanced. Savoury.
One of the backbone seasonings in Korean cooking is gochujang. It's what makes these Korean style pork chops what they are.
Gochujang is a Korean chili paste. It's not scary. It's not strange. It's not some weird fish concoction.If you've ever had Korean, you've had gochujang. It's like miso with some heat. Not exactly. But pretty close.
You can get it at pretty much any Asian market. If you can't find it, mixing sriracha and miso comes pretty close. Can't get the miso? Sriracha alone isn't bad. It's a bit hotter so roll back the quantity to taste.
You can cook these Korean style pork chops in a skillet and finish them off in an oven. Or you can grill them up for even more flavour. If you do cook them in a skillet you can spoon the drippings onto the chops. That's a nice touch.
However you cook these make sure you don't go above an internal temperature of 135F. Pork loin is not forgiving. It will dry out on you and no wonder sauce is going to save it.
But if you nail these Korean style pork chops you are going to love them.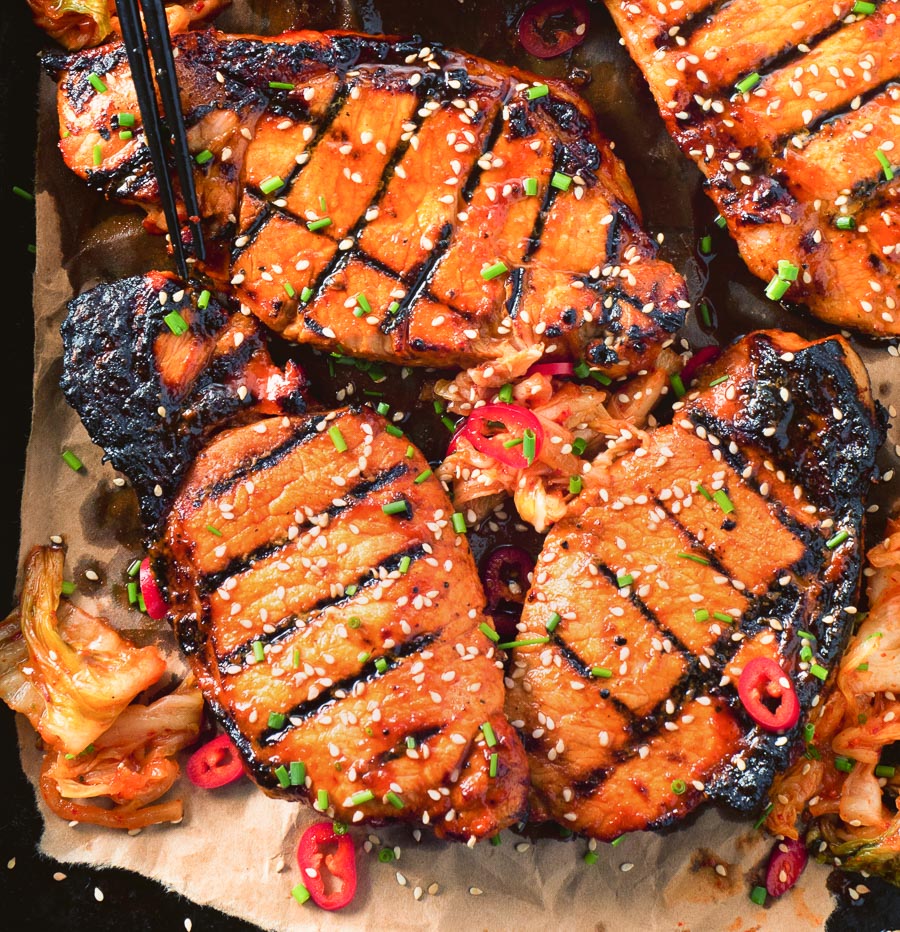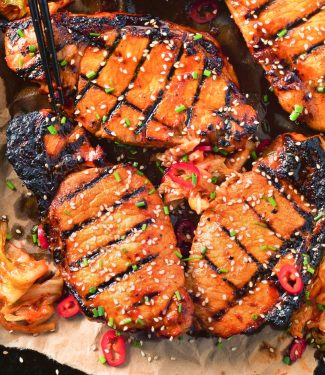 korean style pork chops
Gochujang takes run of the mill pork chops and makes them special. If you can't find gochujang, 2 tsp of sriracha in 2 Tbsp of white miso works.
Ingredients
4

one inch thick pork loin chops

2

Tbsp

gochujang

1

Tbsp

soy sauce

2

Tbsp

brown sugar

1

clove

garlic

- minced

1

tsp

grated ginger

2

Tbsp

rice wine vinegar

1

tsp

sesame oil

1/4

tsp

black pepper

sesame seeds

- for garnish
Instructions
The marinade
Combine all the ingredients except the pork chops and sesame seeds and mix thoroughly. Gochujang is pretty thick out of the fridge so keep going. You will get to a smooth marinade.

Mix the marinade with the pork.
Skillet method
Pre-heat your oven to 375F.

Heat a skillet large enough to hold the chops in a single layer over medium heat.

Film the skillet with vegetable oil.

Briefly fry the chops to brown them.

Turn the chops over and place them in the pre-heated oven.

Cook, until they reach an internal temperature of 135F.

Let stand for 5 minutes.

Sprinkle with sesame seeds and spoon any juices from the pan overtop.
Grill method
Prepare your grill for medium direct heat.

Grill the chops, turning a couple times, until they reach an internal temperature of 135F.

Let stand for 5 minutes.

Sprinkle with sesame seeds and spoon the accumulated juices overtop.