Kachumber is a great Indian salad waiting to be discovered. Tomatoes, cucumber, onions and the bright tastes of cilantro and mint kicked up with a little green chili. Like a Greek salad jacked up with Indian flavours. Perfect counterpoint to a curry or two.
You see bad versions of it at Indian lunch buffets. That's probably what's holding it back. It's a great combination that's worth trying out.
I've added a couple of tricks to this recipe. Deflame the onions. Run them under cold water for about 10 seconds. Try it some time. It really works. Use a bit of salt on the tomatoes and let them drain. That's how you get around the big puddle of water in the bottom of the bowl. Try these two tricks next time you make pico. Better kachumber and better salsa.
Kachumber. Crazy name. Great salad.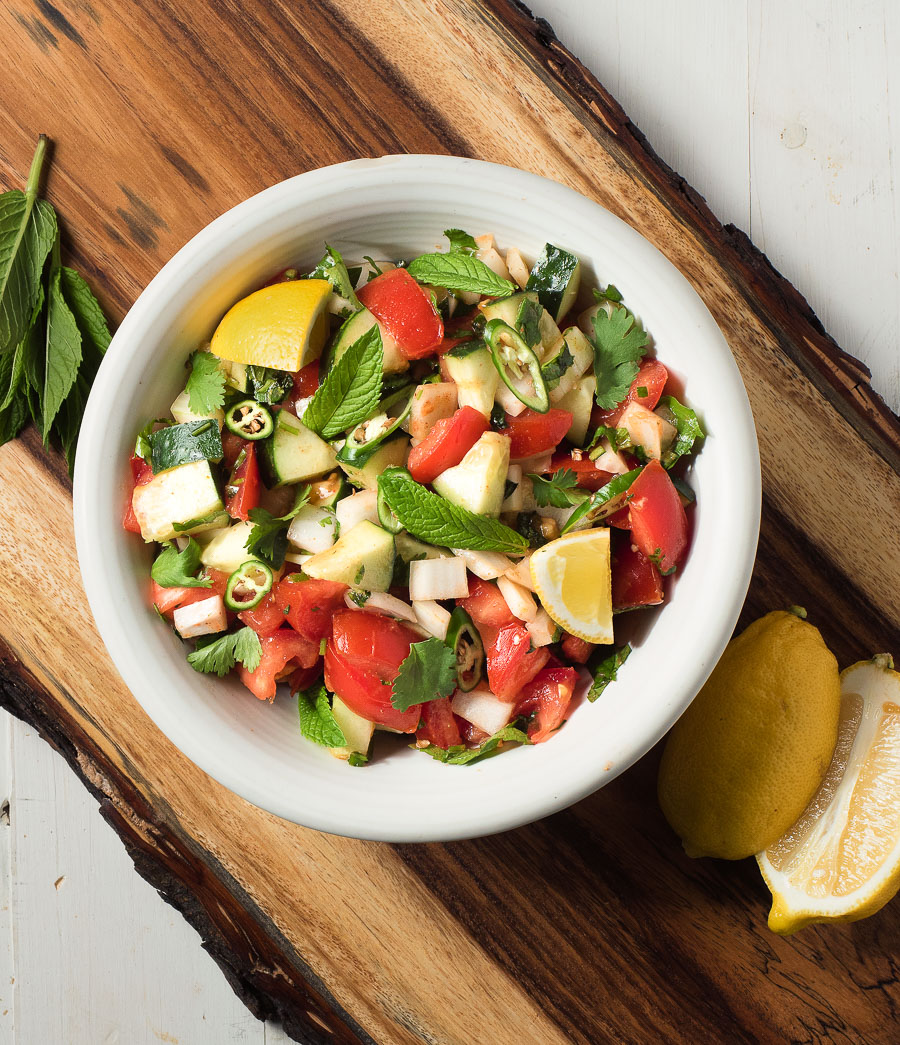 kachumber - indian tomato and cucumber salad
Kachumber is a great salad waiting to be discovered. It makes a great accompaniment to an Indian meal but it's great just on it's own or mixed with a bit of quinoa.
Ingredients
The salad
½ white onion, coarsely diced
3-4 tomatoes, diced
½ large cucumber, diced
⅓ cup cilantro leaves, minced
2 Tbsp mint, minced
The dressing
¼ tsp kashmiri mild chili powder (or a pinch of cayenne)
¼ tsp cumin
2 green finger hot chilies (or ½ jalapeño), minced
1 Tbsp vegetable oil
juice of ⅓ lemon
salt to taste
Instructions
The dressing
Combine the chili powder, cumin, minced chilies, oil and lemon juice.
The salad
Run the chopped white onion under cold running water for about 10 seconds. This mellows out the bite of the onion. A mesh strainer works well.
Add about ¾ tsp of salt to the tomatoes and place in the strainer over a bowl. Let stand for about 20 minutes to let liquid drain. Use these two tricks when you make salsa. It works.
Combine the onion, tomato and the rest of the ingredients together and toss with the dressing. Taste and adjust for salt.