Korean bulgogi sauce is a great marinade for grilled beef. It's also absolutely awesome brushed on burgers, on chops or as a stir fry sauce. Or even just drizzled on rice.
Beef bulgogi is probably the most famous Korean meal. Before you say it –  bibimbap is arguably the other. But bibimbap just means stuff on rice. Bulgogi counts as stuff so bulgogi on rice is bibimbap as far as I can tell.
Slice some beef, toss it with bulgogi sauce and grill. Or stir fry the beef and stir the sauce in at the end. Either way, it makes a great topping for bibimbap.
Burgers is the other place this bulgogi sauce shines. Bulgogi burgers – what could possibly be better than that. Mix 2/3 ground beef, 1/3 ground pork. Mix in a bit of gochujang for the ultimate umami bomb. Grill, brushing with bulgogi sauce. Toss that on a brioche bun with some gochu mayo and maybe some pickled onions.
I'm drooling into my keyboard here…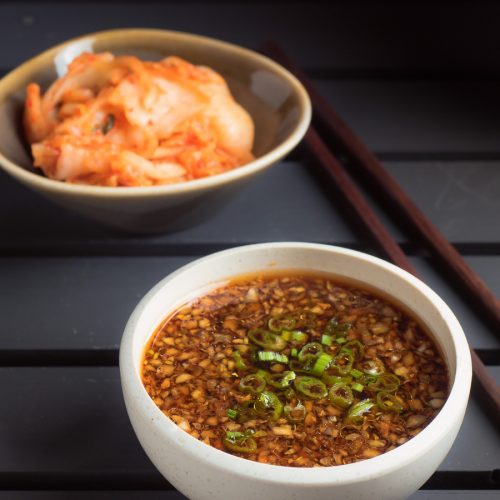 korean bulgogi sauce
Great on burgers, chops, stir fries or even when you are making bulgogi. This is one versatile sauce.
Ingredients
3/4

cup

soy sauce

3/4

cup

brown sugar

5

cloves

garlic

crushed

1

inch

piece of fresh ginger

grated on a microplane

1

tbsp

sesame oil

3/4

cup

apple juice

or pear juice

2-3

green onions

- finely chopped
Instructions
Mixt the soy, brown sugar and apple or pear juice in a small sauce pan. Warm over low heat until the sugar melts. Allow to cool and stir in the remaining ingredients.
Recipe Notes
This recipe adapted is from KFood by Da-Hae and Gareth West. It's a very funky Korean cookbook worth seeking out.