Ekoori. Never heard of it? Time to fix that. Think scrambled eggs with salsa.
Now think of Indian scrambled eggs with intensely flavoured tomato masala. Scrambled eggs. Times ten.
This is a little different. For around here. The first brunch dish on glebekitchen. Ever. I'm not a brunch kind of guy. But ekoori? I can get behind that.
I love it for weeknight dinners. When I'm jammed for time. But glebekitchen has a lot of dinner recipes. And zero brunch recipes.
So I say it is a brunch recipe. But you can eat it for dinner too. Just don't tell anyone please. This is my big brunch debut after all.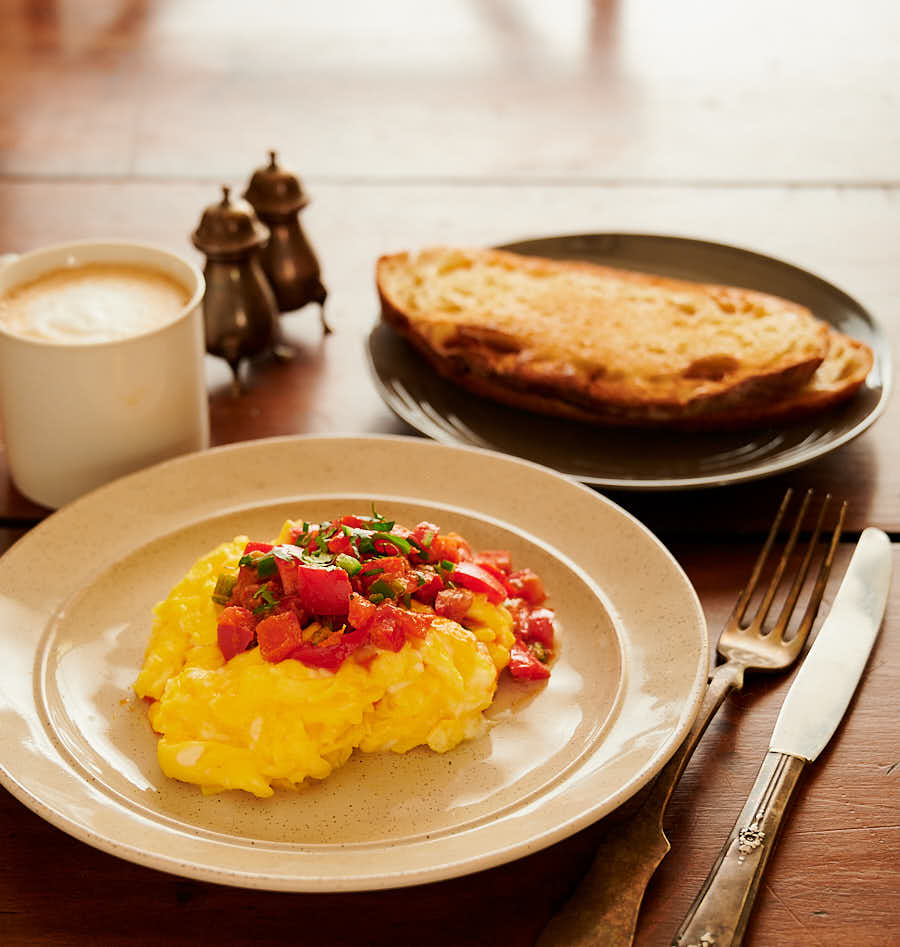 Ekoori re-imagined
If you are looking for run of the mill ekoori this isn't for you. Not the traditional way. And definitely not the same as other recipes out there.
This is the way I'd do it in my imaginary restaurant. I'm having trouble seeing how it would work in my imaginary food truck. So I just opened an imaginary restaurant.
My restaurant is casual posh. Nothing pretentious. Simple decor. But with a focus on great food. And this is the star of my brunch menu.
Creamy scrambled eggs. Big, fluffy curds. Topped with a spiced tomato masala. Good buttered sourdough toast on the side. Or a nice toasted naan. Simple comfort. Indian style.
Grab a table. Coffee? I recommend the ekoori. It's on the house by the way. Thanks for stopping by.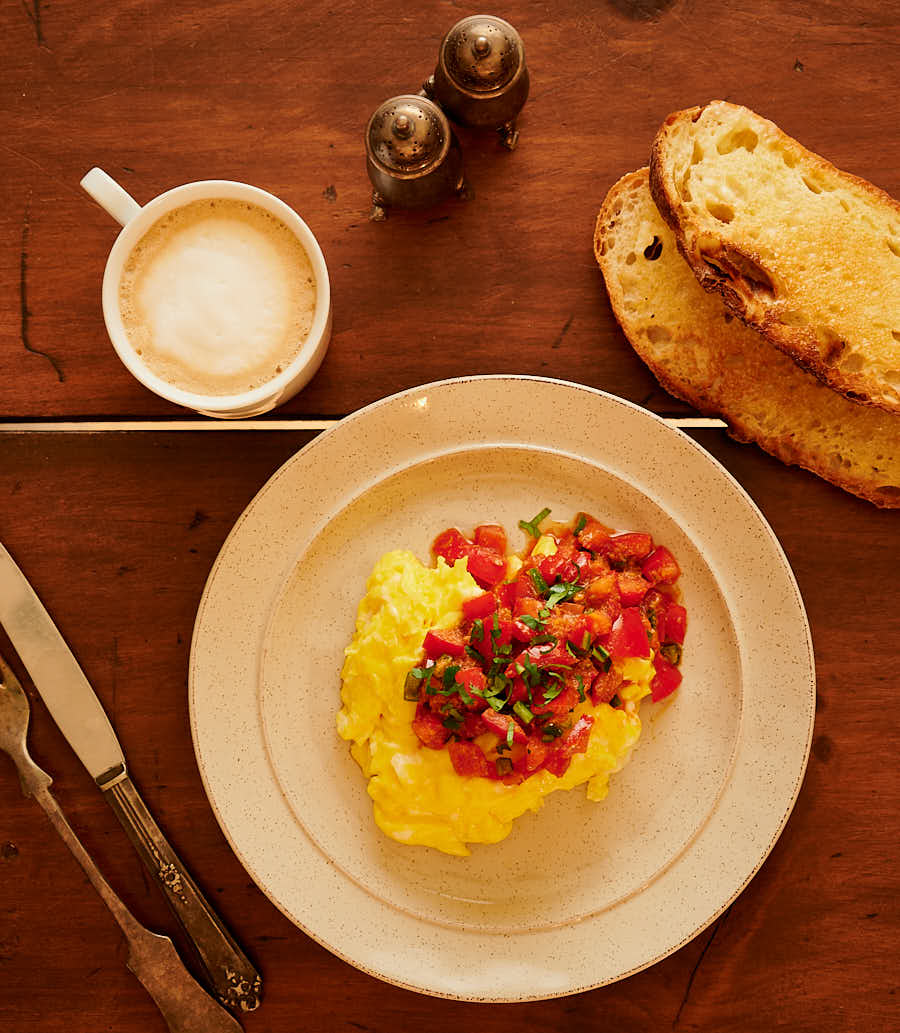 This is one of the easiest recipes on glebekitchen
I don't make it easy. I know. It's always an extra step. Or a special ingredient. No compromises. Flavour first. Always.
But this one is diabolically simple. If you can scramble eggs you are good to go. That's the hardest thing here. And the flavours are in your face delicious.
I thought about upping the game here. Omelette. Ekoori re-imagined just screams omelette. That's real flash.
But omelettes aren't easy. A really good omelette is a sign of a great cook. I am not that good. Takes me a couple to get in the groove every time.
And even then my omelettes are not great. They are pretty good. I'm not embarrassed. But I'm not proud either.
Banging one arm against the other to make things happen in a skillet. That's master chef territory. Maybe if I could get André Soltner to take me under his wing…
So I went scrambled. And I'm glad I did. Scrambled is better. The tomato masala against the creaminess of the eggs makes this work.
But if you are a certified omeletteer (don't bother looking that up – I made it up) then give it a go. Plain omelette. With tomato masala. It will be epic.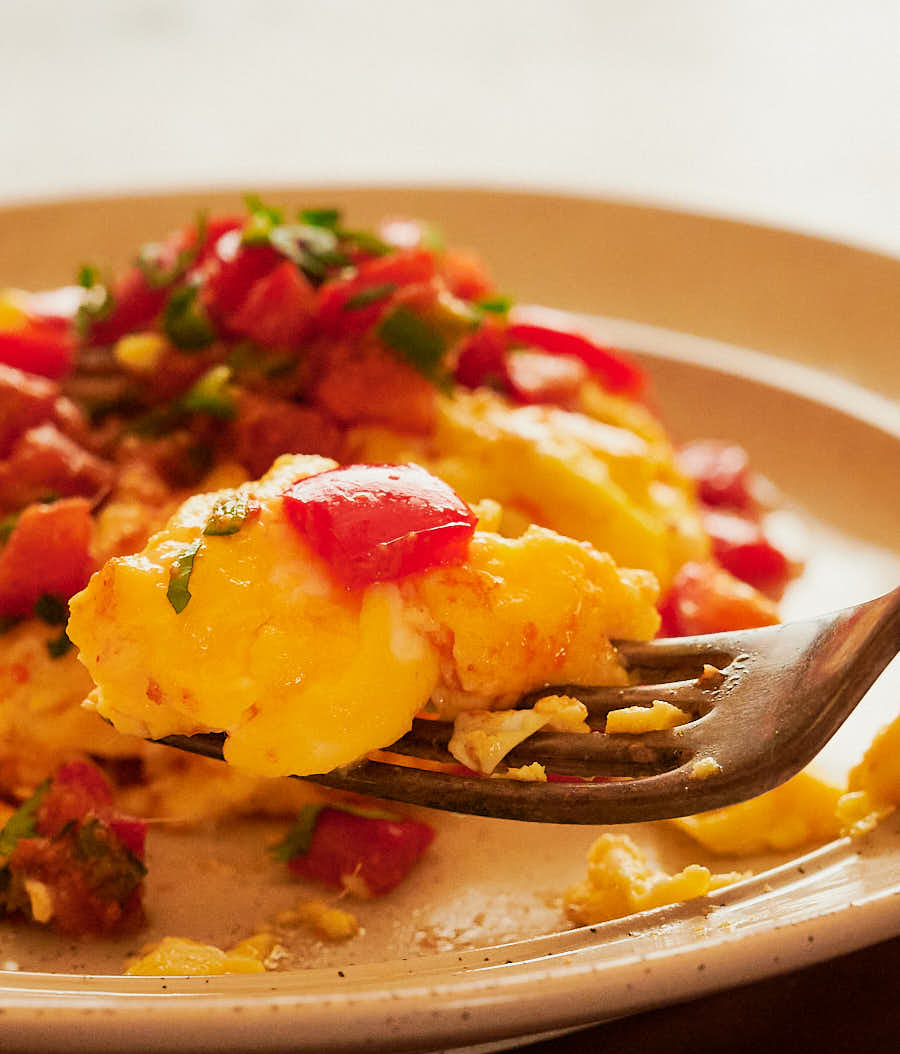 Bloom your spices for maximum flavour
I mention this often. Here. On YouTube. I'm always saying "bloom your spices". But I don't always say why.
Spices contain oil soluble flavour compounds. That's a fancy way of saying spices have tasty stuff that only get extracted by oil.
That's important. You aren't going to get them out using water. It has to be oil.
And that oil is going to carry those flavour compounds into every bite. Every magical bite.
That's why I just do not get the statement "Just spoon off the excess oil". What is that? I see it everywhere.
Just spoon off the oil Just spoon off the flavour??? That's crazy talk. In my world anyway.
Go for a walk. Skip the snacks tonight. Have a salad for dinner tomorrow. But please enjoy the flavour of what you just worked so hard to make. Live a little. You earned it.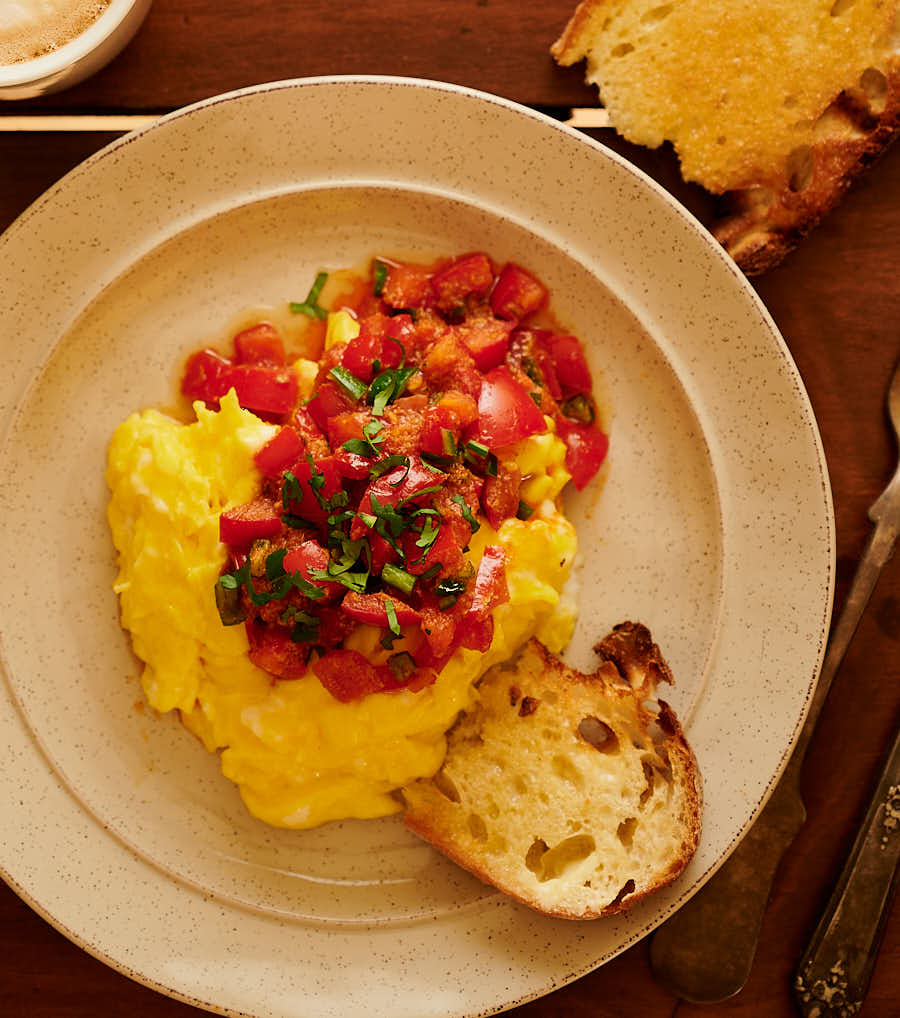 Nail your scrambled eggs for great ekoori
There's nowhere to hide here. So everything has to work. Scrambled eggs aren't hard. But you do have to pay attention
You want big curds. Big. Creamy. Wonderful curds. That's my idea of perfect scrambled eggs anyway.
Keep it simple. Eggs. Salt. Butter in the pan. No milk. No cheese. And no pepper.
Air. Air is the secret ingredient. If you have to have a secret ingredient. Eggs in a bowl. Fork. Whip vigourously. Until everything is an even yellow. No strands of white.
Not much of a secret ingredient. I know. But that's how I do it. Fork. Eggs. Salt. Air.
Picking the right pan helps. For 5 large eggs I use a 12 inch non-stick skillet. Over medium low heat.
Melt the butter. Pour in the eggs. Grab a spatula. Rubber. Silicone. Something flexible.
Let the eggs set a little. Draw the spatula across the entire pan. Gently. That's how you make the big curds. Keep moving.
You want the eggs a little wet. There are a million pictures of scrambled eggs on the internet. And most of them make me want to eat something else.
Just a little wet. It's so much better. Dry eggs. Dry eggs are – dry. I don't want that. But I'm not the egg police. Do what works for you.
Or maybe give my way a try. You never know. It might change your world. A little bit. The dark side is waiting for you. It's delicious all the time over here.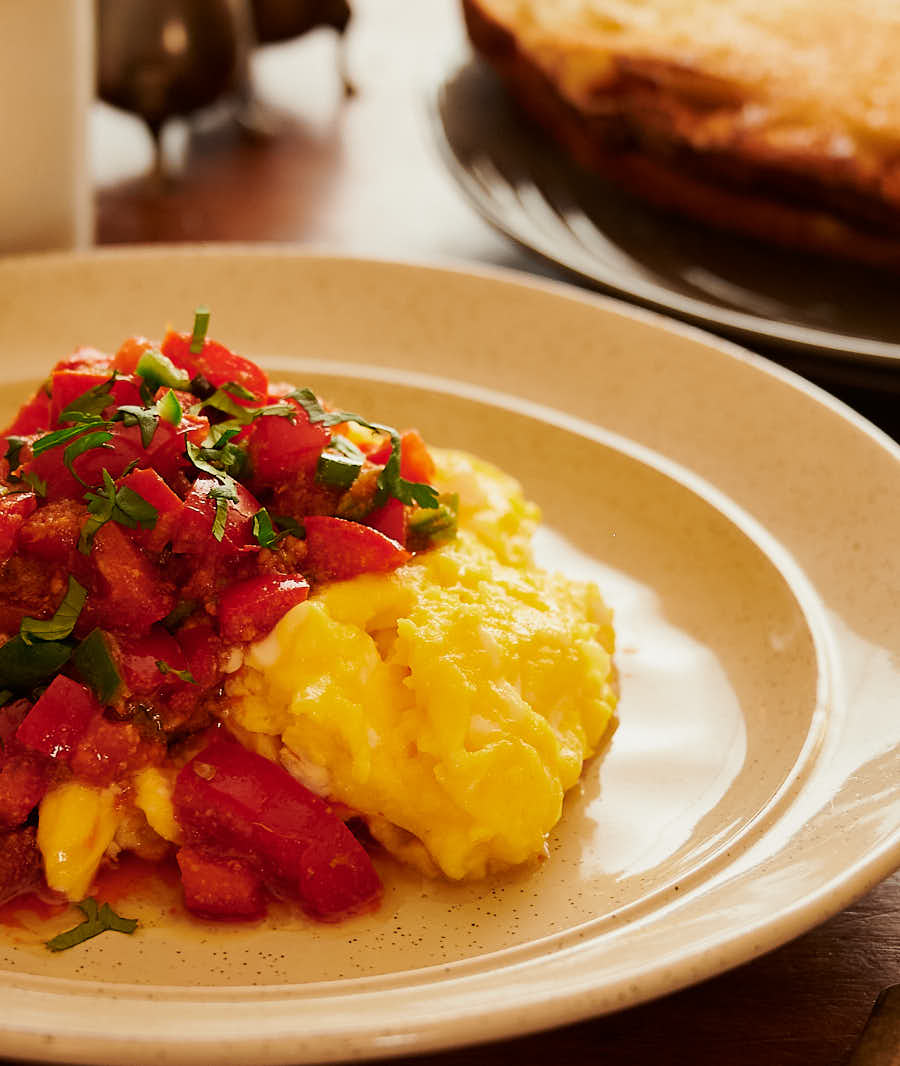 Not your every day ekoori
This isn't traditional ekoori. I should have said that at the beginning. The traditional way has spiced eggs. Onion tomato masala. Mixed into the scrambled eggs.
It sounds good. But I don't like it. It's just a big jumbled mess. Somehow the texture of the eggs gets messed up. It's almost impossible to get big creamy curds.
I might have to turn in my Indian card for saying that. We'll see. But I'm only half Indian. And I love Mexican. So eggs and salsa. That works for me.
Maybe this is Indian-ish huevos rancheros. With toast. Instead of tortillas. That isn't really far off the truth. But Indian-ish huevos rancheros isn't going to sell.
So I'm calling this a riff on ekoori. Not quite traditional. But delicious. In a slightly different way. A way I'm going to call better.
That's bold. I know. Give them a try. Then decide. I don't think you'll be disappointed.
Ekoori re-imagined
Ingredients
Tomato masala
2/3

cup

diced fresh tomatoes

2

green chilies

– seeded and diced. I use jwala chilies also known as green finger hot

2

tbsp

oil

– any neutral oil like canola or vegetable

1

tbsp

garlic ginger paste

1/2

tsp

kashmiri chili powder

1/2

tsp

ground cumin

1/2

tsp

ground coriander

1/4

tsp

kosher salt
Scrambled eggs
1

tbsp

butter

5

large eggs

– vigorously beaten
Instructions
Do your prep
Dice your tomatoes. Seed and dice the chilies.

Combine the cumin, coriander, kashmiri chili powder and salt in a small bowl.

Vigorously whisk the eggs in a small bowl. A fork works well for this.
Make the tomato masala
Heat the oil in a medium frying pan over medium low heat.

When the oil starts to shimmer add the garlic ginger paste. It will spatter so watch out. Stir until it stops spattering.

When the garlic ginger paste stops spattering add the cumin, coriander, kashmiri chili powder and salt. Stir to combine and let bubble for around 45 seconds. This is called blooming your spices and it is a critical step to many Indian dishes. Be careful. Don't let the spices burn. If they burn you are starting over. There's no fixing it.

Add the diced tomatoes and green chilies. Cook, stirring, for about 2 minutes. You want the tomatoes to maintain their shape so don't overcook.

Reduce heat to minimum to keep warm while you scramble the eggs.
Scramble the eggs
Beat the eggs with a fork if you haven't already. Add a pinch of salt.

My ideal for scrambling 5 eggs is a 12 inch non-stick skillet and a silicone spatula. I find it gives enough surface area to quickly form nice curds. Bigger is better. But go with what you have. It will be fine.

Pre-heat the pan over medium low heat. High heat is not your friend when you are scrambling eggs. Add the butter.

When the butter stops sizzling add the eggs. Start scrambling. You want to make long movements across the pan to form large, soft curds. There is a balance here. You want to let the eggs set a bit and then scoop them up. You want big curds. Big, beautiful curds.

When the curds are almost set move them into the middle of the pan and take the pan off the heat. They will continue to cook so you always want to have them a little wetter than your final target when you stop scrambling.

To serve – portion out the eggs and top with the tomato masala. Garnish with a little cilantro if you like. Serve with naan. Spoon a bit of the egg and masala onto a bite of naan and enjoy!
Nutrition
Serving:
2
g
|
Calories:
362
kcal
|
Carbohydrates:
6
g
|
Protein:
15
g
|
Fat:
31
g
|
Saturated Fat:
8
g
|
Polyunsaturated Fat:
6
g
|
Monounsaturated Fat:
15
g
|
Trans Fat:
1
g
|
Cholesterol:
424
mg
|
Sodium:
656
mg
|
Potassium:
296
mg
|
Fiber:
3
g
|
Sugar:
3
g
|
Vitamin A:
1337
IU
|
Vitamin C:
12
mg
|
Calcium:
78
mg
|
Iron:
3
mg