Hello? It's the 1950s calling. Interested in a one pot roast chicken dinner? No? Are you sure? It's Bombay chicken. Yes? You would? Right. Thought so.
One pot roast chicken dinner. Like the 1950s. But a whole lot better. Because it's Indian-ish.
They didn't have it all that wrong back then. Chicken and potatoes. Roasted together.
Tasty stuff. A bit tricky to get both done at exactly the same time. But tasty stuff. If you nail it.
Now imagine. 1950s concept. 2020s thinking.

Tandoori spiced roast chicken. Coconut curry sauce. And perfectly cooked potatoes. That is just good living.
This is not your grandmother's chicken dinner. Not saying that your grandmother's chicken dinner isn't great. But this might be better. You tell me.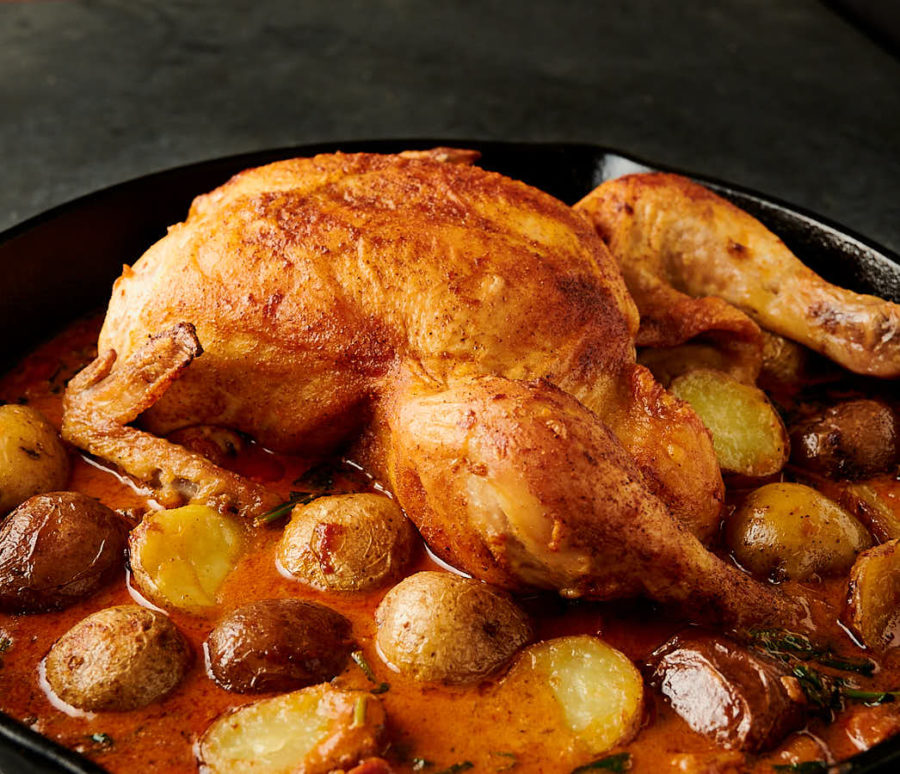 Indian-ish roast chicken
Bombay chicken. Sounds Indian. But it's not. It's Indian-ish. Indian inspired. Fun with Indian ingredients.
With western technique. Roast chicken. Complete with all that wonderful, crispy skin. Kissed with tandoori spices.
Potatoes. Roasted in chicken fat. Not so big in India. Be honest. You know you want it.
And a sauce could be Indian. Almost. Except it has the fond from a roast chicken in it. That's not so Indian. But it is unbelievably delicious. Culinary gold.

Technically this is not Indian cooking. Not traditional Indian cooking anyway. But so what? Tasty matters. And this is seriously tasty.
It's a funny thing. I've been chasing Indian fusion my whole life. Never been able to make it work. Indian flavours just don't play well with others.
Until you start respecting the ingredients. The techniques. My Indian half. Interpreted through the lens of my western half. That is Indian-ish…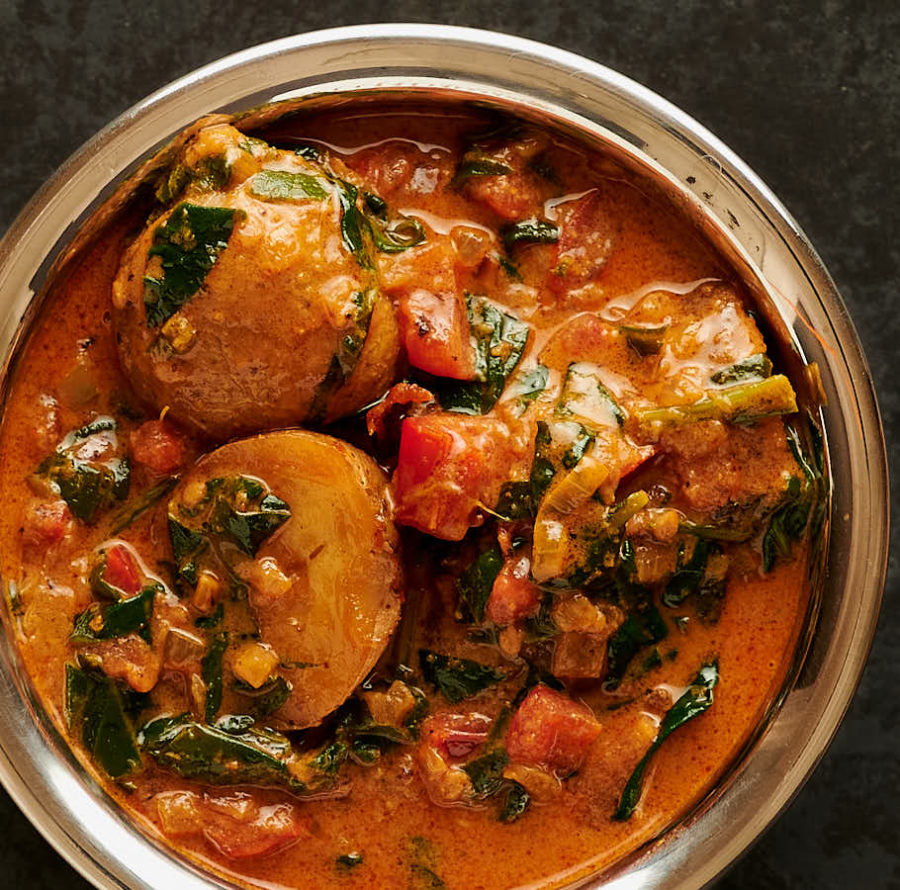 The craziest Bombay potatoes ever
Is this the world's best Bombay chicken? Maybe. Maybe not. That's a pretty big claim. Are these the best Bombay potatoes ever? That one is possible. Very bold. I know.
But they are crazy delicious. Seriously. Chicken fat roasted potatoes. Crispy outside. Creamy inside. In a lush coconut spinach sauce.
I'm a bit conflicted. Tempted to make this a potato recipe. With a side of roast chicken. A really, really over the top potato recipe.
I say this tongue in cheek. But when I eat these potatoes I forget there's a roast chicken next to it. So I'm only sort of kidding.
They really are that good. I'm actually kind of shocked how much I love them. Don't get me wrong. The chicken is great. But for me… The potatoes steal the show.
Bombay chicken is a one pot meal
There aren't a lot of one pot meals on glebekitchen. I would have to look carefully to be sure. Bombay chicken could be the first.
Except this isn't quite a one pot meal. It's almost one pot. You have to par-boil the potatoes.
Washing a pot that boiled water is not hard. So it's as close to a one pot meal as you are going to get. Here anyway.
And you could par-boil the potatoes in the skillet before you roast the chicken. So you can make this a truly one pot dish.
That would add about 20 minutes to the cooking time. Inefficient. I'm not doing it. You can though. If you really want a truly one pot meal.
It's mostly all about one pot. Roast the chicken and potatoes. Remove. Make the sauce in the same pot. Wilt the spinach in the sauce.
You could even carve it up and serve it family style in the pot. Would be a fun presentation. Just let the pot cool a bit first. Wish I'd done a picture like that…
And yes. I know. A skillet is a pan. Not a pot. So almost one pan. Bombay chicken is an almost one pan dinner. That's the reality. Sadly, that doesn't roll off the tongue as well.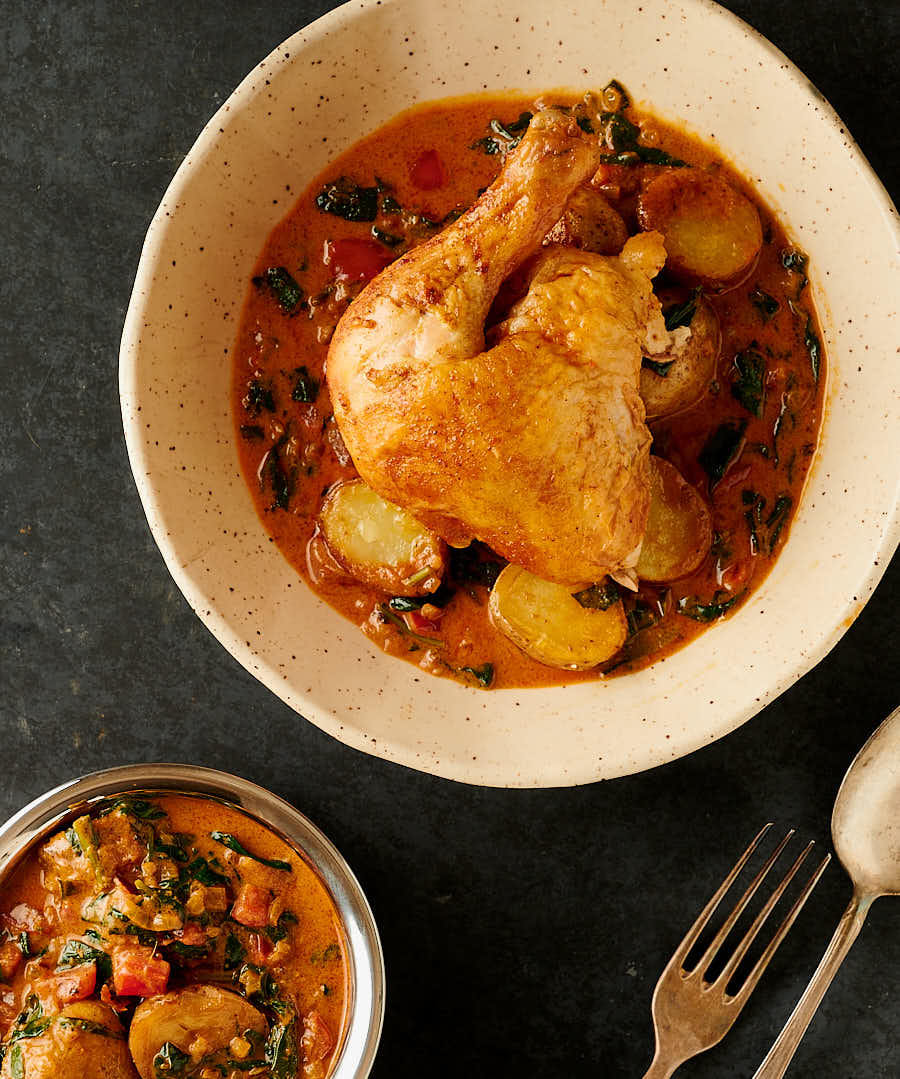 Not all tandoori masalas are created equal
Pay attention to this. It's important. Really important. Fundamental even. If I had a way to make the title of this paragraph red I would.
There are a lot of tandoori masalas out there. There's five different brands at my Indian grocer. At least. I haven't really looked that hard. Might be more.
They are all made to season chicken. Like slap it on and go. Mix the tandoori masala with some oil. Some yoghurt maybe. Toss it on the barbecue. Enjoy.
Stop and think about that for a second. Good to go. Straight out of the package. Add nothing else. That means it already includes salt. A lot of salt.
A good amount of that salt winds up falling off the chicken as you grill. What's left on the chicken is really tasty. It all works well. Like it's supposed to.
Where it doesn't work so well is as ingredient in a dish. It's salt creep. And it can be major salt creep. Some are up to 50% salt.
Do the math. 50 percent salt. 3 tsp of commercial tandoori masala. That's 1 1/2 tsp of salt.
That's a lot. Enough to seriously kill this dish. Just. Not. Good. Be very careful. Look at the ingredient list.
If salt is in the top 3 you probably have a problem. If it's in the top two you definitely have a problem.
That's why I make this dish using homemade tandoori masala. I control the salt. Safer that way.
You've been warned. Don't leave comments complaining about this being too salty. If you think that then you've done it to yourself…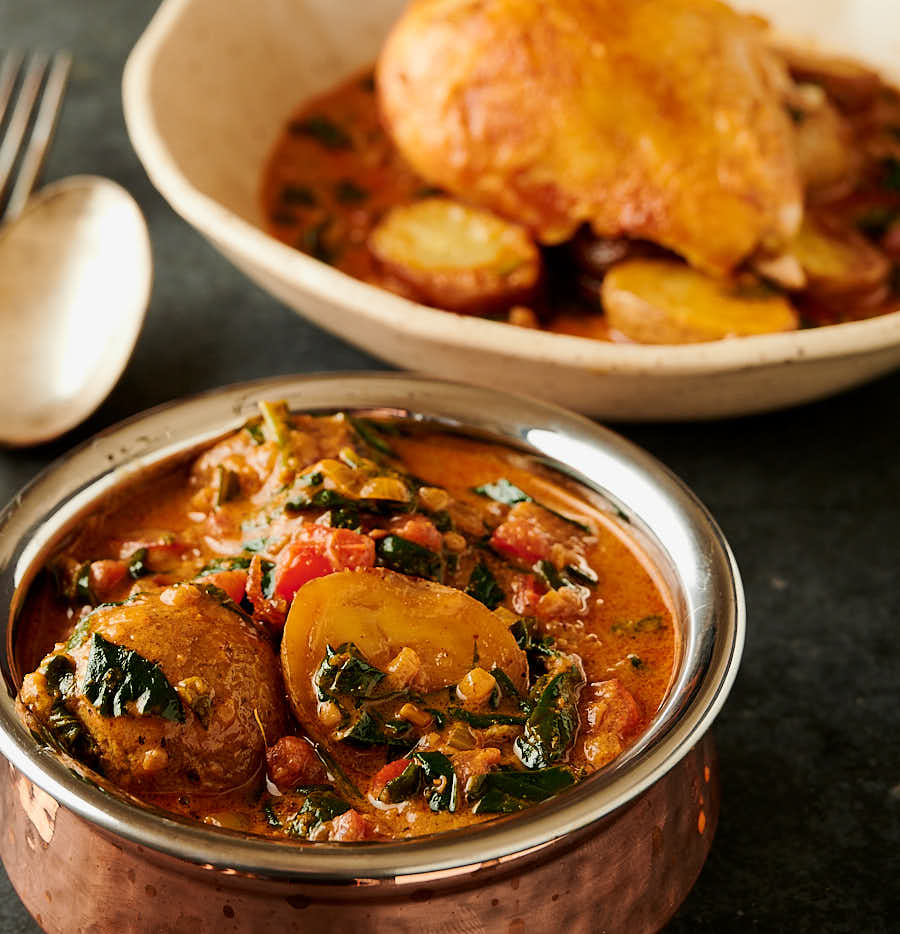 Use your convection oven – if you have one
Air fryers. That's all anyone talks about these days. Unbelievable technology. The greatest thing ever invented.
Except it's been around for years. Many years. New form factor. Old technology. Sorry if I've burst your bubble.
A fan. An element. Forced air in an enclosed, heated space. Does that sound familiar? It should. An air fryer is a little convection oven.
I'm not anti air fryers. I'm pro convection oven. Have been my whole life. I love my convection oven. A lot.
Push the button. Turn the dial. If you have a convection oven please use it. For Bombay chicken. And everything else. I do. Always.
Bombay chicken is a figment of my imagination
Here's the thing. There's no such thing as Bombay chicken. Not that I can find anyway. A few recipes out there. With nothing in common. Except the chicken.
So I feel pretty good calling this Bombay chicken. Just another random recipe with the same catchy name. And some glebekitchen thinking.
Like roast chicken? Tandoori spicing? Potatoes cooked in chicken drippings? And a coconut curry sauce? Yes? Make this. You won't be disappointed.
That's bold. Even for me. But I really, really like this one. So I'm taking a chance you will too. If you like it let the 1950s know what you think…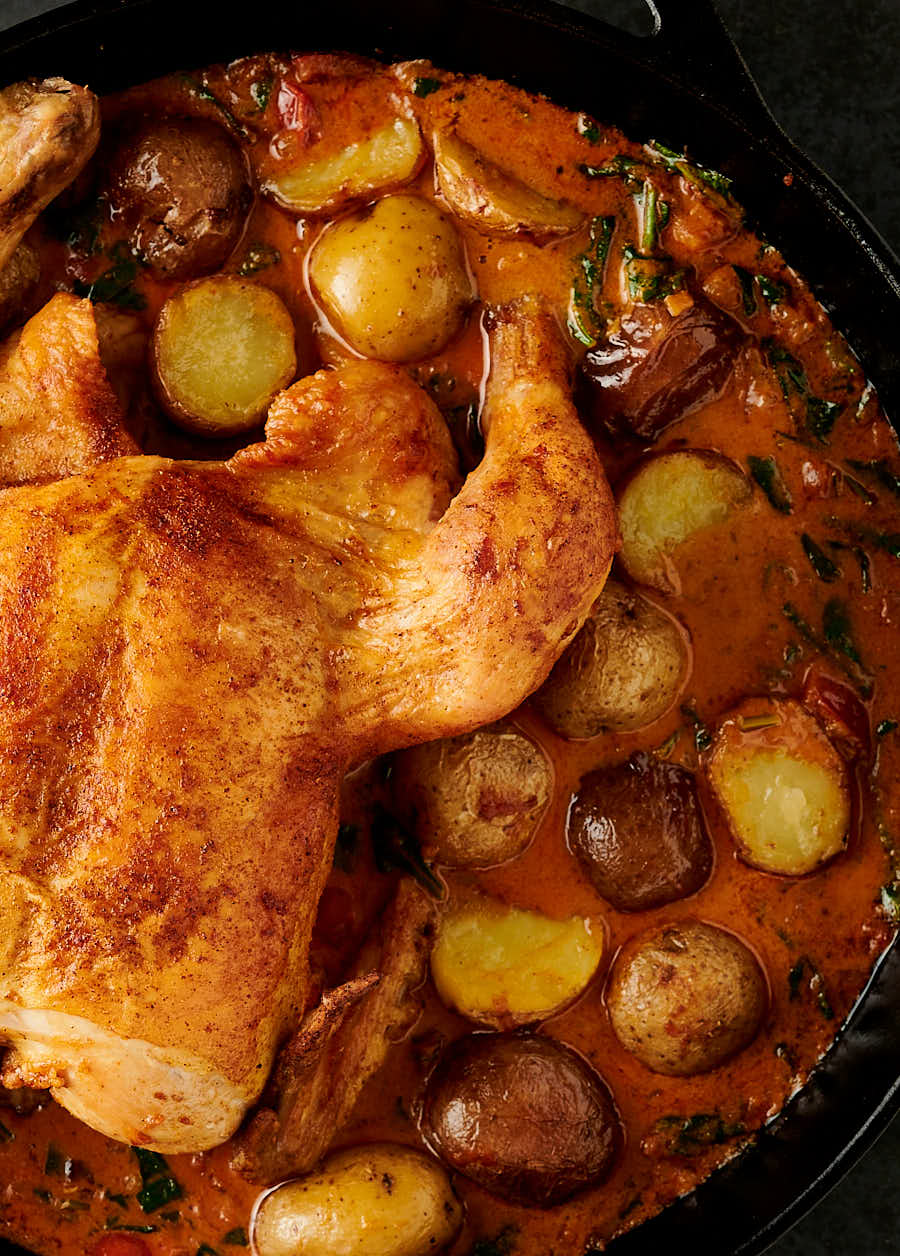 Bombay roast chicken
An (almost) one-pot Indian-ish roast chicken dinner
Equipment
12 inch skillet

or something similar – oven proof
Ingredients
3

lb

chicken

– a bigger chicken is nice here. Up to 4 lbs.

1

tbsp

vegetable oil

any neutral oil you want

3

tsp

tandoori masala

plus a half teaspoon to dust the chicken (See note)

1 1/2

tsp

kashmiri chili powder

plus a half teaspoon to dust the chicken

1

tsp

fenugreek seed

1

cup

diced tomatoes

about 1 large tomato

1

cup

onion

about 1 medium onion, finely diced

400

ml

coconut milk

1 400ml can

1 1/2

tbsp

garlic ginger paste

1

lb

potatoes

small new potatoes

140

grams

baby spinach

a little over four ounces. Roughly chopped.

1/2

tsp

kosher salt
Instructions
Do your prep
Combine 1/2 tsp tandoori masala and 1/2 tsp Kashmiri chili powder.

Parboil the potatoes in well salted water. Just toss them in once the water comes to a boil and cook for about 10 minutes.

Chop the tomatoes and onions. You want the tomato cut into about a 1/4 inch dice. The onions should be finely diced (maybe 1/8 of an inch dice).

Chop the spinach. You are looking for a rough chop here. Somewhere that gets you pieces that are about 1/3 of a leaf each. You don't need to be perfect here. That's what a rough chop is.
Roast the chicken
Preheat your oven to 375F. If you have a convection oven use convect mode. Chicken skin roasts up best when using convection. Think air fryer but bigger. That's what a convection oven is.

Pre-heat your skillet. A hot pan helps keep the chicken from sticking. That's a life tip – not specific to this recipe.
Prep the chicken
Drizzle about a tablespoon of a neutral oil (e.g. canola oil) over the chicken. Rub the oil all over the chicken. Your hands work well here.

Salt the chicken liberally. When I say liberally I mean it.

Dust the chicken with the tandoori masala/kashmiri chili powder mixture. You want a light coating all over the bird.

A small, fine sieve works great for this bit. Put the tandoori masala/kashmiri chili powder mix in the sieve. Hold over the chicken and tap the side of the sieve with a spoon. Think dusting a cake with confectioner's sugar.

Alternately you can use a spice or salt shaker. Up to you but you need to find a way to dust the chicken with spice. Your fingers will not work here. Trust me. I tried.

Place the chicken in the pre-heated skillet and place it in the oven.

Roast for about 20 minutes. Remove from the oven. Set the pan down and baste the chicken with the accumulated fat. It helps to tilt the pan (watch out – it is hot) and use a spoon.

Return the chicken to the oven and roast for another 15 minutes. Remove from the oven, baste as before and add the potatoes. This is why you need a 12 inch skillet. Make sure the potatoes get coated with chicken fat. Yes – chicken fat roasted potatoes. You're welcome.

Return the chicken and potatoes to the oven and roast until the internal temperature of the chicken hits 160F in the breast and 175F in the thigh. If you don't have a way to measure internal temperature get an instant read thermometer. I use mine every day. I don't like guessing.

Once you've hit the target internal temperature, remove the chicken and potatoes from the pan and set aside. Tent the chicken loosely with foil. It's time to make the sauce.
Make the coconut curry sauce
Spoon off all but about 3 tablespoons of the chicken fat from the pan. Be careful not to remove the fond and juices (the fat is clear – the juices are opaque).

Place the skillet over medium heat. Add the onions. Cook until they start to brown. This should take around 5-7 minutes.

Add the garlic ginger paste. Fry, stirring constantly until it stops sputtering. That usually takes about a minute.

Reduce the heat to medium low. Add the fenugreek seed and stir. Cook about 30 seconds.

Add the 3 tsp (yes I know – that's one tablespoon) tandoor masala, 1 and 1/2 tsp of kashmiri chili powder and 1/2 tsp of kosher salt.

Look at your pan. You will need some oil to fry the spices. A dry pan is a dangerous pan at this point. If it looks dry add a bit more oil. Toss in the tandoori masala/kashmiri chili/ salt mix, stir to thoroughly combine the spices and oil and cook, stirring constantly, for about 30-45 seconds.

Add the tomatoes and stir. Cook the resulting tomato, onion masala until the tomatoes start to break down. This should take about 5 minutes.

Add the coconut milk. Bring to a lively simmer and cook for 3 minutes.

Add the chopped baby spinach. Stir into the sauce and cook until the spinach is fully wilted.

Return the potatoes to the pot and simmer until the potatoes are warmed through.

To serve nap the plate or large bowl with a little sauce, place a few potatoes in the middle of plate and top with chicken.
Notes
This recipe was developed using the glebekitchen tandoori masala. You can use a commercial tandoori masala for this recipe but watch the salt. Some brands are up to 50 percent salt. This dish will be inedible if you use a brand with any appreciable amount of salt. Just be careful…
Nutrition
Calories:
712
kcal
|
Carbohydrates:
32
g
|
Protein:
37
g
|
Fat:
50
g
|
Saturated Fat:
27
g
|
Polyunsaturated Fat:
7
g
|
Monounsaturated Fat:
13
g
|
Trans Fat:
1
g
|
Cholesterol:
122
mg
|
Sodium:
556
mg
|
Potassium:
1418
mg
|
Fiber:
6
g
|
Sugar:
4
g
|
Vitamin A:
3822
IU
|
Vitamin C:
45
mg
|
Calcium:
124
mg
|
Iron:
8
mg