Chicken pathia. Like they make in the best restaurants. Hotel style. Spicy. Sweet. Sour. A little magic in every bite.
Chatpata. That's a word I didn't know. Learned it watching Chef's Table. Gaggan Anand.
Four elements in harmony. Sweet, sour, salty and spicy in perfect balance. Indian umami.
That describes chicken pathia perfectly. Like textbook perfect. Maybe it should be called chicken chatpata.
He's talking about it at his level. And his level is so far above mine it's not even worth measuring.The concept is eye opening though. Brings focus.
Chatpata. Something to be thinking about. Something to strive for.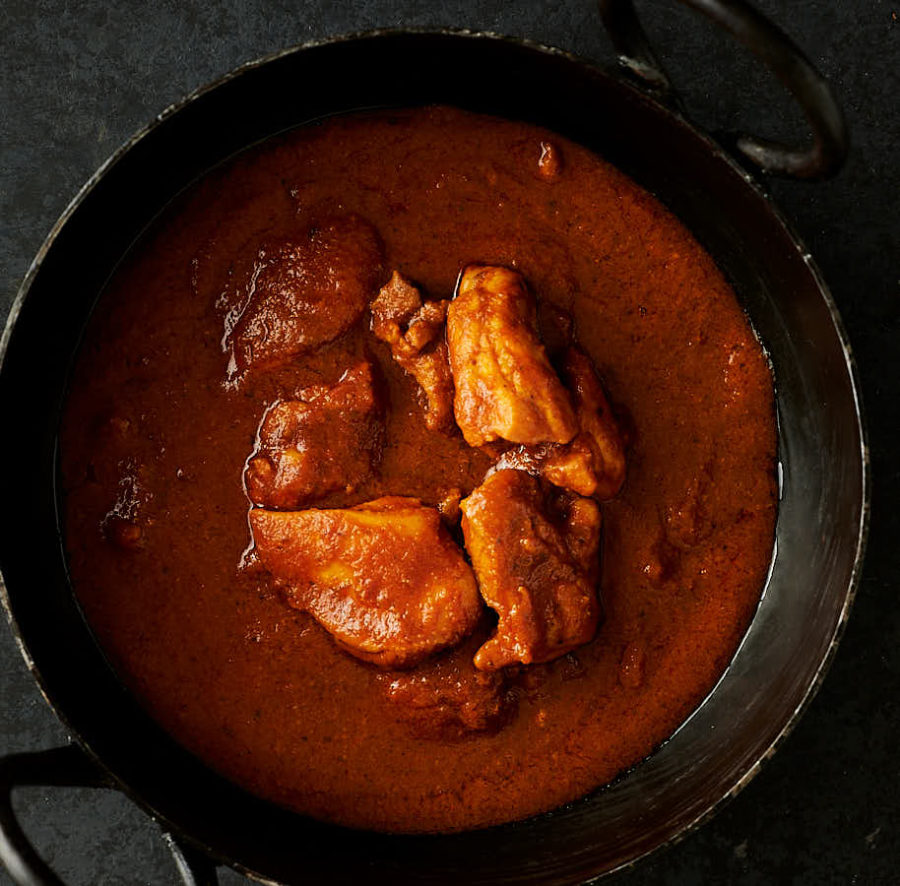 Madras' misunderstood cousin
That's how I think of chicken pathia. My version anyway. A little like a chicken Madras. But not really.
It's sweet. And it's sour. A little sugar. A little tamarind sauce. Sort of Madras spicing. That's it really. Familiar. But different.
Somehow that sweet and sour tweak changes everything. Makes pathia it's own dish. Amazing how a couple extra ingredients can change everything.
Chicken pathia is a simple dish. Not a lot of ingredients. No whole spices. No pastes to make. Just a few simple spices. Some hotel gravy. Chicken. Tamarind sauce.
It's almost too simple. Unworthy you might think. Except it's not. Absolutely not. That's the beauty of chicken pathia. Simple. Straight forward. And yet complex.
Sometimes simple can be amazing. This is one of those times.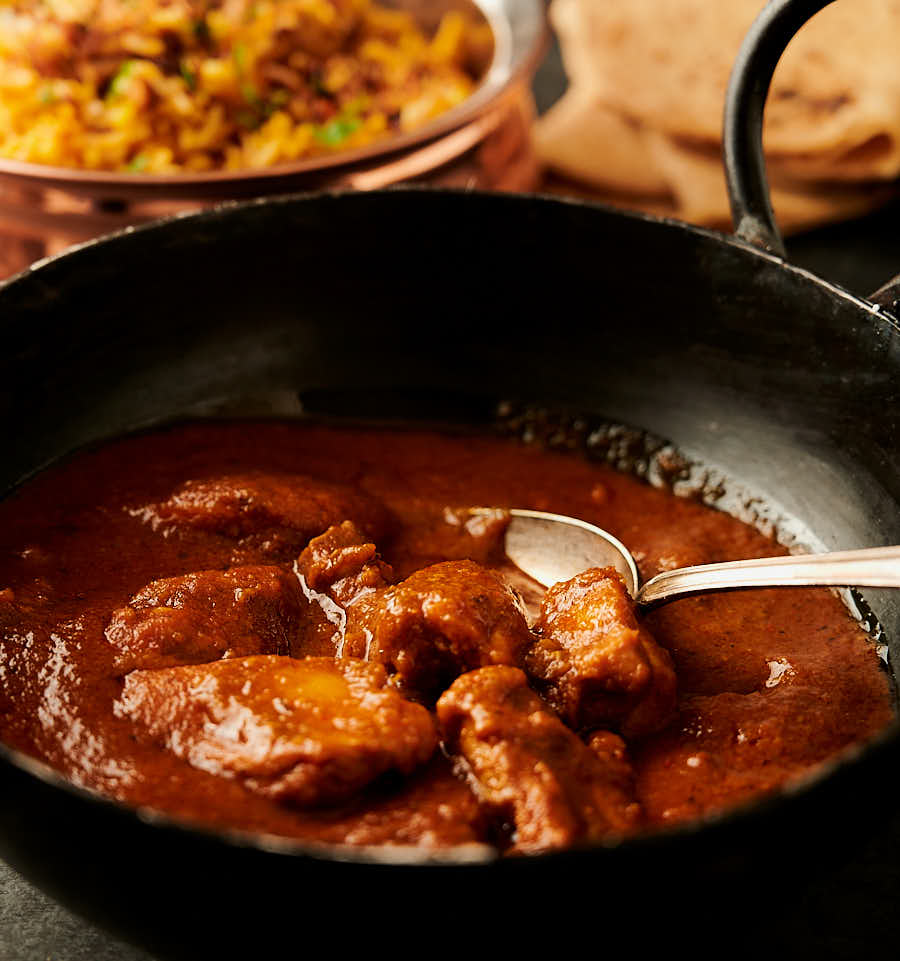 Hotel style chicken pathia
This is not takeaway style. Not regular restaurant style. This is about kicking it up a notch. Four notches really.
Hotel style. Fine Indian restaurant style. What the really good Indian restaurants are doing.
Restaurants putting food quality first. The ones that aren't trying to make a $12 curry. Going for gold. The kind of restaurant I want to eat at.
There are two restaurant based approaches on Glebekitchen. High end and mainstream. Horses for courses.
Restaurant style is what they do at most restaurants. Takeaways. Simple. Fast. And tasty. It relies on a single gravy. Restaurant curry base. One size fits all.
Hotel style is high end restaurant approach. More disciplined. The right tool for job. Different gravies for different dishes. Blending gravies even. It changes the game. And I'm really excited about it.
Think French. Mother sauces. That's what this is. But applied to Indian cooking. Heavy on the prep. But so worth it. Big tastes. The kind of depth of flavour you can't get any other way.
It's a bit of curry magic I think. Not Gaggan magic. Not even close. But for us mere mortals…
All that great chicken flavour
The other big difference is how the chicken is prepared. And it is a big difference.
Takeaway restaurant style relies on pre-cooked chicken. It's faster. It's easier. And it's probably safer. But it comes at a price.
And that price is chicken flavour. Hotel style is a different approach. The chicken goes in raw. You have to pay attention not to overcook it. But you get the juices as it cooks.
And those juices are delicious. Losing them was probably my single biggest problem with takeaway restaurant style. I feel better now. Simple things make me happy.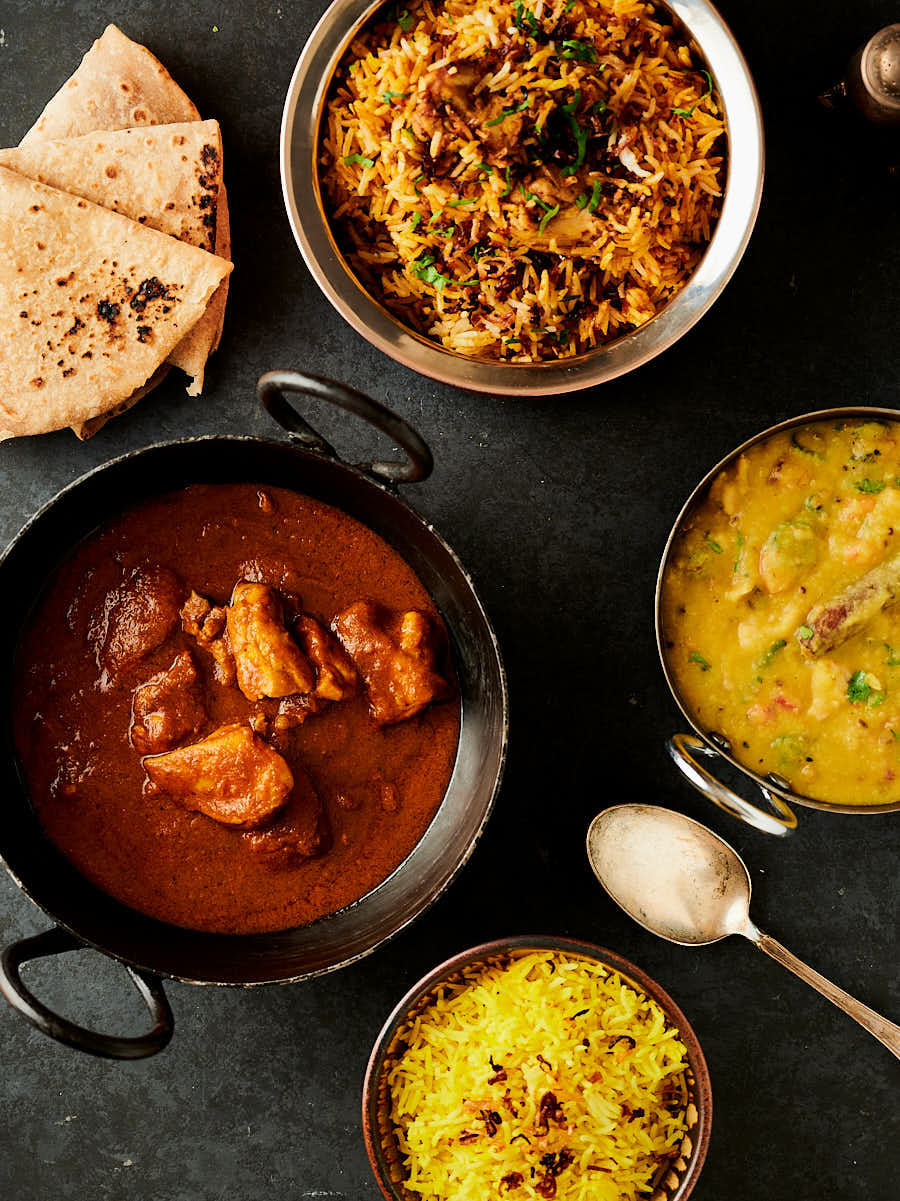 Tamarind sauce is important
This recipe is pretty specific. Tamarind sauce. Not tamarind paste. And definitely not tamarind concentrate.
Tamarind sauce is like ketchup. A condiment. Not actually like ketchup. But in a bottle. Pre-fab. Commercial product. Papadum dip in a jar.
A little sweet. And sour. A little spicy. And a little salty. See where I'm going? Chatpata in a bottle.
I like it. A lot. There's something about it. Works well in a dhansak. In this dish. On eggs. In sandwiches.
I'm not shilling. I don't take bribes. Don't do sponsored posts. I just really like Maggi Tamarina. It's perfect for this dish.
It's like fight club. First rule. Nobody talks about Maggi Tamarina. But there's probably a bottle in an Indian restaurant kitchen near you. I bet they love it too.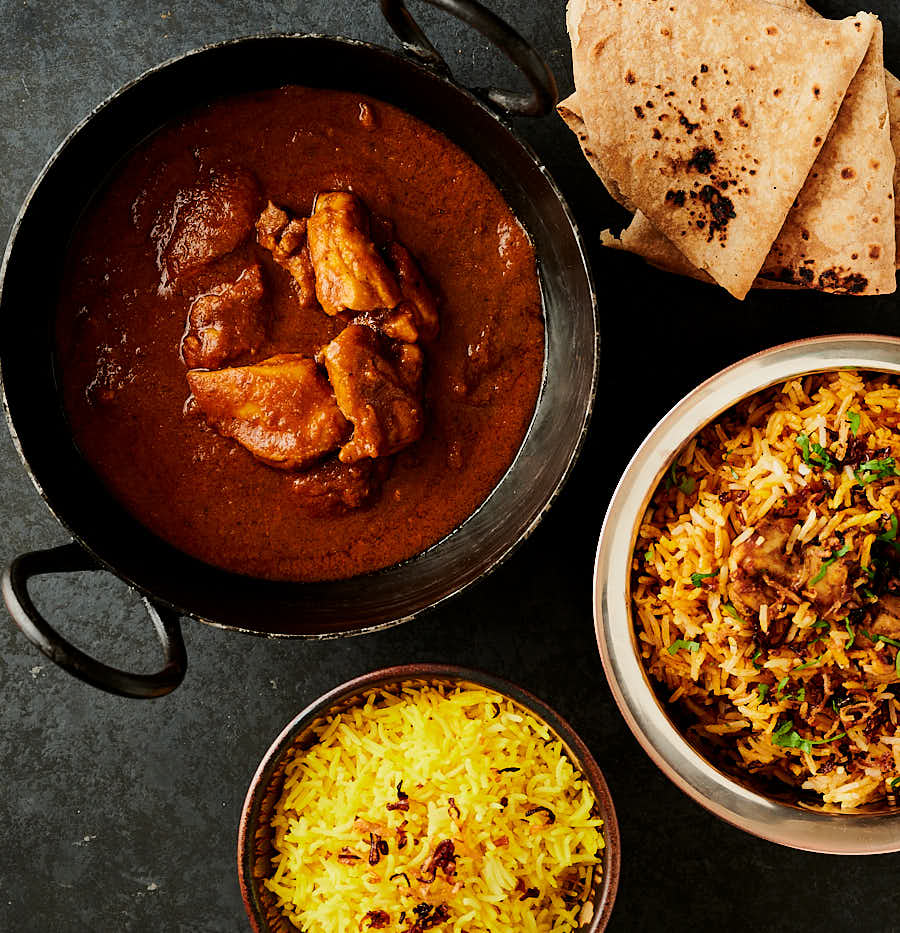 Chicken pathia done hotel style
Ready to expand your horizons? Give this one a go. It's definitely one you need to try.
Chicken pathia isn't the most famous curry out there. Probably not in the top 10. Or even the top 20.
It has lost the popularity contest. And that's too bad. Because it has it all. Sweet. Sour. Spicy. Salty.
Chatpata.
You had to know I would finish with that…
chicken pathia curry
Pathia chicken is about spice, sweet and sour in perfect balance.
Ingredients
The spice mix
1 1/2

tsp

hot madras curry powder

– you can get this at just about any Indian grocer

2

tsp

kashmiri chili powder

1 /2

tsp

coriander powder

1/2

tsp

cumin powder

1/2

tsp

turmeric powder

1/2

tsp

kasoor methi

– dried fenugreek leaves

1/2

tsp

kosher salt

– a bit less if you use regular table salt
Pathia chicken curry
3

tbsp

vegetable oil

– any neutral oil works

1

tbsp

garlic ginger paste

1

cup

Indian hotel curry gravy

– recipe link below

3

boneless, skinless chicken thighs

– cut into 3-4 pieces each

1

tbsp

tamarind sauce

– Not paste. Not concentrate. Sauce. Sweet and sour tamarind sauce. I like Maggi Tamarina. See note.

1

tsp

jaggery

or brown sugar

2-4

Tbsp

water

or chicken stock. Depends how saucy you like your curry.
Instructions
Do your prep
This goes fast. Be ready. Make your spice mix. Combine the powdered spices in a small bowl. Get your ingredients out and close to the stove.
Make the pathia chicken curry
Heat the oil in a medium frying pan until it just starts to shimmer.

Stir in the garlic ginger paste. Cook until the garlic ginger paste stops sputtering.

Turn your heat to medium low and add your spice mix. Gently fry the spices for 30-45 seconds. This is why you added a full 3 tablespoons of oil at the beginning. Spices fried in oil. Bloomed spices. This is where the magic happens. Too little oil and the spices will stick or burn and you will be starting over.

Turn the heat up to medium. Add the Indian hotel curry gravy. Bring it to a simmer. Really stir it to get the oil to combine. Cook for about a minute.

You don't need it to fry like a regular restaurant curry. That's the beauty of hotel style. That step is done before you start cooking the final dish. No need to make a mess of your stove.

Add the chicken in an even layer and cover the pan. After about 5 minutes flip the chicken pieces. Tongs are good for this. Can't beat a good set of restaurant tongs in the kitchen. Cook until the chicken is just done.

The chicken should take around 8-12 minutes to cook through. It really depends on how large the chicken thigh pieces are. Best bet is to use an instant read thermometer and go for a 170F internal temperature.

Once the chicken is done, stir in the tamarind sauce and the sugar. Simmer for about a minute.

The texture should be about right at this point. If it's too thick add a bit of water or chicken stock Not a lot. Probably a couple tablespoons max. More if you like it really saucy.

If it is too thin (chicken throws a fair bit of liquid as it cooks) just let the curry simmer uncovered for a minute or two.

I love this curry with chapatis and rice and just about any side. Tarka dal. Chana. Dal palak. Whatever you like will work. Except ice cream. Ice cream will not work…
Notes
Make your Indian hotel curry gravy ahead of time. 
For maximum flavour you really should make your garlic ginger paste from scratch.
You may notice there's no tomato paste or passata in this recipe. The tomato comes from the hotel curry gravy. It's there already.
I like Maggi Tamarina. It just works for pathia. You can substitute 2 tsp of tamarind paste with a second tsp on jaggery if you want. But it is not as good. 
Nutrition
Calories:
578
kcal
|
Carbohydrates:
19
g
|
Protein:
35
g
|
Fat:
41
g
|
Saturated Fat:
10
g
|
Polyunsaturated Fat:
7
g
|
Monounsaturated Fat:
11
g
|
Trans Fat:
3
g
|
Cholesterol:
161
mg
|
Sodium:
1263
mg
|
Potassium:
810
mg
|
Fiber:
5
g
|
Sugar:
9
g
|
Vitamin A:
717
IU
|
Vitamin C:
17
mg
|
Calcium:
83
mg
|
Iron:
4
mg