Every now and then I do a post just for me. So I don't forget. This is one of those times. Pulled pork vindaloo. Just because I love it.
It's not mainstream. Not yet. But it could be. Should be I think. If you like vindaloo. And you like pulled pork. Then this one is for you too.
Pulled pork vindaloo is not authentic Indian
This is not some sort of new curry. It doesn't go with rice. I don't want to see this on my plate with dal.
It's not really Indian at all. There's no epic and storied history of pulled pork vindaloo food trucks in India. That I know about anyway.
This is Indian-ish. Sort of Indian. Not traditional. Pushes things into the mainstream. Brings all those incredible flavours home.
The flavours are Indian inspired. The execution is not. Pulled pork on a bun. Not chapatis. Not naan.
On a bun. Bread. Vindaloo pulled pork. Lots of it. A drizzle of sauce. Slaw for crunch. That's what this one is all about.
Like a funky pav. East meets west. In a crazy tasty smash-up of flavour. A head on collision of delicious.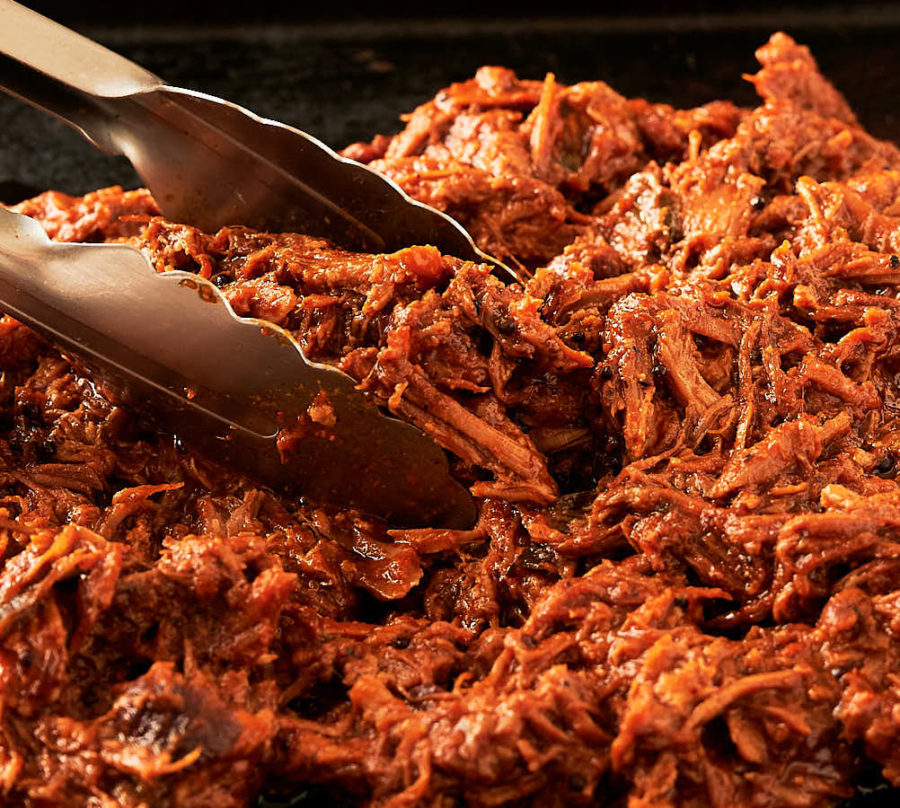 Time to give Indian food the glory it deserves
I've been ranting about formula Indian for a long time. I won't bore you with it again.
Except to point out that just about every Indian restaurant serves the same stuff. Which makes no sense that I can see.
Indian food is incredibly diverse. A billion people. Eating the same 20 dishes. How does that make any sense?
That's changing. The food scene is moving on. It's finally starting.
It's taken forever. But I think it's finally becoming a thing. Funky restaurants are innovating. There's a street food movement going on.
People are starting to wake up. To realize there is more to Indian cuisine than the same 20 dishes you see on every menu everywhere.
Chefs are starting to think. And do. All over the world.
I am thrilled. Seriously. Unbelievably excited. So I'm trying to do my little bit to help it along. Indian-ish. Expect more of it here. And hopefully at a restaurant near you.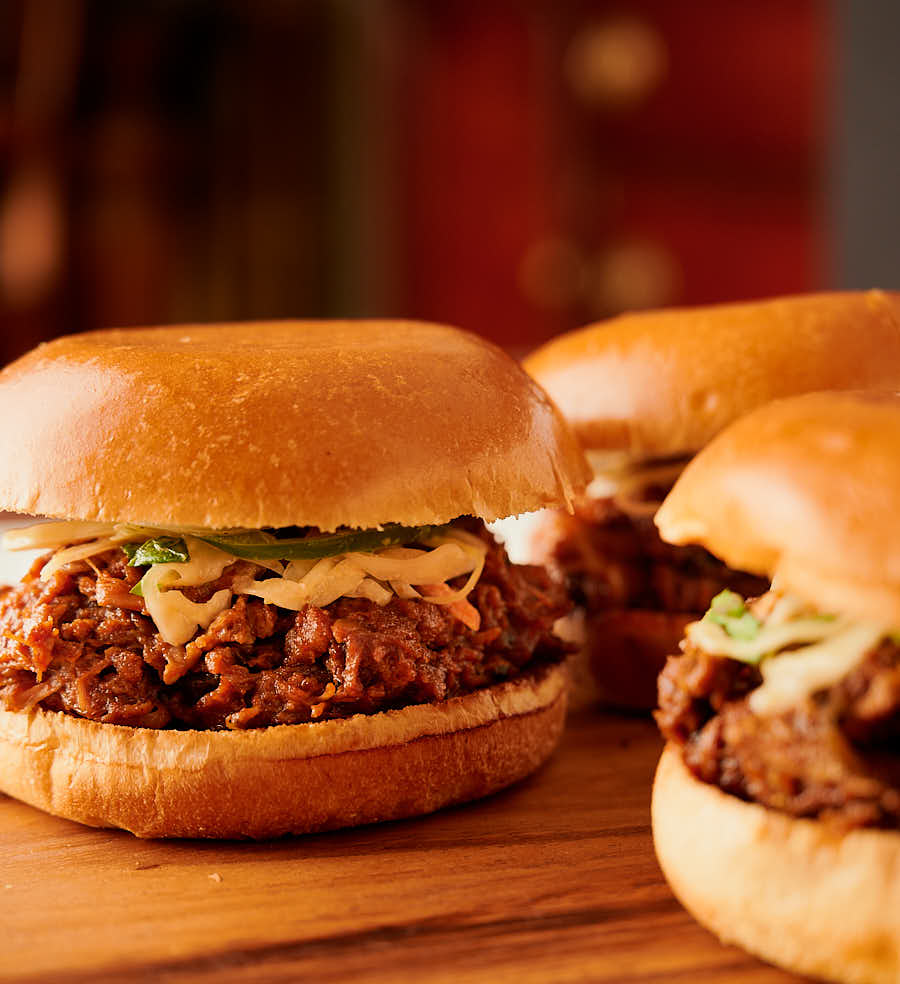 A gentle braise for meltingly tender pork
This is slow food. Gentle heat. A long braise. Weekend cooking. For when you are just hanging out. When you have a few hours to kill. And want to kill it making something wonderful.
I like to run the oven at around 300F or so for this. Kind of like making BBQ.
Without the smoke. And with a whole bunch of kashmiri chili and garlic and ginger and spice. In a sealed pot. With liquid.
OK – the only thing this has to with BBQ is the temperature. And in fact it's a little hotter than I run my smoker for pulled pork.
But you get the idea. You want to keep things gentle. To get that pulled pork mouthfeel. The magic.
Internal temperature is the key to success every time
I'm a huge fan of instant read thermometers. Huge. Use one and you are cooking with science. Don't use one? That's called guessing.
Random. Hope for the best. Poke the meat with your finger and decide. I'm not that good. So I use a thermometer.
It serves me well. I use it every day. And it's key for pulled pork vindaloo.
Roast pork shoulder is great around 140F. Up to 150F maybe. Relatively high heat. Crispy on the outside. Juicy on the inside. Wonderful stuff.
Push it much past that and it all goes sideways. Dry. Tough. Not good. Unless you cook it low and slow. That's the magic of the braise.
Cuts like pork shoulder are loaded with connective tissue. Cook that connective tissue slowly and you get gelatin. Gelatin has incredible mouthfeel.
Anyone that knows real BBQ knows this. That's just how it works. For BBQ. And for this pulled pork vindaloo.
You can look into it. Learn a little food science. Or you can just go with it. Know that it works. And enjoy.
The magic number for pulled pork vindaloo is 200F. May sound crazy. But it's true.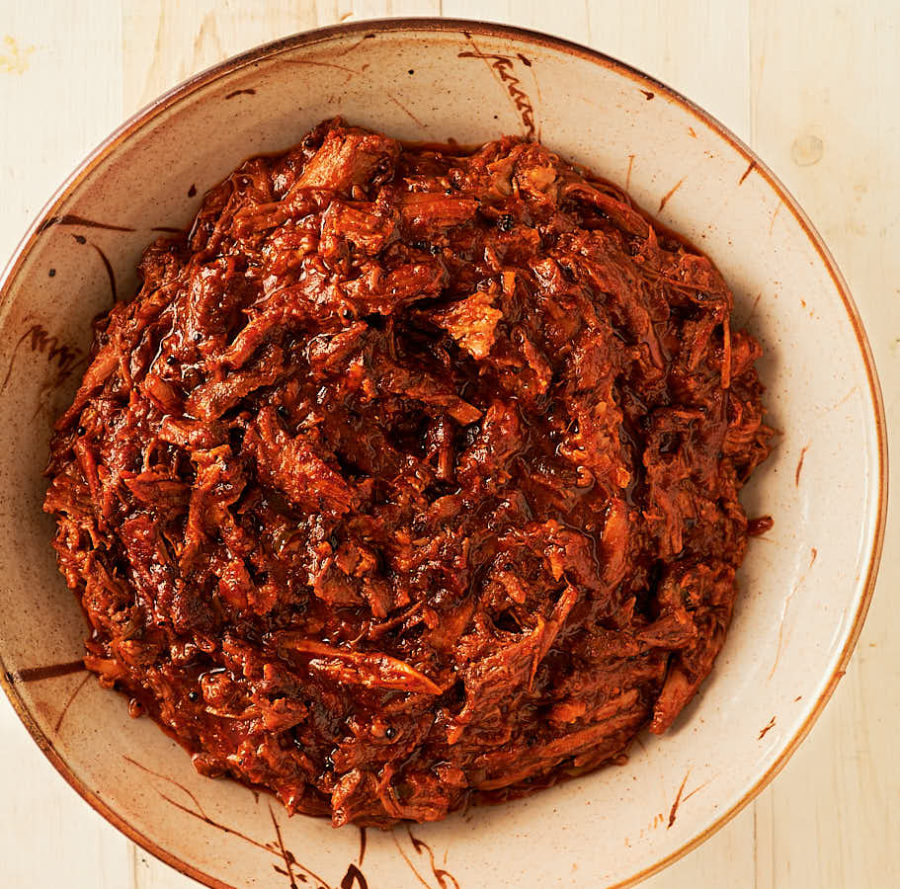 Pulled pork vindaloo is not run of the mill vindaloo
This is not a curry. I want to be clear. Not a curry. It's pulled pork. With Goan flavours. Indian-ish. Not Indian.
So don't make this and tell me it's not vindaloo. I'm telling you. It's not vindaloo. It's vindaloo-ish. And that's the beautiful thing here.
It has all the hallmark flavours of a classic vindaloo. Pork. Vinegar. Chilies. Garlic. Ginger. Spice.
But it also has sugar. And tamarind. And curry leaves. The vinegar is cider based. The sauce has this tangy, sweet and sour and tomato thing going on. Think spicy Indian BBQ sauce.
Which makes perfect sense to me. Remember. This is pulled pork vindaloo. Indian-ish.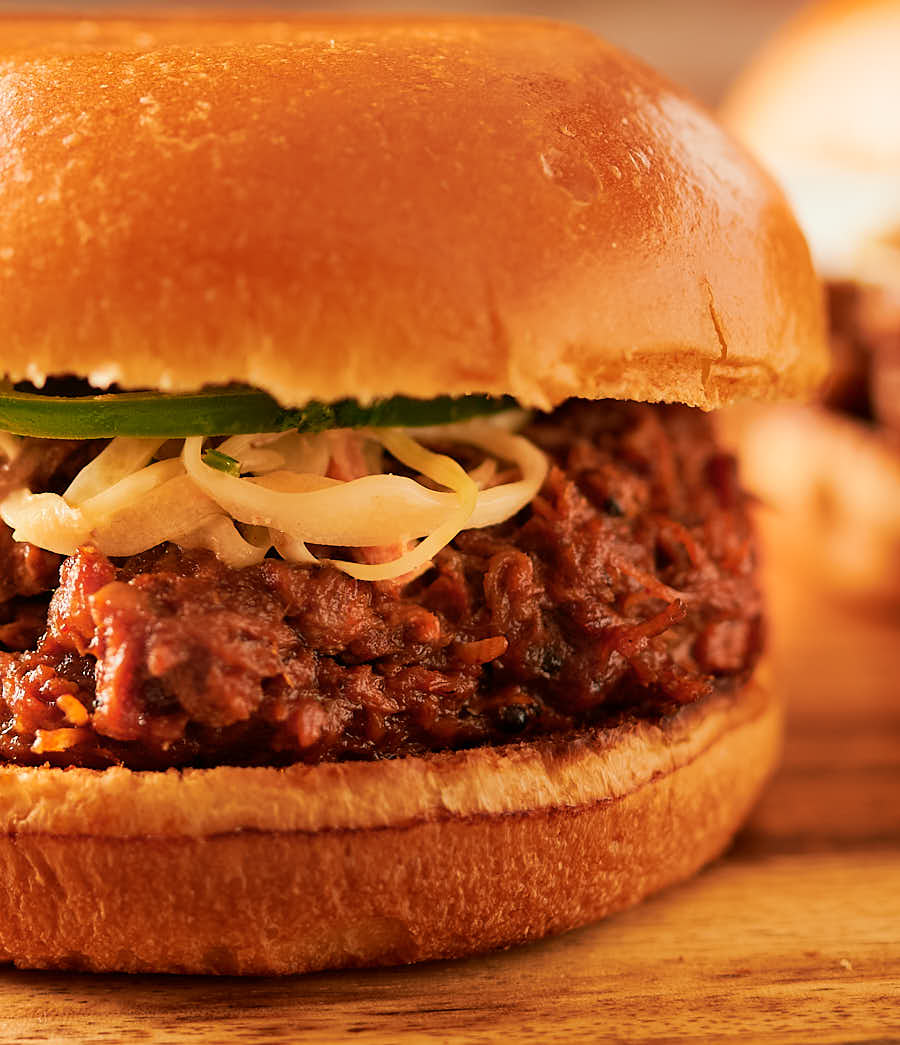 Indian-ish slaw for the win
When I think pulled pork I think 3 things.
Pork – well sauced pork. Lots of that going on here.
Bun – I'm going against the rules. I like brioche. Buttered brioche even. Purists will not be amused. But I'm making vindaloo pulled pork. So I'm taking liberties left and right.
Slaw – for me a pulled pork sandwich has to have slaw. For texture. Crunch. But more importantly a fresh counterfoil against rich, spicy pork.
But not just any slaw. It has to fit. Indian-ish pulled pork needs Indian-ish slaw. A little creamy. A little spicy. Just the right crunch.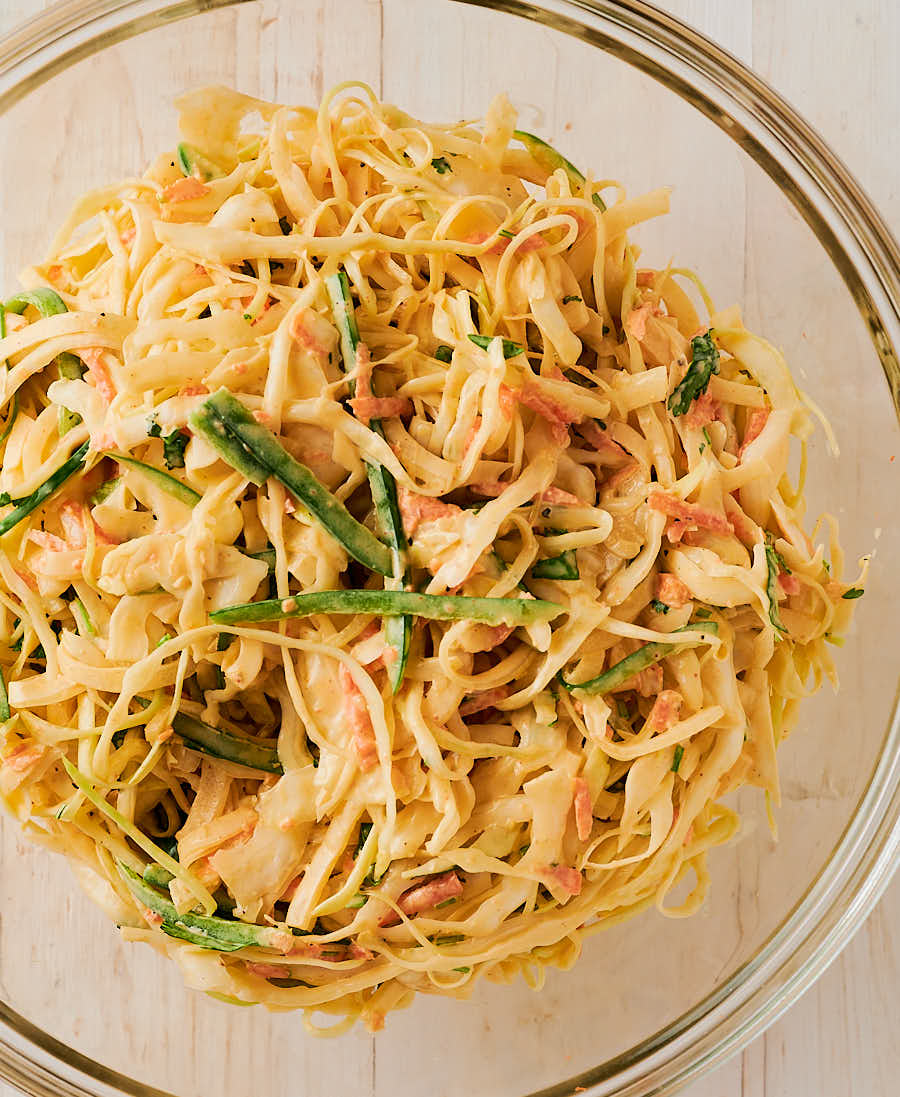 Vindaloo doesn't mean wine and potatoes
That's probably the silliest heading I've written so far. Humour me a bit.
There are some interesting ideas out there on what vindaloo is about. What it's supposed to be.
The one I hear the most is wine and potatoes. That makes for amazing European stews. But not a great vindaloo.
The French word vin somehow becomes Indian. So that's the wine. And aloo is potato in Hindi so aloo must mean potato here too. Except it doesn't. Not a bad theory I guess. But wrong nonetheless.
Vindaloo has its origins in Goa. And its roots came with the Portuguese. Vindaloo is an evolution of a Portuguese dish called carne de vinha d'alhos.
That's hard enough to write fighting a spell checker. Imagine how well it went over in India in the 15th century. Vinha what? D'alwho?
Vindaloo is way easier to say. So that's what stuck I guess. Or evolved to.
If it's not obvious – my tongue is firmly in my cheek. I have have no idea what happened 600 years ago. Just having fun with a mental image.
Carne de vinha d'alhos translated is meat marinated in wine vinegar and garlic. No potatoes. No wine.
Fun fact. The Portuguese also brought chilies to India. Thank you. We all owe you large.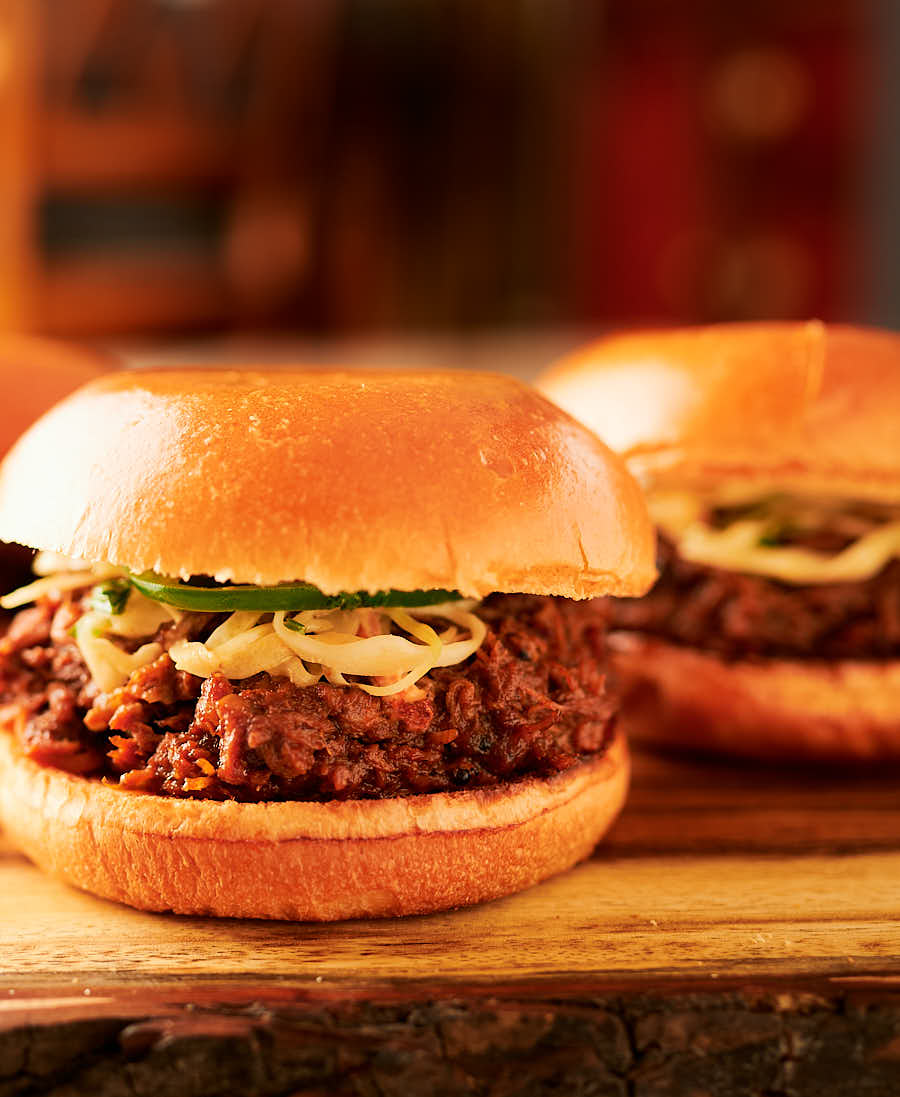 Vindaloo doesn't need to be stupid hot
Somewhere along the way vindaloo became synonymous with crazy spicy. Screaming hot. Melt your face off territory.
That's a western perception. Propagated by restaurants. The real deal is balanced. Nicely spiced. And so is this pulled pork vindaloo.
This one is all about flavour. Tasty. That's all I care about. Tasty.
You can make it spicier. A little extra hot chili powder will do it. A bit of naga pickle would be better I bet.
But I'd think about just making it as is. It's Indian-ish pulled pork. Hellfire not required.
But as always make what works for you. What makes you happy. I'm here to try to get you into the kitchen. Not to tell you what you like. Well, not much anyway.
Pulled pork vindaloo is fun food
This is party food. Fun food. Perfect for feeding a hungry crowd. Easy to make ahead.
And a little different. Not Indian. A little unexpected. Familiar. Funky. And really, really tasty.
Join the revolution. Help make it happen. Try pulled pork vindaloo. I'm pretty sure you won't regret it.
Pulled pork vindaloo
This is a fun riff on a traditional Goan dish.
Servings
6
big sandwiches
Ingredients
The spice mix
2

tbsp

kashmiri chili powder

Kashmiri chili powder is mild. Don't substitute hot chili powder.

2

tsp

coriander powder

1/2

tsp

amchoor powder

(optional but a nice addition)

2

tsp

cumin powder

2

tsp

paprika

1

tsp

coarsely ground black pepper

1

tsp

kosher salt

– you may need to a bit more at the end to taste
The vindaloo pulled pork
3

tbsp

neutral oil

canola or vegetable

3

lb

pork shoulder

1 1/2

cups

shallots

thinly sliced

1

3 inch

cassia bark

1

tsp

mustard seed

10

curry leaves

fresh (or frozen) but never dried – optional but tasty

1/4

cup

garlic ginger paste

make your own. Please. Pretty please. There's a link in the notes…

3

tbsp

tomato paste

diluted in enough water to get to the texture of a thick passata.

3

tbsp

cider vinegar

I know it isn't traditional. Roll with it.

2

tbsp

brown sugar

2

tsp

tamarind paste

not concentrate. Concentrate is – well – too concentrated.

water

or no sodium chicken stock to make the liquid in the pot come up around halfway up the way up the pork.
Instructions
Do your prep
Make your spice mix. Combine the Kashmiri chili powder, coriander, amchoor, cumin, paprika, salt and pepper in a small bowl.

Slice your shallots. Get the whole spices ready. Dilute the tomato paste with water.

Preheat your oven to 300F.
Brown the pork
Heat the oil in a dutch oven or heavy, oven safe pot with lid over medium heat. You want something that's big enough to fit the pork but not so large the pork gets lost in it.

When the oil starts to shimmer add the pork (all of it in one piece) and brown on all sides. Regulate the heat so you get good browning but not so hot things burn. The short sides will be much harder than the two opposing large sides. Don't kill yourself. Just do the best you can. It will all work out in the end.

When you have browned the pork, remove it from the pot and set aside. Look at how much fat is in the pan.

The pork will likely have thrown some fat and spatter will have taken some from the pot and spread it out on your stove (sorry about that). Don't clean it up just yet. There's a little bit more spatter to come.

You want 3-4 Tbsp total liquid fat (oil or rendered pork fat) in the pot so add or remove as required.
Get the braise ready
Reduce the heat to medium low.

Add the cassia bark, mustard seeds and curry leaves. Cook for about 30-45 seconds. You should see little bubbles forming around the whole spices.

Add the shallots. Once the shallots start to soften scrape up any of the fond that will should have formed when you browned the pork.

Cook, stirring regularly, until the onions start to brown. Brown is not light tan. You want some colour here. This should take 5-7 minutes.

Stir in the garlic ginger paste. Cook until the splattering stops. The messy part is now done. It's safe to clean your stove.

Add the spice mix. Stir. This is called blooming spices and it's where some serious food magic happens. If your pot looks dry add a splash of neutral oil. You want this to cook out but don't want spices sticking or burning.

Cook the onion spice mixture for 3-4 minutes.

Add the tomato paste and stir to combine.

Stir in the cider vinegar, brown sugar and tamarind.

Return the pork to the pot. Add enough water or chicken stock to come about halfway up the pork. Chicken bouillon cubes are not chicken stock.

Bring to a gentle simmer.
Braise the pork
Cover the pot and place in a 300F oven.

After 45 minutes remove the pot from the oven, flip the pork (good restaurant tongs are worth their weight in gold), cover and return to the oven.

You are going for an internal temperature around 200F. This will take somewhere around. 90 minutes to 2 hours. I can't tell you how long exactly. Depends on the piece of meat. Depends on the precise temperature of your oven (and my oven). But you should start checking at around the one hour mark.

Once you hit 200F you should be able to poke the meat and feel it give. It should shred pretty easily when you tug at it with your tongs.

Remove the pork from the pot. Tent with foil and set aside. You will want it to come down to about 140F before you shred. Plan on 20-30 minutes for that.

Defat the sauce. Let the sauce sit for a few minutes. You should see the rendered fat starting to pool. Pork shoulder is a fatty cut and you need to remove some of it. Saying that kills me because that fat is loaded with oil soluble flavour compounds extracted from the spices. But it's just way too oily if you skip this step.

When you have it to the texture you want taste it. If it needs salt add a bit. Stir. Taste again. Creep up on the right salt level. Keep in mind slightly under salted is always way better than over salted.
Finish it off
What's in your pot right now is Indian-ish barbecue sauce. A little sweet. A little tart. And a little spicy. Delightfully porky.

You want it the consistency of thin barbecue sauce. It might already be there. Or you might need to reduce it a bit over medium heat while the pork rests. Your call. Think coat a spoon consistency. Think cream.

When the pork has cooled to 140F or thereabouts shred it. Two forks. Bear claws. Heat proof gloves. Whatever works for you. Just get it shredded.

Return the shredded pork to the sauce. Stir to combine. Taste. Smile. Be happy.
Make the sandwiches
Vindaloo pulled pork is great on a toasted brioche bun with Indian slaw. It's completely over the top on a toasted, buttered brioche bun with Indian slaw.

Toast the buns. Butter the top (optional but tasty). Have the Indian slaw ready. Spoon out a good layer of pulled pork on the lower half of the bun. Top with slaw and the brioche crown. Eat with your hands. Enjoy.
Nutrition
Calories:
364
kcal
|
Carbohydrates:
20
g
|
Protein:
30
g
|
Fat:
18
g
|
Saturated Fat:
4
g
|
Polyunsaturated Fat:
3
g
|
Monounsaturated Fat:
9
g
|
Trans Fat:
1
g
|
Cholesterol:
93
mg
|
Sodium:
614
mg
|
Potassium:
872
mg
|
Fiber:
4
g
|
Sugar:
11
g
|
Vitamin A:
1326
IU
|
Vitamin C:
41
mg
|
Calcium:
81
mg
|
Iron:
4
mg