Indian slaw. A big mess of creamy wonderful. Cabbage. Jalapeno. Onion. Tangy spiced yoghurt mayonnaise dressing. Nothing not to like.
Except this isn't Indian. Not authentic. Not even a little.
Indian-ish
I've been thinking lately. There's this class of recipes. Doesn't quite fit. Not Indian. Not fusion. Indian inspired.
Indian flavours mixed in where they make sense. Almost Indian? Kind of Indian? Indianesque?
Indian-ish. That describes it best. That's what I should call this recipe. Indian-ish slaw. Except nobody would find it.
I didn't come up with it. But I can't come up with anything better. So I'm jumping on the bandwagon.
I put nine solid seconds into coming up with a better name. Before I gave up.
Indian-ish has been popping up on glebekitchen for a while. Not new. Just took me a while to see it. Fell into it. Subconsciously. And I'm so happy I did.
Tandoori BBQ shrimp. Definitely Indian-ish. Indian spiced wings. Pretty sure they qualify. Lamb keema papadum? That's a riff on a tostada when you think about it. There are others. Poke around a bit. You'll see.
I'm liking it though. Now that I'm thinking about it. It's a fun concept. And I have lots of ideas.
This recipe is a side. But it's also a key ingredient in the next dish I'm doing. That one's already mostly written. Expect it soon.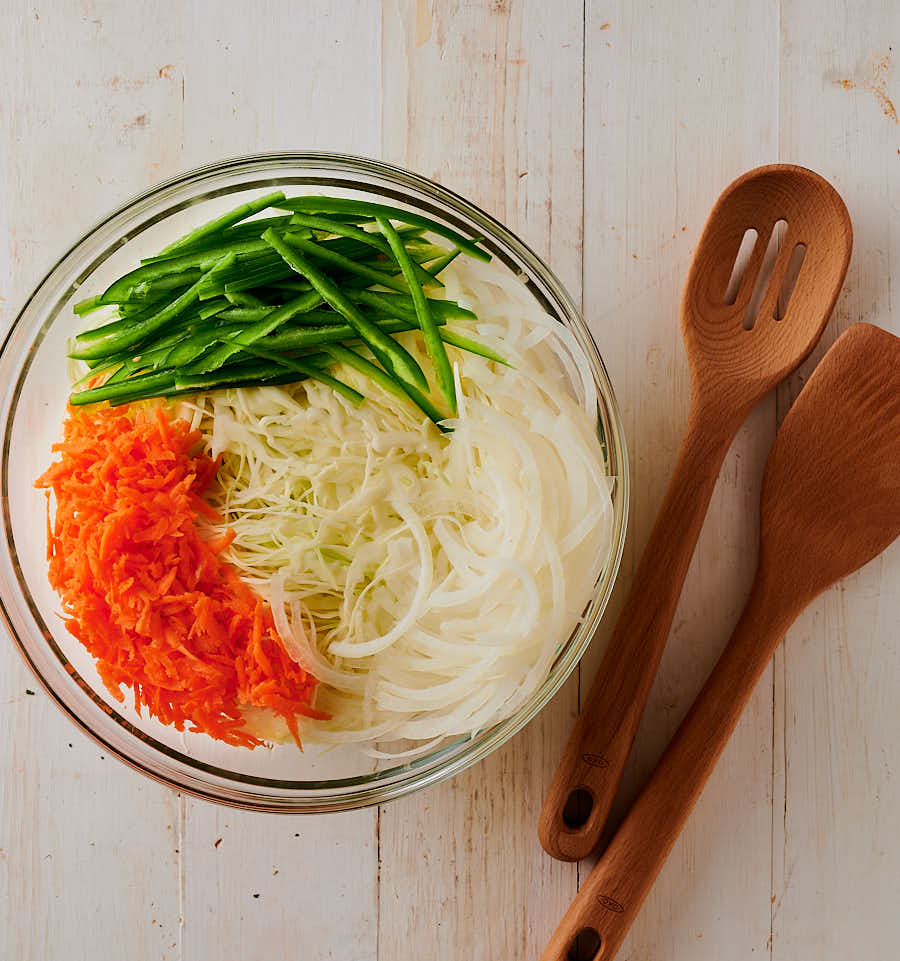 Things that go with tandoori chicken
I love tandoori chicken. Addicted to it. Have some cooking as I type. It's my kryptonite. My weakness. One of many to be sure. But still…
Tandoori chicken. Over charcoal. Something I want to share. With friends. A tandoori chicken cookout. Under the stars. The quintessentially backyard BBQ.
Meat over fire. Potato salad. Corn on the cob. Slaw. See where I am going with this? Sides are a bit of a challenge. Dal and rice aren't really cookout friendly.
I could do buttered chapatis and kachumber salad. That works. That's what my parents served. Indian. Through and through. Near and dear to my heart.
But I want to do this more than once. So I need options. To mix things up. Variety. Don't want to bore my guests.
I have a killer slaw recipe. Unbeatable. I think anyway. But it's vinegar based. Tart and sweet and wonderful. But not right with tandoori chicken. Not right with anything Indian.
I needed to come up with something else. Something that works. For tandoori chicken. For anything tandoori. And that something is Indian slaw.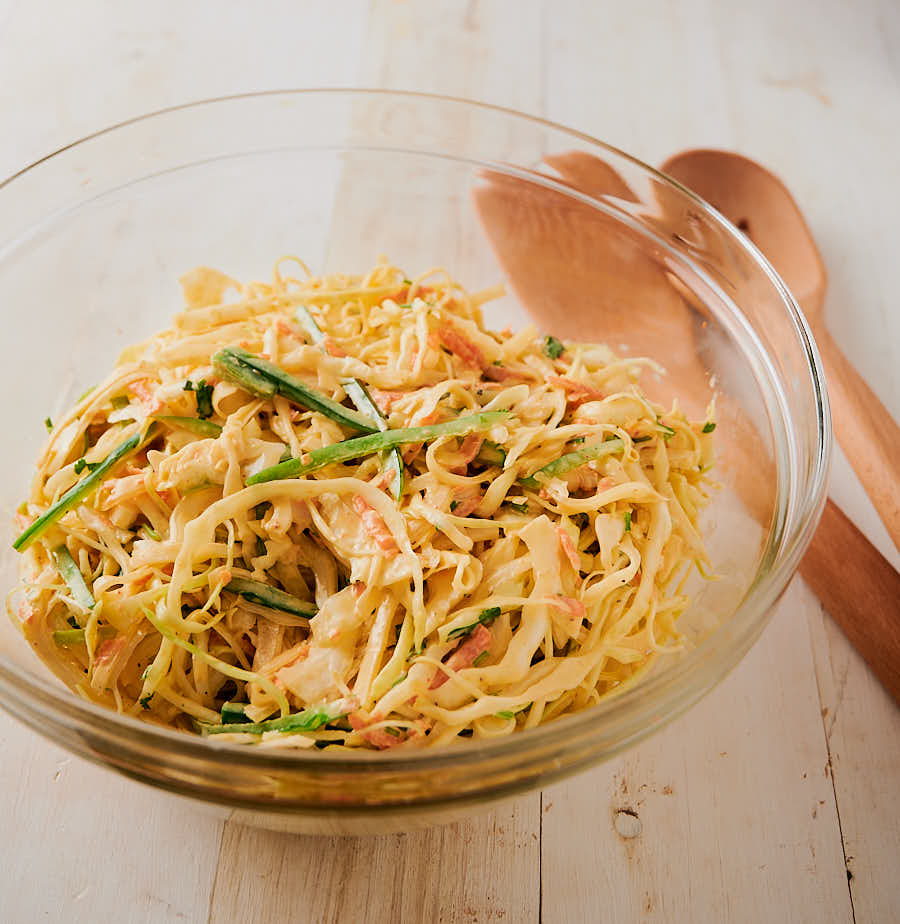 Indian slaw is Indian inspired
Look at the ingredients. Some Indian. Some not so Indian. But it works. With tandoori. Which is the whole point.
Mayonnaise doesn't come up a lot in traditional Indian. Super useful when you are cooking Indian-ish though.
It's a secret weapon at funky Indian restaurants. Seriously. Took me forever to figure that out.
But now I'm watching for it. I'm seeing it more and more. That amazing creamy dip at your local nobody can figure out? Try adding a little mayo.
Mustard powder is another oddball. Mustard seed is huge in Indian. But mustard powder? Not so much.
It's a staple for coleslaw dressing though. Coleslaw and mustard powder are soulmates in my kitchen. So in it goes. And it matters. Makes a difference.
Jalapenos aren't particularly authentic either. I like a little green pepper in my coleslaw. Jalapeno is like green pepper. Only better. So I couldn't resist.

And in case you're wondering. Jwala chilies are my go to fresh green chilies for Indian. They suck here. Don't try it. Trust me.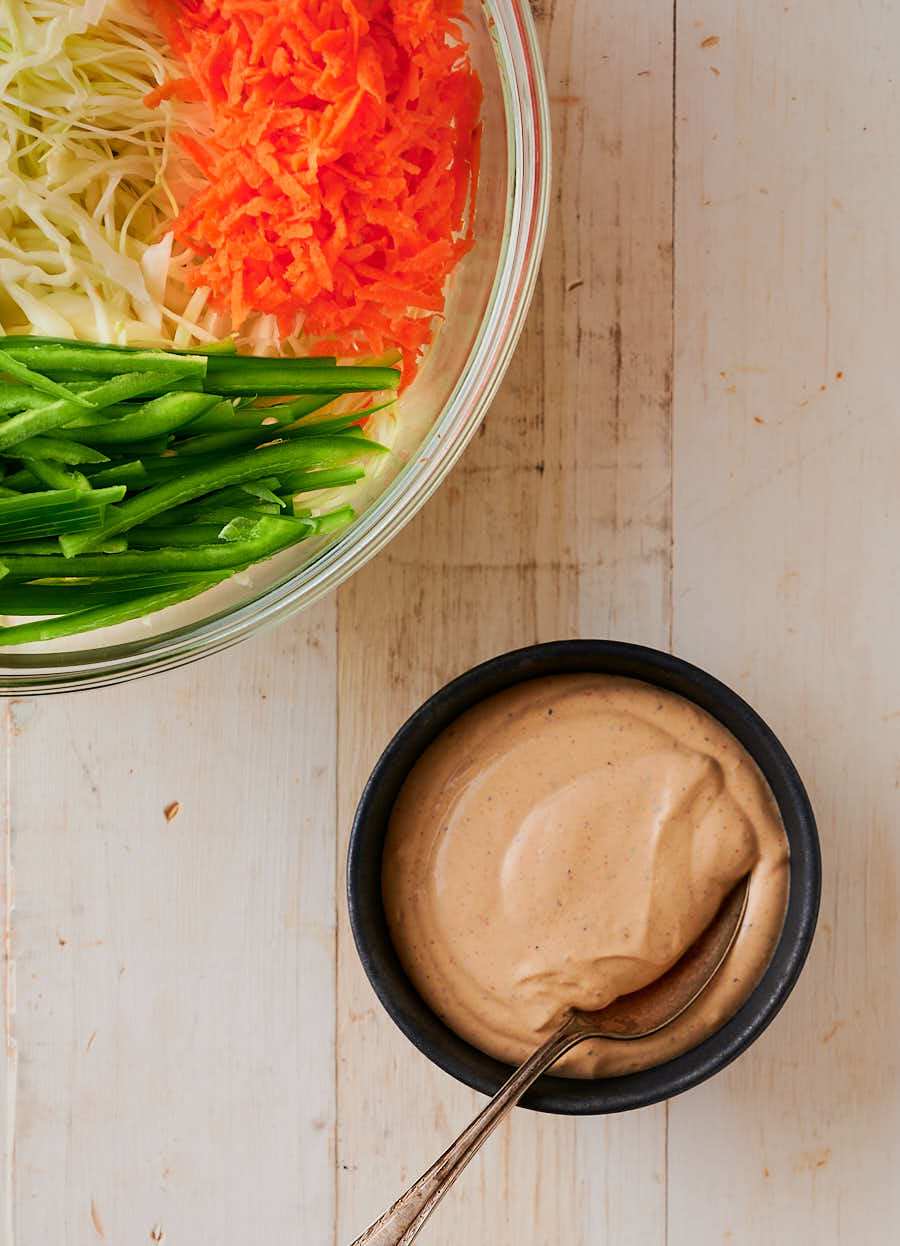 Let your Indian slaw rest for maximum flavour
Slaw is funny. And Indian slaw is no different. Cabbage needs time. It needs to soften. Wilt a bit.
This isn't a bang it together and eat recipe. There's a lead time. And it's pretty important.
Toss the dressing with the cabbage. And you get cabbage with dressing.
Wait four hours. You get slaw.
Wait a day. You get really good slaw.
Your call. I like really good slaw. So I plan ahead.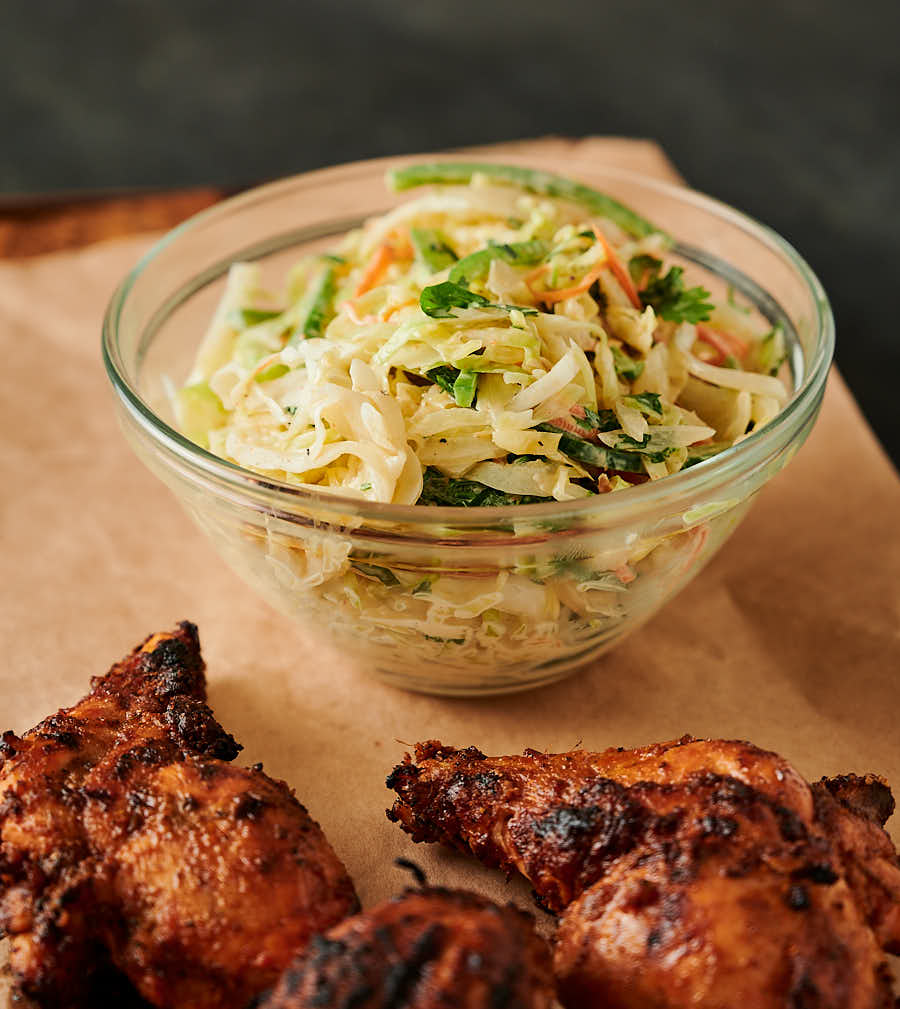 Ready for your Indian backyard BBQ?
There's something primal about a backyard BBQ. Fundamentally satisfying. It's just good living.
Friends. Food. Fire. How can you go wrong?
Tandoori chicken makes great anchor. It's delicious. It's easy to make.
And it's skinless. So you can load your barbecue with tons of chicken. No need to let the fire department know ahead of time.
I don't have an Indian potato salad. Not yet. But I do have gunpowder potatoes. Grilled potato goodness. Definitely another one to add to the Indian-ish list.
And Indian slaw. To round things out. A little crunch. A perfect counterpoint to the chicken.
Now all I need is a riff on corn on the cob. Cobs doused in butter and dusted with salt and Kashmiri chili powder. That will do for now. Might try a little chaat masala next time. I'll let you know.
Think about tandoori chicken with Indian slaw next time you're planning a cookout. It's fun food. And food should always be fun.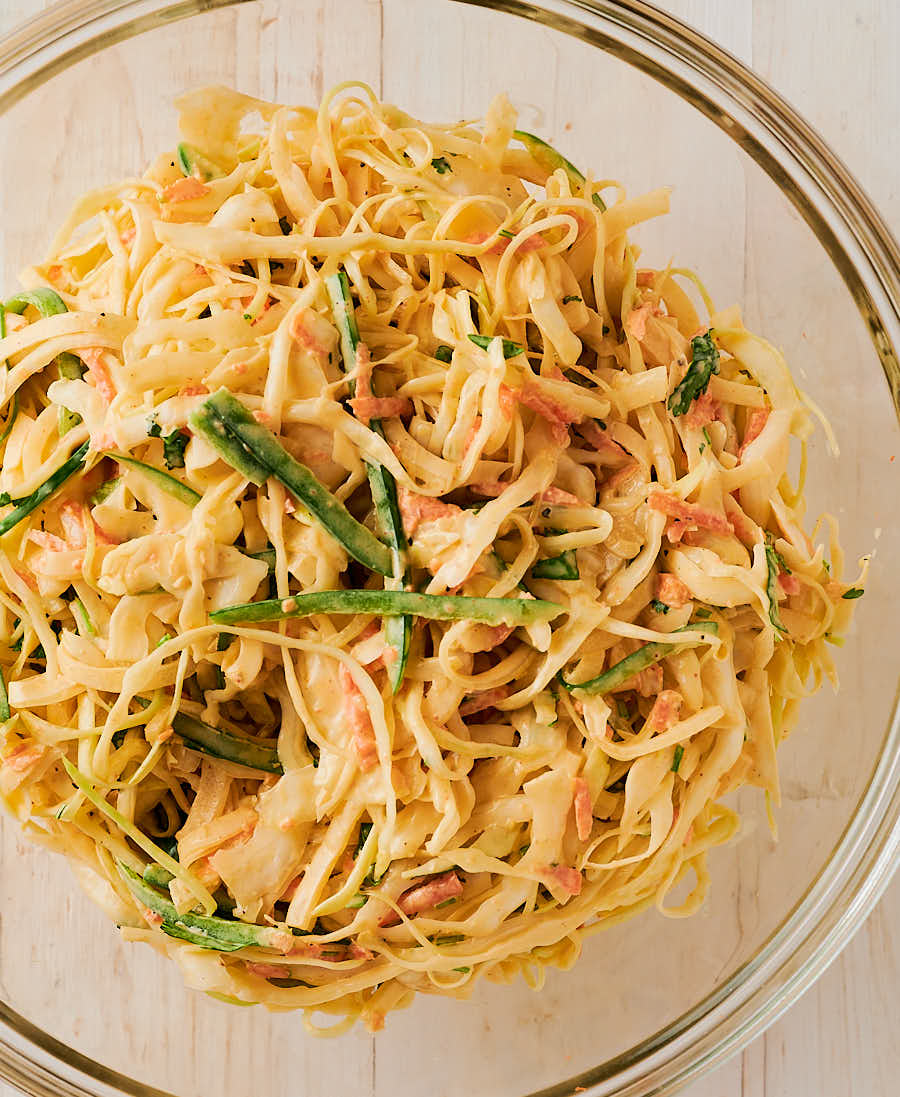 Indian slaw
This is creamy, slightly spicy slaw that's perfect for Indian cookouts.
Ingredients
The coleslaw dressing
1/2

cup

full fat yoghurt

1/2

cup

mayonnaise

I really like Hellmans

1/2

tsp

coriander powder

1/2

tsp

cumin powder

1/4

tsp

kashmiri chili powder

1/2

tsp

black pepper

coarse grind

1/4

tsp

mustard powder

I use Keens

2 1/2

tbsp

lemon juice

from a lemon, not a bottle

1

tbsp

milk

(optional) to thin if your yoghurt is really thick

1

tsp

sugar

– you can use a bit more if you like sweet but don't go crazy
Indian slaw
1

small

green cabbage

sliced as thinly as you can

1/2

large

spanish onion

sliced as thinly as you can

2

carrots

shredded (I use a cheese grater)

2

large

jalapenos

seeded and julienned

2 1/2

tsp

kosher salt

– or a little more to taste. 2 tsp table salt should be lots

1

tbsp

vegetable oil

a big handful of cilantro

stems and leaves, finely chopped

all the dressing from above
Instructions
Make the coleslaw dressing
Combine all the coleslaw dressing ingredients except the milk.

Stir to thoroughly combine. If it looks really thick add a bit of milk to thin it out. You want thick but within reason. Taste. You might like a little more lemon. Up to you.
Make the Indian slaw
Prep your vegetables. Core and thinly slice the cabbage. Slice the onion. Julienne the jalapeno. Shred your carrots. Chop the cilantro.

Combine the vegetables in a large bowl. A really large bowl. Don't think I tossed this slaw in the bowl I show. I used the biggest bowl I own. It makes things way easier. Trust me on this one.

Sprinkle the salt and oil over the vegetables. Stir to combine. Good quality restaurant tongs are a real help here.

Add the dressing and the cilantro. Toss to fully coat the vegetables with the dressing. If it's really hard to do add a bit more milk next time.

Let rest in the fridge for four hours before serving. Overnight is even better.
Nutrition
Calories:
148
kcal
|
Carbohydrates:
9
g
|
Protein:
2
g
|
Fat:
12
g
|
Saturated Fat:
2
g
|
Polyunsaturated Fat:
7
g
|
Monounsaturated Fat:
3
g
|
Trans Fat:
1
g
|
Cholesterol:
6
mg
|
Sodium:
845
mg
|
Potassium:
236
mg
|
Fiber:
3
g
|
Sugar:
5
g
|
Vitamin A:
2683
IU
|
Vitamin C:
37
mg
|
Calcium:
50
mg
|
Iron:
1
mg