Lamb keema papadum is appetizer you need to put into your arsenal. For when you just don't want the same old same old. It's sure to be a huge hit.
And why not? There's nothing here not to like. Flavourful lamb. Spicy garnish. On a piece of that crispy delicious they call papadum.
Don't think anyone else is doing this. I'm calling a glebekitchen original on this one. Tell me if I'm wrong.
Lamb keema papadum is a twist on a Mexican tostada
This is a riff on Mexican tostada. That's exactly what I was thinking when I came up with it. Papadum stands in for a tostada. Kachumber salsa instead of pico. And lamb keema in between.
The flavours are pure Indian though. Nothing Mexican here. Other than the inspiration.
It's about as hard to eat as a tostada. At least how it's pictured here. Full disclosure. I was having fun taking pictures. Nobody can eat this as shown. Don't try. It won't work.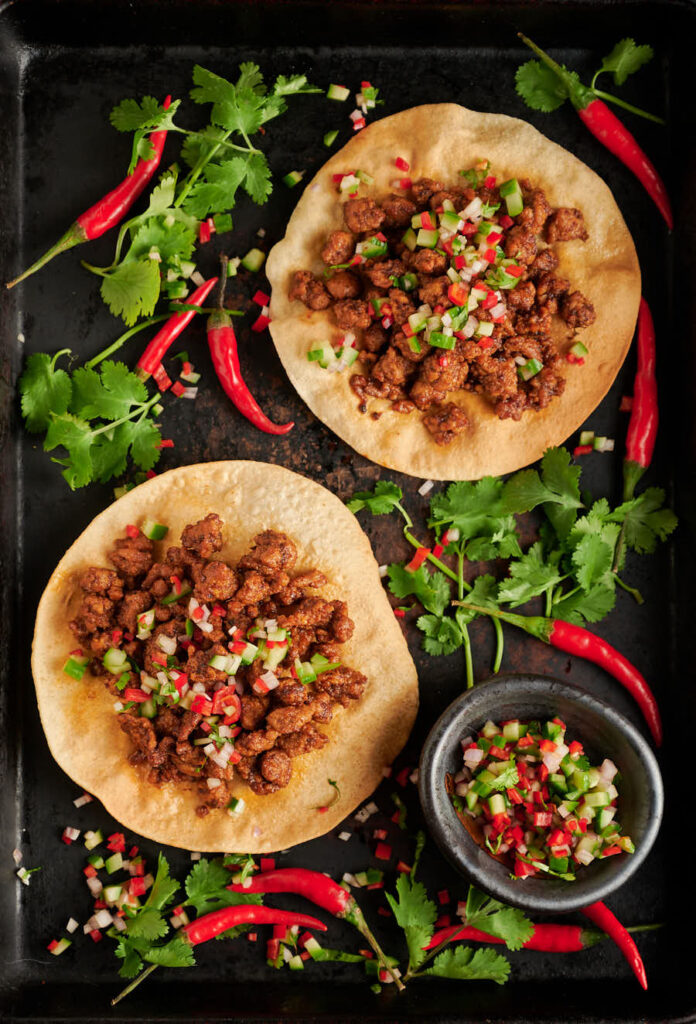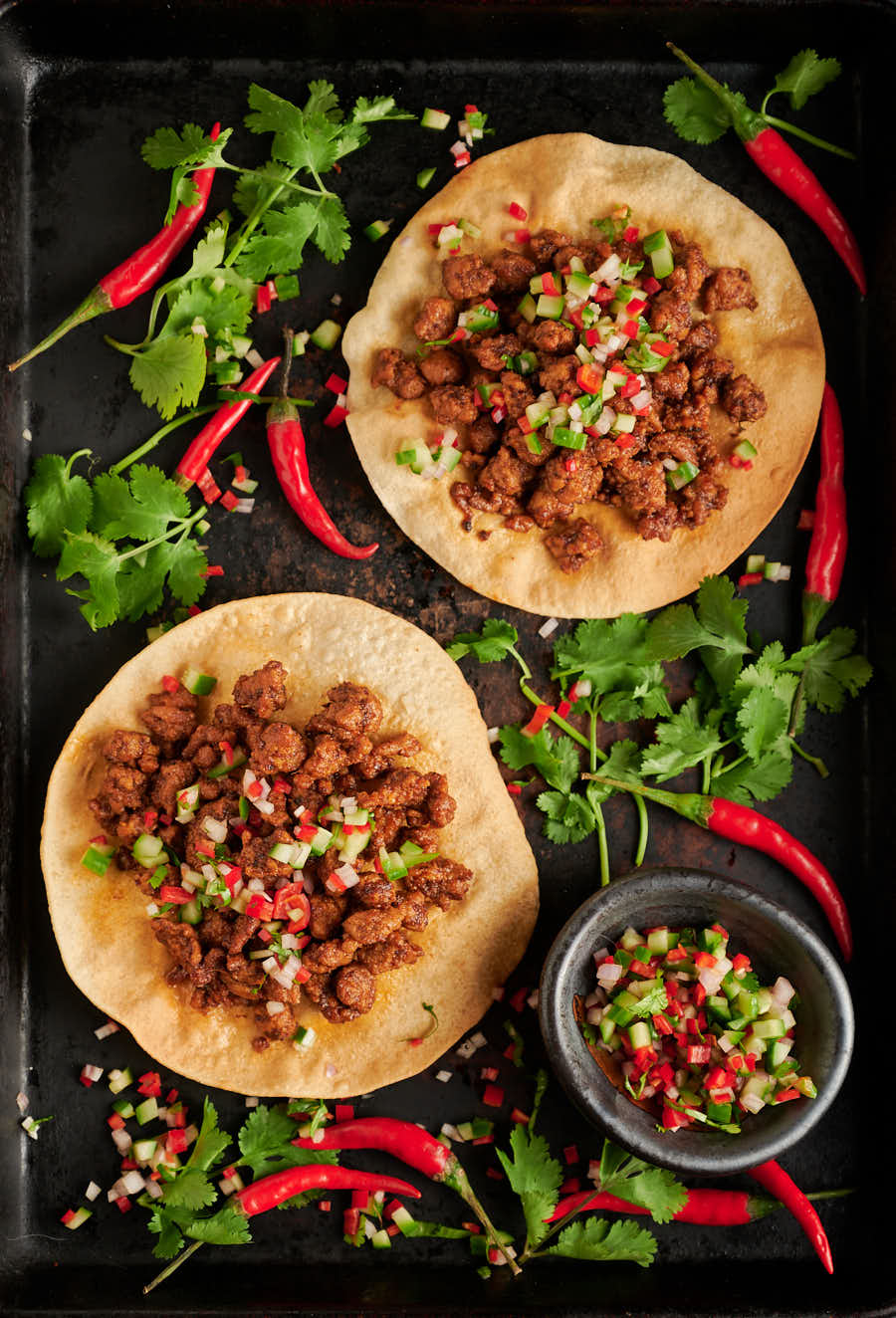 Let everyone build their own
Think of this like nachos. Not a plate of nachos. Like building individual nachos.
That's how you should serve lamb keema papadum. Put out a bowl of keema. Another bowl of kachumber salad. And a stack of papadum.
Let everyone assemble their own bites. A piece of papadum. A spoonful of keema. Some kachumber salsa on top.
It's a bit messy. So don't serve this over a white table cloth. Or a black tie event. This is casual food. Fun food. Food to serve your family. Or maybe your closest friends.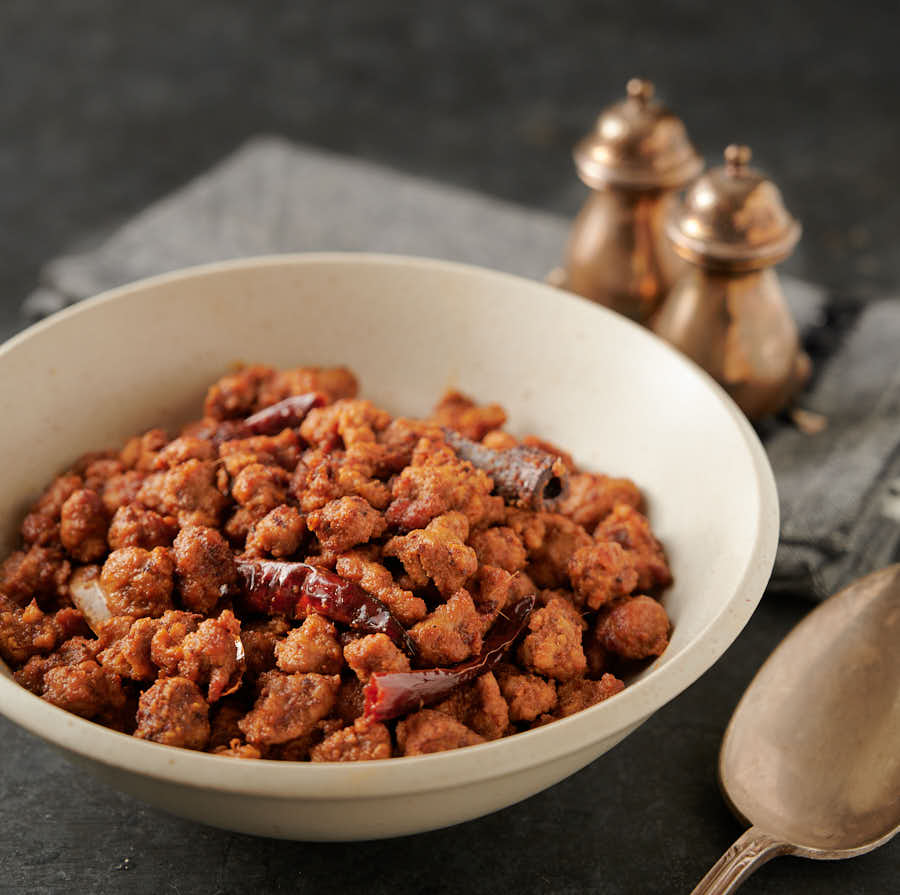 The world needs more lamb keema
I have a thing for lamb keema. It's just tasty stuff. Don't know why it isn't more popular. That's just a mystery to me.
If you like Indian and you like lamb there's nothing not to like. Keema matar. Aloo keema. Those are the big ones.
But there's no reason not to use it in other curries. Madras is good. Dhansak is really good.
Mmmm… Keema dhansak. Lamb and lentils is just good living.
As long as I'm waxing poetic on lamb keema why don't people serve lamb samosas. Where I live there's chicken or beef. Or vegetarian. No lamb? Why?
It feels like I'm getting fed on an airplane.
"Chicken or beef?"
"Neither. I'd like lamb please."
Next time you order samosas, ask for lamb. Time lamb lovers of the world stood up together. Demand better!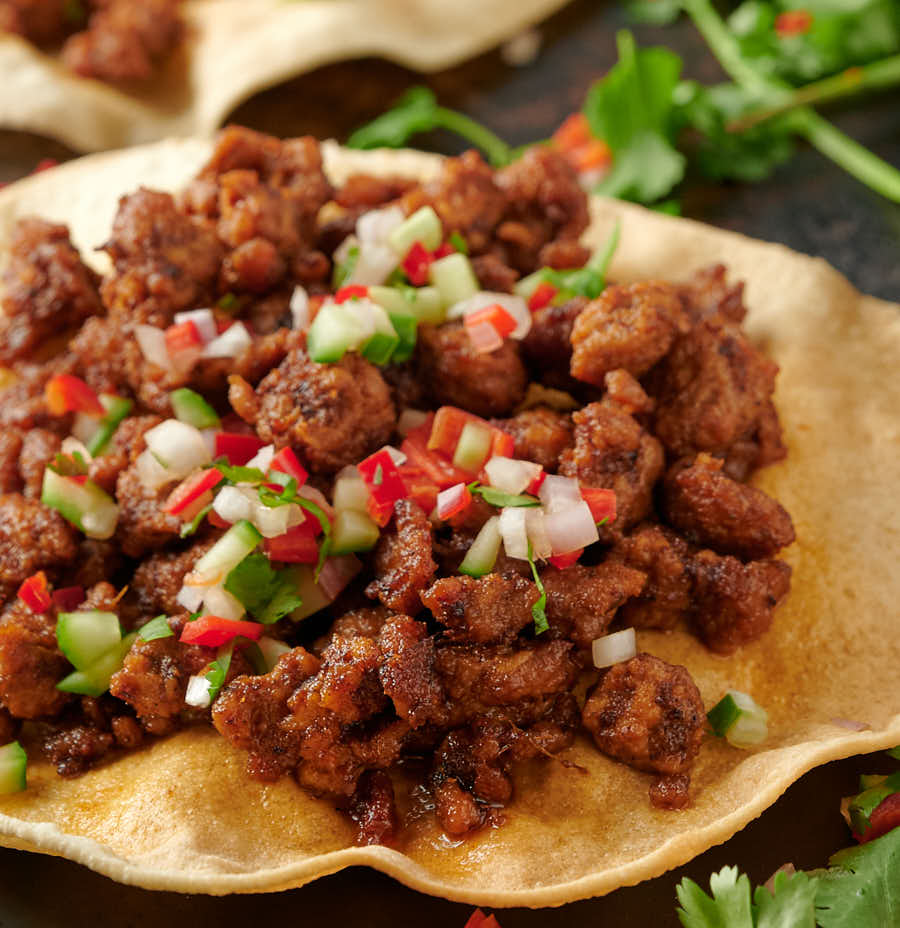 Lamb keema papadum is easy make ahead food
Lamb keema papadum is perfect when you don't want to fuss too much at the last minute.
Make the keema ahead of time. The day before even. The kachumber salsa will keep a few hours anyway.
So all you have to do is fry up some papadum. Heat up the keema. Put it on the table. And listen to everyone rave.
Lamb keema papadum is party food. With cocktails. Good friends and family. And good conversation. The way it should be around your table. The way it will be around your table again.
It's a little different. Out of the ordinary. Something new. But I wouldn't have it any other way. Would you?
lamb keema papadum
Keema on a papadum may not be familiar but it makes a great party appetizer. And you can prep everything except the papadum ahead of time.
Ingredients
lamb keema
1

lb

minced lamb

2

Tbsp

oil

1

bay leaf

– Indian tej patta if you can get it

1

black cardamom

– whole, split

2-3

kashmiri chilies

2

inch

piece cassia bark

– cinnamon stick

2

tsp

garlic ginger paste

– recipe link below

1/2

tsp

kasoor methi

– fenugreek leaves

1

Tbsp

madras curry powder

e.g Lalah's brand

1/2

tsp

kashmiri chili powder

1/2

tsp

salt

2

tsp

tomato paste

– diluted with water to the consistency of pasatta

2/3

cup

water
kachumber salsa
1/2

small

cucumber

finely diced. When I say small, I mean a little lebanese cucumber.

1

shallot

finely diced

2

red finger hot chilies

finely diced. Use finger hots. Do not use the little Thai chilies I used in the pictures unless you are a serious chili head.

1

Tbsp

cilantro

finely diced.

salt and lemon juice to taste
Papadum
6

papadum

oil to shallow fry
Instructions
Make the lamb keema
Pre-heat your skillet over medium heat.

Add the oil. It should shimmer slightly. Add the cardamom, bay, kashmiri chilies and cassia bark. Cook the whole spices until little bubbles form around the spices – about 30 seconds.

Add the garlic ginger paste. Stir. Cook until the sizzling subsides.

Reduce heat to medium low and stir in the kashmiri chili powder, kasoor methi, madras curry powder and salt. You are blooming the spices here. Absolute magic. It really makes a difference.

Cook, stirring constantly for about 30 seconds.

Add the tomato paste. Stir to combine and cook about 30 seconds.

Add the minced lamb. Break up any big chunks. Cook until all the meat is brown. You don't want to break the pieces up too small. It will be hard to eat.

Add the water. Simmer, uncovered until the water evaporates. This should take 5-10 minutes. Depends on the heat. Keep an eye on it.

Use a slotted spoon to remove the keema from the pan. This is much easier than trying to spoon fat out of the pan with keema in the way. Discard the fat.

Taste and adjust for salt if needed. Keep warm.
Make the kachumber
Combine the shallot, chili, cucumber and cilantro.

Season with salt and lemon juice to taste.
Cook the papadum
Heat the oil over medium heat. You want the oil around 325F.

Slip the papadum into the oil.

It will puff up in a second or two. Flip it, using tongs, and cook a few seconds more.

Remove from the oil. Place on a couple sheets of paper towel. Press the papadum flat with a spatula while it is still hot and pliable. Repeat 5 more times.
Serve
Put out the papadums alongside a bowl containing the keema and another containing the kachumber. Break the papadum into bite side pieces. Spoon a little keema onto the papadum. Top with a little kachumber.

Enjoy!
Notes
Make garlic ginger paste from scratch at home.
The pictures in this post have nothing to do with reality. It's real lamb keema papadum. Don't doubt that. But what I took pictures of is impossible to eat. It will self destruct after the first bite. Looks good though, doesn't it? I was having fun.
Serve the keema in a bowl. Serve the kachumber salsa along side. Fry up some papadum and let your guests break off pieces and build there own bites.
Nutrition
Serving:
6
servings
|
Calories:
274
kcal
|
Carbohydrates:
4
g
|
Protein:
13
g
|
Fat:
23
g
|
Saturated Fat:
8
g
|
Cholesterol:
55
mg
|
Sodium:
262
mg
|
Potassium:
284
mg
|
Fiber:
1
g
|
Sugar:
2
g
|
Vitamin A:
286
IU
|
Vitamin C:
23
mg
|
Calcium:
24
mg
|
Iron:
2
mg