Think beefy broth. A hint of lemongrass. Beef. Star anise. Rice noodles. And some bun bo Hue spice to fire it all up. That's what this beef Vietnamese inspired noodle soup is all about.
I love Vietnamese noodle soups. I'm actually crazy for them. Seriously. I have a problem. If you are like me, I'm guessing this is one you'll like. A lot.
It's not a famous dish. Not even a dish really. Just something I came up with to get my fix of noodle soup. I wasn't planning to write it down. But once I tasted it, I had to do it. So I would remember to make it again. And again. And again.
Beef noodle soup all about the broth
It starts with the broth. It always starts with the broth. It's a riff on pho. But faster. Easier.
Beef ribs. That's the secret to this broth. Meaty beef ribs. The ones that come with a prime rib roast. You can get them at your butcher. Anywhere that sells rib eye steaks really. A rib eye is just prime rib without the ribs. Sliced into steaks.
Talk to your butcher. Beef ribs are usually pretty cheap. Offer to pay a little extra for meaty ones though. Some places trim close to the bone. That won't work as well.
Or use the ribs leftover from a prime rib roast. That's what I did the first time I made this. A little leftover beef. The ribs. Beef noodle soup magic from leftovers.
If you buy beef ribs the key is to roast them off. Not for long. Maybe 30-40 minutes. You want good browning. It's amazing how big a difference roasting the ribs makes. Brown is better.
You don't want to render all the fat though. Some of that luscious beef fat needs to go into the soup. Don't worry though. You'll tweak the fat content along the way…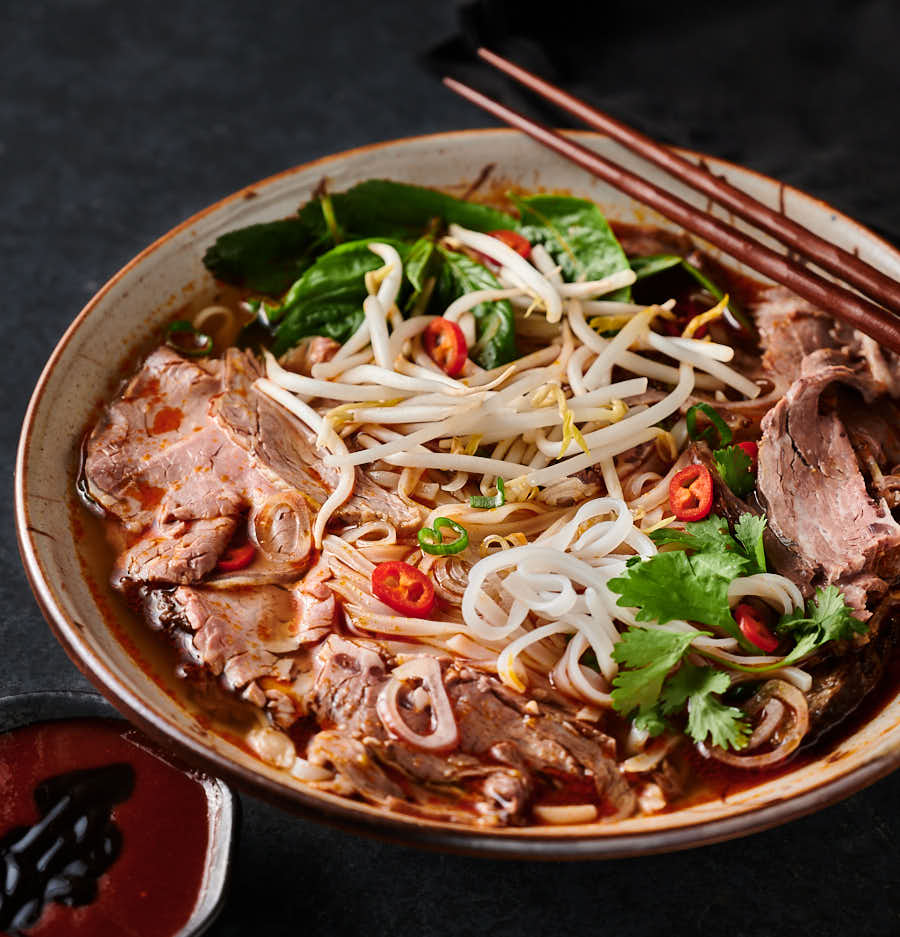 This is really simplified bun bo Hue
Never heard of bun bo Hue? Too bad. It's the other Vietnamese noodle soup. Pho's spicy cousin. Not as famous. Not yet. It will come. It's crazy delicious stuff.
Next time you're out for Vietnamese, try it. If you like a little bit spicy it's a great way to mix things up. Could become your new go to beef noodle soup. It's hard to beat a good bowl of pho. But bun bo Hue gives it a run for its money.
The spicing in this soup is not far off bun bo Hue. I found this stuff called gia vi bun bo Hue spice mix while poking around my local Vietnamese grocer. Cost a dollar. Not worth trying to make it for that price.
If you do want to make it, the ingredients are paprika, chili, onion, ginger and garlic. The order of ingredients is most to least if you want to try. I haven't tried replicating it yet myself. Did I mention it costs a dollar?
Before you beat me up for this remember I said it was an easier version. Simplified. No shrimp paste. No pork broth. Or cha hue. But no prefab soup base either.
Perfect noodles makes perfect beef noodle soup
You need to be careful with rice noodles. It's easy to overcook them. Overcooked noodles are mushy noodles. Mushy noodles make bad beef noodle soup.
No matter how good everything else is, everyone will remember the noodles. Sad. But true.
There's an easy way to get them right every time. Soak your rice noodles in cold water for about 30 minutes. That softens them up.
Then drop them in boiling water for somewhere between 30 seconds and a minute. Test them along the way. As soon as they are soft but still toothy pull them. Run them under cold water.
They will cook a little more in the broth. That's why you want them still a bit toothy when you serve the soup. Cook them completely they and they will turn to mush once the broth hits them.
It's an easy trick but an important one.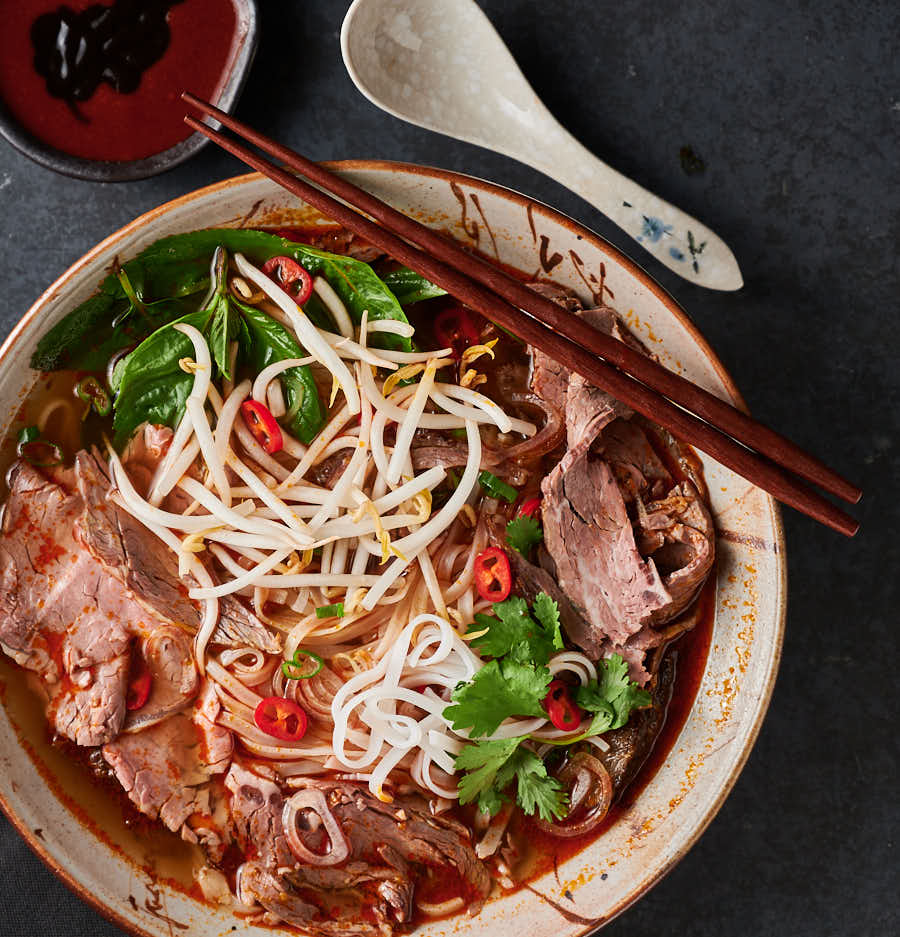 Put it all together
Once you have the broth done it's a snap to serve this beef noodle soup. Put a good handful of noodles in each bowl. Add in meat from the braised bones. Top with some sliced beef. A few thin slices of shallot. Some green onion.
Pour the broth overtop and garnish with culantro (not a typo), cilantro and Thai basil. A bit of hoisin and sriracha on the side makes a great dip for the beef.
Then sit down and dig into a big, steaming bowl of delicious.
spicy beef noodle soup
Vietnamese inspired beef noodle soup.
Ingredients
The broth
3

lbs

meaty beef ribs

About 4 good sized ribs.

6

cups

chicken stock

no sodium

2

stalks

lemongrass

well-bruised

1-2

large

shallots

1

whole

star anise

1

black cardamom pod

2

tbsp

fish sauce

1

tbsp

gia vi bun bo Hue spice mix

from your Asian grocer (or see in the text above for ingredients). You likely won't need all of it.

2

tbsp

reserved beef fat

skimmed from the broth

salt to taste

creep up on it. Probably somewhere between 1/2-1 tsp total.
Spicy beef noodle soup
6

oz

rice noodles

6

oz

sirloin

Chinese fondue beef. Leftover prime rib is good here too.

6

oz

reserved rib meat

if you choose to use it.

1

shallot

thinly sliced

1

green onion

thinly sliced

culantro, basil, cilantro, red chili slices and bean sprouts

to garnish

lime, hoisin and sriracha

to serve
Instructions
Make the broth
Roast the beef ribs in a 325 degree oven for around 30-40 minutes. You want them to brown up a bit.

Bruise the lemongrass. Cut it in half and whack it repeatedly with the dull side of a big knife until it starts to break open.

Combine the roasted ribs (or leftover ribs from a rib roast), lemongrass, chicken stock, star anise, black cardamom, shallots and fish sauce in a pot large enough to hold all the ingredients.

Bring to a simmer and cook until the beef separates easily from the bone. This takes 90-120 minutes or so.

This next step is optional. If you like the textured bits in pho (like tendon) then go for it. If you prefer just sliced beef then leave the meat on the bones and continue simmering. Your broth will be beefier for it.

Remove the ribs from the pot. Let cool slightly. While you are at it remove everything except the shallots from the pot.

Once the ribs have cooled enough to handle remove the meat and refrigerate. Return the stripped beef bones to the pot and continue simmering for a total of 4 hours. If your beef took 2 hours to get tender simmer for another 2 hours.

Or, if you don't want the more interesting bits then just skip this step. Leave the beef on the bones but do remove the lemongrass, star anise and cardamom.

After 4 hours, remove the beef bones. Strain. Add enough water or stock to bring the total volume back to 6 cups. Refrigerate briefly. You want the fat to set up. There's too much at this point. Once the stock is chilled skim off the fat. Keep it handy though. Don't throw it away.

Return the skimmed stock to the pot. Bring to a simmer. Taste and adjust for salt.

Add three tablespoons of fat to a small sauce pan or frying pan. Heat over medium low heat. It will sputter for a bit as the water boils off. You should have enough fat. If you don't make up the difference with vegetable oil.

Add the bun bo Hue spice to the pan. Stir to coat the spices in oil and fry gently for about 30 seconds. Let this cool briefly and add about a tablespoon of the spice/fat mixture to the broth. Be careful. Hot fat into stock can bubble a bit. Taste and decide if it's spicy enough. If not, add a bit more and taste again. Once you have the salt and spice right your broth is done. Keep warm.
Prep the rice noodles
Soak the noodles in cool water for 30 minutes.

Bring a large pot of water to a brisk boil. A pasta pot works really well here. The type with the built in colander.

Add the pre-soaked noodles to the boiling water. Stir.

Start checking the noodles after around 30 seconds. You want them a little bit toothy. This can take a minute or so.

Remove the noodles from the hot water. Rinse with cold water. Keep the hot water handy.
Assemble the soup
Bring the broth back to a lively simmer.

Put the noodles back into the hot cooking water to warm through. This takes under 30 seconds if the water is still hot.

Divide the noodles into two bowls. Add the beef, green onions, shallots and red chili slices. Pour half the piping hot broth into each bowl.

Mix equal portions of hoisin and sriracha in a small bowl. Garnish with herbs and bean sprouts. Season with lime. Dip your beef into the hoisin/sriracha mixture for a little extra flavour. Enjoy.
Nutrition
Serving:
2
g
|
Calories:
731
kcal
|
Carbohydrates:
89
g
|
Protein:
54
g
|
Fat:
18
g
|
Saturated Fat:
7
g
|
Cholesterol:
102
mg
|
Sodium:
1889
mg
|
Potassium:
1473
mg
|
Fiber:
3
g
|
Sugar:
4
g
|
Vitamin A:
60
IU
|
Vitamin C:
3
mg
|
Calcium:
92
mg
|
Iron:
7
mg