Sometimes you just want satisfying. Chicken and chickpea curry delivers. Simple, balanced and delicious. It's the real deal.
This is not a famous Indian dish. Not likely a curry you've heard of. But it's one I like. So I'm sharing.
I came up with this one night because I needed dinner. No plan. Zero research. No thinking.
Chicken. Chickpeas. Potatoes. And an appetite. That's what I had. And chicken and chickpea curry is what I came up with.
I was not thinking blog post. Wasn't thinking anything really. Except that I was hungry. Turns out I liked it. So here it is.
Chicken and chickpea curry. Done easy restaurant style. Pretty sure it's not on any menu I've ever seen. But good enough I'm writing it down. So I remember to make it again. And again.
This isn't murgh cholay by the way. If that's what you are looking for this isn't it. Don't say I didn't warn you.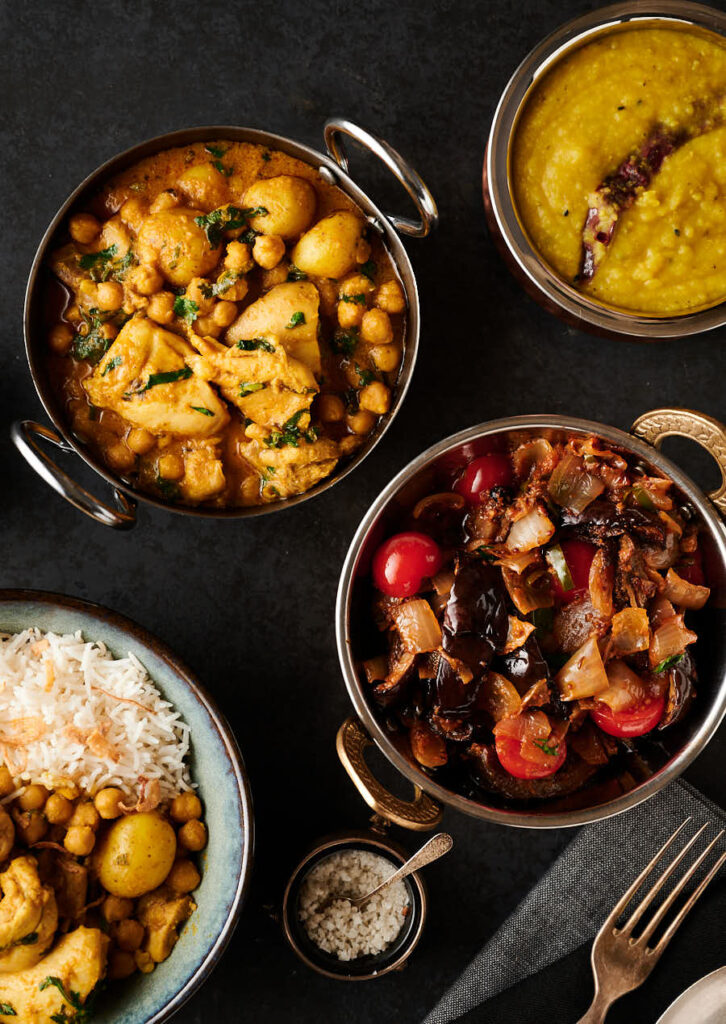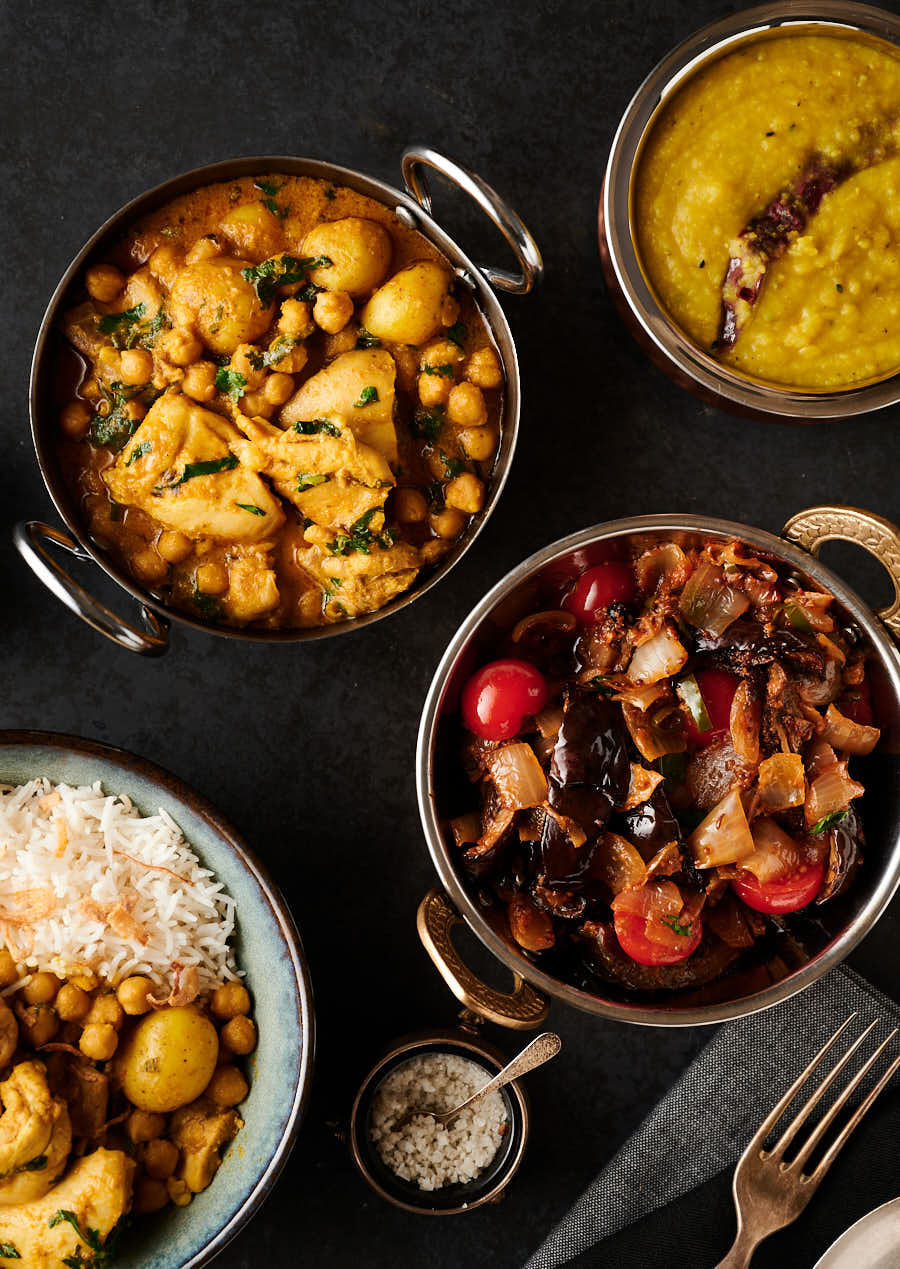 Easy restaurant style curry
Ever wonder why all the recipes on the internet never turn out like what you get in Indian restaurants? There's a reason. And it's not you. It's because restaurants come at it in a completely different way.
Restaurant curries rely on stuff like curry base. And pre-cooked chicken. A lot of prep. Just what you'd expect in a restaurant. They have to crank curries out in 10 minutes. That's a whole different world.
Easy restaurant style gets you the taste without the prep. No curry base required. I'm not saying I don't like cooking with curry base. Just saying if you don't have any – or don't feel like making any – there is another way.
It's a different way of getting to the same place. If you want to read more read this easy restaurant cooking primer. Try it. It works.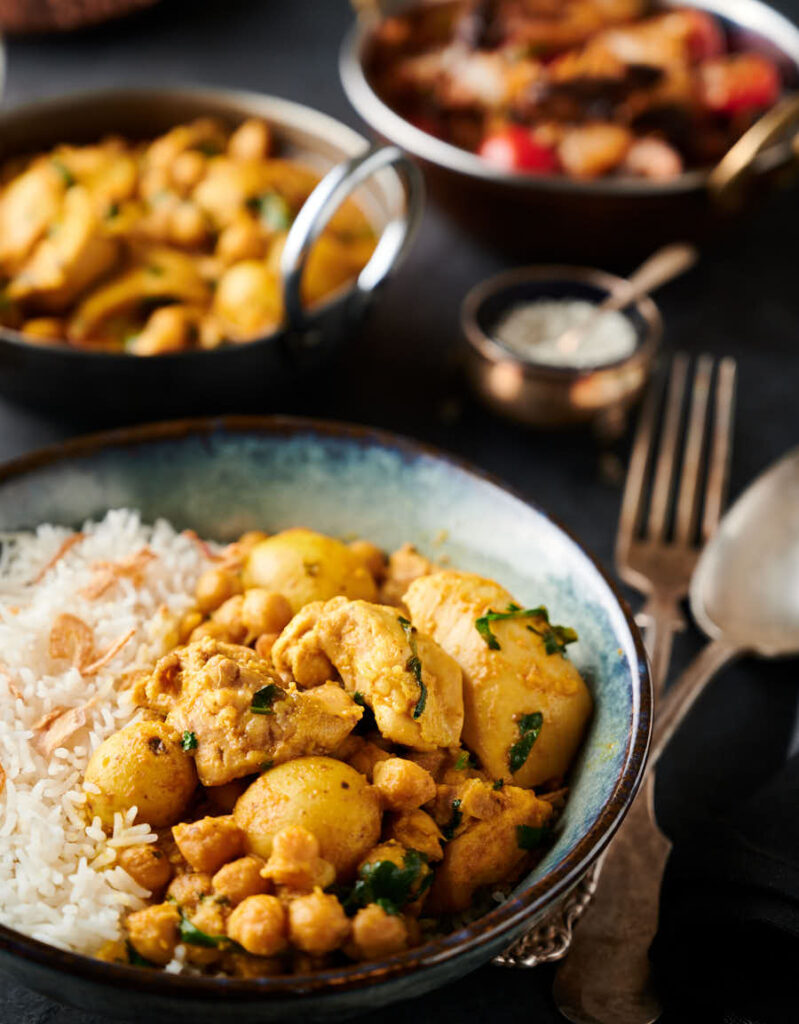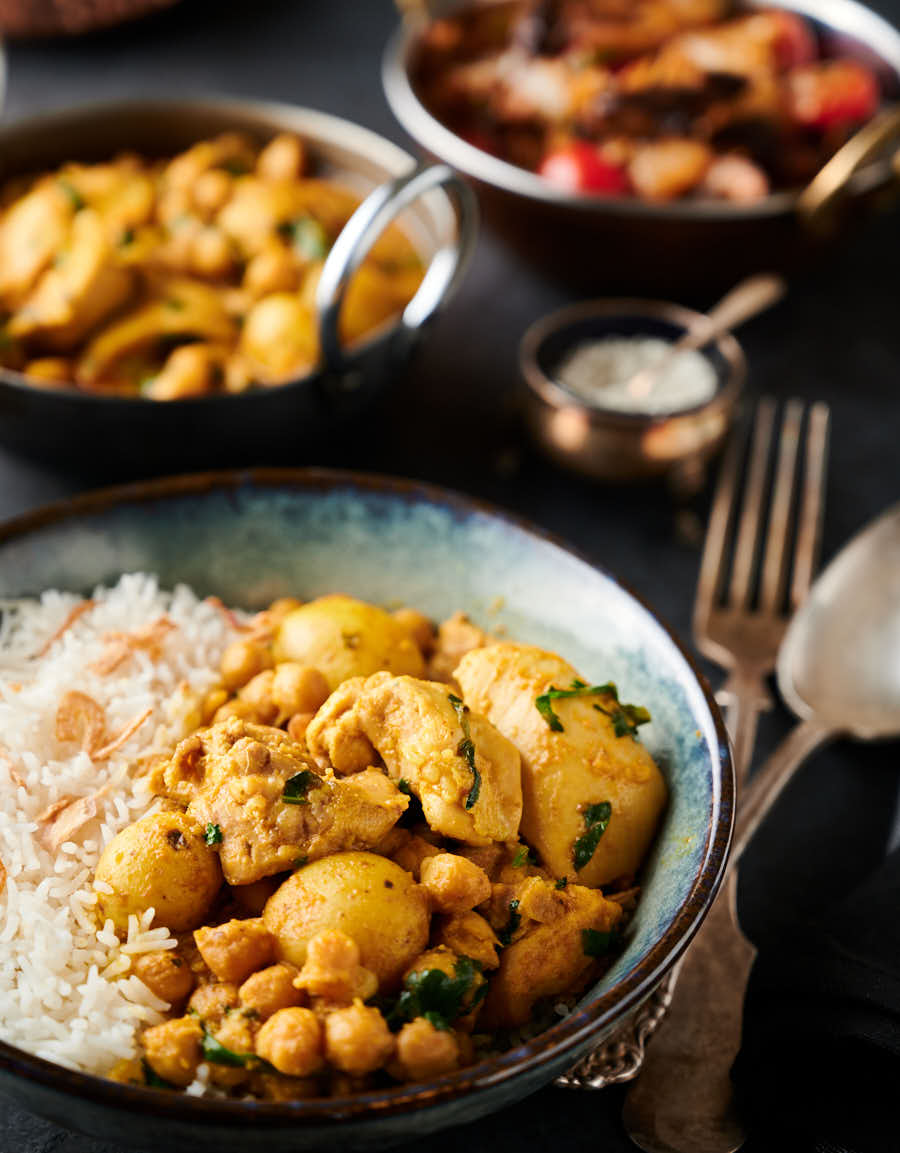 Chicken and chickpea curry is a standalone meal
This is all in one. You can serve it like you would a regular curry. Wth rice. Some dal. Like in the pictures.
Or you can just eat it as is. Might not quite serve 4 if you go that route. But it is a solid meal on it's own. Potatoes. Chickpeas. And chicken curry. Hearty fare.
I cooked up a storm to take these pictures. Dal. Rice. Eggplant curry. Almost made some parathas. So I could get the shot. I ate way too much for dinner.
So make chicken and chickpea curry when you want to make one dish. A really tasty dish. Don't worry about rice. Or sides. Just make it. Spoon it into a bowl. Maybe a paratha or chapati to go with it. Enjoy.
Chicken and chickpea curry. Could be the most satisfying curry you've never heard of.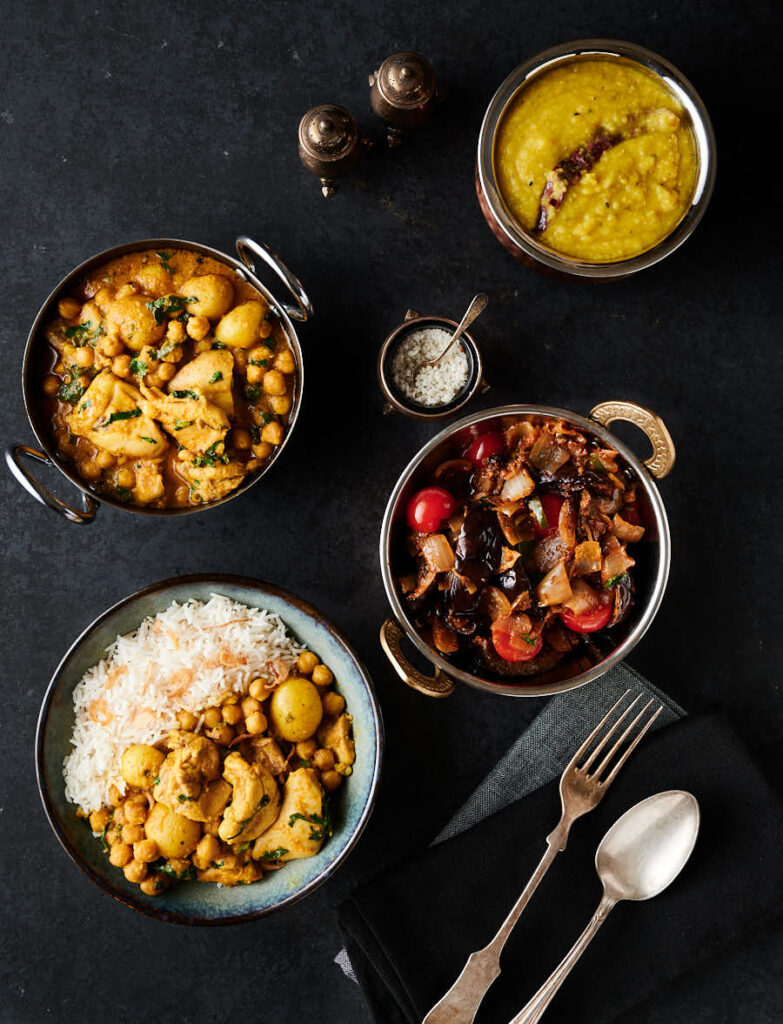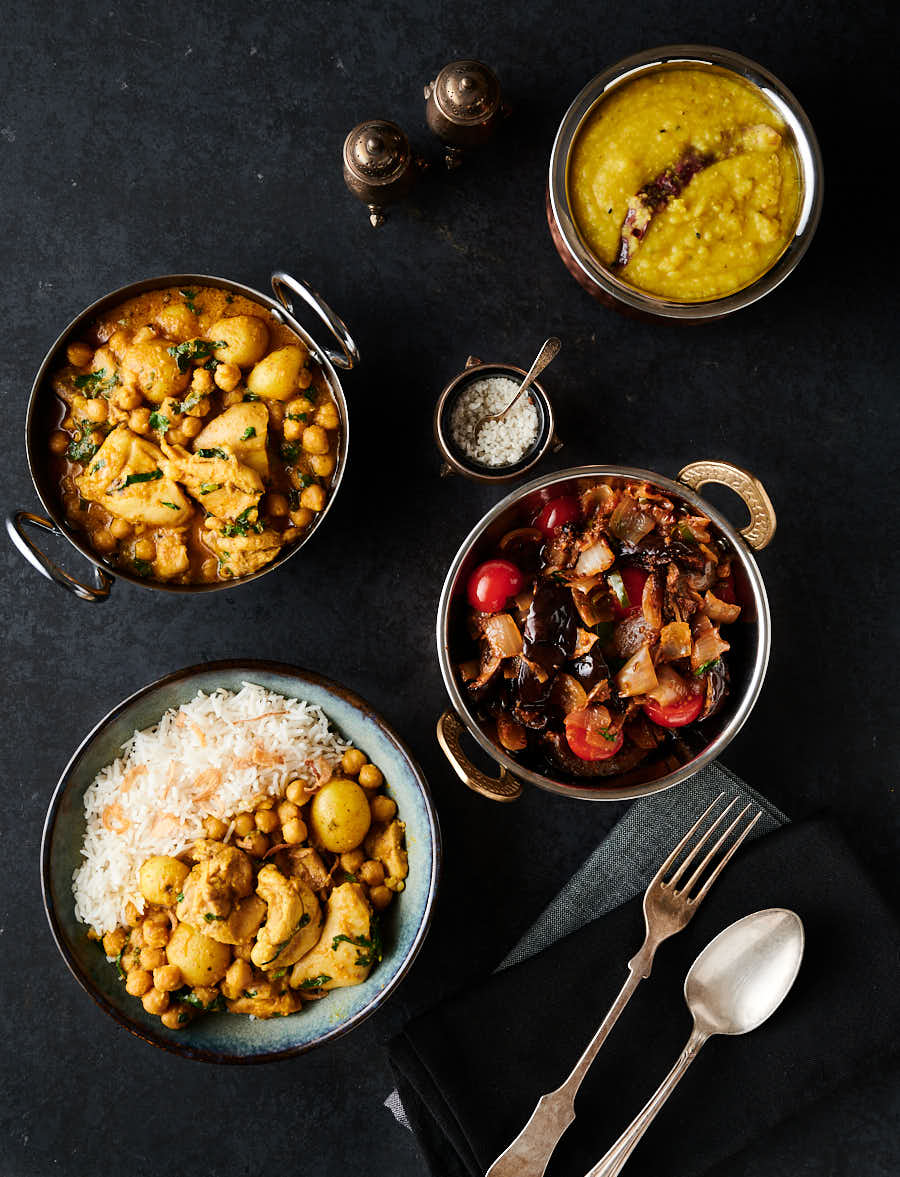 chicken and chickpea curry
This is just good homestyle chicken curry done restaurant style. It's a meal in a bowl.
Ingredients
The onion paste
2

cups

onions – coarsely chopped

2

tbsp

vegetable oil

1

cup

water
The spice mix
2

tsp

coriander powder

2

tsp

cumin powder

1/2

tsp

turmeric powder

1

tsp

mild kashmiri chili powder

1

tsp

kasoor methi

– dried fenugreek leaves

1

tsp

kosher salt

– use a bit less if you are using table salt
Chicken and chickpea curry
6

boneless skinless chicken thighs

cut into 3 pieces per thigh.

4

tbsp

vegetable oil

2

tbsp

garlic ginger paste

– see notes

the spice mix

the onion paste

15

oz

chickpeas

one can

1

cup

small waxy potatoes

– or chunks of a large waxy potato

1

cup

cilantro

– coarsely chopped

1/2

lemon

juiced
Instructions
The onion paste
Place the onions in a microwave safe dish and cover loosely. Microwave at 70 percent until the onions are soft and translucent. This takes about 10 minutes in my 1100 watt microwave oven.

Remove the onions from the microwave. Be careful. They will be hot. Like burn you with the steam hot. Let them cool slightly. 

Place the onions, 2 tbsp vegetable oil and 1 cup of warm water in a blender and puree until smooth. Set aside.
chicken and chickpea curry
In a small bowl, combine the coriander powder, cumin powder, turmeric, Kashmiri chili powder, kasoor methi and salt. This is your spice mix. It goes in after the garlic ginger paste.

Heat 4 tbsp vegetable oil in a pot over medium heat until it shimmers.

Add the garlic ginger paste. Cook until the garlic ginger paste stops spluttering.

Turn the heat to medium low. Add the spice mix. Stir continuously until it starts to smell really good. This takes around 30-40 seconds. Watch it carefully. If you burn the spices at this point you have to start over. This is called blooming the spices. It is one of the secrets to Indian cooking. Works well in Mexican cooking as well.

Add half the onion paste. Stir to combine. Cook over medium heat for about 2 minutes. It is going to splatter. Be warned.

Add the remaining onion paste. Cook another 2 minutes or so.

Turn the heat to medium low. Add the potatoes and chickpeas. Cook for around 20 minutes. The potatoes should be nearly done.

Now add the chicken and stir. Cover and simmer until the chicken is done. It's done when you measure the internal temperature and it says 170F. That takes about 12-15 minutes. An instant read thermometer is a handy thing to have here…

If the curry is a bit thick add a bit of water or chicken stock and stir. Add the diced and cilantro and lemon juice. Let the chicken masala simmer another minute or so. Taste for salt and adjust as needed.

Garnish with a bit more cilantro if desired.
Notes
You can buy garlic ginger paste.  But  homemade is way better. And it's easy to make your own garlic ginger paste. It's so worth making it.
This recipe serves somewhere between two monster appetites and four people as part of a meal.
Nutrition
Serving:
4
servings
|
Calories:
634
kcal
|
Carbohydrates:
45
g
|
Protein:
44
g
|
Fat:
31
g
|
Saturated Fat:
19
g
|
Cholesterol:
161
mg
|
Sodium:
768
mg
|
Potassium:
1092
mg
|
Fiber:
11
g
|
Sugar:
9
g
|
Vitamin A:
500
IU
|
Vitamin C:
19
mg
|
Calcium:
112
mg
|
Iron:
6
mg