Thai papaya salad is one crazy tasty salad. Spicy. Sweet. Salty. Sour. The quadruple crown of delicious.
That's a lot of hyperbole. So I would expect you to doubt me. I would doubt me. But it's so good. I could drink the dressing. Seriously.
It absolutely shines with anything grilled. Or roasted. Fish. Chicken. Pork. It all just works.
Or try it with shrimp poached in a tom yam style broth. That's dinner right there.
Make papaya salad with green papaya
You can get green papaya at just about any Asian market. At least where I live. It will be in with the produce.
It's football shaped. Green skin. Should be firm. Not blotchy. No soft spots. Like a green mango.
Green papaya doesn't taste like ripe papaya. It has none of that funky smell or taste. Might as well be a completely different fruit. Whatever you do, don't use ripe papaya for som tam. It will not be good.
While you're at the market ask for a Kiwi brand papaya shredder. It costs about five bucks and it makes shredding papaya a snap.
It's great for carrots. Cucumber. Anything you want shredded. If you like to cook Thai or Vietnamese you need one of these things. I'm not a kitchen gadget lover. But this thing is worth the space it takes.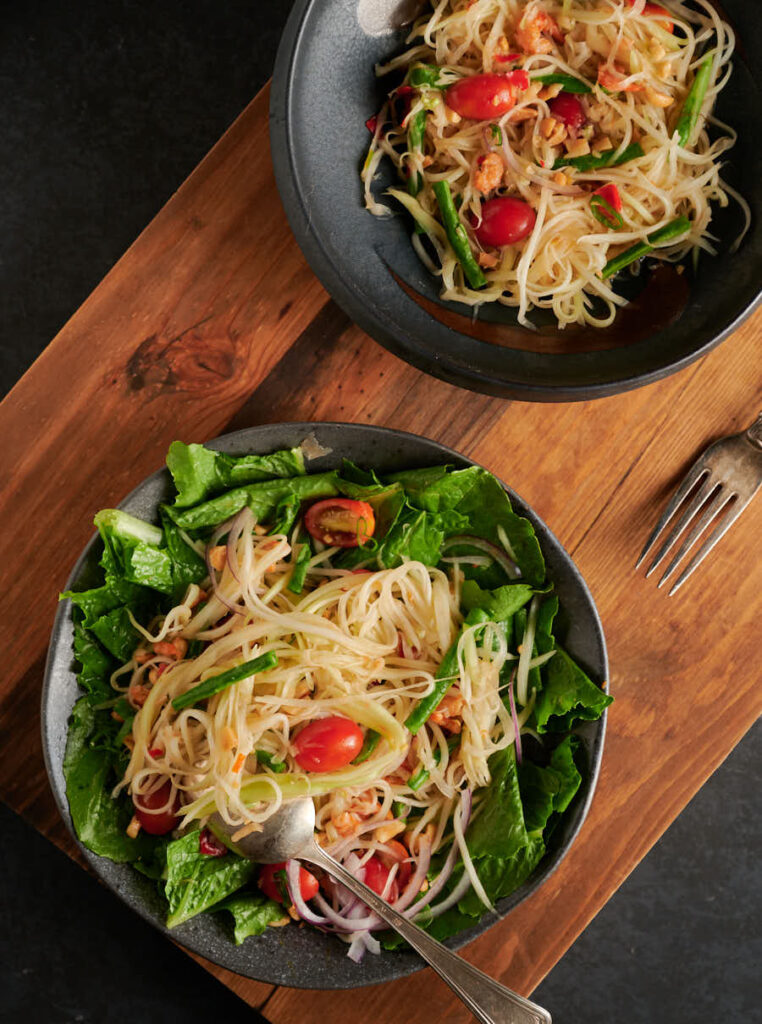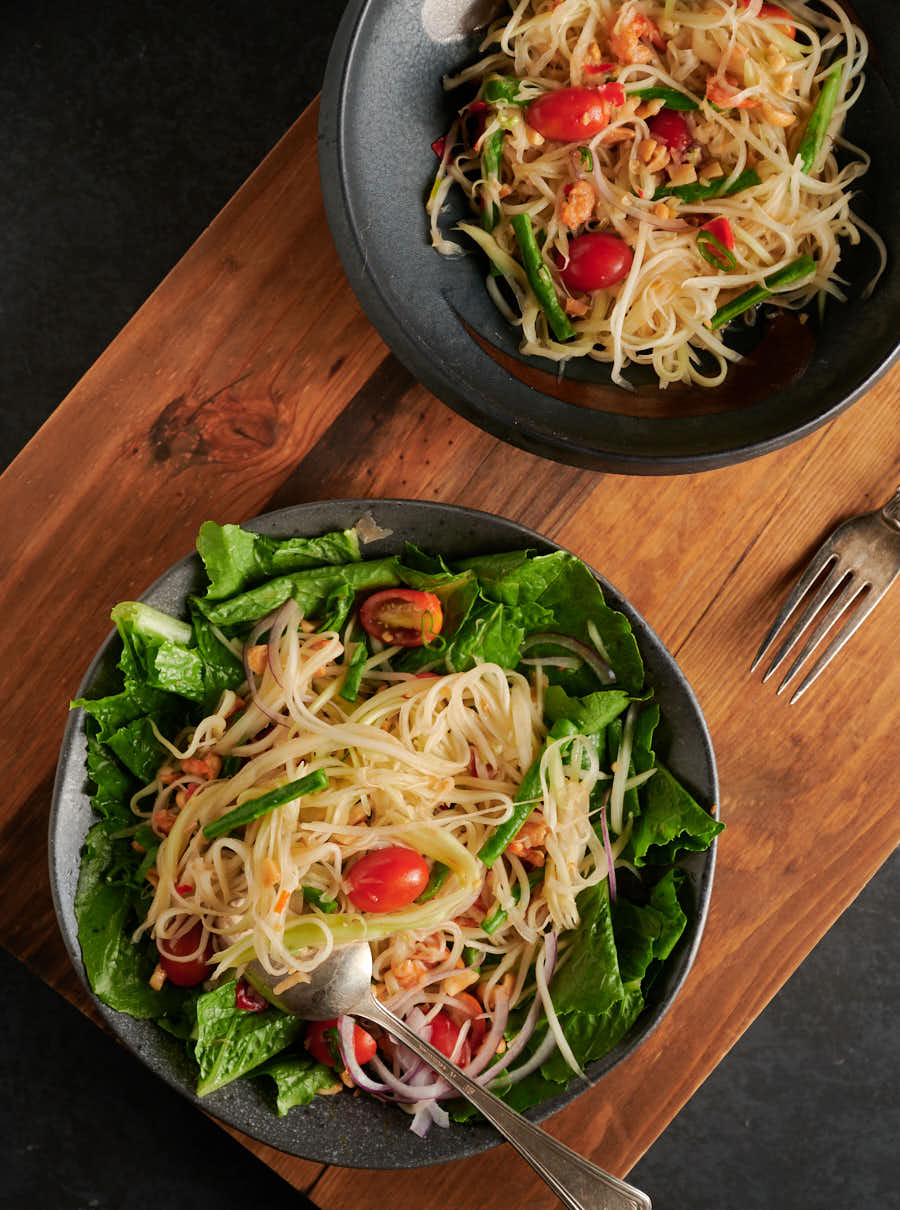 Use a mortar and pestle for great som tam
Papaya salad is called som tam in Thai. Som is "sour" and tam is "pounded". So a mortar and pestle is kind of a given.
In Thailand they have these great big mortar and pestles. Big enough you can make the whole salad in it.
That's a pretty specialized bit of kit. If you have something like that by all means use it.
I don't have one like that so I've adapted the recipe to work with a smaller version. If you don't have a mortar and pestle you could try a small food processor.
But the smell of freshly pounded Thai chilies and garlic while you pound them. That alone is reason to get one. Plus I don't see how you can bash up the long beans or bruise the papaya without a pestle so…
Papaya salad doesn't have to be crazy spicy
I like medium spice. Enough to wake up my tastebuds. But not enough to hurt. Not bland. But not blazing.
Balanced flavours is the way I like to think of it. I almost never want the fire to be the first and last thing you taste. Almost never.
Sometimes the endorphin rush you get from palate searing spicy is fun. In a masochistic sort of way. But generally I want people to enjoy. So I don't go crazy.
It's up to you of course. Papaya salad the way you like it. One Thai red chili has decent zing. Strip the ribs and seeds out and it's still not bland.
Two chilies and you're getting into real fire territory. Three and I'd call it seriously hot. More and you're talking incendiary.
There's nothing in this salad to temper heat. No fat. So the heat builds. And build. And builds. Keep that in mind. If your friends aren't chili heads be careful. Don't say you weren't warned.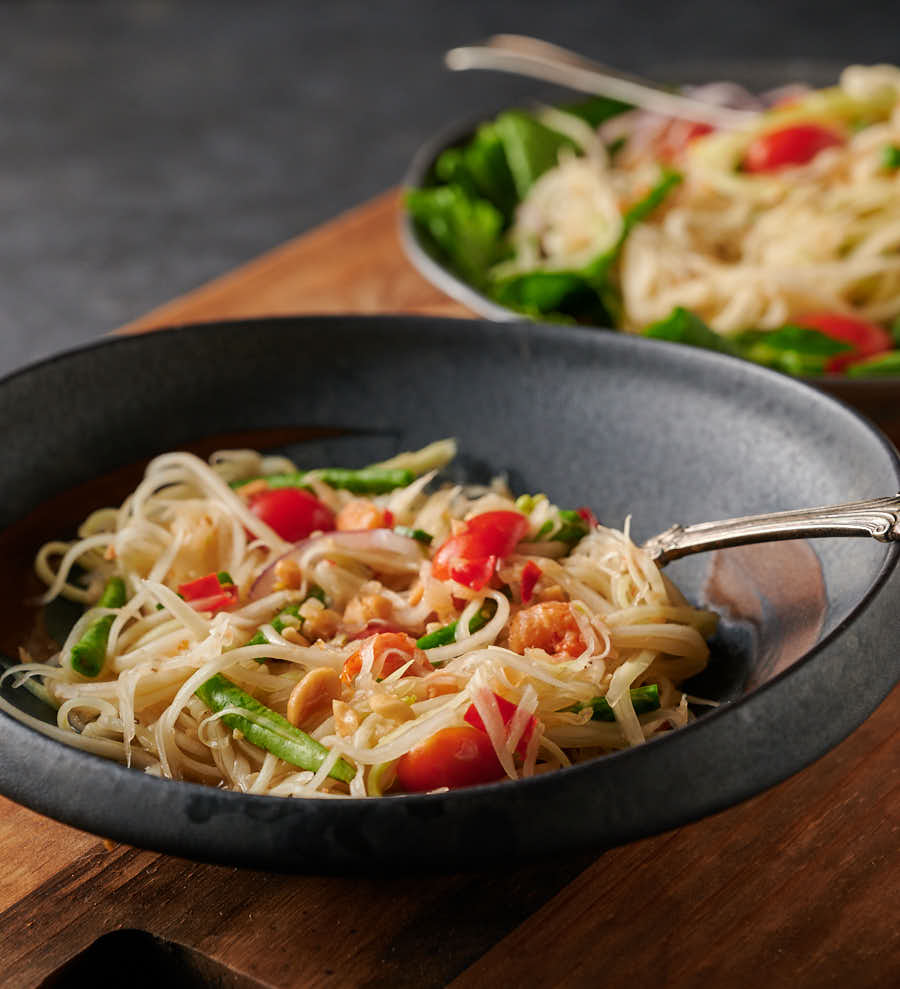 Every ingredient adds something
This is Thai cooking. It's a layered cuisine. I think that's why I like it so much. It's like Indian that way. Many, many flavours coming together to make magic.
So don't leave things out. Every ingredient matters in papaya salad.
Tamarind is like nothing else. It adds a delicate sour taste. Mellow against the exuberance of lime. It's a nice touch.
Fish sauce is the backbone flavour. If you don't want to use fish sauce don't make this recipe. In fact, give up on ever cooking Thai or Vietnamese. Soy sauce is not the same as fish sauce. No matter what it says on the Internet.
Dried shrimp. That's really why I wrote this paragraph. If you like shrimp and you like salt you will be OK with dried shrimp.
Don't be afraid. I'd say they are less challenging than fish sauce. A nice meaty umami bomb in the salad.
Worst case you can eat around them. Best case you'll get it. And next time you see a recipe that calls for dried shrimp you'll go for it.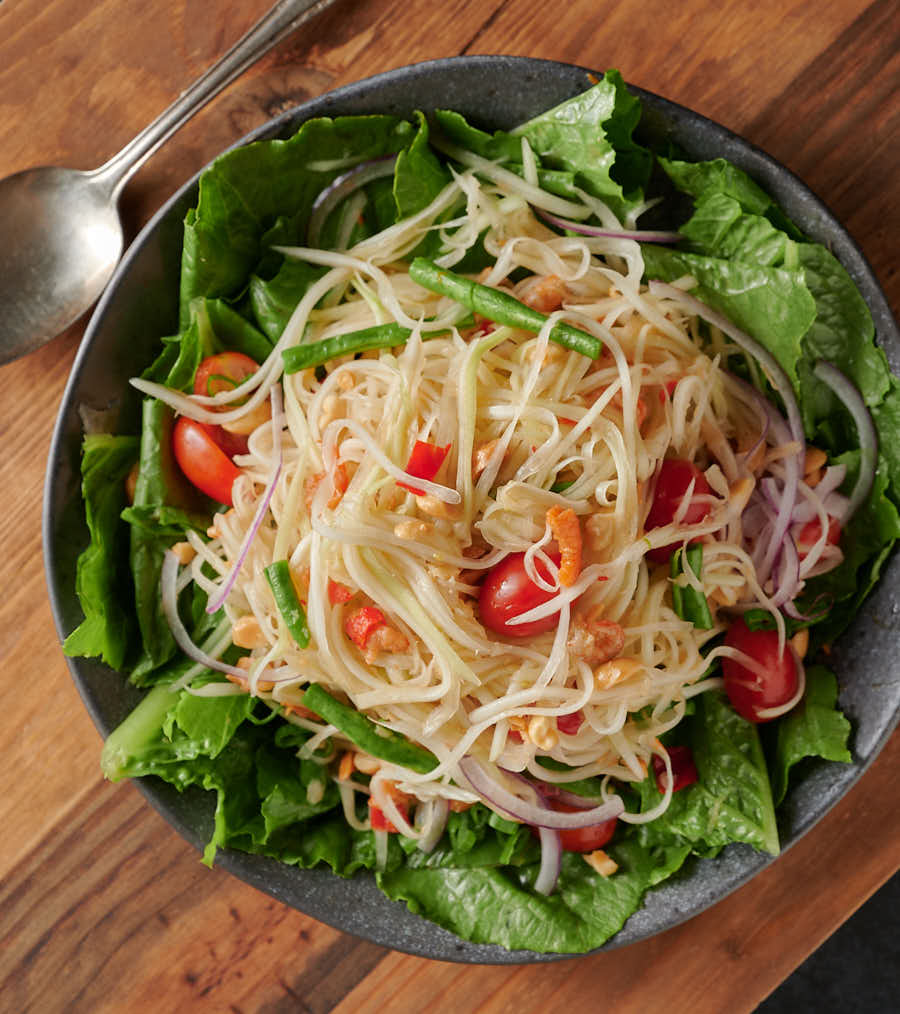 Serve som tam as part of a Thai meal
Papaya salad isn't meant as a course. That's a western perspective. Serve it up a side. Along side some rice.
My absolute favourite is with grilled chicken. Something with big flavours. Lemongrass. Garlic. Pepper. Some sweet Thai chili sauce on the side. That's what I'm talking about. A happy place.
Papaya salad. Som tam. Doesn't really matter what you serve it with. Just serve it. Your taste buds will thank you. And so will your friends.
papaya salad – som tam thai
Som tam is a bright, fresh salad that goes really well with grilled chicken
Ingredients
3

cups

green papaya

julienned

3

long beans

cut into 1 1/2 inch pieces.

5-6

cherry tomatoes

cut in half

1-2

Thai red chilies

chopped. Cut out the white membrane if you want to cut the heat but want to keep the flavour.

2

cloves

garlic

roughly chopped

2

tbsp

palm sugar

finely chopped

1

small

lime

cut in half lengthwise. Cut one half into 3 pieces. Use the other one to juice into the salad dressing.

1 1/2

tbsp

dried shrimp

small ones or large ones coarsely chopped

1 1/2

tbsp

tamarind paste

not the same as that concentrate stuff

1 1/2

tbsp

fish sauce

3

tbsp

roasted peanuts

chopped

a bit of red onion

to garnish (optional)
Instructions
Prep your papaya. Peel it. Julienne it with a knife or use one of those Thai julienne slicers. Put the shredded papaya in a bowl of cold water and set aside while you prep the dressing.

Add the garlic and chilies to a mortar. Pound until it forms a really coarse paste. Add the palm sugar and keep pounding to get the sugar to fully dissolve.

Add the long beans and beat them up a bit. You want them to break a bit. You don't want to beat them into nothing. Just open them up so some of the dressing gets into the beans.

Squeeze the 3 lime wedges into the mortar. Toss the squeezed wedges in as well. Add the shrimp. Pound lightly. Again, you aren't trying to destroy what's in the mortar at this point.

Add the fish sauce, juice from the remaining half lime and tamarind paste and stir to mix.

Drain the papaya. Transfer the contents of the mortar to a metal bowl (one that can take a bit of a pounding from the pestle. Add the papaya. Toss to combine the papaya with the dressing. Gently bruise the papaya with a pestle.

Add the tomatoes and give them a bit of a bash with the pestle. Add the peanuts. Toss to combine everything together. Use your hands. That works way better. Just remember to rinse them. There's hot chili in the mix. You don't want that in your eyes.

Serve, juice and all. Garnish with a bit of red onion for looks if you like. The red onion is not authentic. I just like the way it looks.
Notes
Kiwi brand julienne slicers are how you get the finely shredded pieces you see at Vietnamese and Thai restaurants. I am not a gadget fan. I do not derive any benefit from mentioning brand names. In fact, I'm pretty strongly opposed to doing it. But I'm doing it here. Because I love my little slicer. 

Ask for it at your local Asian grocer. It costs $5 and it takes up no room in the kitchen.
Nutrition
Calories:
159
kcal
|
Carbohydrates:
26
g
|
Protein:
8
g
|
Fat:
4
g
|
Saturated Fat:
1
g
|
Cholesterol:
63
mg
|
Sodium:
784
mg
|
Potassium:
406
mg
|
Fiber:
4
g
|
Sugar:
17
g
|
Vitamin A:
1209
IU
|
Vitamin C:
91
mg
|
Calcium:
66
mg
|
Iron:
1
mg