Tandoori prawns. Indian barbecue shrimp. Spice infused butter. Garlic. Ginger. Lemon. And perfectly cooked prawns. If that doesn't sound amazing I don't know what does.
I cannot believe this one has taken so long. It's been staring me in the face for years. And I've just finally seen it. Bit embarrassing actually.
No barbecue required for tandoori prawns
This isn't fusion. More inspiration than fusion. Indian-ish. A classic cajun dish. Re-imagined. Through an Indian lens.
I love cajun BBQ shrimp. I have been making it for years. It's all about butter and shrimp stock and cajun spices. It's a stovetop dish. No grill required.

It was invented in New Orleans. Back in the 1950s. It was spiced red. So they decided to call it BBQ shrimp. No clue why. I wasn't there. I just go with it.
What they did was come up with a dish that is a mess of buttery, spicy shrimp goodness. Crazy tasty. Stupid delicious even.
That's what these tandoori prawns are about. Cajun BBQ shrimp. With Indian spicing. Diabolical. If I say so myself.
Might be a first. Hard to say. I can't find it on the internet. But the world is a big place.
I'm thinking this one is mine. Doesn't really matter though. What matters is that you try these tandoori prawns. Soon. Very soon.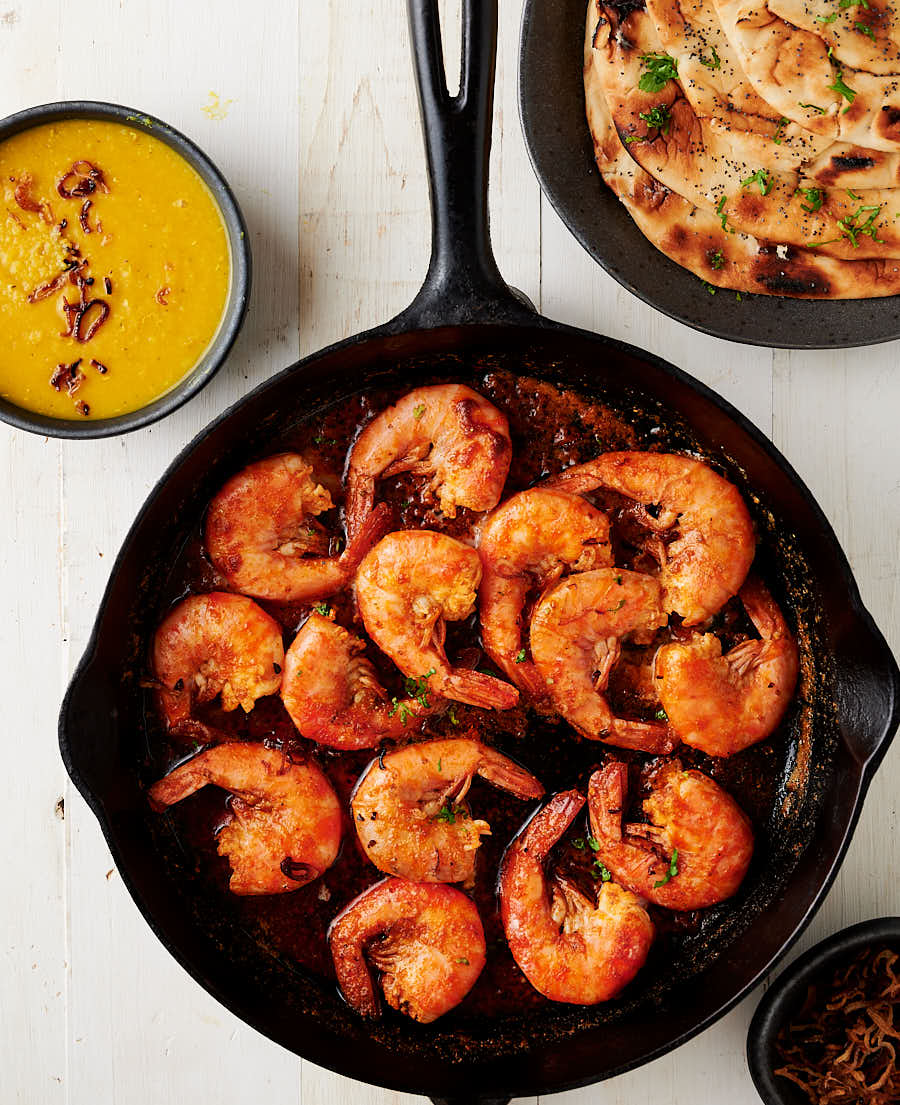 Shells add flavour
Shrimp shells are loaded with flavour. If you ever make shrimp cocktail you know. Shrimp stock makes things way better. Those shells are pure gold.
Same idea here. The shells are poached in butter for around 6 minutes. About a quarter of the time.
That's long enough to extract some flavour. And you should always take flavour wherever you can get it. Words to live by I think.
You could shell your prawns ahead of time. Makes things less messy. You won't have to peel those buttery little flavour bombs when it's time to eat. A little more elegant.
But messy is part of the fun. Tandoori prawns in that wonderful spicy butter. Slurp the sauce off the shells. Peel them. Dip them. Eat them. Lick your fingers.

Mop the sauce up with some naan. Let the butter dribble down your chin. Smile. Repeat.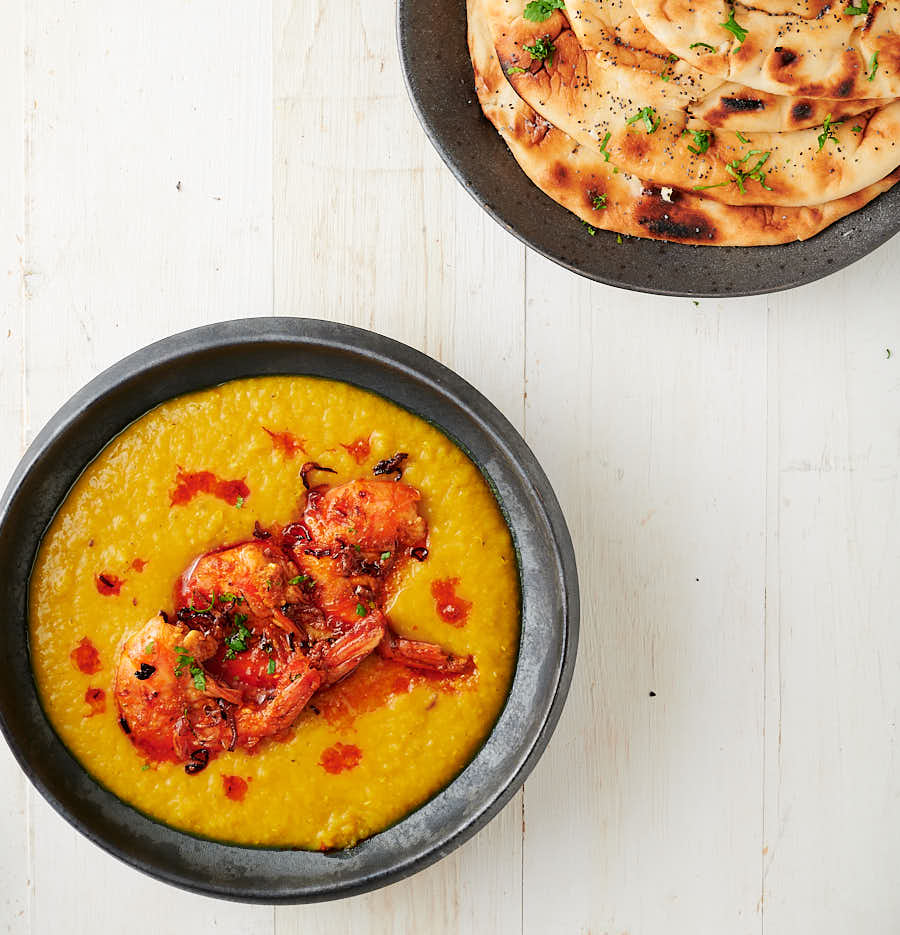 Have fun with this recipe
I love these straight up. Just a whole lot of delicious mopped up with naan.
Serve them up in individual portions. A piece of naan. A few shrimp. Some of that magic sauce. And a napkin.
You have to have a napkin. Paper preferably. Did I mention it was messy?
That's my favourite way. But I'm a dal addict. So I like tandoori prawns as a tarka. Not what immediately springs to mind. I'll give you that. But it's works.
Do it as as an appetizer. A dab of dal. A shrimp or two. A little cilantro. A drizzle of that magical sauce. Maybe a few crispy, fried shallots for garnish.
Or as an entree. Goes pretty much the same way. Like a buttery prawn dhansak. Just a bigger portion.
Fun. Tasty, tasty fun. Peel the shrimp if you are doing the dal version. It's too messy otherwise. Even for me. Maybe. I like mess.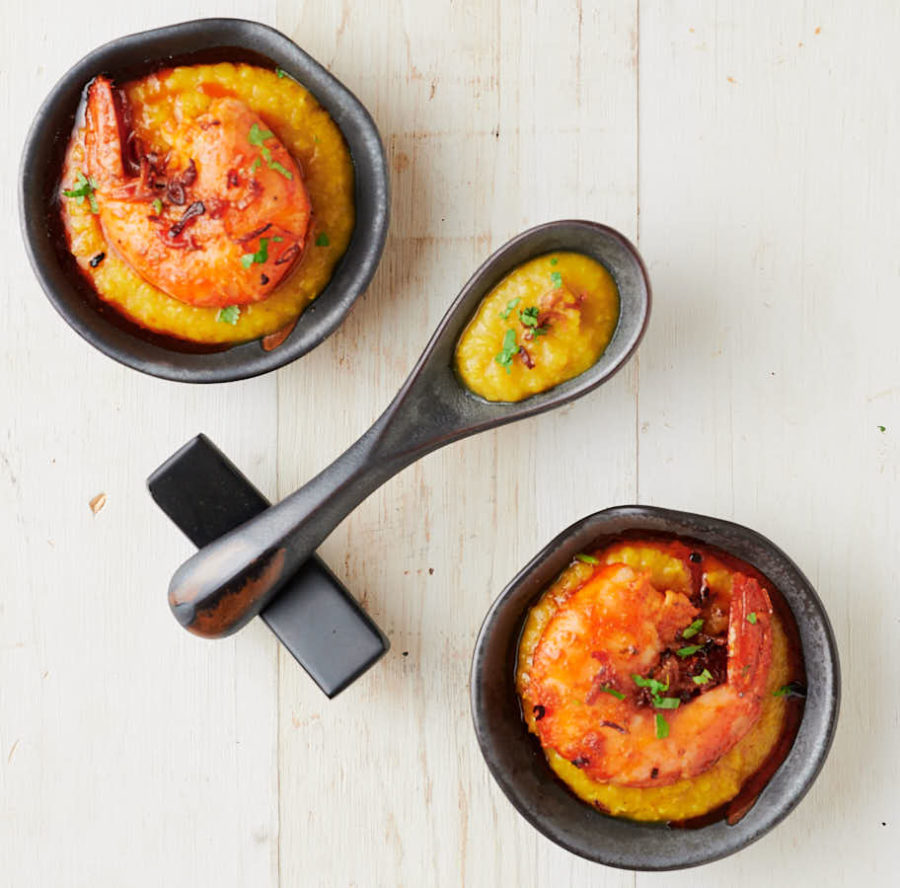 Tandoori prawns are the easiest appetizer ever
Sometimes effort is not directly proportional to result. Sometimes it's just easy. This is one of those times. I love these times.
If you can melt butter you can make tandoori prawns. It's about that easy. Heat up a pan. Gentle heat. Melt some butter.
Toss in some garlic ginger paste. Let it sizzle. Add some spice. Let the spices sizzle a bit. Get all those fat soluble flavours into the butter.
A squeeze of lemon. Stir. Toss in the shrimp. Gently poach them for 3 minutes. Flip them. Another 3 minutes. That's it. You've arrived. Welcome to flavourtown.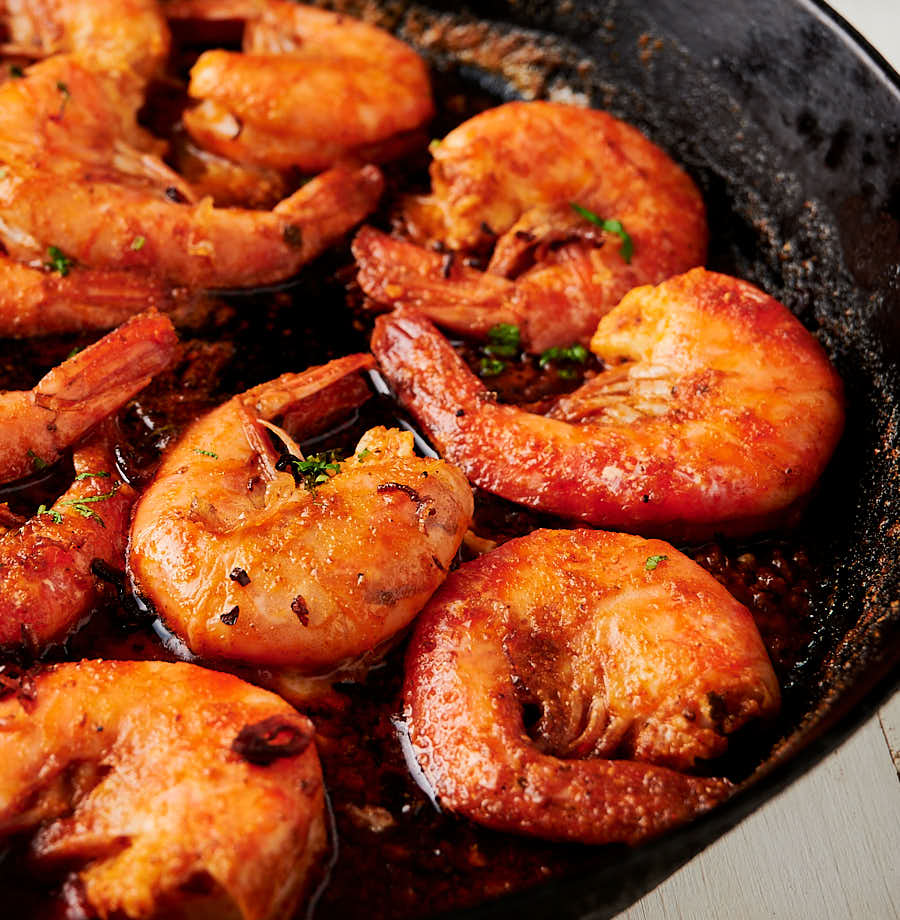 Don't fear the butter
There's a half cup of butter in this recipe. But it serves 4. So that's 2 tablespoons of butter per serving.
If that sounds like a lot consider this. 1 Tbsp of butter is 100 calories. Roughly speaking. Shrimp are pretty much zero calorie food. So just over a couple hundred calories per serving.
It's an appetizer. Like onion bhajies. Or pakoras. Or samosas. It's in the ball park. Probably less calories. Not health food. Not diet food. But not outrageous either.
Not suggesting you should eat this every day. But I'm not suggesting you should eat samosas every day either. As much as I want to eat samosas every day.
Once in a while, though… Tandoori prawns. That's a nice treat.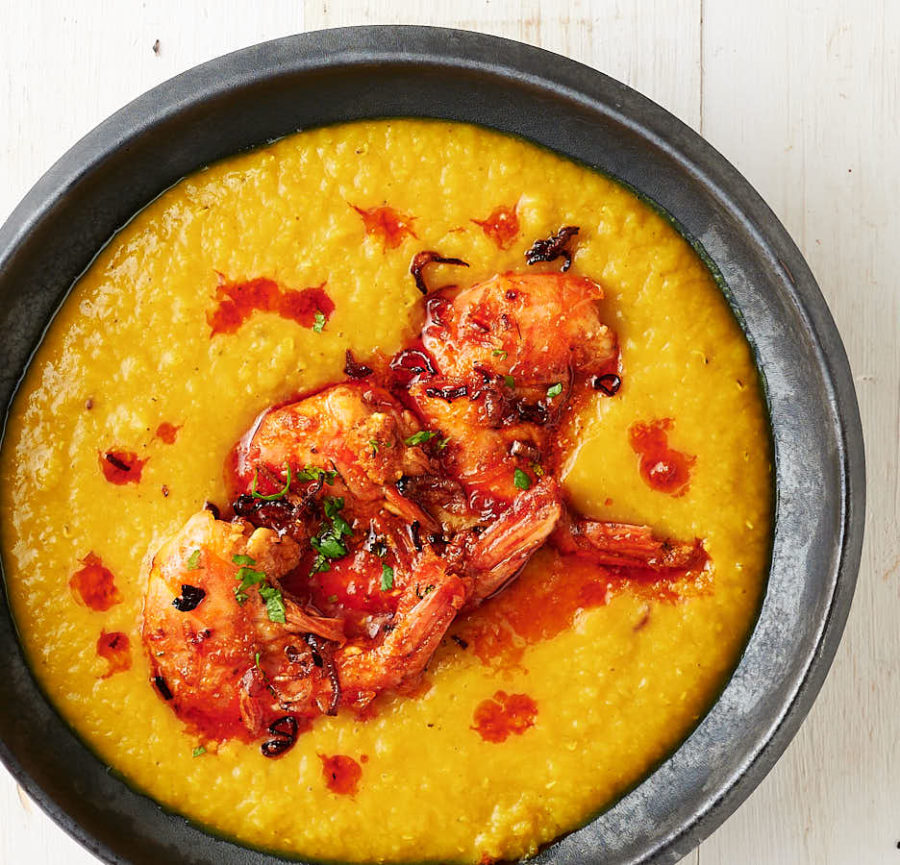 All tandoori masalas are not created equal
A lot of commercial tandoori masalas contain a lot of salt. That's not necessarily a bad thing in itself. But it adds salt to the final recipe. So you have to be careful.
They also contain red food colouring. Again, not necessarily a bad thing but it makes everything really red.
I don't like paying for salt. And I don't always want my dinner looking unnaturally red.
So I came up with my own tandoori masala recipe. I like it better. And I control the salt. So it makes me happy. Do what makes you happy. Always.
Make tandoori prawns for friends
This is flashy cooking. I wouldn't be surprised to see it on a menu at a funky Indian restaurant. One that's pushing the envelope. And that's hip enough to go with the mess.

Don't wait for the restaurants to catch up. Make this at home. And serve it to friends. Good friends. Foodie friends.
Or cook up a batch and eat them all yourself. That doesn't sound like a bad idea to me. Not bad at all.
tandoori prawns
Tandoori prawns in a buttery, spicy sauce. This is one you have to try.
Ingredients
12

prawns

16-20 count (per pound) in the shell (see notes)

1/2

cup

butter

2

tsp

garlic ginger paste

2

tsp

tandoori masala

see notes. If you use a commercial blend with food colouring in it be prepared to have it come out a lot redder than the pictures.

2

tsp

kashmiri chili powder

you can use less but the butter really does tone down the fire

pinch

kasoori methi

– maybe 1/8 of a tsp if you really feel like measuring

1/4

tsp

kosher salt

– if you are using commercial tandoori seasoning you probably will not this salt.

1/4

lemon

juiced

cilantro to garnish
Instructions
Do your prep
Make your spice mix. Combine the tandoori masala, kashmiri chili powder, salt and kasoor methi. Note that if you are using commercial tandoori masala it likely already has lots of salt so you won't likely need more.

Prep your cilantro garnish. Have your lemon ready. Have some naan standing by for dipping into the buttery goodness. This is a really easy recipe but it does go fast.
Make the tandoori prawns
Pick a frying pan just big enough to hold all the shrimp in a single layer. That's important. Big enough for a single layer. But not so big that the butter just films the bottom of the pan. A 9 to 10 inch pan is about right.

Melt the butter over medium low heat. You don't want things to get too hot.

When the butter starts to foam add the garlic ginger paste. Cook for about a minute. You want gentle bubbles. You aren't frying things hard.

Add the spice mix (tandoori masala, kashmiri chili powder, salt and kasoori methi). Cook the spices in the butter for about 1 minute. Still want gentle bubbles. This is called blooming spices. Oil soluble compounds dissolve in the butter and flavour magic happens.

Add the lemon juice. Squeeze the lemon with one hand and through your fingers on your other hand to catch the seeds. That's a handy trick whenever you need fresh lemon juice. Life skill. No extra dishes. Cook for another minute.

Add the shrimp in a single layer. Cook for 3 minutes. Still want gentle bubbles.

After 3 minutes, flip the shrimp. If they are uniformly pink cook them another three minutes. If there is a little grey when you flip them go 4 minutes total on the second side. Overdone shrimp suck. Err slightly on the side of caution. You will be happier for it. I will be happier for you.

Garnish with a little minced cilantro. Serve with naan for dipping into the sauce. You will cry if you don't have something to mop up the sauce.
Notes
All tandoori masalas are not created equal. That's why I came up with my own. You can make this with commercial tandoori masala. You just need to leave out the salt. Depending how much salt in the version you use it may even be a little salty. Also, commercial blends have food colouring so your results will not look the same as the pictures.
Shrimp shells add a little bit of extra flavour. You can shell them before you cook them. They will cook a little bit faster so watch them carefully. Just pink is what you want.
This recipe uses 16-20 count shrimp. That's 16-20 per pound. If you are using smaller or larger  shrimp you will need to adjust your timing accordingly.
Tandoori prawns are great on their own. If you want to mix things up I like them as a sort of tarka on a bed masoor dal, turmeric and salt. Makes for a fun entree or really funky appetizer.
Nutrition
Serving:
4
g
|
Calories:
230
kcal
|
Carbohydrates:
1
g
|
Protein:
4
g
|
Fat:
23
g
|
Saturated Fat:
15
g
|
Trans Fat:
1
g
|
Cholesterol:
106
mg
|
Sodium:
497
mg
|
Potassium:
56
mg
|
Fiber:
1
g
|
Sugar:
1
g
|
Vitamin A:
869
IU
|
Vitamin C:
4
mg
|
Calcium:
41
mg
|
Iron:
1
mg