If vindaloo is the king of curries. And jalfrezi is the queen. Then rogan josh is the crown prince. Spicy. Rich. Delicious. Serious business.
This one is world famous for a reason. A very good reason.
Rogan josh – a tale of two curries
There are two distinct dishes that go by the name rogan josh. There's the Kashmiri version. The Kashmiri version has no onions or garlic. It's all about asafoetida and fennel. And lamb. Tasty stuff. You should definitely try it some time.
And there's the Muslim version. It has onions. Garlic. No fennel.
One is not better than the other. No judgement. The Muslim version is probably the one you know. It's the one they serve in most restaurants.
This is a hotel style recipe. The rogan josh you'd get in the fanciest restaurants. It has serious onions.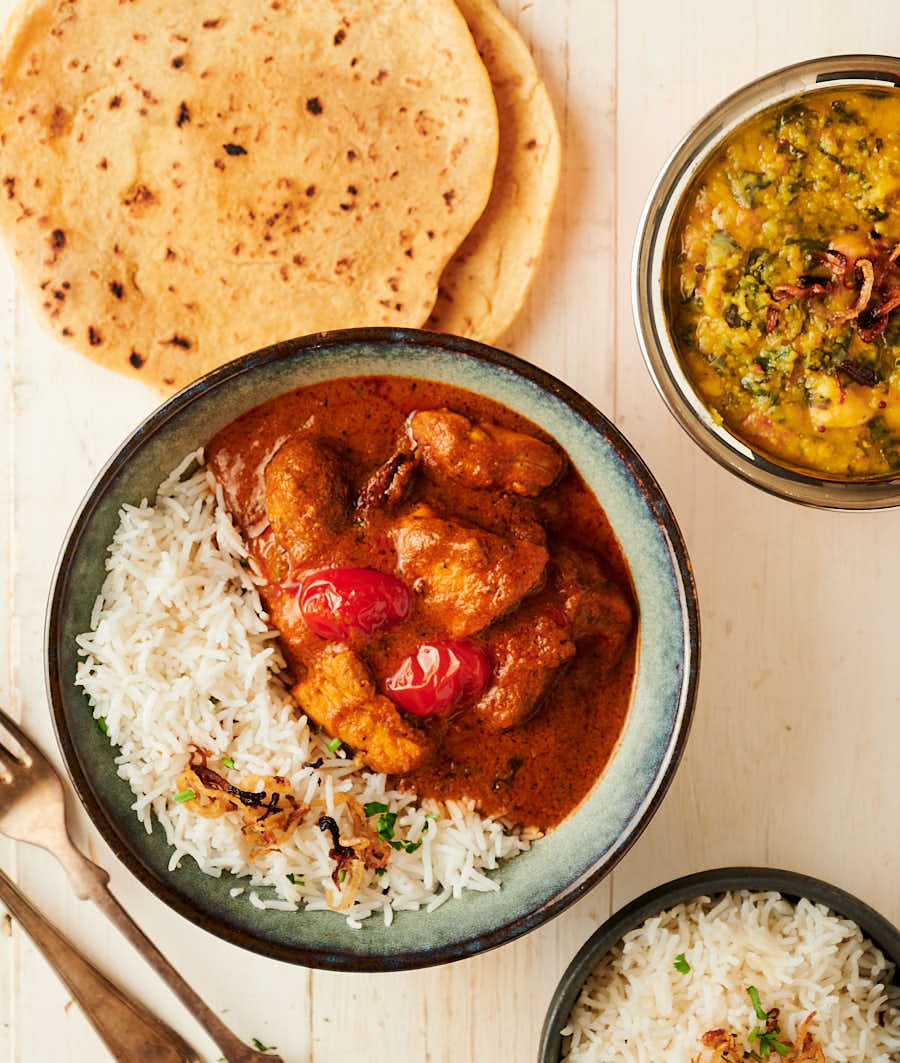 Lamb or chicken?
I feel like I'm in economy class on long haul flight. Chicken or lamb? Chicken or lamb? Sir? Chicken? Or lamb?
But it's true. Chicken or lamb? That is the question here. And there is no right answer.
I like chicken curries. A lot. But I love lamb curries. So I usually make this one with lamb. There's something about this dish with lamb that just works. All the big curries are great with lamb.
I already have a restaurant style lamb rogan josh on the blog. And a traditional beef version. So I'm making this one with chicken. To complete my rogan josh triple crown.
Make rogan josh how you like
Reality check. Chicken and lamb both work here. Both work with pretty much every restaurant or hotel style recipe on glebekitchen.
Follow the recipe as written for chicken. Or pre-cook your lamb. And make up the juices from the chicken with a bit of the broth from cooking the lamb. That broth is liquid gold.
A quarter cup of broth to start. Another quarter cup to thin it to that lush restaurant consistency. A bit more even. Up to you. Depends how saucy you like your rogan josh.
Pay attention to how much salt is going into the dish. The lamb broth contains salt. A fair bit of salt.
If you're adding lamb broth skip the salt in the spice mix. And adjust for salt at the end.
Salt as you go is never really a bad idea. Under-salted isn't fatal. You can fix that. Over-salted though. That can't be fixed. Except by dilution. And that doesn't really work here. So watch your salt.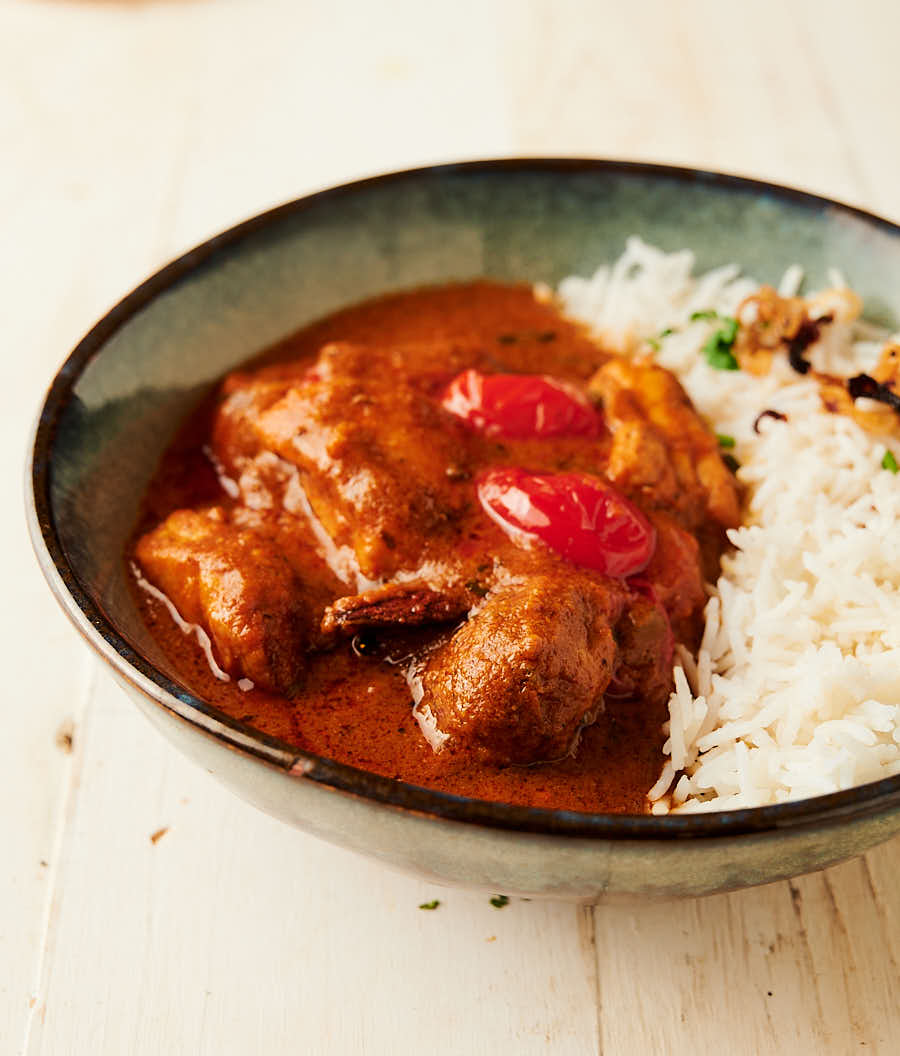 Simple spicing – complex flavour
There are no strange ingredients in this recipe. No special trip to the Indian grocer required. I know I'm a bit of a pain that way. I just love the wonderful world of spices.
This one should be easy. Assuming you cook Indian regularly I guess. If this is your first go at Indian on glebekitchen then off to the Indian grocer you go. It will be fun. Maybe a bit perplexing at first. But fun.
Black cardamom might be outlier here. If you don't stock it you should. It adds a wonderful smoky flavour. Nothing like it.
The list of spices is a bit long. Don't let that stop you. Not that big a deal. Really. Do your prep and you'll be fine.
The whole spices go in all at once. Have them ready and just chuck the lot into the pan when it's time.
Same goes for the ground spices. It's always best to make your spice mix up front. Measure it all out before you get started. Add them all in at once. Easy.
You can do it. Just take your time. Do your prep. Stay cool. It will all come together in the best rogan josh you've every tasted.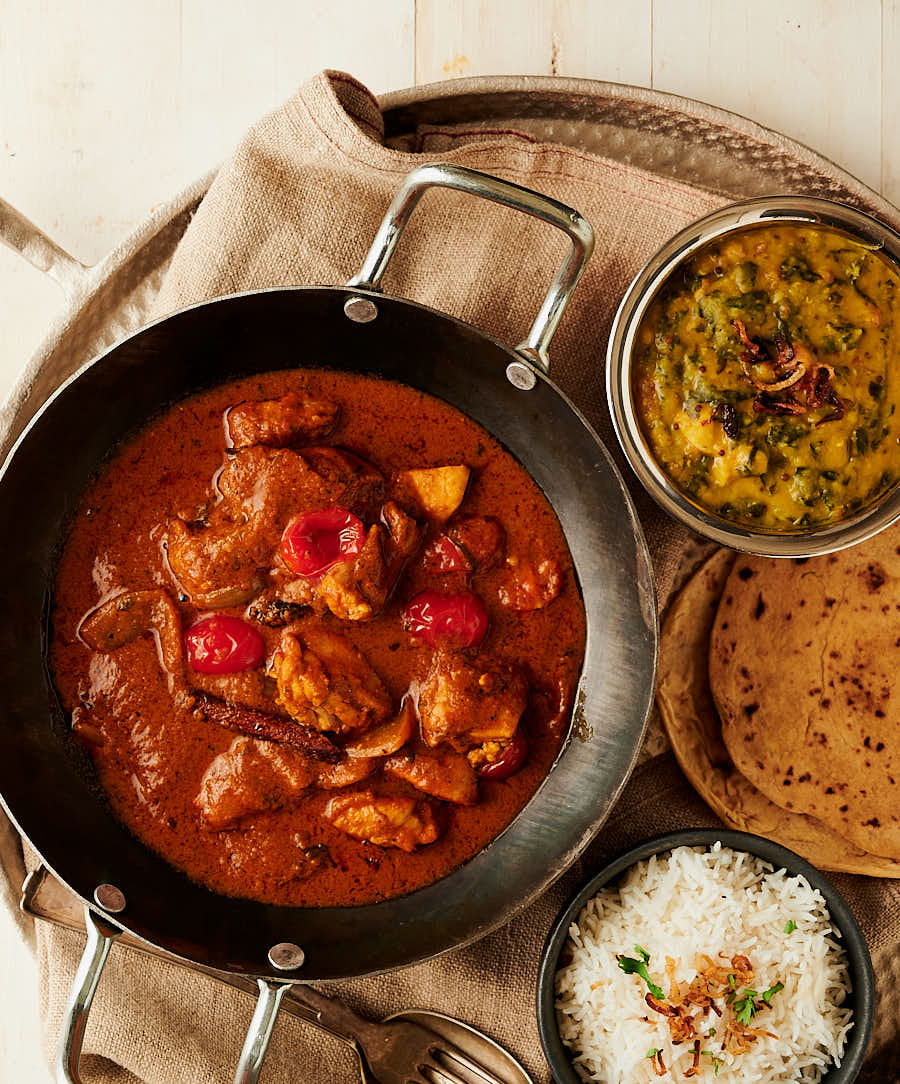 The yoghurt trick
I struggled with this one for a long time. Yoghurt. It's amazing in traditional Indian cooking.
But somehow it wasn't working well for me in restaurant style. All I could taste is this awful, funky off-taste in the background. Like sour cheese and curdled milk. Just. Not. Good.
Perplexing. Yoghurt works in traditional curries. But not in quick cooking restaurant curries. Why?
Took me a while to figure it out. Yoghurt has time to cook in traditional recipes. It works. So I tried adding it early. Really early.
And it worked. I got the slight tang that yoghurt adds. That little something. Without the sour cheese flavour.
Unconventional? Yes. Crazy? Could be. I don't know.
But I do know without this trick I would never have posted this recipe.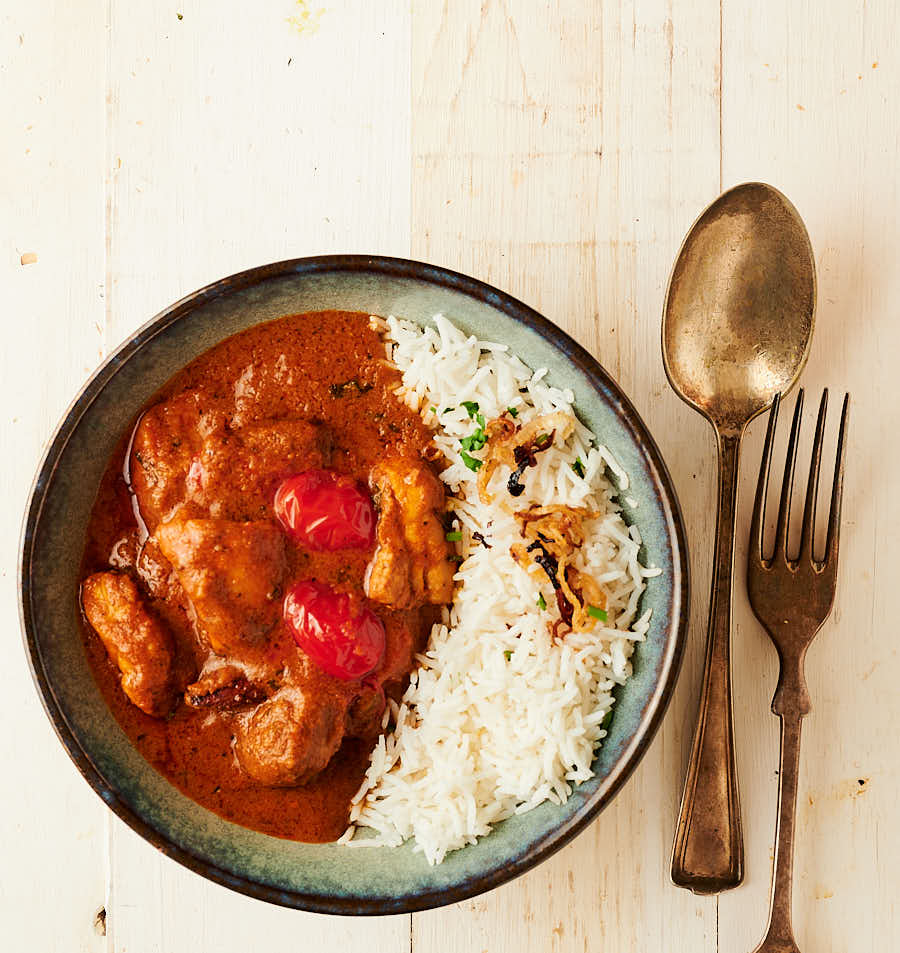 Bloom your spices for maximum flavour
Blooming spices is fundamental to Indian cooking. That's just a fact. Works for any cuisine that relies on a lot of spice really. It's a life skill. An essential technique.
Bloom your spices. Learn how to do this. Your friends and family will thank you. Your inlaws even. Although you might not be so happy about that.
Spices contain oil soluble flavour compounds. Tasty, tasty compounds. And it's your job to extract them. To get them out of the spices. And into your mouth. Where they belong.
This is not rocket science. You just need to gently fry the spices in oil. That's it. Heat oil. Add spices. Make magic.
Gently is the operative word here. You need to be careful not to burn your spices. Burned spices are bad. Like starting over bad.
Use enough oil. Be light-handed with the heat. Get this one thing down you are half way done on the path to Indian cooking grand master.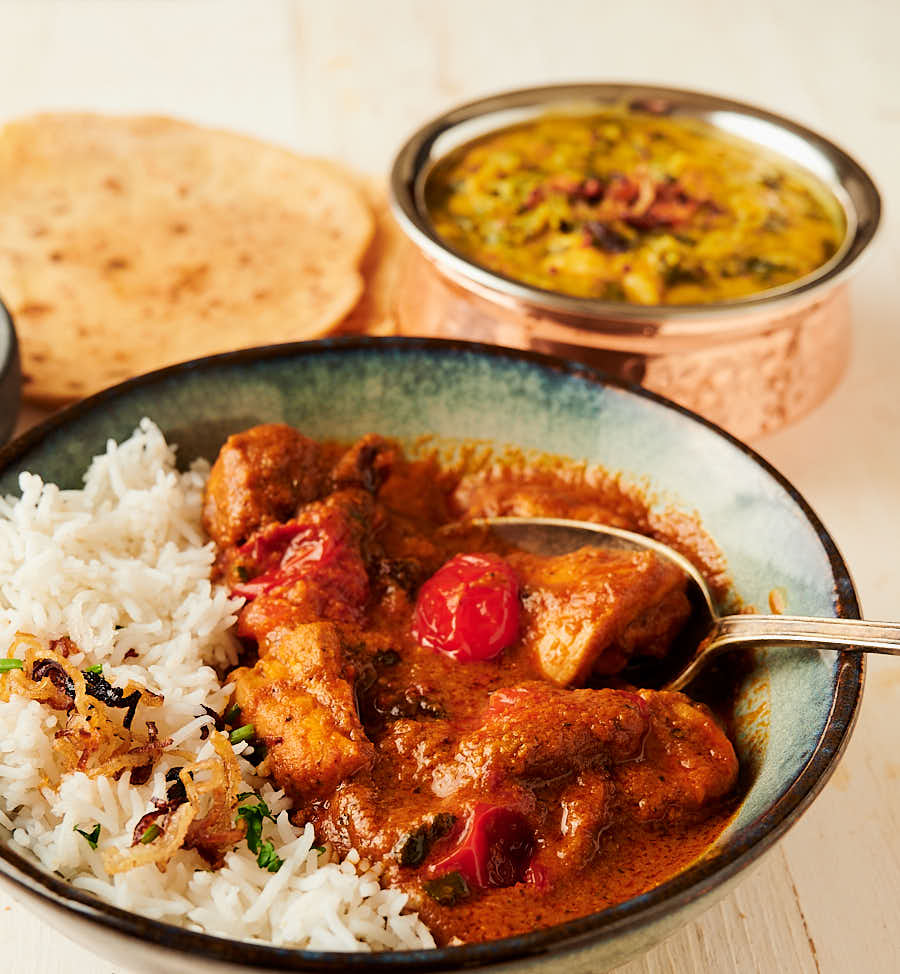 This is cooking hotel style
If this new to you hotel style means something. Around here anyway. It's a bit of a different approach. A no holds barred approach to making curries to order.
It's confusing. I know. There are a lot of recipes on glebekitchen called restaurant style. That's how they cook in most restaurants. That's probably what you are familiar with.
It's tasty stuff. But it's cooking to a price point. Food cost matters. Labour cost matters. These things are important when you are running a restaurant.
Hotel style is high end restaurant cooking. Posh restaurants. Restaurants that can afford to charge more. And give more back to the customer. Best of the best.
That's what this rogan josh is about. That's what all the recipes with hotel in the title on glebekitchen are about. Flavour above all. No compromises.
It's a bit more work up front. But the rewards are real. There's a depth of flavour that comes from deeply browned onions that can't be faked. That depth of flavour is built into hotel gravy.
If you love Indian cooking and want to take it to the next level give hotel style a good hard look.
All hail the crown prince
Rogan josh is one of those curries. Deceptively simple. Deeply satisfying. It's a favourite around here.
Bottom line. If you like a really good rogan josh there's really only one question to ask here. Chicken or lamb? Tough choice.
chicken rogan josh – Indian hotel style
You can make this rogan josh with chicken or lamb. Either way it is sure to please.
Ingredients
The spice mix
1

tsp

coriander powder

1

tsp

cumin powder

1/2

tsp

turmeric

2

tsp

kashmiri chili powder

1/2

tsp

tandoori masala

1/4

tsp

ground black pepper

– butcher's grind is best (a little coarse)

1

tsp

kasoor methi

– dried fenugreek leaves

1/2

tsp

kosher salt
rogan josh
3

tbsp

neutral oil

e.g. vegetable oil

1

2 inch

cinnamon bark

– cassia

3

green cardamom

1

black cardamom

(optional but a nice touch)

1/2

onion

– cut into 1 inch pieces

1

tbsp

garlic ginger paste

– recipe link below

the spice mix from above

1

tbsp

plain yoghurt

– I like full fat Greek yoghurt for this

1

cup

Indian hotel curry gravy

– Recipe link in the notes. It's meant to be thick. The juices from the chicken will thin it and you can adjust it to taste at the end.

2

tbsp

cilantro leaves and stems

– finely diced

3-4

boneless, skinless chicken thighs

cut into 4 pieces each

4-5

cherry tomatoes

halved
Instructions
Do your prep
Measure out your spices. Prep your chicken. Measure out a cup (237 ml) of Indian hotel curry gravy.

Cut your cherry tomatoes. Mince the cilantro.
Make the chicken rogan josh
Heat the oil in a medium sized frying pan over medium heat until the oil just starts to shimmer.

Add the cinnamon bark, green cardamom and black cardamom if using. Let the whole spices cook for about 30 seconds. You should see little bubbles forming around the spices. If you don't, your oil is not hot enough.

Add the onion pieces. Cook until the they are softened, stirring fairly constantly.

Stir in the garlic ginger paste. Gently fry until the garlic ginger paste stops sputtering. This can get a little messy.

Turn your heat down to medium low and add your spice mix. Cook for about 30 seconds. You want to fry your spices in the oil. There are fat soluble compounds in spices. You are making magic happen at this point.

Add the yoghurt. Stir it well. Fry for about 30 seconds. I know frying yoghurt is odd. But it makes a difference. Just trust me. The yoghurt needs to get cooked out. It will be fine.

Add the Indian hotel curry gravy. Stir it really well to get the oil to combine with the curry gravy. You want everything mixed together. Bring to a simmer.

Add the chicken thigh pieces in a single layer. Nestle them down into the sauce. Cover and cook about 5 minutes.

Remove the lid, flip the chicken and replace the lid. Continue simmering until the chicken is done. You are shooting for an internal temperature of 160F. It will get to 170F as the curry finishes cooking.

Not a bad idea to get an instant read thermometer if you don't have one. Done is not subjective. It's a measurement. You are guessing otherwise.

At this point you have a decision to make. If the chicken threw a lot of liquid the sauce might be right. My guess is you'd like it a bit thinner. More like a restaurant sauce. Add a couple tablespoons of chicken stock. Check it again. If it's still too thick, add a bit more stock. I've never added more than a 1/4 cup.

Add the cherry tomatoes, cover, and simmer for another minute or so.

Chicken rogan josh goes great with rice or chapatis – or both if you feel like treating yourself.
Notes
If you want to make rogan josh with lamb, substitute pre-cooked lamb for chicken and add 1/4 cup of chicken stock (not bouillon cubes) when you add the lamb.
To pre-cook lamb combine 1 pound of diced lamb shoulder with 2 tsp of the curry powder of your choice, 1 tsp of salt and enough water to cover. Simmer gently until the lamb is fork tender. This can take 1 to 2 hours. When the lamb is tender, drain, reserve about 1/2 cup of the broth for the final curry and proceed with the recipe. You won't need to cook the curry as long as the lamb is pre-cooked.
Make your Indian hotel curry gravy ahead of time. It does take time to make so think about doing it the day before. You can freeze one cup portions and pull them out when you need them. That's what I do.
For maximum flavour consider making your garlic ginger paste from scratch. I know I say this a lot but it makes such a difference.
1 cup is 237 ml.
Nutrition
Serving:
2
servings
|
Calories:
617
kcal
|
Carbohydrates:
23
g
|
Protein:
36
g
|
Fat:
43
g
|
Saturated Fat:
7
g
|
Polyunsaturated Fat:
8
g
|
Monounsaturated Fat:
16
g
|
Trans Fat:
1
g
|
Cholesterol:
162
mg
|
Sodium:
1272
mg
|
Potassium:
983
mg
|
Fiber:
7
g
|
Sugar:
8
g
|
Vitamin A:
920
IU
|
Vitamin C:
27
mg
|
Calcium:
124
mg
|
Iron:
5
mg