Carne adovada. New Mexican red pork chili. Next time you feel like winning a chili competition think of this one.
Pork isn't common for chili. I get that a good beef chili is hard to beat. But this carne adovada gives it a run for its money.
And that's up against a really good beef chili. It will beat your average beef chili. No contest.
Pork chunks make for great chili
I am a huge fan of chunks of meat when I make chili. I'm not such a big fan of ground meat versions. They can be OK if you dress them up enough. But there's a fundamental problem.
It's hard to get decent browning using ground meat. Beef or pork. Doesn't matter. It works in burgers. Because the surface doesn't move. So you get a crust on the outside.
Try that with ground beef or pork. It's almost impossible. There's too much surface area to work with.
Either you get grey meat with bits of brown. Or you get brown, dry meat. No happy medium here.
Chunks are different. There's less surface area to deal with. So you can take the time to get a nice crust. Without drying everything out.
This approach is killer no matter what kind of chili you are making. Chile verde is a wonderful poblano, tomatillo pork chili. And if you are making a beef chili it is really hard to beat a chile colorado. Unless you go the distance and make birria de rez. Can you tell I like chili dishes?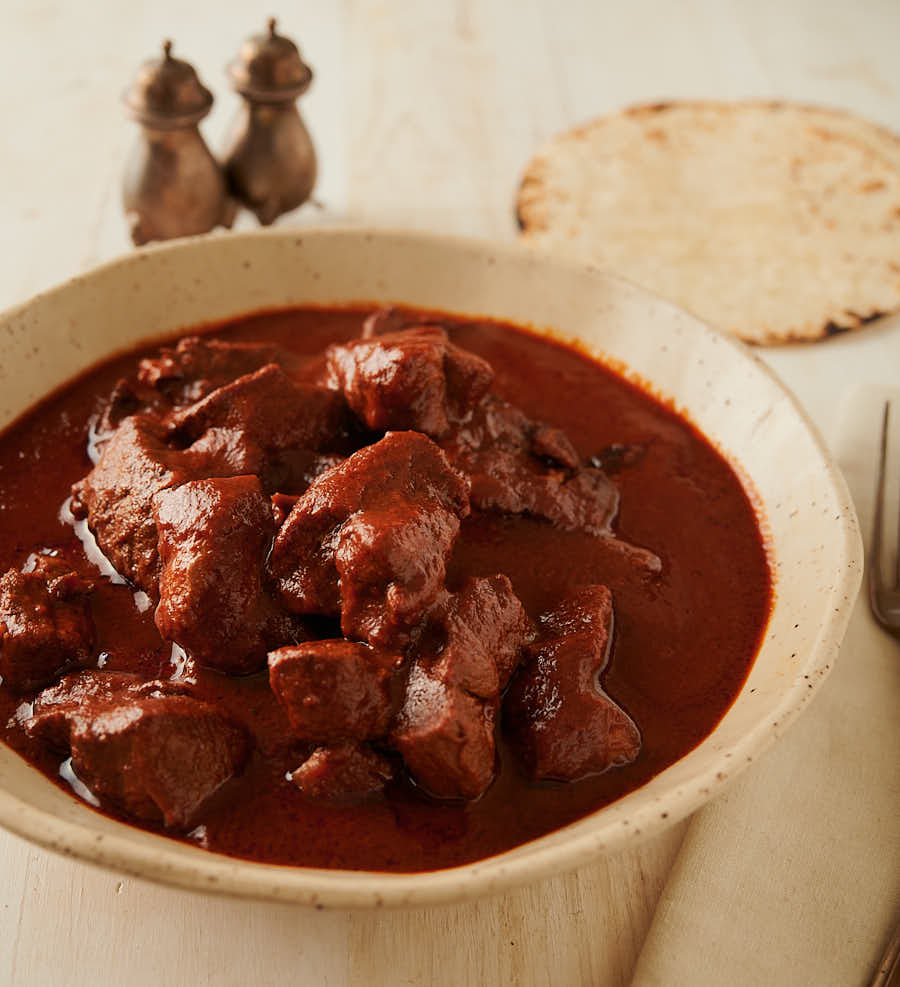 Carne adovada is all about layering flavours
If you've never been here before this may be new to you. For everyone else it should come as no surprise. I like layering flavours. A lot.
Deeply browned pork. That's the foundation. A ton of Maillard action going on. Don't know what I'm talking about?
Every time you brown meat you are creating millions of novel flavour compounds. That's the Maillard reaction. It is one of your best friends in the kitchen.
Dry roasted onions and garlic. A little charred even. Layer number two. More Maillard. More better. I know full well that's grammatically incorrect. No need to point that out. I'm not so big on grammar.
Frying out the chili puree. Layer number three. A big one. Tames the jarring edges. Smooths everything out. Brings it all together. Flavour magic.
Pork. Yes. Pork. Layer number four. Braised pork. The juices the pork throws as it cooks. Pure magic.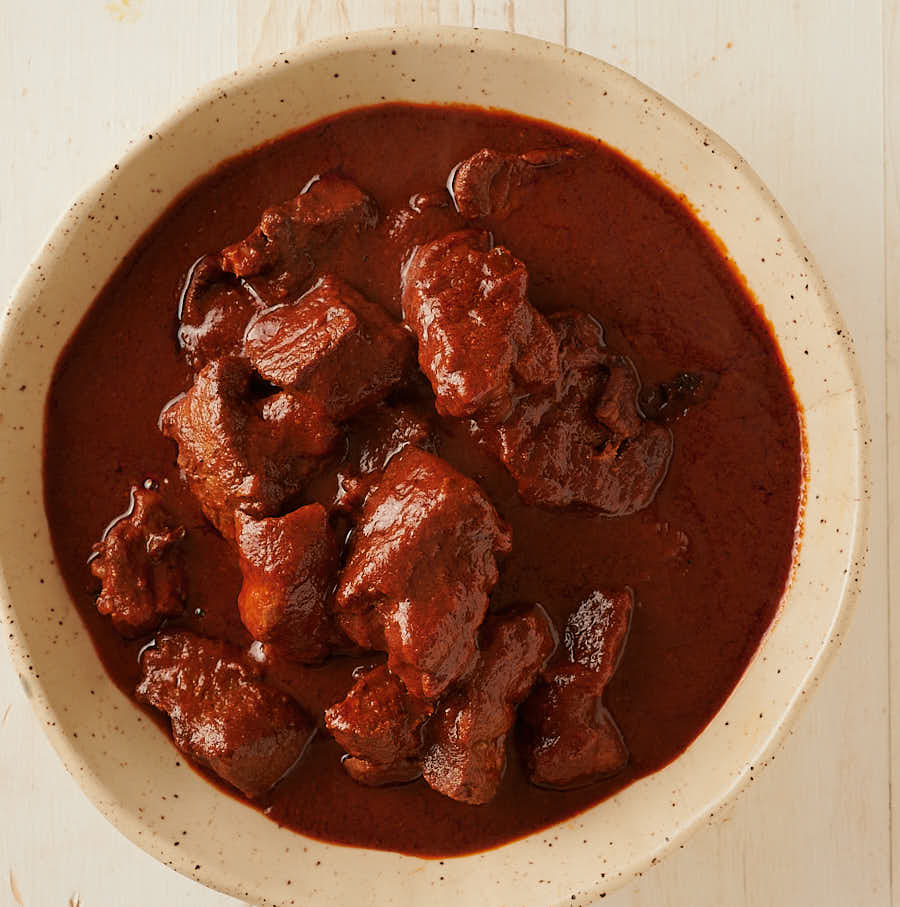 All chili powders are not created equal
There's chili powder. And then there's chili powder. And they are not the same.
The stuff you get in the grocery store that says chili powder? That you just chuck into your ground beef based chili and hope it works? That's not what I'm talking about.
Commercial "chili powder" is a blend of spices. Garlic powder. Onion powder. Cumin. Cayenne. Paprika. Who knows what else.
This recipe is about pure chili powder. Just a ground spice from a single variety of chili pepper.
I like New Mexican chili powder for this recipe. That's my favourite. But it isn't always easy to get.
Ancho makes a good stand in. It has a little bit deeper, darker flavour profile. Pushes it to more of a Mexican flavour profile. Still delicious. Just a little different.
Just don't think you can throw any pure chili powder at this one. Hotter chili powders like cayenne, morita or de arbor will blow a small hole in the back of your head. Don't say I didn't warn you.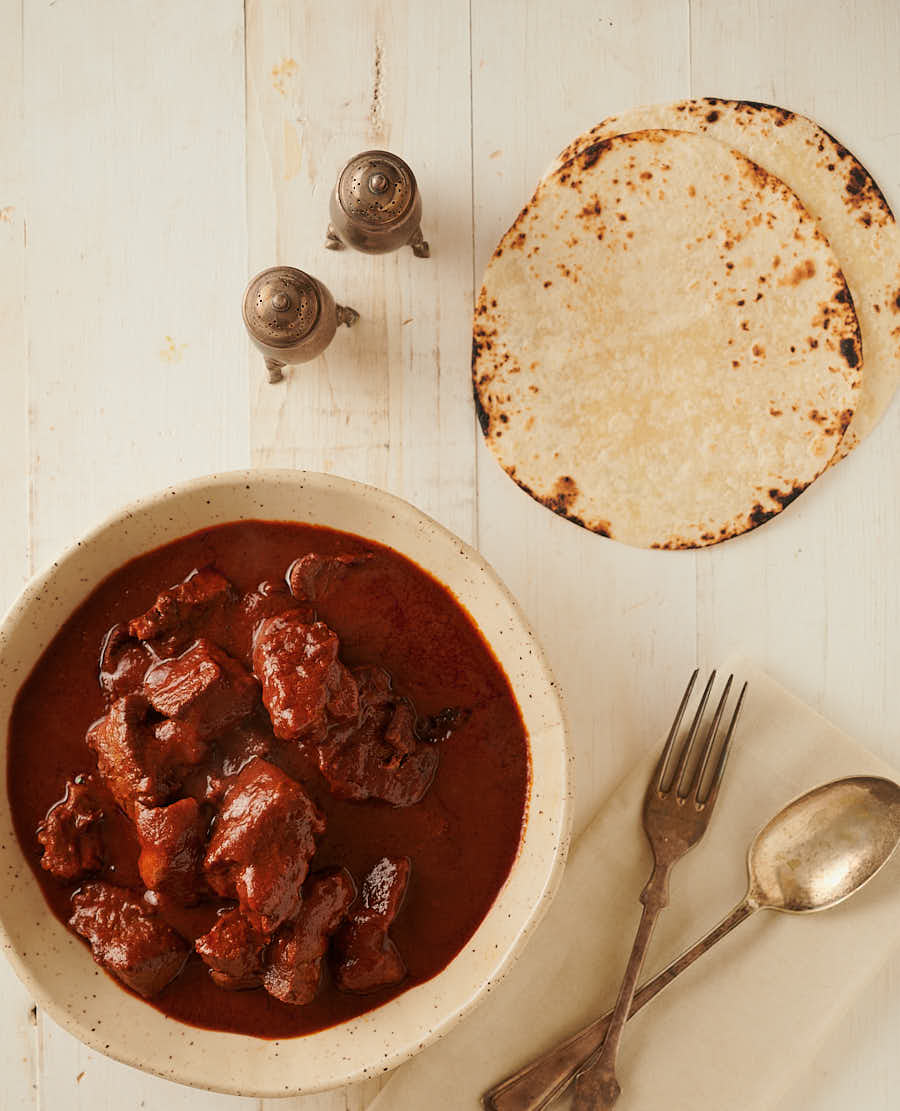 Pork shoulder is right for carne adovada
Make carne adovada with pork shoulder. Please make carne adovada with pork shoulder. Or country-style ribs. Those work well too.
This is a braise. Braises are about low and slow. So you need connective tissue. That's critical.
Take a pork loin chop. Cook it for an hour or two. That is a recipe for making shoe leather.
Take pork shoulder. Cook it over high heat for 8 minutes. You guessed it. Another recipe for shoe leather.
Take that same pork shoulder. Cook it low and slow. You get tender. Juicy. Delicious. That's the magic of braising the right cut.
There's food science here. Connective tissue has collagen. Braising turns collagen into gelatin. Gelatin has great mouthfeel. Same magic that makes good barbecue brisket the miracle that it is.
You don't need to understand it. You don't need to understand the Maillard reaction either. They just happen. If you let them.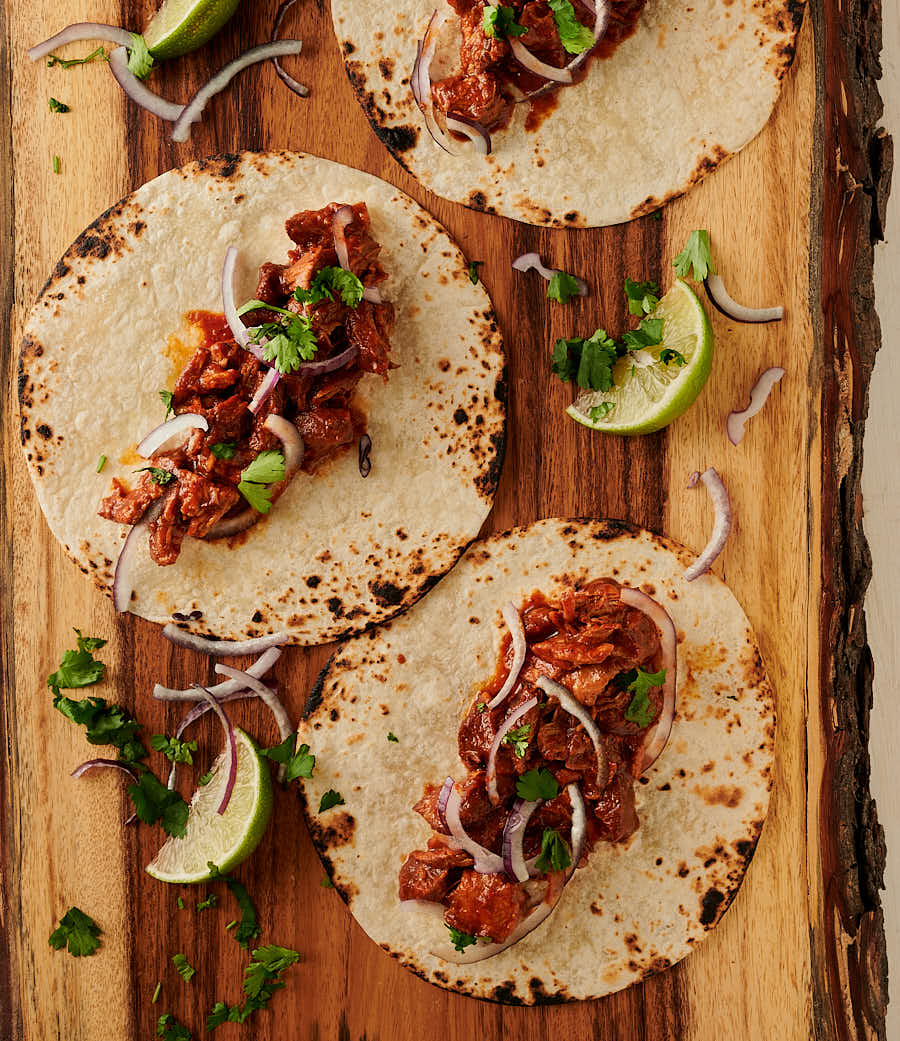 Fry the chili puree for best results
This one is a little different. But it's one I do every time I make something based on a chili puree. Fry it.
I learned this one from an old book by Mark Miller. About a million years ago. It was an aha moment for me. A little culinary epiphany.
I don't even know why it works. My guess is blooming spices. Even though there's a whole lot of liquid in the mix. Not quite the same. But I can't come up with another explanation.
It is messy. The puree bumps. Sends droplets frying everywhere. But I don't care. I wear old clothes. I clean up after. It's a small price to pay.
It's hard to describe. The raw puree is rough. Has all these jangly edges. A bit harsh. Frying it smooths things out. Rounds the flavours.
I know I'm not making a lot of sense here. But it matters.
So I'm asking for a leap of faith. Taste the puree before it hits the pan. And taste it after. It will all make sense once you do that.
Carne adovada makes excellent tacos
Serve carne adovada like you would any chili. A few tortillas or some good bread. Some pinto beans on the side. Maybe a salad. That's good eating.
Or make tacos. Really good tacos. I like flour tortillas for this particular taco. Bit unusual for me. I'm always pushing corn. But in this case it works.
A bit of red onion. Some cilantro. A squeeze of lime. Maybe even a bit of avocado if you like. That's one tasty taco.
Or go your own way. Do what you like. Prefer corn? That works. A little queso? Absolutely.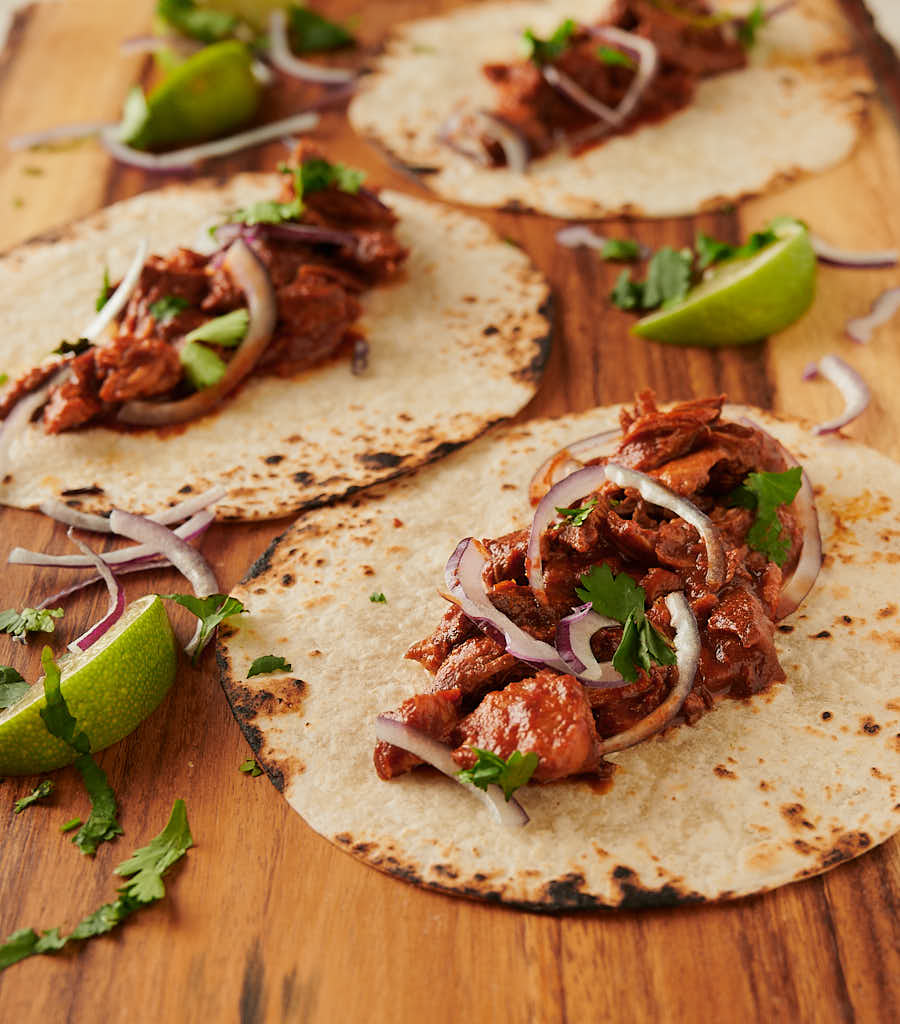 Make carne adovada when you want a special chili
Carne adovada is not a run of the mill chili. It's different. In a really good way. If you like pork. And you love a good chili. Then this one is worth thinking about.
Carne adovada. Big flavours. Unapologetically porky. Absolutely delicious.
new mexican red pork chili carne adovada
Carne adovada or New Mexican pork red pork chili is absolutely loaded with pork and chili flavour.
Ingredients
4

lbs

pork stew

– e.g. pork shoulder or riblets, cut into fairly large (one inch plus) chunks

1

large

white onion

4

cloves

garlic

3/4

cup

New Mexican red chili powder

2

tsp

cumin powder

1

tsp

mexican oregano

(optional)

4

cups

chicken stock

3

Tbsp

rendered pork lard

or vegetable oil

salt to taste

– start with one tsp and go from there
Instructions
Pre-heat your oven to 350F.

Slice the onion into 3/4 inch slices.

Peel the garlic.

Place the onion and garlic in a dry comal or cast iron frying pan and cook until the garlic and onion brown. Watch the garlic closely.

Coarsely chop the onion and combine it with the chili powder, cumin, mexican oregano if using and 2 1/2 cups chicken stock in a blender. Puree completely. Set aside.

In a high sided pot large enough hold all the pork melt two Tbsp of lard or vegetable oil and brown the meat in batches. Brown it thoroughly. Take the time. It's worth it.

Remove meat from the pan and add a third Tbsp of lard or oil. Transfer the chili mixture to the pan and fry, stirring constantly for 5-7 minutes. The mix will bump so don't wear nice clothes when you make this.

When the oil starts to separate (or after 7 minutes) return the pork to the pot and add enough chicken stock to cover the pork – about another 1 1/2 cups. Stir thoroughly.

Add a tsp of salt and bring to a simmer on the stove.

Cover and place the preheated oven.

Start testing for tenderness after the first hour. It will likely take around 90 minutes but results vary. You are done when the pork is tender.

Adjust salt.

Serve with pinto beans, tortillas and garnishes of your choice.
Nutrition
Serving:
8
servings
|
Calories:
344
kcal
|
Carbohydrates:
15
g
|
Protein:
33
g
|
Fat:
19
g
|
Saturated Fat:
8
g
|
Cholesterol:
93
mg
|
Sodium:
506
mg
|
Potassium:
1051
mg
|
Fiber:
8
g
|
Sugar:
3
g
|
Vitamin A:
6596
IU
|
Vitamin C:
3
mg
|
Calcium:
113
mg
|
Iron:
6
mg