New Mexican red pork chili, or carne adovada, is slow food. It's good food. Do it right and it's great food.
Tons of chile and roasted onion flavour. Big, big tastes. And the best part? Use cheaper cuts of pork. Shoulder or country style ribs work well.
Expensive parts dry out. This is a braise. You wouldn't make stew with beef tenderloin. Pork is no different.
I'm cheating a bit though. Adovada means marinated and that's a step I skip. I do not believe in marinades.
I've read quite a bit on it and the consensus among the food scientists seems to that marination is a surface phenomenon. 
Salt penetrates. Everything else just sits there doing not a lot of anything. Except making a mess maybe. Taking up room in the fridge. Stinking it up.
There are three things that are key in this recipe.
Brown the meat well. Lots of flavour comes from browning meat. It's called the Maillard reaction and it's food magic.
Use pork shoulder or country style ribs. Not just because they make better stew. Because you can cook the New Mexican red pork chili longer. That gives the chile powder time to cook fully. To mellow. To reach it's potential.
Last, fry the chile onion puree. This is huge. I learned it originally from Mark Miiller's Coyote Cafe cookbook. I've seen Rick Bayless do it as well.
I don't know why it works but it does. It just brings all the flavours together. It rounds out all those sharp chile flavours.
Do this every time you are making a sauce based on dried chilies or chile powder. Try it once. You will convert.
New Mexican red pork chili or carne avovado is all about big flavours. Unapologetically porky. Absolutely delicious.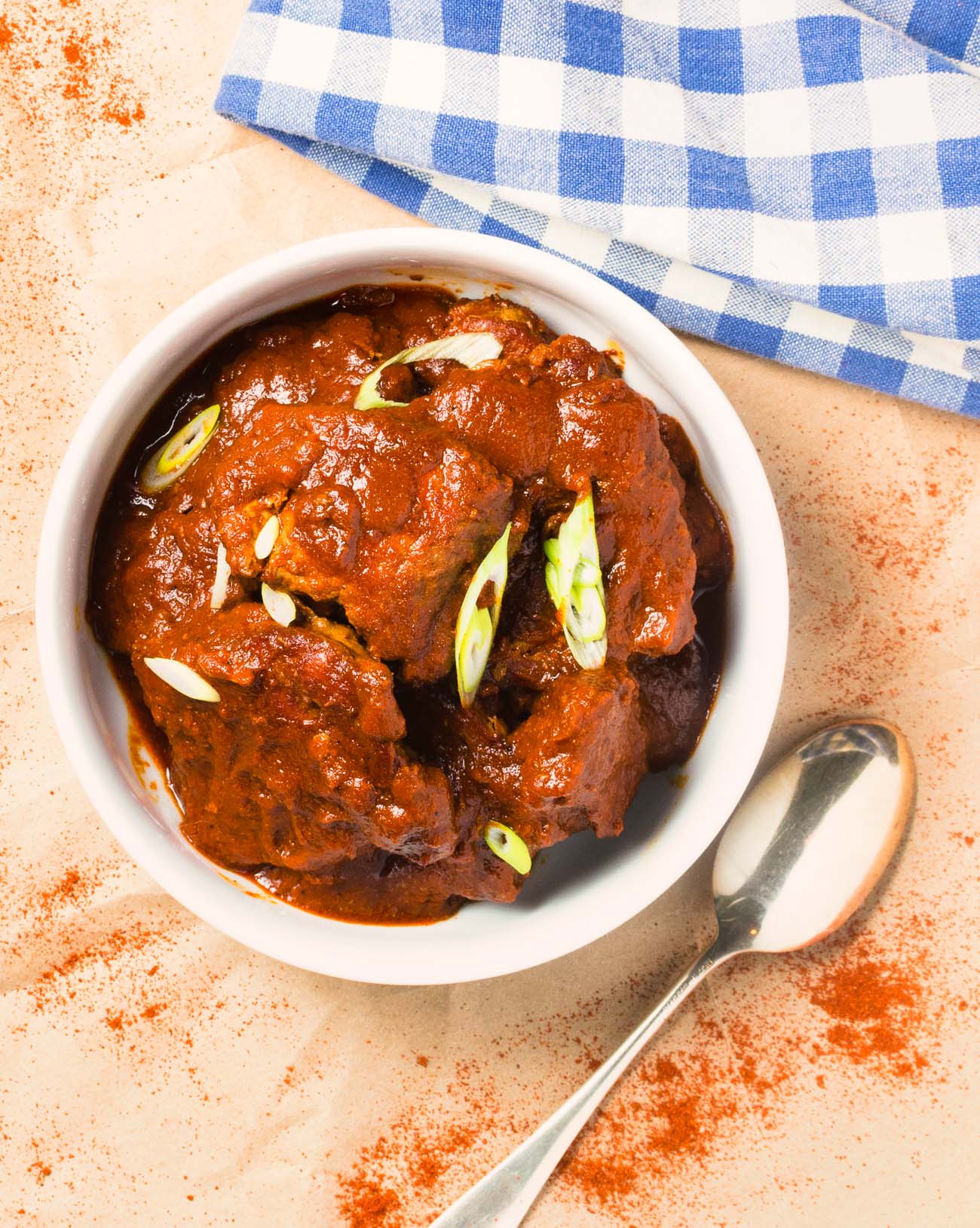 new mexican red pork chili carne adovada
New Mexican pork red pork chili or carne adovada is absolutely loaded with pork and chili flavour. It's even better the next day so it makes a great make ahead dinner party main course. Make sure you use a pure, mild chili powder (e.g. New Mexican Red). This is not a good place to use grocery store mystery chili powder!
Ingredients
4

lbs

pork stew

– e.g. pork shoulder or riblets, cut into fairly large (one inch plus) chunks

1

large

white onion

4

cloves

garlic

3/4

cup

New Mexican red chili powder

2

tsp

cumin

1

tsp

mexican oregano

(optional)

4

cups

chicken stock

3

Tbsp

rendered pork lard or vegetable oil

salt to taste

– start with one tsp and go from there
Instructions
Pre-heat your oven to 350F.

Slice the onion into 3/4 inch slices.

Peel the garlic.

Place the onion and garlic in a dry comal or cast iron frying pan and cook until the garlic and onion brown. Watch the garlic closely.

Coarsely chop the onion and combine it with the chili powder, mexican oregano if using and 2 1/2 cups chicken stock in a blender. Puree completely. Set aside.

In a high sided pot large enough hold all the pork melt two Tbsp of lard or vegetable oil and brown the meat in batches. Brown it thoroughly. Take the time. It's worth it.

Remove meat from the pan and add a third Tbsp of lard or oil. Transfer the chili mixture to the pan and fry, stirring constantly for 4-5 minutes. The mix will bump so don't wear nice clothes when you make this.

When the oil starts to separate (or after 5 minutes) return the pork to the pot and add enough chicken stock to cover the pork – about another 1 1/2 cups. Stir thoroughly.

Add a tsp of salt and bring to a simmer on the stove.

Cover and place the preheated oven.

Start testing for tenderness after the first hour. It will likely take around 90 minutes but results vary. You are done when the pork is tender.

Adjust salt.

Serve with pinto beans, tortillas and garnishes of your choice.
Nutrition
Serving:
8
servings
|
Calories:
344
kcal
|
Carbohydrates:
15
g
|
Protein:
33
g
|
Fat:
19
g
|
Saturated Fat:
8
g
|
Cholesterol:
93
mg
|
Sodium:
506
mg
|
Potassium:
1051
mg
|
Fiber:
8
g
|
Sugar:
3
g
|
Vitamin A:
6596
IU
|
Vitamin C:
3
mg
|
Calcium:
113
mg
|
Iron:
6
mg