Pizza. A little bit of food magic. I think anyway. A few simple ingredients. Some heat. A culinary miracle happens. Tandoori chicken pizza takes that magic up a notch.
I don't really understand my love of pizza. It's my kryptonite. I will eat pizza when I'm full.
Any pizza without pineapple on it anyway. I know. It's wrong. But I can't help it. It's a sickness. A wonderful, wonderful sickness.
And somehow tandoori chicken pizza has become my favourite. Top of my list. Not sure how that happened. But it did.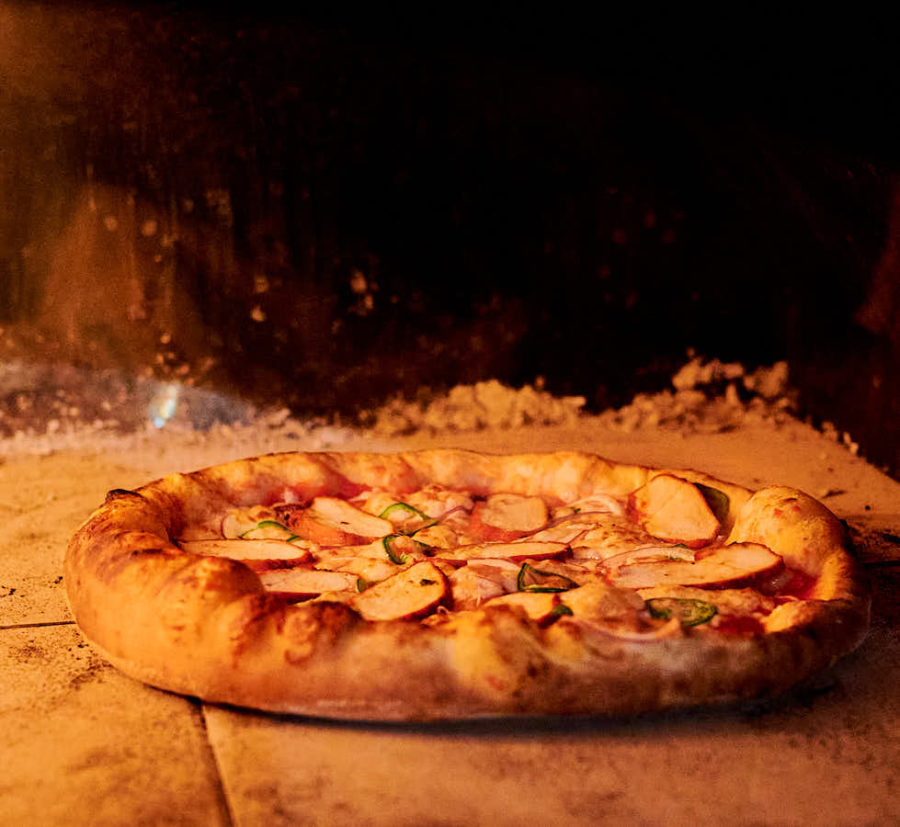 Things are finally changing
There's a bit of a movement afoot. Indian restaurants are breaking the mold. Casting off the chains of formula Indian menus.
It's finally happening. I've been waiting my whole life for it. I'm pretty excited.
It's about familiar food. Kissed with Indian flavours. Something you know. But with a twist. Funky. Fun. And delicious. All the cool restaurants are doing it.
Indian inspired. Taking what you know. And bringing those big bold Indian flavours to it. I call it Indian-ish. Not quite Indian. But close. Just fun.
Desi pizza is coming to a pizzeria near you
What does that have to do with pizza? It's a great example of Indian-ish. Something familiar but different. Pizza. With Indian flavours.
It goes by Indian pizza. Or desi pizza. Google it. It's a thing. I'm not making this up. I'm just trying to spread the word.
Butter chicken pizza. Chicken tikka masala pizza. Saag paneer pizza. Tandoori chicken pizza. Drop dead amazing pizza.
It's not intuitive. Ask me to pick two cuisines that don't play well together? Indian and Italian has to be close to the top.
And yet it works. And it just doesn't sort of work. It works incredibly well. I am actually amazed at how well in fact.
And before you ask. This is way better than naan with stuff on top of it. Not in the same league.
Not saying that naan with stuff on it isn't good. Just saying this is a whole lot better. But remember. I am a pizza addict. Factor that into your thinking.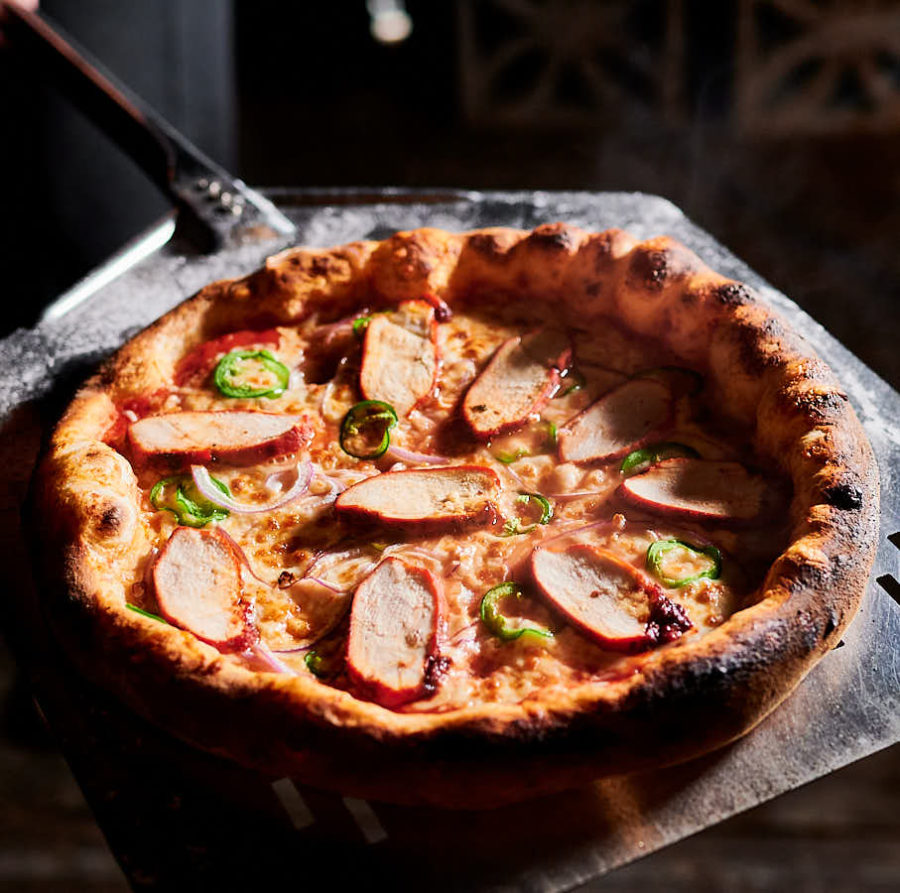 Tandoori chicken pizza is all about balance
Tandoori chicken pizza is the simplest of the desi pizzas. In my rotation anyway. Not a lot to it. But that's what makes pizza great. Complicated is not always better.
I have a test for pizza joints. Pizza margherita. Crust. Tomato sauce. Basil. Cheese. Olive oil.
If a pizzeria can pull that off they know their stuff. There is nowhere to hide. Grand master territory.
Notice I put crust first. Did that on purpose. Crust is the real test. Great crust. Great pizza. Mediocre crust. Mediocre pizza. You can try to hide it. But you can't fix it.
The crust is the thing
Crust. Sauce. Cheese. Toppings. There's really not a lot to pizza. So the crust matters. A lot.
I've spent more than 10 years working on my Neapolitan pizza dough. And I'm not done yet. I chase the pizza dough dragon.
Flour. Water. Salt. Yeast.
Nothing more. Nothing less. No sugar. No oil. Four ingredients. Slow fermentation. Seriously complex flavours. They have rules about this. For real.
It is not one size fits all though. No silver bullet here. My version doesn't work at oven temperatures under around 650F. It needs real heat to make it work.
It won't work in a regular kitchen oven. Don't try. It will suck. Badly. You've been warned. I'm not happy about it either. But it is a fact.
My best advice? Go with the dough that works for you. If it ain't broke don't fix it.
But never stop trying to improve. There's real magic to be had. When you nail it. Did I mention I'm an addict?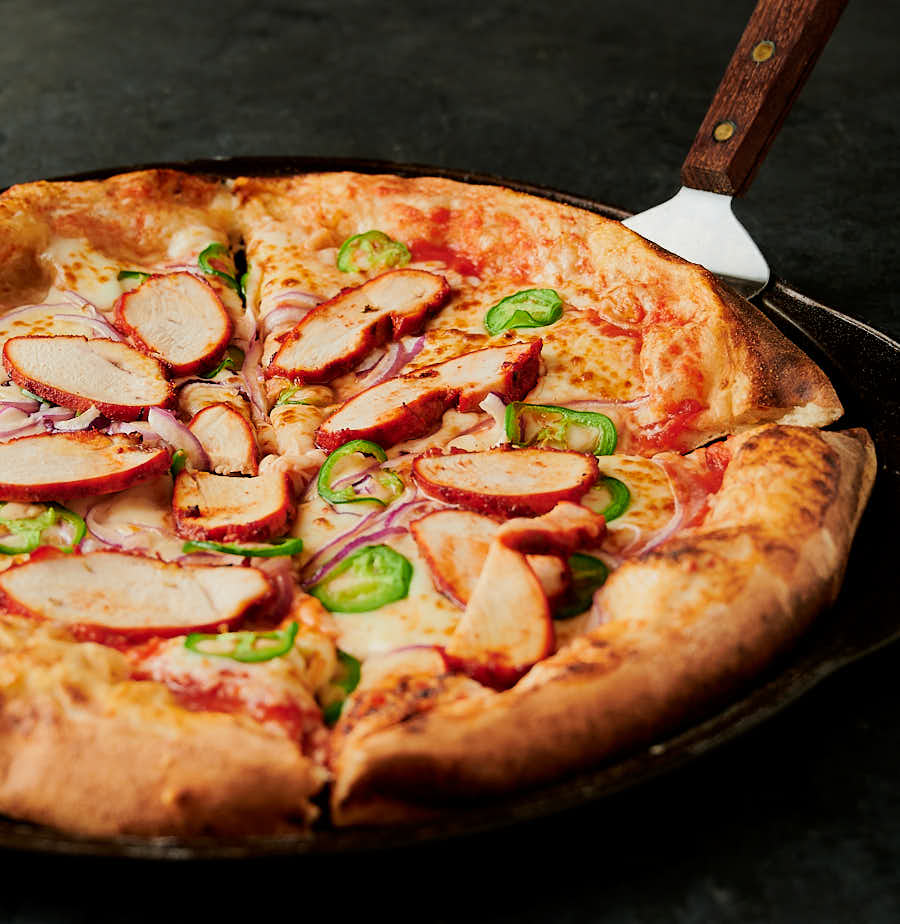 Sauce matters too
I'm going to lose a lot of people here. I know. I do a crazy sauce for butter chicken. Another crazy sauce for chicken tikka masala. I love to play. Tinker.
I used to do a complicated sauce for this pizza. It was really good. But in the end simple won. For me anyway.
Turns out the sauce I like best is the same one I use for all my red Neapolitan pizzas.
One 28 ounce can of whole San Marzano tomatoes. Real San Marzano. DOP. Passed through a food mill. And one teaspoon of kosher salt. Mix. Done.
That's it. Not cooked. No spices. No herbs. Just pure tomato flavour.
It's perfect. I think anyway. It doesn't get in the way. Provides a nice acidic balance. A canvas on which to paint your pizza. Proof that less can actually be more.
Works incredibly well against the tandoori chicken. The onion. The bite of the green chilies. The richness of the cheese. And the clean tomato flavour.
A little methi pushes it into serious Indian-ish territory
This is a tale of two pizzas. And both are great. So you have a choice to make.
If you really want a more Indian-ish pizza think about a little bit of kasoori methi. This one is a tough call. I'm torn.
It's just one ingredient. So you wouldn't think it makes a huge difference. But it does. Changes the pizza completely. Pushes it deep into Indian territory.
I'm not saying it's better. And I'm not saying it's not. It's just different. Small change. Big difference. Up to you.
I wouldn't use San Marzano tomatoes if you go the kasoori methi route. It's an assertive flavour. Bit of a sledgehammer. Any good quality canned tomato will do.
Try it both ways. That's the beauty of pizza. You keep playing with ingredients. It never gets old. There's always something you can tweak.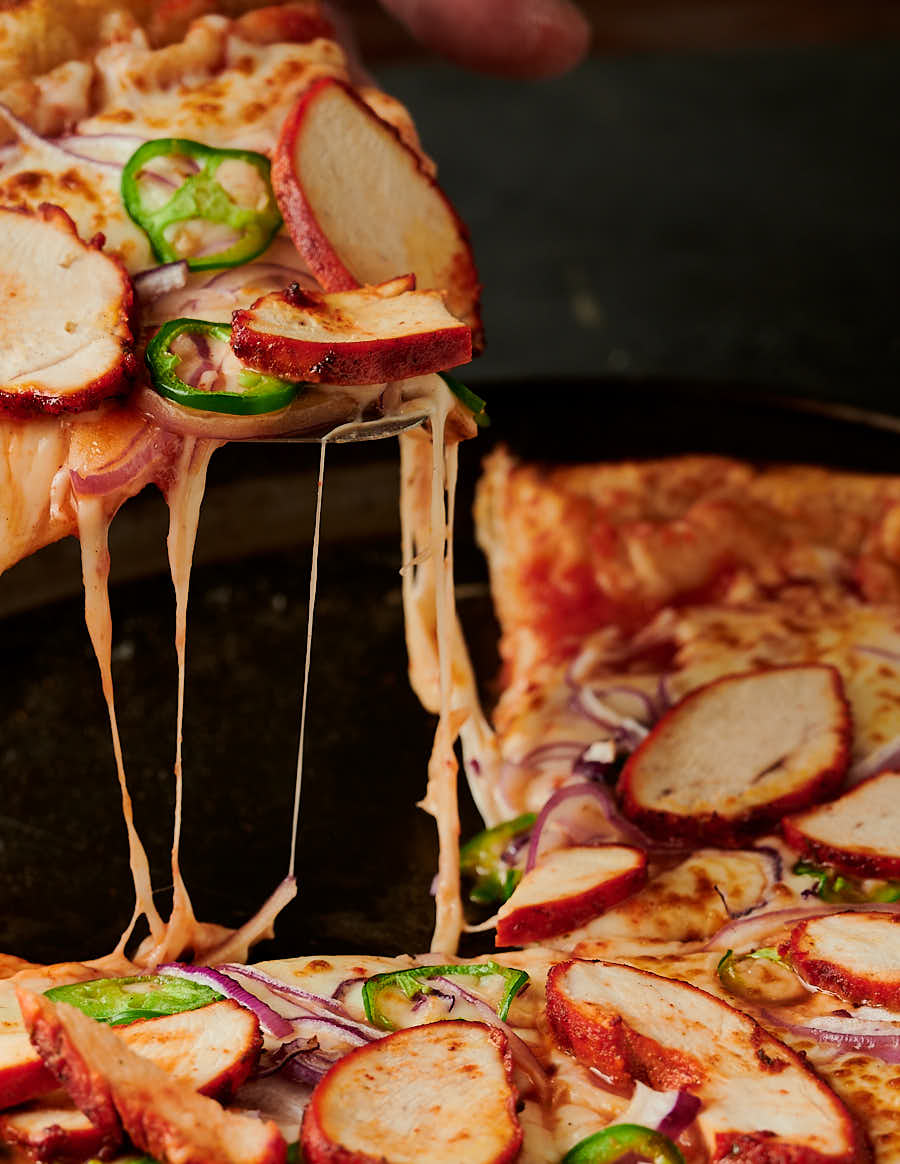 Jalapenos are right for tandoori chicken pizza
I'm not trying to create pizza controversy. It's just happening somehow. Jalapeños are right for tandoori chicken pizza.
I can hear what's going on in your head.
"Tandoori chicken pizza? That's Indian right? Do you not know anything about Indian cooking? Jalapeños are not Indian. Green chilies are Indian. Jwala chilies are where it's at. Jalapeños? What????"
I get that. I use jwala chilies for pretty much everything Indian. Everything that calls for fresh green chilies anyway.
I always have jwalas in my fridge. Always. But they are wrong for tandoori chicken pizza. Totally wrong.
This is pizza. Keep that in mind. Green bell peppers are a quintessential pizza topping. Maybe not in Italy. But everywhere else in the world.
That is why jalapeños are right here. There's method in my madness. Green bell pepper flavour. But with a little bite. Perfect. For this pizza anyway.
Put the tandoori in tandoori chicken pizza
I'm usually not a big fan of day-glo red tandoori chicken. Trying to get away from it in fact. But it looks so good on this pizza. I can't resist. My bad.
It's purely a look thing. The red contributes zero flavour. There is no point. Except it looks cool. I feel a bit dirty. Guilty even. Hope you can forgive me.
You can go as far as you want with the chicken. When tandoori is the main event I use a serious tandoori marinade. It's a bit involved. And it is really popular.
When I need tandoori in a hurry I keep it simple. Tandoori masala. A bit of salt. Garlic ginger paste. Kasoori methi. Neutral oil, And a bit of naga pickle.
That's actually a really good blend. When you are in a hurry. You just need to watch your salt. Commercial tandoori masalas can have a lot of salt.
This tandoori chicken works in the oven. But it works better over charcoal. There's just something about charcoal that makes me smile.
Either way the key is to pull when it's a little underdone. Because it gets cooked again on the pizza.
If you like pizza you need to try desi pizza
This one crept up on me. I started making Indian-ish pizza because I like Indian flavours. Just because. Had no idea it was a thing. Completely clueless. As usual. I'm not very trendy.
And somehow I got hooked. Addicted. Desi is now my favourite pizza style. Hands down. No contest.
This is the one that started it all for me. Tandoori chicken. Jalapeno. Red onion. Nothing to it.
The pizza police are coming for me. I'm sure of it. And they should. I'm spreading pizza heresy.
I'm OK with it though. I'll take the heat. Do the time. All I ask is you try desi pizza. So you can see for yourself. I don't think you'll be disappointed…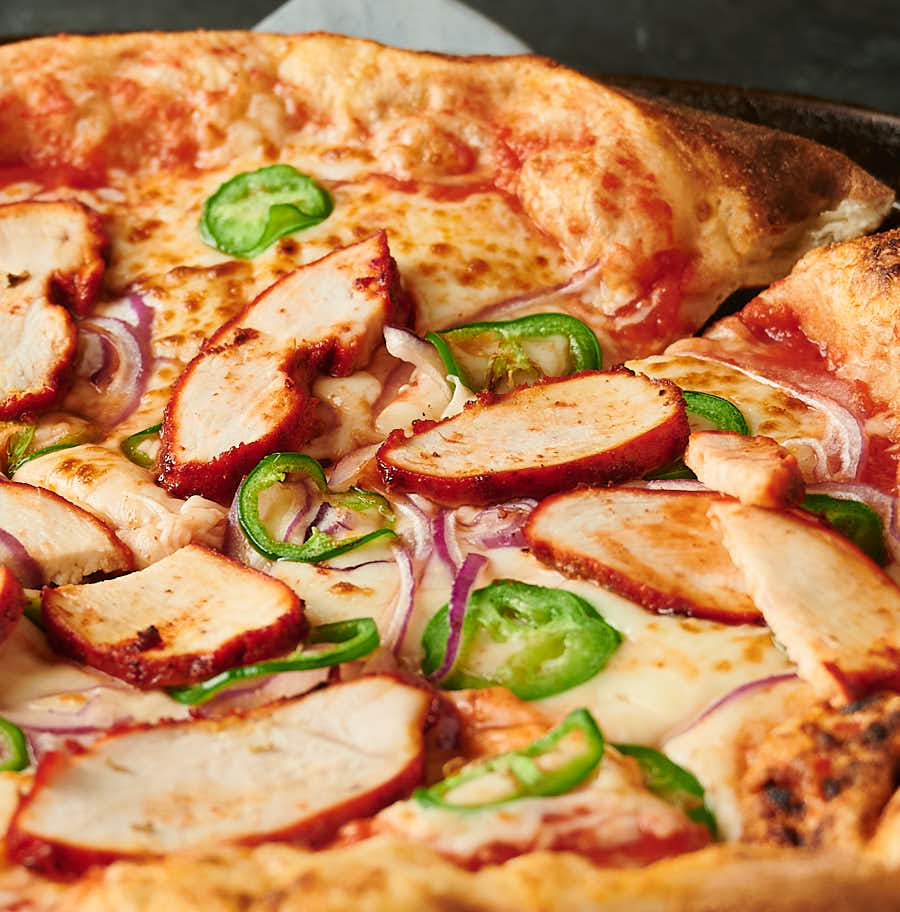 Ingredients
The sauce
28

ounce

tomatoes

1 can of San Marzano tomatoes (or not but you are missing out).

1

tsp

kosher salt
Quick tandoori chicken
4

chicken breasts

– boneless, skinless. I rarely specify white meat for Indian but it works here.

3

tbsp

tandoori masala

– pay attention to how much salt the blend contains

1

tbsp

garlic ginger paste

1

tsp

kasoori methi

1/4

tsp

naga pickle

– optional as it adds real fire. But it adds amazing flavour too.

1/4

cup

neutral oil

1/2

tsp

salt

– the amount of salt really depends on how much salt there is in your tandoori masala.
Tandoori chicken pizza (one 13 inch pizza)
4

tbsp

sauce

– from above

1/2

tsp

kasoori methi

(optional – pushes the pizza in a strong Indian direction. You decide)

1

tandoori chicken breast

cooked and sliced (from above)

1/4

red onion

thinly sliced

1/2

small

jalapeno

thinly sliced

6

ounces

mozzarella

grated
The Dough
Your favourite pizza dough here
Instructions
The crust
Get your dough ready. Go with whatever dough works in your workflow.

You can make this as easy or as hard as you like. Go with what you know. If you really want to get into serious pizza making check out the Neapolitan pizza dough in the comments below.
The sauce
Pass the tomatoes through a food mill. If you don't have a food mill you can try using a food processor. Note that a food mill really makes a difference though. It removes the seeds and more fibrous material. If you are getting into pizza in a serious way I do recommend the investment.

Add the salt. Stir to combine. That's it. The easiest pizza sauce ever. Just pure tomato flavour.
The quick tandoori chicken
Combine the tandoori masala, garlic ginger paste, kasoori methi, naga (if using) and oil. Stir to combine. You want a nice slurry. Taste. Yes. I know it's a little strange but it's actually quite tasty. If it is well seasoned you are good. If it seems like it could use a bit more salt then add the salt as well.

Combine the tandoori masala mixture with the chicken. Make sure the chicken is well coated. Don't use your bare hands for this. Tandoori masala has food colouring in it. It will stain badly.

Set aside (refrigerated) for up to one day. You can go within 30 minutes. After 12 hours it will be fully brined. Any longer and you are just letting the food colouring penetrate a little further. For the record the chicken in the pictures was marinated for about 30 minutes.

Ideally you can grill the chicken over charcoal until it hits an internal temp of about 150F for white meat. 160F for dark meat. You want it a little underdone because it will cook some more when you fire your pizza.

If you are doing it in the oven simply roast in a 400F degree oven. Flip the chicken at around the 10 minute mark and cook to the recommended internal temperatures. You don't need to worry about trying for char for this to work.
Build the tandoori chicken pizza (13 inch diameter)
Open your dough as you do normally. If you want to get the big cornice like in the pictures don't use a rolling pin. Open by hand a leave a little extra dough at the edges.

Spread about 4 tablespoons of sauce on the crust.

Cover evenly with cheese. This is an upside down style pizza. Cheese, then toppings.

Top with red onion, thinly sliced jalapeño and then the tandoori chicken. You want the tandoori chicken on top.

Cook as you would normally. In my pizza oven that's about 90-110 seconds at around 800F. You know your oven. Do what you do.

Serve. Bask in the adulation of your guests. Or just eat it all up yourself. That's a tough choice. I share. But I don't want to…
Notes
If you really want to get serious about your pizza making and have an oven that can get to north of 700F consider making a long room temperature ferment. I've been working on this Neapolitan pizza dough for more than a decade. Told you I was into pizza…