Think rich. Creamy. Complex. A little spicy. And completely over the top. That is chicken changezi.
Chicken changezi is a curry unto it's own. There's nothing like it. That I know of anyway. The spice cuts through the cream. It has bite. A lush curry. Special even.
This might not be the chicken changezi you're expecting. It's on the bold side. Big flavours. Shouldn't be a surprise though. This is glebekitchen.
It's always flavour first here. I'm not the king of subtle. Want to know my worst nightmare? Someone says "Meh. That was a little bland".
I'm not worried. This is a Mughlai dish. Which is a fancy Persian word for Mongol.
The most famous Mongol of all time? Ghenghis Khan I think. So I'm going to pretend I know Ghenghis.
And I'm going to pretend I know Ghenghis liked his dishes spicy. Nothing to do with reality. But I'm going with it.
So my chicken changezi has to be a little badass. No way it can be bland. Not for the meek. Not crazy. But not to be mistaken for insipid either.
Yes. That's ridiculous. I know. No need to tell me. I'm just having a bit of fun here.
The history of chicken changezi
With a title like that I bet you are expecting a bunch of facts. I would be too. But this one is a little murky. Willing suspension of disbelief required please.
Chicken changezi big in the North. Ghenghis Khan invaded the North. It's Mughlai. He was a Mongol.
So of course this must be his favourite dish ever. That makes sense right? OK. Maybe not.
But there's also the "fact" that they called him Changhez in India. See where this is going? Changez liked his curry just so.
A little creamy. Some dairy to soften things. Maybe all that invading gave him ulcers? Conquering is a tough gig.
I know if I was the royal cook I'd be worried. Wouldn't want to give him indigestion. There's only one way that would end. And I'm pretty sure I wouldn't like it.
So a tasty curry with badass spicing and cream to tame it? That sounds like something like Changez would approve of. That would keep the royal cook alive.
Fun story. Tall tale. Work of fiction. But in the end it doesn't matter. What matters is that chicken changezi is one tasty curry. And hotel style pushes it over the top.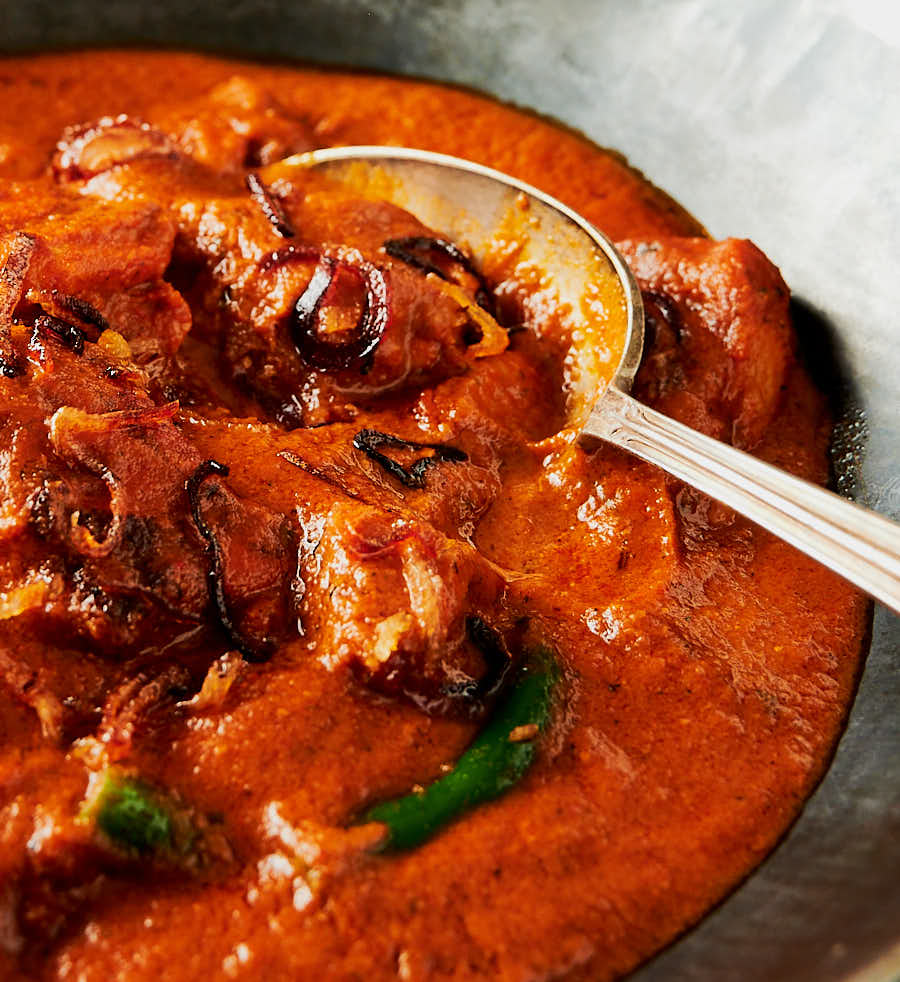 Hotel style for serious flavour
This part isn't a joke. If you want deeply flavoured dishes. And you want the lush sauce you get in restaurants. Then hotel style is for you.
Hotel style is about more. More flavour. More polish. Just more. It takes restaurant cooking up a notch. Or two.
Think high end restaurants. Posh restaurants. The ones where you go "Wow – that is so much better than my local takeaway". That's what hotel style is about.
It's called hotel style because that's what they serve at the fancy restaurants in India. The ones in the crazy hotels. And in high end Indian restaurants around the world.
It's more work up front. That's why every restaurant doesn't do it. Labour costs money. But it's easier at service. Nowhere near as messy either.
And you get amazing curries. It's just win win win.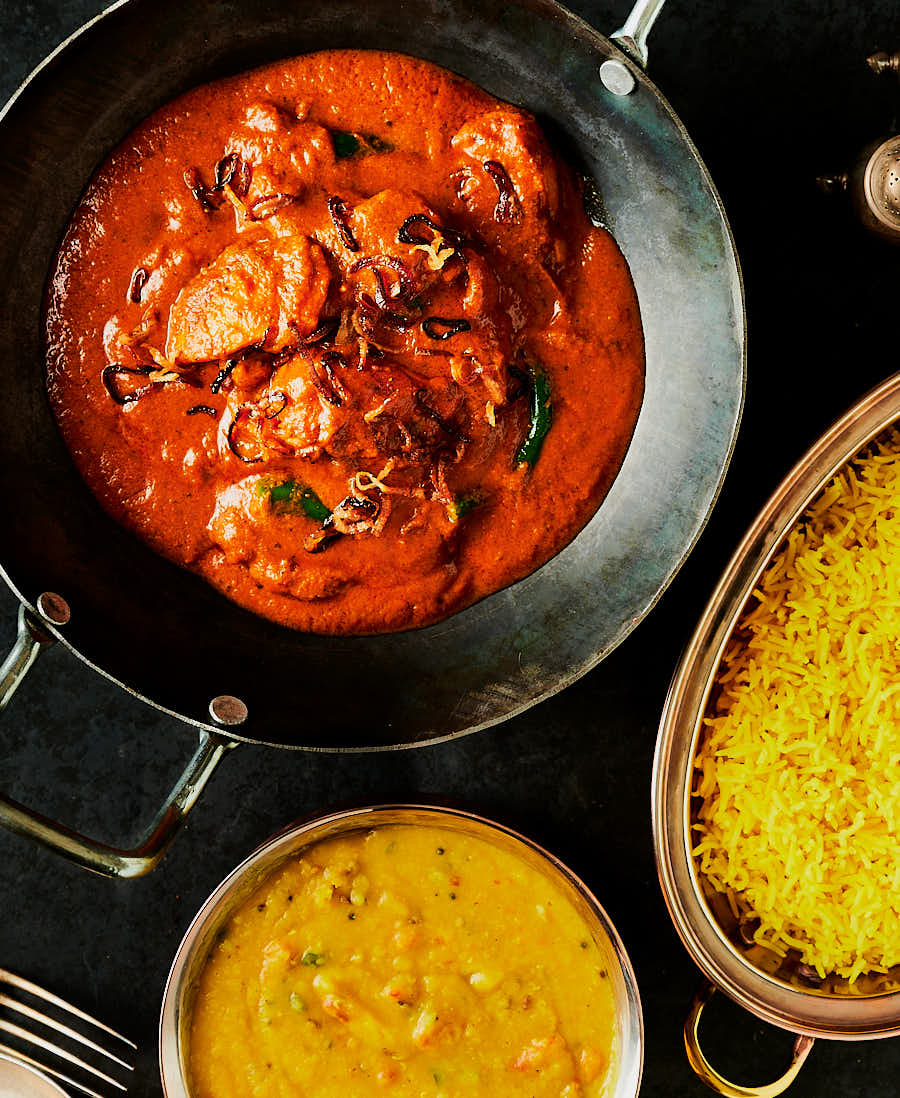 Hotel gravy is the secret
Restaurants don't make curries in the traditional style. They have tricks to get your dinner in front of you in less than two hours.
And they don't just have pots of every dish on the menu simmering on a hundred burner stove. That's a recipe for bankruptcy.
They use sauces. Or gravies. And they turn those gravies into the dishes they serve.
It can be simple. Like regular restaurant style. The same gravy for every dish. Like a blank canvas. I like that. It's tasty. But maybe a little limiting.
Or it can be more sophisticated. Hotel gravy. Makhani gravy. Specialized gravies. Combination of gravies. The right tool for the job. I like that better.
That's hotel style. Opens up a whole new world of possibilities. For me. And for you.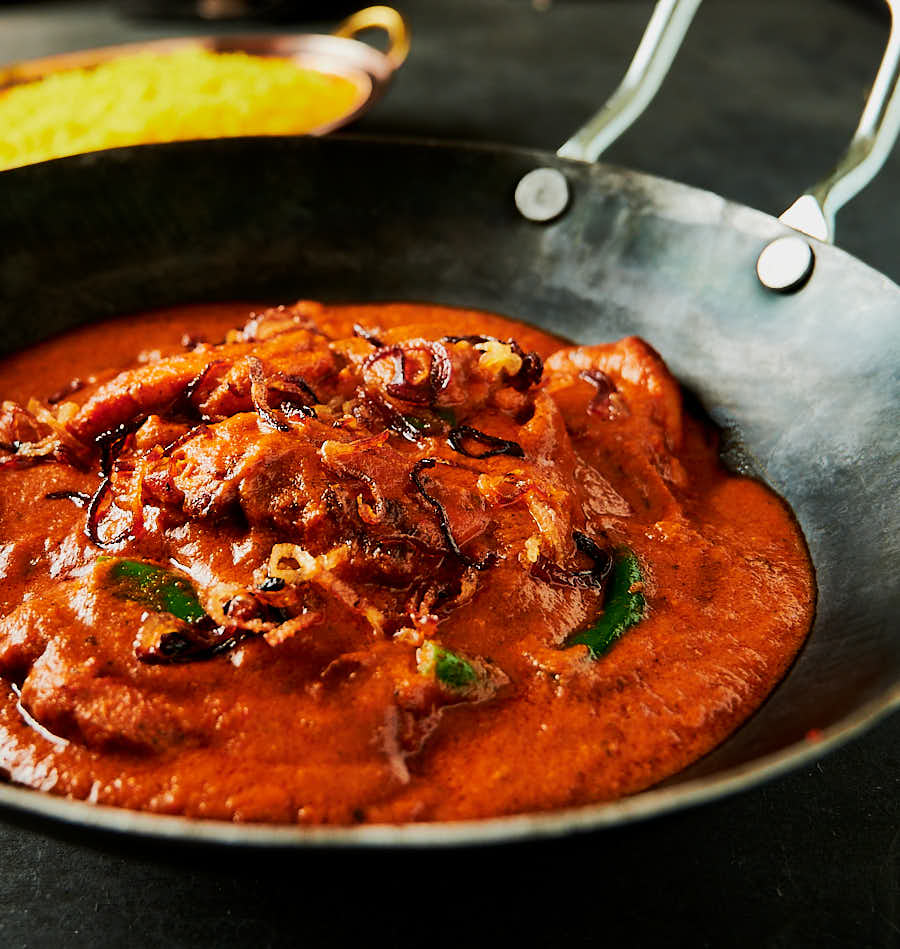 Chicken changezi is a curry for kings (or khans)
Changez had it pretty good. At least when it came to his dinner. Chicken Changezi is a little decadent. Seriously tasty. Opulent even.
I don't think I've ever described anything here as opulent. But it is. So opulent is the right word.
I don't do a lot of creamy curries. Not much dairy in general. My roots are Bengali. Creamy isn't really my thing. When it comes to Indian anyway.
It also doesn't quite fit my usual flavour sledgehammer style. I wouldn't go as far as subtle. It's a little less over the top. But only a little.
Which is why I'm fascinated by this one. It doesn't really fit my mold. Creamy. A bit restrained. Not my thing.
And yet I'm putting this one into my regular rotation. Try it. I'm willing to bet you will too. Changhez would approve.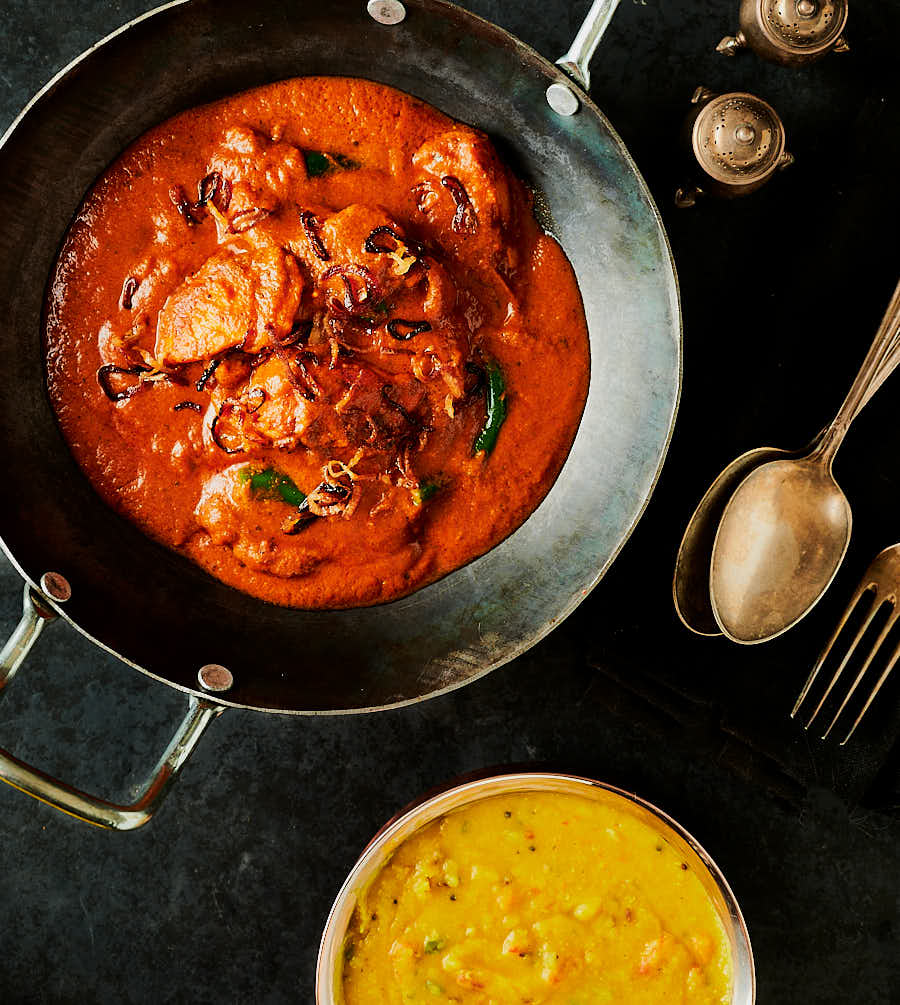 chicken changezi – Indian hotel style
Rich. Creamy. Delicious. That's chicken changezi.
Ingredients
The spice mix
2

tsp

kashmiri chili powder

1 1/2

tsp

coriander powder

1/2

tsp

chaat masala

1/2

tsp

garam masala

1/3

tsp

kosher salt
The chicken marinade
4

chicken thighs

boned and skinned. Cut into 3 pieces each

1

tsp

kashmiri chili powder

1

tsp

coriander powder

1/2

tsp

black pepper

– butcher's grind (a little coarse)

1/2

tsp

garam masala

1/4

tsp

tandoori masala

– a commercial mix (I know. It's hard for me to write those words) mostly for colour and a bit of tang.

1/3

tsp

kosher salt

2

tbsp

plain yoghurt
Chicken changezi
the marinated chicken

3

tbsp

canola oil

– any neutral oil

1

black cardamom

for a hint of smoky flavour

1

tbsp

garlic ginger paste

– recipe link below

the spice mix from above

1

green finger hot chili

– aka jwala chili coarsely chopped

1/2

cup

pureed tomatoes

– or makhani gravy (see note)

1

tbsp

plain yoghurt

– I like full fat Greek yoghurt for this

1

cup

Indian hotel curry gravy

– Recipe link in the notes. It's meant to be thick. The juices from the chicken will thin it and you can adjust it to taste at the end.

1/4

cup

heavy cream

1

tsp

kasoor methi

– dried fenugreek leaves

fried shallots

to garnish
Instructions
Do your prep
Measure out your spices. Prep your chicken. Chop your green chili

Basically have everything on hand and ready to go
Coat the chicken
Combine the spices and yoghurt. Whisk to combine. If it is really thick add a little dribble of milk to loosen it up.

Add the yoghurt mixture to the chicken and mix to thoroughly coat the chicken. It's ready to go at this point. Letting it sit for few minutes won't hurt but it won't really make much difference either.
Fry the chicken
Set a large skillet over medium heat. For this step a non-stick skillet helps. I don't say that often but in this case pull it out.

When the oil starts to shimmer add the chicken in an even layer.

Fry until lightly coloured. Maybe 3 or 4 minutes per side. Regulate your heat so the yoghurt doesn't burn.

You aren't trying to cook the chicken through. When it has a bit of colour remove from the pan and set aside.
Make the chicken changezi
Transfer the oil from frying the chicken into a clean skillet. This is now spiced oil. You want to get back to 3 tablespoons so if it looks low a little more oil won't hurt.

Heat the oil over medium heat.

Add the black cardamom. You should see little bubbles form. Cook for about 20-30 seconds.

Stir in the garlic ginger paste. Gently fry until the garlic ginger paste stops sputtering. This step can get a bit messy so be ready.

Turn your heat down to medium low and add your spice mix. Cook for about 30 seconds. You want to fry your spices in the oil. There are fat soluble compounds in spices. This is how magic happens.

Add the yoghurt. Stir it well. Fry for about 30 seconds. I know frying yoghurt is a bit strange. Just trust me. The yoghurt needs to get cooked out.

Add the tomato puree and the green chilies. Fry the mixture for 2-3 minutes. You will need to add a bit of water or stock to keep it from getting too thick. But at least when that happens you'll know you're doing it right.

Add the Indian hotel curry gravy. Stir well. You want everything mixed together. Bring to a simmer.

Add the cream and kasoori methi. Stir to combine.

Add the chicken thigh pieces in a single layer. Nestle them down into the sauce. Cover and cook about 5 minutes.

Remove the lid, flip the chicken and replace the lid. Continue simmering until the chicken is done. You are shooting for an internal temperature of 170F. Should only be a couple minutes more.

Chicken changezi should be a saucy curry. Look at it in your pan. It's going to need a little extra liquid (water or no-sodium chicken stock) to get it there. Somewhere between 2-4 tablespoons. You want a consistency just slightly thicker than heavy cream.

Serve garnished with fried shallots if you like. It's not essential but it is a really nice touch.
Notes
You can use makhani gravy without the final cream and butter in place of the pureed tomatoes. Using the makhani gravy adds an extra dimension of flavour and the richness of the cashews. I'm allergic to cashews so I tend to leave them out. The pureed tomatoes make for a very nice changezi as well. Up to you. If you want to go the distance makhani gravy is a nice touch. 
Make your Indian hotel curry gravy ahead of time. It does take time to make so think about doing it the day before. You can freeze one cup portions and pull them out when you need them. That's what I do.
For maximum flavour consider making your garlic ginger paste from scratch. I know I say this a lot but it makes such a difference.
1 cup is 237 ml. And check out the metric conversion feature I just added.
Nutrition
Serving:
2
servings
|
Calories:
771
kcal
|
Carbohydrates:
24
g
|
Protein:
45
g
|
Fat:
56
g
|
Saturated Fat:
15
g
|
Polyunsaturated Fat:
9
g
|
Monounsaturated Fat:
20
g
|
Trans Fat:
1
g
|
Cholesterol:
231
mg
|
Sodium:
1603
mg
|
Potassium:
1168
mg
|
Fiber:
8
g
|
Sugar:
11
g
|
Vitamin A:
1608
IU
|
Vitamin C:
22
mg
|
Calcium:
171
mg
|
Iron:
5
mg