If you like Asian noodles you need to try mee goreng. It's just a whole lot of crazy delicious in a bowl.
Chewy noodles. Chicken. Shrimp. A little bit spicy. A little bit sweet. Incredibly savoury. How can you not want that?
And it's a snap to make. Not a whole lot of ingredients. Weekend flash with weeknight effort. 30 minutes and it's on the table. Less time even.
Forget takeout. Make this. Do it soon.
Mee goreng means fried noodles
That isn't figurative. Mee goreng (or mie goreng – depends who you ask) literally translates to fried noodles. And that is exactly what this is. With noodles as the star. Tasty, tasty noodles. Who doesn't want that?
Less is more here. There aren't a lot of ingredients. Not because that makes it easier. Because it makes it better. And that's what really matters.
I tinkered with this recipe. I tried adding bean sprouts. Chinese greens. Cabbage. Green onions. Distractions. That's what I wound up calling extra ingredients.
There's nothing I would take away in this mee goreng. And there's nothing I would add. You may think boring. But try it. You'll see.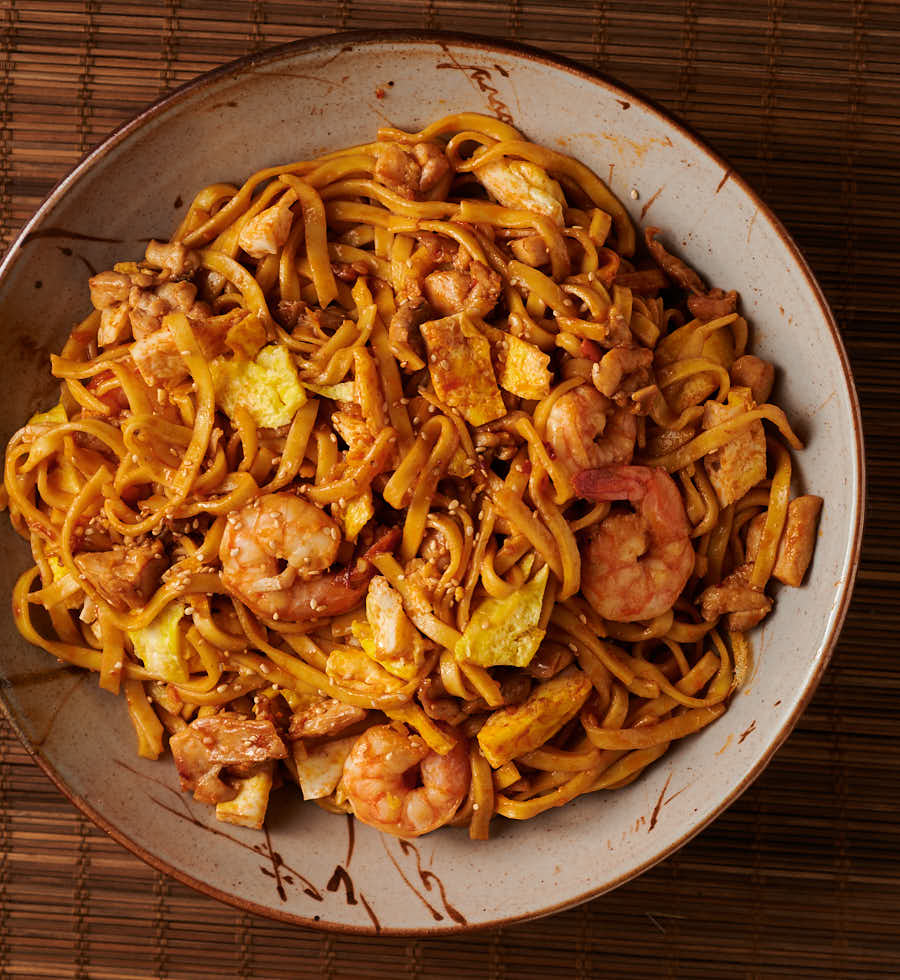 Malaysian curry powder makes this crazy good
There's a secret ingredient here. Malaysian curry powder. That's the fairy dust that makes this dish special. Seriously. The wow. The magic.
I am addicted to the taste of Malaysian curry powder. There. I said it. Full disclosure. So you know where I'm coming from.
Never trust an addict. That's good advice. Especially if all they are doing is trying to get you to join them. Which is exactly what I'm doing here. You know you want to.
You might need to hunt a bit to get it. Drive around looking to score. But it's so worth it. The bag says meat curry powder. I say noodle curry powder. Or chicken curry powder. It makes some seriously amazing chicken curry.
I use Baba's brand. Not because it's the best. Because that's what they sell where I live. It's really good. But I imagine other brands are just as tasty.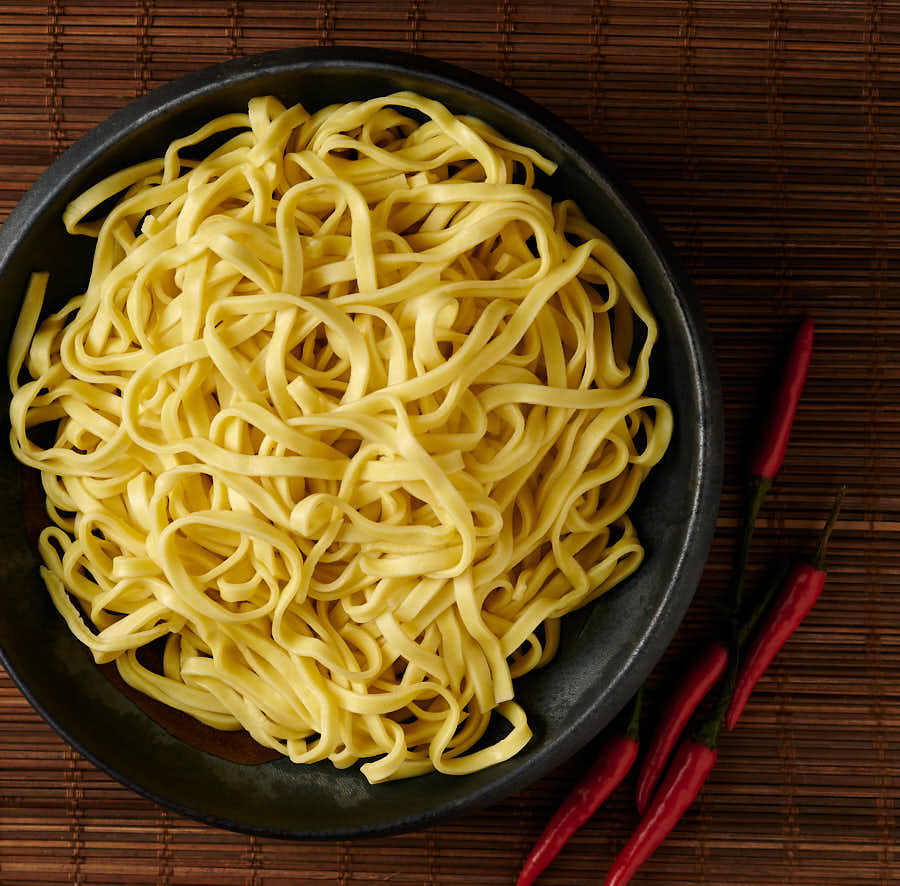 The right noodles for mee goreng
These are fried noodles. So you don't want too soft going in. Maybe not quite al dente but a little firm. That's important.
I like fresh lo mein noodles for this dish. Yellow egg noodles. Just the right amount of chew. But that's me.
I have an Indonesian friend that uses linguine. Mie goreng is fried noodles in Indonesian as well. So she knows what she's doing.
I'm thinking about trying this with rice noodles. Pad Thai meets mee goreng. The ultimate noodle cage fight. Bottom line. Don't get too hung up on the noodles you have. Just make this. Eat it. And then you'll see.
Crazy talk, I know. But this recipe isn't about following the rules. Fried noodles. Sweet soy and sambal oelek. That's the guideline. So I figure I'm in bounds here.
Go your own way here if you want. Just please make sure the noodles aren't too soft going in. Or you will have a tasty bowl of mush. Which is nowhere as good as it should be.
Ingredients matter
That's the thing about recipes with such a short ingredient list. There's nowhere to hide. So the soy you choose matters.
I like Thai soy sauce. Use it in almost everything. If it isn't Japanese and it calls for soy, it's getting the Thai treatment. Same goes for oyster sauce. I like the Thai version best.
Kecap manis is the classic choice for this dish. For the sweet soy. And if you have it, use it. It's good. I stock Thai sweet soy. So that's what I use. I have five different soy sauces in the fridge. Even I don't have room for another one.
I did a kecap vs Thai tasting. They aren't all that different. And if you're wondering – it's pronounced ketchup. Now you know.
Whatever sweet soy you choose do consider Thai thin soy. For anything that isn't Japanese it is wonderful stuff. My go to general purpose soy. It's good stuff.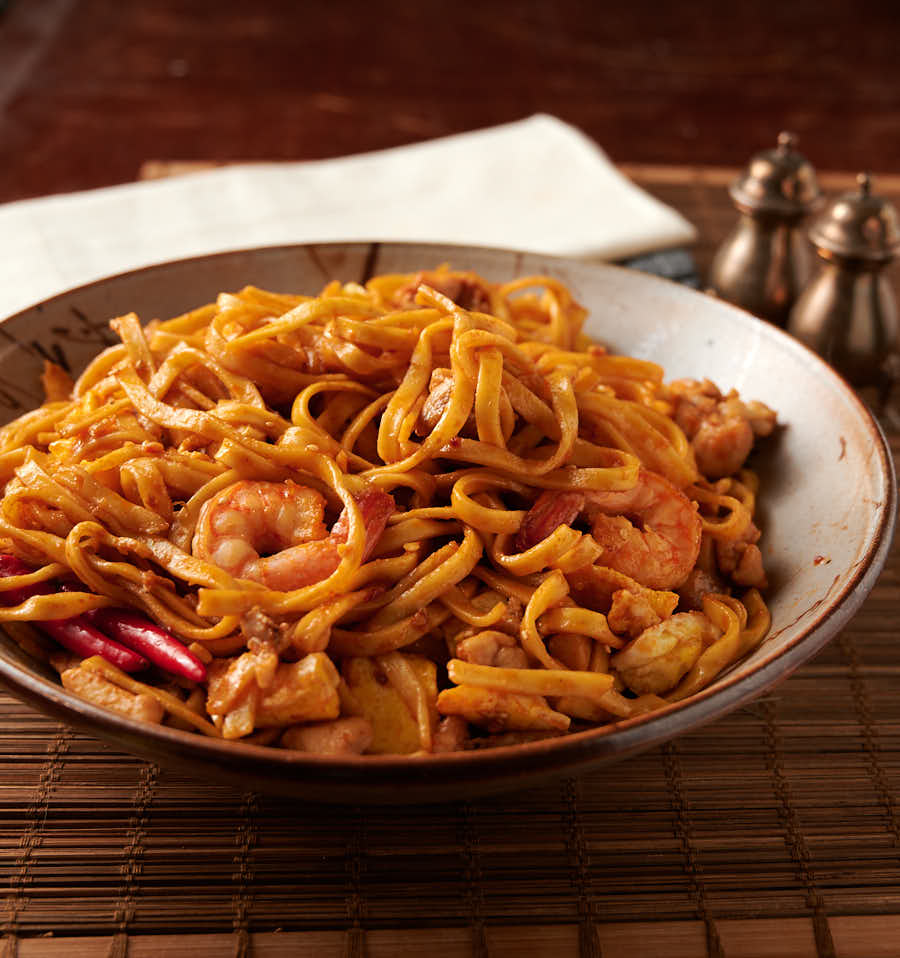 Sometimes simple is best
This is a deceptively simple recipe. And it has ketchup in it. Not kecap. Ketchup. Which is reason enough for you to run away. I'm pretty sure I would run away as well if I didn't know better.
But it works. Somehow. The curry flavours against the soy. The acid and tomato and sugar in the ketchup. The chew of the noodles. And no distractions.
No garnishes either. I could have made the pictures look better. A little cilantro. Some chopped peanuts. Pretty green onions. I wanted to. But I couldn't. Because they don't add anything. More distractions.
This is how I would make mee goreng if I was running a food stall on the streets of Malaysia. If my livelyhood depended on it. I'd line up for it. And once you try it I bet you would too.
Mee goreng – Malaysian fried noodles
A little Malaysian curry powder really makes this fried noodle classic sing.
Ingredients
Mee goreng sauce
1

tbsp

soy sauce

– I like Thai thin soy sauce for this

1

tbsp

sweet soy

– kecap manis or Thai sweet soy

2 1/2

tbsp

ketchup

– yes, plain old every day ketchup

2

tsp

sambal oelek
Mee goreng
3

chicken thighs

– cut into 1/2 inch pieces

6

shrimp

31-40 shrimp per pound (large or medium large in the UK)

1

clove

garlic

minced

1

tsp

Malaysian curry powder

It's called meat powder on the package. You can substitute Madras curry powder.

12

oz

fresh yellow noodles

cooked

3

tbsp

vegetable oil

plus 1/2 tsp to fry the eggs

2

large

eggs

lightly scrambled
Instructions
Prep your sauce
Combine the sweet soy, the thin soy, the ketchup and the sambal oelek in a small bowl.
Make your mee goreng
This goes fast. Be ready. Have your ingredients prepped and at hand. Make sure your noodles are cooked. Not a bad idea to leave them in your colander so you can run some hot water over them right before you start to fry them. Hot water will loosen them up so you aren't starting with a big, solid glob of noodles.

Heat your wok over medium heat. Non-stick or well-seasoned really helps here. Turn on your hood fan.

Stir your eggs to combine the yolks and whites. Add 1/2 tsp of oil. When the oil starts to shimmer add the eggs. Fry the eggs until they start to set up. Break a hole in the middle of the eggs and push the uncooked egg into it. Think omelette.

When the eggs are mostly cooked through fold them over themselves (in half) and slide the egg out of the wok onto a plate. Cut the eggs into ribbons. Set aside.

Add 3 tablespoons of oil to the wok. Add the chicken. Stir fry until the chicken is almost done. This should take about 4 minutes but check your chicken. You don't want raw chicken. Maybe a little pink at this stage.

Add the shrimp and continue to stir fry. You just want them turning pink. Overdone shrimp are expensive pencil erasers. Not good. This should take about a minute for 31-40 count.

Add the garlic. Stir fry for about 30 seconds.

Look at your pan. Is there still a fair amount of oil in it or is most of it splattered on your stove. If it looks dry add a bit more oil. These are fried noodles. Fried isn't dry roasted.

Add the Malaysian curry powder. Stir to combine. You want to see the spices frying in the oil. Cook for about 30 seconds.

Crank the heat. Toss in the noodles. Stir fry them carefully. You don't want to break them. but you do want them to get them well coated with oil and frying a bit. Remember, this is fried noodles. Cook for about 90 seconds.

Add the sauce. Return the eggs to the pan. Stir to combine. Serve immediately.
Nutrition
Calories:
804
kcal
|
Carbohydrates:
70
g
|
Protein:
49
g
|
Fat:
35
g
|
Saturated Fat:
21
g
|
Cholesterol:
377
mg
|
Sodium:
1577
mg
|
Potassium:
522
mg
|
Fiber:
4
g
|
Sugar:
13
g
|
Vitamin A:
403
IU
|
Vitamin C:
5
mg
|
Calcium:
68
mg
|
Iron:
6
mg