Turkey noodle soup from scratch is about the best thing you can do with your leftover turkey. Deep turkey flavour, tender noodles and incredible mouthfeel make this version special.
There is something wonderful about turkey noodle soup. Childhood comfort food. Feel good food. Magical almost. Puts a smile on your face. And you cannot beat homemade. No way around it.
There's no single killer recipe. No rock your world – this is the best thing ever. I've looked. It's all pretty much the same. Variations on a theme.
I have my own variation on the theme. Mine is about mouthfeel. The difference between a watery broth and unctuous, oh my god this is amazing broth. That small tweak is what makes this version a great one.
It's not hard to make really good turkey noodle soup either. Takes a bit of time to make the stock. Simmer the soup. But it's all unattended. Almost set and forget.
This recipe is a guideline. There's lots of room to improvise. Don't have leeks? No big deal. Try onion. Want to add peas? OK, that works. Celery? A bit of an overpowering flavour in my mind but why not?
There are only three things I think are important in this recipe. Turkey stock, dried thyme and cornstarch. Yes, cornstarch. It's all about incredible mouthfeel.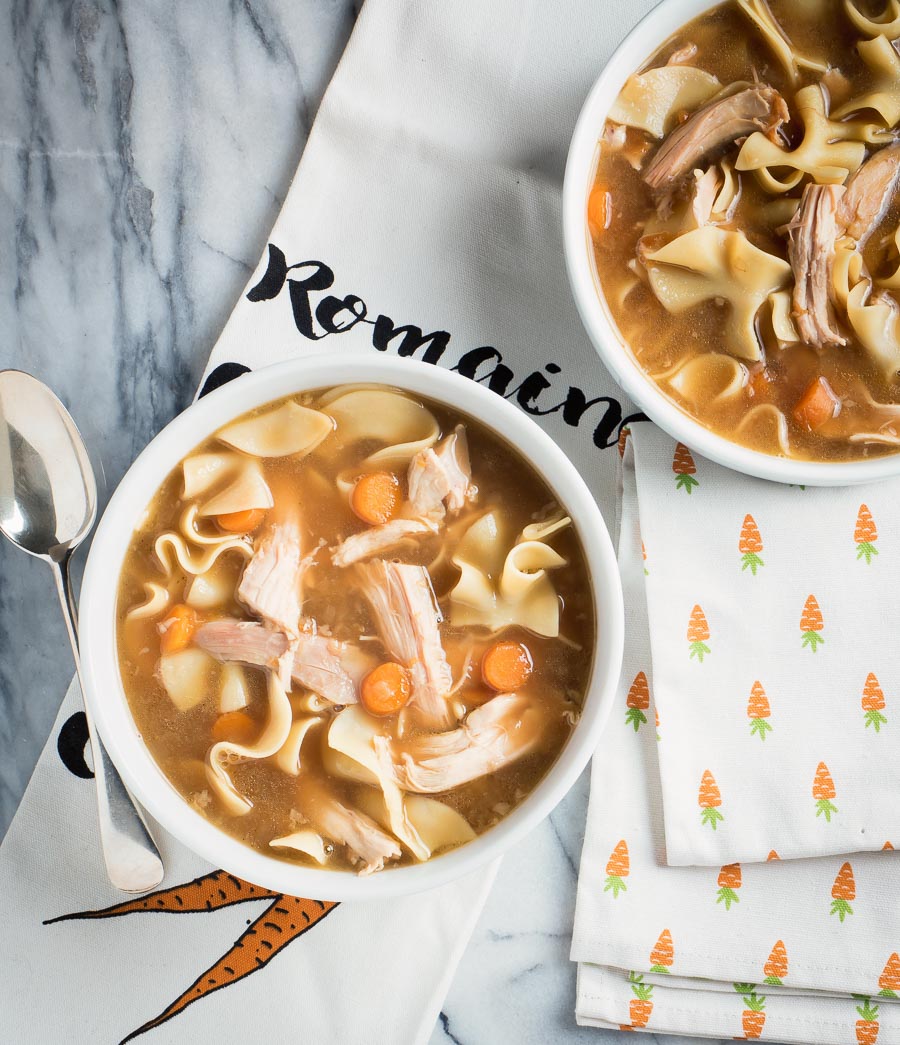 Three key tips for really great turkey noodle soup
Turkey stock is a given I think. Noodle soup made with chicken stock is called chicken noodle soup. Add turkey and I call it chicken noodle soup with turkey. Turkey stock is the backbone.
Dried thyme is a big one for me as well. Don't really understand why I do but I do. I don't use a lot of dried herbs but it works here.
The cornstarch is the real secret though. Absolute game changer. When I was a kid I had turkey noodle soup at a friend's house. I only had it once but it stuck with me as the gold standard.
I didn't cook back then so it didn't occur to me to ask what the deal was. Fast forward a couple decades. For years I tried to recreate the mouthfeel. Couldn't figure it out. It took a Chinese friend to put me on the right path. Now I make turkey noodle soup to be proud of.
Try it. It's worth the leap of faith. You'll never look back. It just works.
turkey noodle soup
A good turkey noodle soup is the ultimate comfort food. It's the best way to use up the end of turkey leftovers.
Ingredients
The stock
1

turkey carcass

1

onion

halved with skin left on
The soup
3

Tbsp

vegetable oil

1

large

leek

diced - white and light green potion

1

large

onion

diced

4-5

large

carrots

coarsely diced

2

cloves

garlic

minced

2

tsp

dried thyme

2

tsp

salt

10

cups

turkey stock or as much turkey stock as you have plus water to make up 10 cups

6

oz

broad or extra broad egg noodles

4

cups

diced leftover turkey

1

Tbsp

corn starch

more

salt

to taste
Instructions
The stock
In a pot large enough to hold your turkey carcass, combine the turkey, onion and enough water to cover. Simmer for 6-8 hours. You want the turkey tasting like nothing and the stock to be flavourful.
The soup
Heat a pot big enough to hold everything (6 quart dutch oven works) over medium low heat. Add the oil and then the leeks, onions and carrots. Cook, stirring occasionally, until onion and leek are soft but not brown. You won't get the carrots soft at this stage - don't bother trying. This takes about 7-10 minutes.

If you don't want bits of thyme floating in the broth, place it in a bit of cheesecloth. Tie securely with food safe string. Add the garlic and the 2 tsp salt and cook another 2 minutes. Add the thyme with the garlic and salt if adding it loose. If you are wrapping it in cheese cloth add it with the broth.

Pour in the stock. Let simmer, covered for about an hour. Add the diced turkey and let simmer another 10 minutes.

Add the egg noodles and cook until the egg noodles are tender, another 10 minutes or so.

Dissolve the cornstarch by adding it to a cup of cool water and stirring thoroughly. You don't want to be chasing lumps of cornstarch so get this right.

Add the cornstarch slurry to the soup. Bring to a boil. The soup will thicken noticeably.

At this point the soup is under salted. Add salt gradually until you are happy with the salt balance. Soup takes a lot of salt.

Serve.