Beef rogan josh is one of the first Indian curries I ever learned to cook. I got it from Madhur Jaffrey's first book and I thought I was the cat's meow. People raved. It became a house favourite. It was pretty good. But this is better. Much better.
I've learned a lot about Indian cooking since I first made this recipe. Indian flavours are big. To get big flavours you need spice. Lots of it. Not necessarily more heat – chili is only one spice in the mix – but more flavour. I've also learned that blooming the spices – cooking them in oil up front – makes a big difference. Browning onions well is another key trick. Cooking onions until they are translucent is good for western food. It is not right for Indian. Translucent is not brown. You want brown. These are truths that apply to all Indian curries. If you like cooking Indian, consider adding these techniques to your cooking.
This is one of the only curries I make with beef. I like lamb and chicken. But it just wouldn't be right.  Beef rogan josh is all about the interplay of the spice beefy goodness. It just works…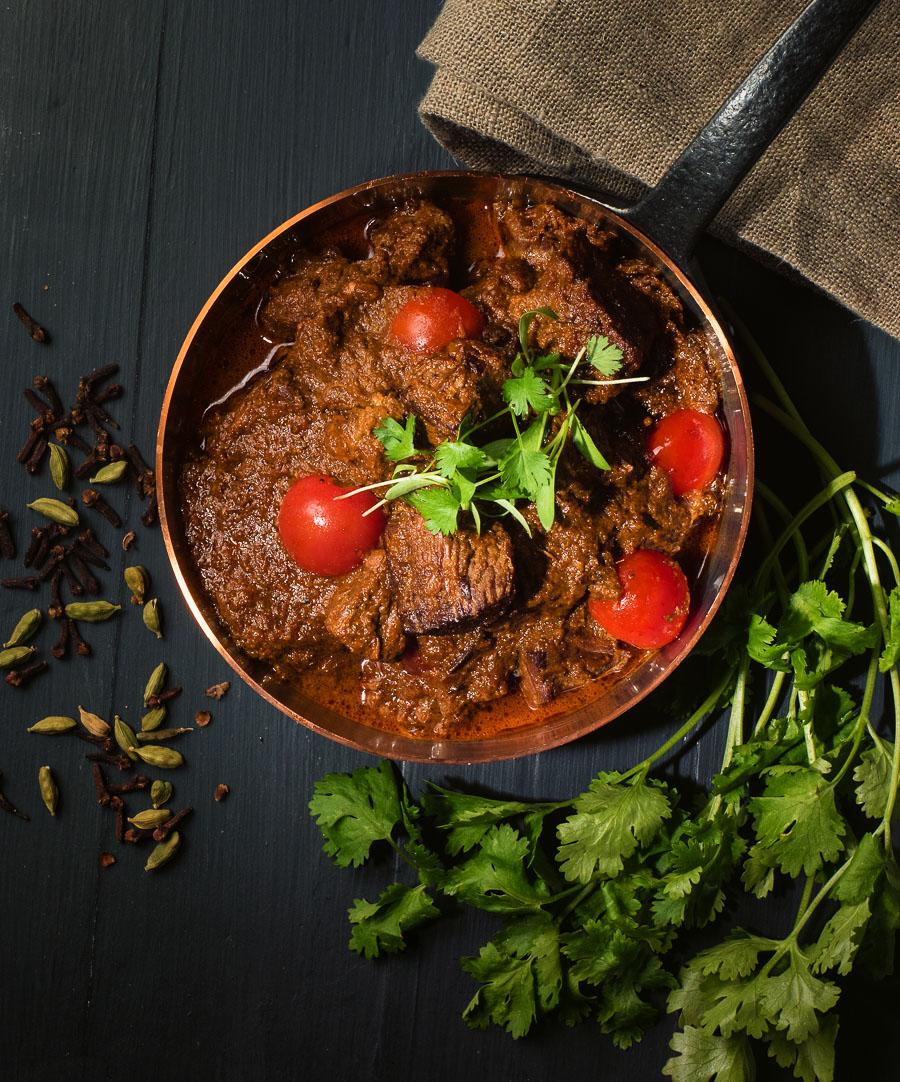 beef rogan josh
Beef rogan josh is a deeply flavourful, rich Indian curry. The oil is important to bring the flavours together when you fry the spice mix with the onions so don't skimp. You will be spooning most of it out later anyway.
Total Time
3
hours
30
minutes
Ingredients
The curry
3

lbs

beef

- stew from the chuck is nice

1/2

cup

vegetable oil

2

onions

- minced

1/4

cup

garlic ginger paste

- recipe link below

10

whole cloves

10

whole cardamom pods

2

inch

stick cinnamon bark

2

bay leaves

the spice mix

- below

5-6

Tbsp

full fat greek yoghurt

2

cups

water

kosher salt

- this is to taste. Start with about a big tsp and up it from there

10-12

cherry tomatoes

- halved
The spice mix
1

Tbsp

cumin

2

tsp

coriander

2

tsp

indian spice mix

- recipe link below

1

tsp

tandoori masala

- available at any Indian grocery

2

tsp

kashmiri mild chili powder

- or 1/2 tsp cayenne with 1 1/2 tsp paprika

2

tsp

paprika

1

tsp

kasoor methi

- dried fenugreek leaves

1/2

tsp

black pepper
Instructions
Pre-heat the oven to 325F.

Heat the oil in a dutch oven over medium heat.

Work in batches. Lightly brown the meat in batches. Don't crowd the meat. Leave a half inch around pieces. It doesn't have to be super brown like when making a good French stew but it does need to be brown.

When all the meat is browned add the onions. Cook until soft and well browned, about 10 minutes. Regulate the heat so the onions don't burn.

Reduce heat to medium low. Add the spice mix and cook for around 90 seconds, stirring constantly. You want enough oil to keep everything wet. If it looks dry, add a Tbsp or two of vegetable oil.

Mix in the garlic ginger paste and cook another 30 seconds or so.

Return the meat and accumulated juices and scrape up any browned bits in the bottom of the pot.

Now mix in the yoghurt one Tbsp at a time. Stir it in before adding the next one. I don't know why this is important but Madhur Jaffrey says so. I still do it. It has never gone wrong. Probably, it doesn't make any difference but, well, Madhur says so and who am I to differ.

Now add a big tsp of salt with enough water to almost cover the meat.

Cover and place in the pre-heated oven. Cook until the meat is tender, about 2-2 1/2 hours. Give it a stir every 30 minutes.

When the beef is tender remove the pot from the oven and place over medium low heat. If the curry is dry, add a bit of water. If it's wet, simmer uncovered to reduce. You want the sauce to be the consistency of heavy cream.

Let stand a couple minutes to allow the oil to separate. Spoon it off carefully. You should get nearly all your 1/2 cup of oil back. If you don't mind the calories though, leave some of it in the curry. That oil is loaded with spice flavour.

Adjust salt and add the cherry tomatoes. Simmer for about 5 minutes.

Serve with basmati rice.