Nearly restaurant style chicken saag is as close as you can get to full blown restaurant cooking as you can get. Unless you go all in. It has the texture. It has the flavours. And it's a bit healthier. Added bonus.
There's about a million curry recipes out there. Some are full blown restaurant style. Lots of those on this blog. Look around if you're interested. Some are truly authentic. Love those.
And then there's the ones I have to assume are written by people that have never had Indian food. And there are lots of those. I started researching this after trying one or two of them just to see what would come out the other side. Was not pretty…
I'm not being nice here. That's true. I'm sorry. I really hope that doesn't stop you from reading on. But seriously. Ask yourself – Is today the day I want to make bad fake Indian food?
Chop up some onions. Cook them for a couple minutes. Add some garam masala. Some cream. Throw in some canned tomato soup. Call that chicken tikka masala.  That is not curry. Not even close.
Full blown restaurant Indian is a bit complicated but totally achievable if you plan ahead. Homestyle Indian is just wonderful, magical stuff. But it takes time. In between – I give you nearly Indian restaurant style chicken saag. Fast enough to make on a whim. And close to what you get in restaurants. Pretty close, in fact.
The key is the onions. That's a big part of Indian cooking. Homestyle cooking relies on deeply browning the onions. Think onion soup. Like 30 minutes of browning.
Restaurant style replaces that by cooking huge amounts of onions in what they call the curry base. Do it once in volume and then crank out curries to order. If you are interested, read all about Indian restaurant cooking techniques.
What makes this chicken saag work is still the onions. No getting around that. But it swaps out 30 minutes of careful browning with 10 minutes in the microwave. Crazy sounding but it works.
I got the idea from a Chef's Steps onion puree. They use it replace cream in recipes. I use it to replace curry base. That's the secret. The gee whiz. The secret to nearly restaurant chicken saag. Or any other nearly restaurant style curry.
As far as I can tell, this is a first in Indian cooking. I'm probably wrong about that but I can't find anything like this anywhere. And I looked. And looked. Let me know if you've seen this somewhere else please. Don't mean to claim honours here if it's been done anywhere.
The technique here borrows heavily from Indian restaurant technique. That's why it works. Some tweaks of course. But that's breaking new ground… Nearly restaurant ain't bad. Pretty good even. Try it and let me know what you think…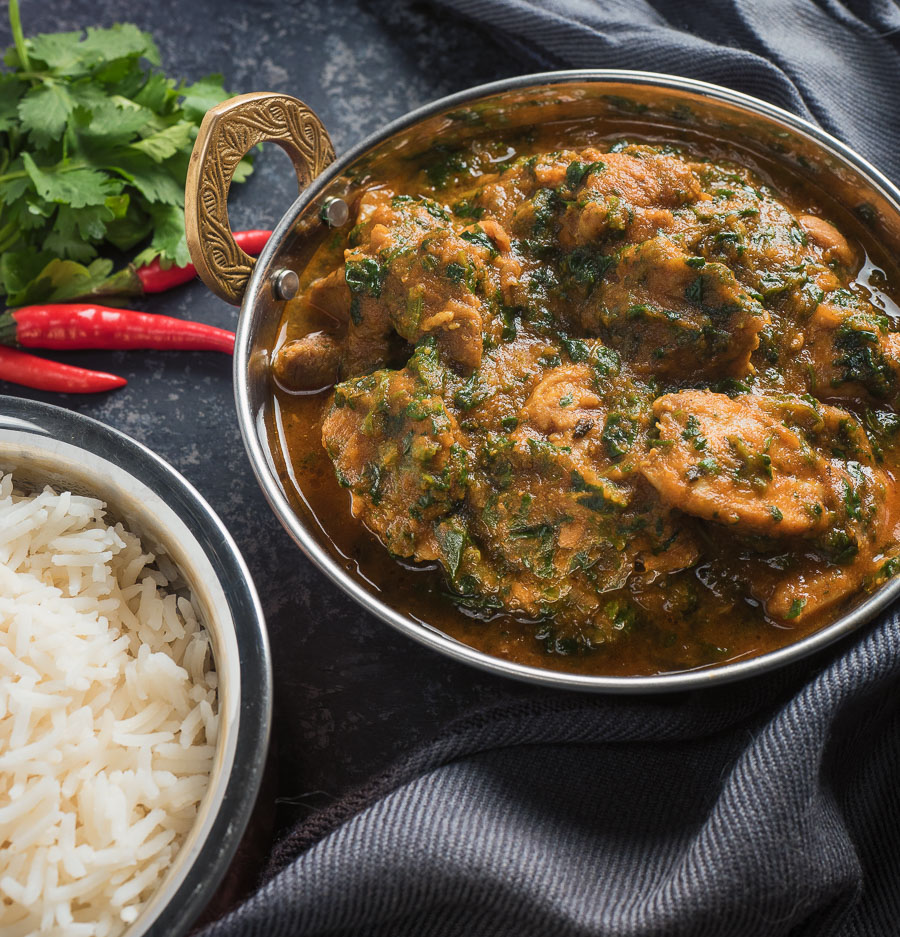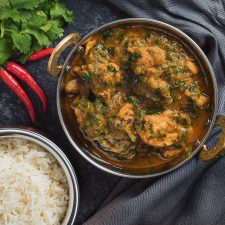 nearly restaurant style chicken saag
This isn't full blown Indian restaurant cooking but it's a lot closer than most recipes out there...
Ingredients
The onion paste
2

cups

onions

- coarsely chopped

2

tbsp

vegetable oil

1

cup

water
chicken saag
6

boneless, skinless chicken thighs

cut into 3 pieces per thigh.

1

tsp

cumin powder

2

tsp

coriander powder

1/2

tsp

turmeric

1-2

tsp

mild kashmiri chili powder

1 1/2

tsp

kasoor methi

- dried fenugreek leaves

1 1/2

tsp

garam masala

1

tsp

kosher salt

- use a bit less if you are using table salt

2

tbsp

garlic ginger paste

1

tbsp

tomato paste

diluted to the consistency of tomato sauce

4

oz

frozen spinach

thawed and drained

4

tbsp

vegetable oil
Instructions
The onion paste
Place the onions in a microwave safe dish and cover loosely. Microwave at 70 percent until the onions are soft and translucent. This takes 10 minutes in my 1100 watt microwave. I can't predict how long it will take in yours...

Remove the onions from the microwave. Be careful. They will be hot. Let them cool slightly. Place the onions, 2 tbsp vegetable oil and 3/4 cup of warm water in a blender and puree until smooth. Set aside.
chicken saag
In a small bowl, combine the cumin, coriander, turmeric, garam masala, Kashmiri chili powder, kasoor methi and salt. This is your spice mix.

Heat 3 tbsp vegetable oil in a pot over medium heat until it shimmers.

Add the garlic ginger paste and cook until it stops spluttering.

Turn the heat to medium low. Add the spice mix and stir continuously until it starts to smell really good - around 30-40 seconds. Watch it carefully. If you burn the spices at this point you have to start over.

Add the diluted tomato paste and stir to combine. Turn the heat up to medium. Cook for 1 minute.

Add the onion paste and turn the heat up to medium high. Cook, stirring occasionally for 3-4 minutes. Don't worry if it seems a bit dry. The chicken will release juices as it cooks and you should be left with a nice amount of sauce.

Turn the heat down to medium low. Add the chicken and stir. Cover and simmer until the chicken is done. It's done when you measure the internal temperature and it says 170F, about 12-15 minutes. There's no other way to really tell when chicken is cooked. Get an instant read thermometer if you haven't already bought one. Just do it! That's what the pros do.

Add the thawed spinach and stir to distribute it. If the curry is a bit thick add a bit of water or chicken stock and stir. Let the chicken saag simmer another minute or so. Taste for salt and adjust as needed.