Bottle masala chicken curry is a restaurant curry you've never heard of. Nobody has. It isn't a thing. Not yet anyway. But it should be.
Lush sauce. Tender chicken. And incredibly complex flavours. Courtesy of a magical spice mix. Bottle masala.
Never heard of it? That's OK. Follow me down the rabbit hole. It will all become clear.
Bottle masala is a spice blend. Like garam masala. Or chaat masala. But not really.
It's a crazy, crazy spice blend. With an unbelievable list of ingredients.
Things like stone flower. Mugwort. Nagkesar bulbs. Sounds like ingredients in a Harry Potter potion. Except there's no eye of newt. Or mandrake root.
Can be as many as 60 different spices in the blend. It's the stuff of secret family recipes. Handed down from generation to generation. You can't fake this level of complexity.
And if you're wondering. It's called bottle masala because it is stored in bottles. Nothing more complicated than that.
Coloured bottles. Keep the light out. And the spices fresh. Good thinking…
East Indian bottle masala comes from west India
This one gets curiouser and curiouser. Bottle masala comes from western India. Made by East Indians. That live in Mumbai. And didn't come from east India.
Confused? I'm a little fuzzy myself. Seems it goes back to the days of the East India Company. I think.
All these history lessons have something to do with the East India Company. So it could be true. Or not. Take it with a grain of salt.
A few hundred years ago the Portuguese arrived in west India. And set out to converting people to Christianity.
The Portuguese worked their way to Bombay. Did their thing there. Converted a bunch of Bombay residents.
Then the English came along. The East India Company maybe? With money. And work. For locals.
Enterprising and recently converted Christian residents of Bombay wanted jobs.
They spoke English. And it seems they were good at marketing. Not sure what religion had to do with it though…
They took to calling themselves East Indians. After the East India Company. That's how "East" Indians came to live in west India.
I don't know if that's true. I wasn't there.
But I do know they make a wicked spice blend. Which lets me make bottle masala chicken curry. So I'm happy.
Another thing I know. The Portuguese brought chilies with them. And the rest is history…
Bottle masala chicken curry
Don't worry. I won't make this a regular thing. But there's a story behind this bottle masala chicken curry.
I had never tasted bottle masala. Until a long time friend of glebekitchen sent me some. Thanks Patricia. You started this one.
Still can't believe she shared. It's so good. Came to her from a friend in Goa. Who got it from a local lady who makes it.
I remember getting it. Clearly. I could smell it through the bag. Intense. Amazing even. Something special.
I tried it. I loved it. Made an amazing curry that night. Everything was perfect. I was happy.
Until I realized I don't have friends in Goa that know ladies that make bottle masala. Big problem. Fatal flaw even.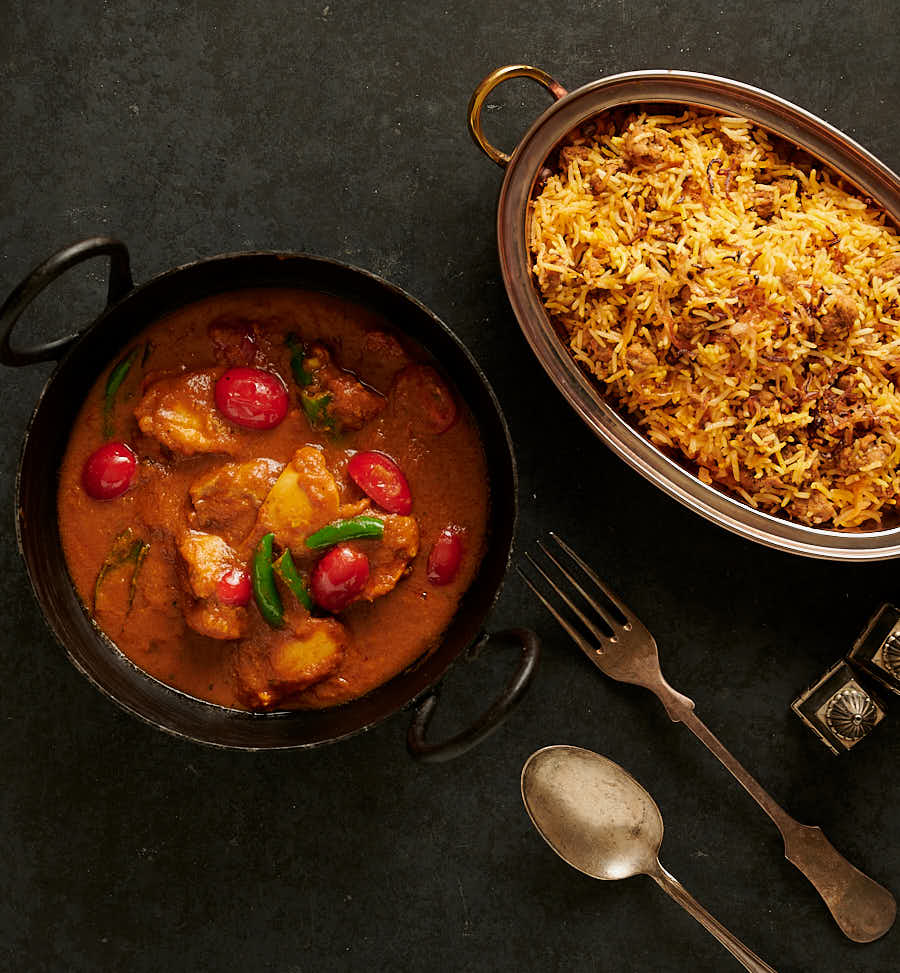 You can get bottle masala – you just have to want it
I started researching bottle masala. Had to get my fix. Looked hard at recipes online.
There are some out there. They are non-trivial. And the ingredient list is daunting. Even for me.
I'm all out of nagkesar bulbs. And we all know what happens if you hear a mandrake root scream.
You can make it if you are determined enough. Or you can buy it. There are guys out there that sell it. Boutique spice purveyors.
I get mine from a shop in Derby. That's in the UK. The Herb and Spice Emporium. Look them up. Top notch stuff.
Bottle masala chicken curry is all about the bottle masala
How's that for a shocking headline? Think about it for a second.
What spices are you going to add to a blend of just about every spice known? None. That's my answer anyway.
Bottle masala is the star. What this one is about. It works. Incredibly well.
But that doesn't mean that you shouldn't play with it. Shouldn't slip it into other dishes. For a bit of complexity. Think of it as a bit of fairy dust. Magic powder.
I'm slipping it into dishes all over the place. Not a lot. But enough to get a little of that magic.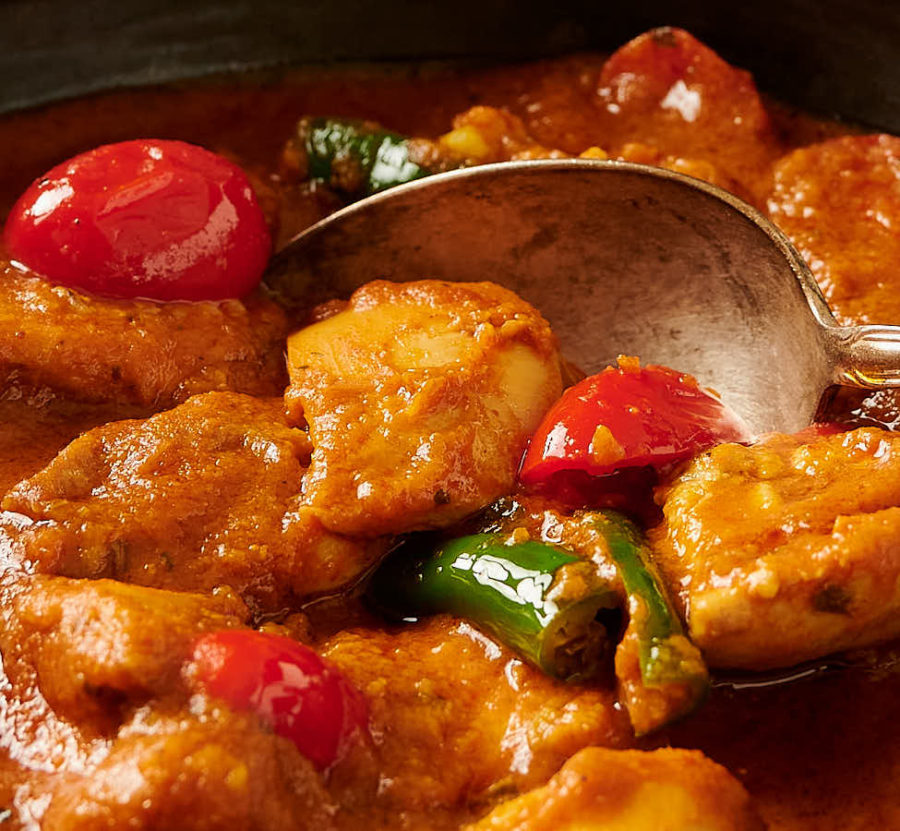 The Kitchen King variations
OK. It's one variation. Nod to J S Bach there. Couldn't resist.
But there is a variation that works. Not the same. But it will still be a pretty special chicken curry.
There's a commercial blend called Kitchen King. Sounds like it would suck. That's a name nobody can take seriously.
But it is actually pretty good. 20 ingredients. If you're counting. No nagkesar bulb. But still.
Swap out the bottle masala for 2 1/2 teaspoons of Kitchen King and a teaspoon of kashmiri chili powder. Drop the salt. There's salt in Kitchen King. Adjust salt at the end if needed.
It won't be bottle masala chicken curry. Obviously. But it will be a really good chicken curry. Call it chef's special chicken curry.
"Succulent chicken morsels in a rich sauce with fresh green chilies and chef's secret spices". Seen that one before? Indian restaurant menus always make me laugh.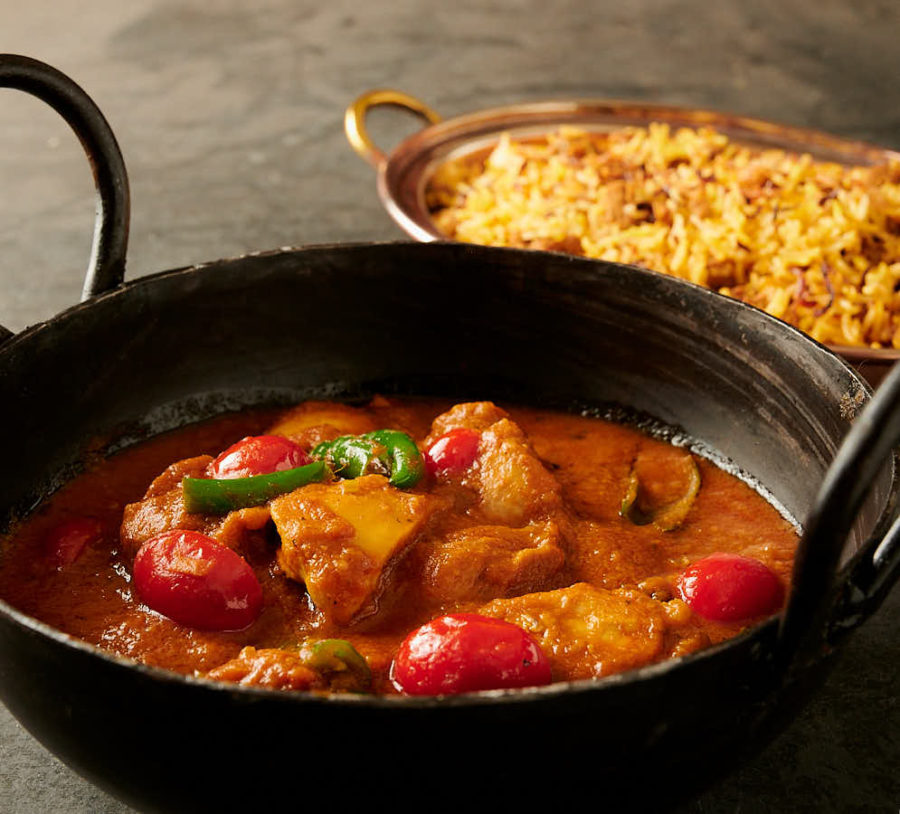 This is cooking just like they do in Indian restaurants
The techniques may seem a little odd to you. Unusual even. There's a lot of prep. You need to make this stuff called curry base. Or base gravy. Depending who you ask.
Curry base gravy isn't rocket science. It's basically a bunch of boiled onions and some spices. Some garlic and ginger. Tomato. A bit of cilantro. Oil.
Some people put a bunch of other stuff in their gravies. Coconut. Peppers. Carrots. I've even seen evaporated milk.
I don't like that approach. The more you put into the gravy the more all the curries taste the same. It's a trap.
The other big thing is cooking technique. It's different. If you've never cooked restaurant style take the time to read this primer on Indian restaurant cooking. There's even a video. Worth a look.
It's not hard. It's certainly not rocket science. But it does take a little getting used to. So don't plan on having a dinner party the first time you try.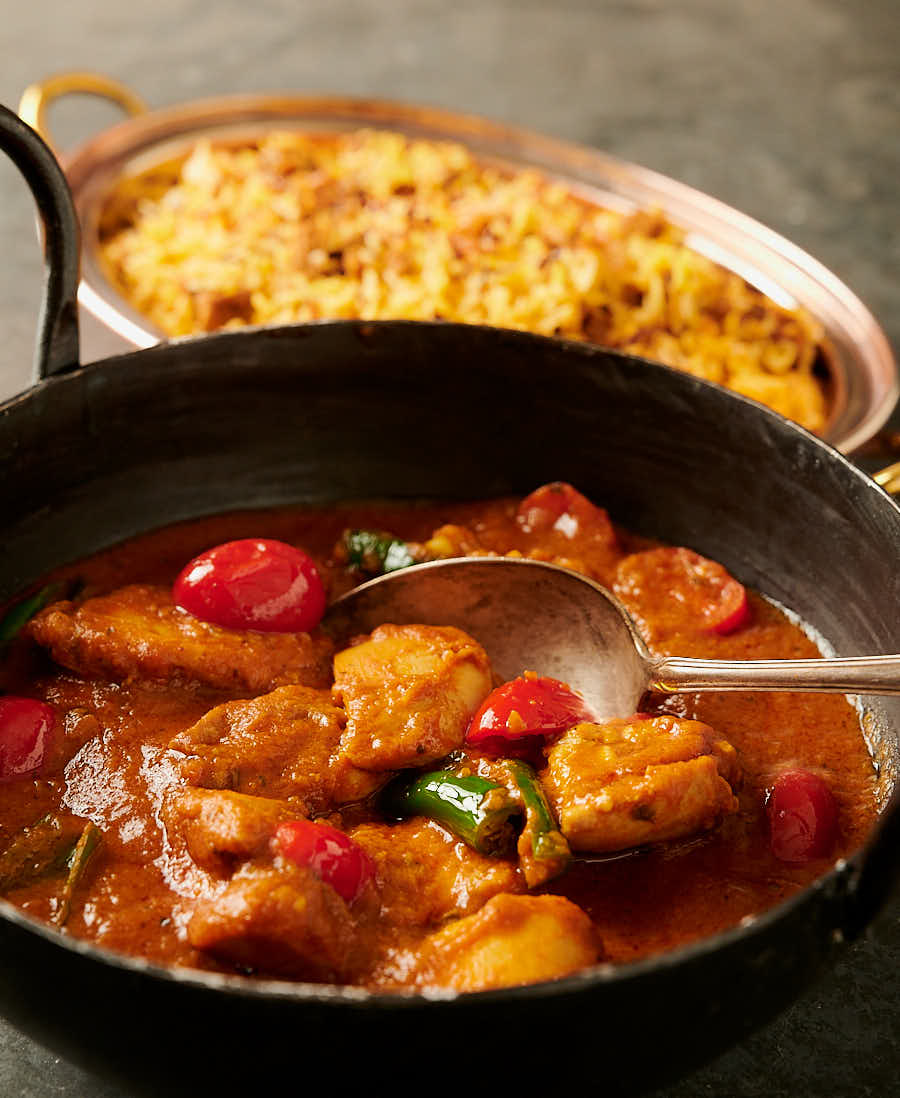 Try bottle masala chicken curry if you can
This one is tough for me. I almost didn't do it. Because it sets the bar high. Really high. Asking you to get bottle masala a big one.
I am unapologetic on glebekitchen when it comes to ingredients. I know I don't make it easy. This is a blog for passionate cooks.
My goal is to get you to an Indian grocer. Or a Thai grocer. Or a Japanese grocer. For the experience. Food shopping is an adventure. For me anyway. Just fun.
I don't usually suggest a trip to Goa. Or push you to hunt the internet. But this one blindsided me too. One taste and I was an addict.
If you can't get bottle masala don't worry. You can always make a really good "chef's chicken curry". It won't disappoint.
But if you can get it. Then bottle masala chicken curry is something that you really need to try.
bottle masala chicken curry
Bottle masala gives this curry its distinctive flavour and complexity.
Ingredients
The spice mix
3 1/2

tsp

bottle masala

– there isn't really a substitute

1/2

tsp

kasoor methi

– dried fenugreek leaves

1/2

tsp

kosher salt

pinch

asafoetida

– if your bottle masala doesn't smell like asafoetida already (optional). Really. Just a pinch. It's potent stuff.
The curry ingredients
3

Tbsp

oil

1

Tbsp

garlic/ginger paste

– recipe link below

2

finger hot green chilies

– aka jwala. Cut in half lengthwise then into 1 inch pieces

1

Tbsp

tomato paste with enough water to dilute to the consistency of pasatta

15

oz

curry base

– recipe link below

10-12

oz

pre-cooked chicken

– I prefer thighs cut into bite sized pieces

1/2

tsp

jaggery

or brown sugar

5-6

cherry tomatoes

– halved
Instructions
Do your prep – this goes fast
Make the spice mix. Combine all the spice mix ingredients in a small bowl.

Dilute the tomato paste with enough water to get to the consistency of passata.

Prep your chilies and tomatoes. Pre-cook your chicken.
Make bottle masala chicken curry
Heat your frying pan (don't use non-stick) briefly over medium heat. Add the oil.

When the oil starts to shimmer add the garlic ginger paste and green chilies. Cook, stirring constantly, until the garlic ginger paste stops sputtering. Stand back. Wear old clothes. Restaurant style can get messy.

Turn the heat down to medium low and add the spice mix. This step is critical. Stir it constantly for around 30 seconds. If it starts to darken lift the pan off the heat. You want the spice mix to bubble in the oil. That's called blooming spices. Flavour magic happens here. You know the smell of Indian restaurants? This is where it comes from. What you don't want to do is burn the spices. That's a one way trip to starting over. Seriously. There's no coming back. So be a little careful until you get the hang of this.

Turn the heat up to medium high. Add the diluted tomato paste. Stir to combine and cook until little bubbles start to form. This takes around 30 seconds to one minute. You are now in the safe zone. Really hard to burn spices at this point.

High heat is important here. You will be frying the curry base, generating all sorts of wonderful flavour compounds. That's more flavour magic. As you become more comfortable with this technique try pushing it.

Add 3 oz of curry base. Stir until bubbles form, around 30 seconds. Think lively boil meets frying in oil. Watch the edges of the pan. The curry can stick here. Sticking is OK. Just scrape it back into the curry. Burning is bad.

Add 6 oz of curry base and stir briefly. Let it cook/fry until the bubbles form again. This takes 1-2 minutes.

Add the rest of the curry base and let cook until the bubbles form – another minute or two.

Taste. Every bottle masala mix is different. If you find it well balanced go with it. If it is a little tart add the 1/2 tsp of jaggery or brown sugar.

Turn the heat down to low and add the pre-cooked chicken. Stir to combine.

Let the curry simmer for about 5 minutes. If it gets too thick add a bit more curry base.

Add the halved cherry tomatoes and cook until the tomatoes are just warmed through.

Serve with basmati rice or your favourite Indian flatbread. I was working on a keema biryani recipe when I took the pictures. That was too much. Don't do that.
Notes
Bottle masala is worth looking for. If you really can't get it you can try a commercial Kitchen King blend. That is available at every Indian grocer. Just swap out the bottle masala for the 2 1/2 tsp of Kitchen King and 1 tsp of kashmiri chili powder. Don't add the salt and adjust as needed at the end.
Curry base is at the heart of restaurant style cooking. You can't really do this without it.
Homemade garlic ginger paste is a huge improvement over the pre-fab jarred stuff.
If you haven't read about Indian restaurant technique yet, do that before you start cooking.
Have all your ingredients prepped and ready to go.
If you are making multiple curries, have your curry base warming in a pot on the stove. If you are just making one, microwave it to warm it up right before you start cooking.
Indian restaurants pre-cook their meat so it's ready for service. This recipe assumes the same. To pre-cook chicken, cut it into large bite sized pieces and simmer it with a bit of curry powder and salt in chicken stock for about 10-15 minutes – until it's barely cooked. Use an instant read thermometer and shoot for 160F for white or 170F for dark. Don't have an instant read thermometer? Think about fixing that. It's invaluable.
Nutrition
Serving:
2
servings
|
Calories:
441
kcal
|
Carbohydrates:
10
g
|
Protein:
32
g
|
Fat:
26
g
|
Saturated Fat:
3
g
|
Polyunsaturated Fat:
7
g
|
Monounsaturated Fat:
15
g
|
Trans Fat:
0.1
g
|
Cholesterol:
99
mg
|
Sodium:
1094
mg
|
Potassium:
704
mg
|
Fiber:
3
g
|
Sugar:
5
g
|
Vitamin A:
439
IU
|
Vitamin C:
21
mg
|
Calcium:
44
mg
|
Iron:
3
mg