Tandoori chicken is perfect for backyard BBQs. But the question is always what to serve with tandoori chicken.
Pulled pork. Brisket. Ribs. Burgers even. They are all great. Worthy stars of the backyard BBQ. But I like to mix things up.
And when I do I like tandoori chicken best. An Indian themed BBQ. A little unexpected. Always a hit.
Tandoori chicken is obvious. Perfect even. That the easy part. The hard part is figuring out what to serve with tandoori chicken.
The classic Indian sides aren't really Indian bbq friendly. Rice is not standing around food. Dal doesn't cut it. Naan isn't a great fit either. There's nothing to dip it in.
You need to break convention here. Think outside of the box. Once you do that you'll see.
There are a few what to serve with tandoori chicken lists out there. Curiously they are all about exactly the same.
This is not like those. There's no rice here. Or naan bread (like you can dip bread in tandoori chicken anyway). No spring rolls. Or samosas.
And absolutely no tandoori chicken salad. How is tandoori chicken salad a side for tandoori chicken anyway?
This one breaks the mold. All about what I make. This is what I think are the best sides for tandoori chicken.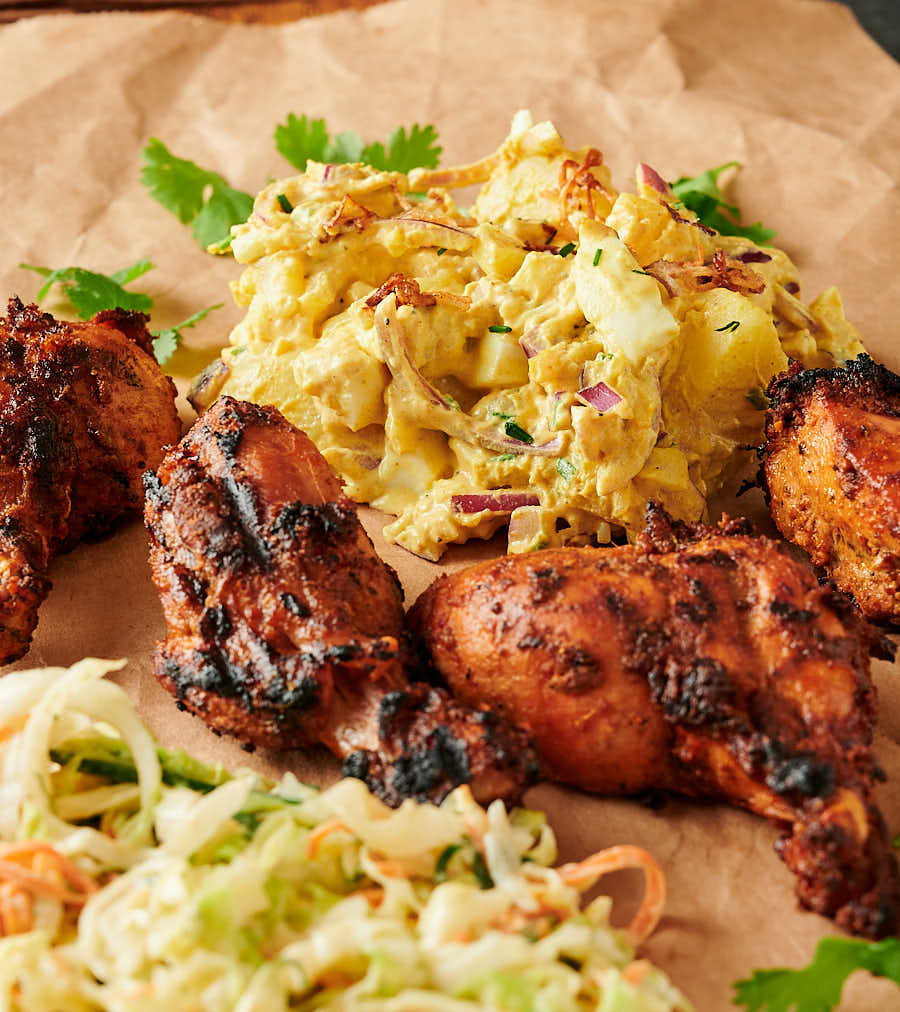 What kind of backyard BBQ doesn't have potato salad? It's classic. A cornerstone. Expected even.
So why not think about Indianish potato salad? Curried potato salad. The classic potato salad you love. Re-imagined. With Indian flavours.
It's a little bit Coronation chicken. And a little bit southern staple. With a trip to India for spicing.
This one was engineered to go with tandoori chicken. Literally. I came up with it specifically for just that reason.
It's one of my favourites. Easy and delicious. And you can make it ahead of time. Nothing here not to love.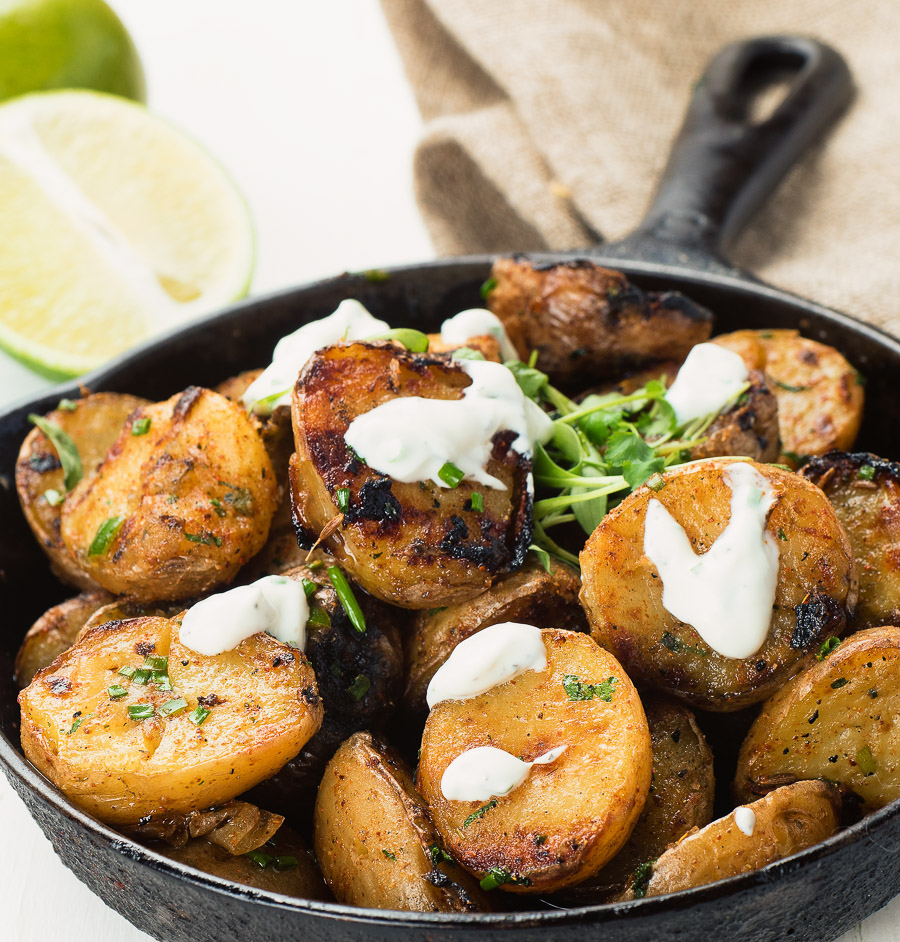 Did you notice my lead off recipes are potatoes? I am a serious potato lover. And gunpowder potatoes is another side I love.
Buttery, spicy grilled potatoes. Not as dead easy as potato salad. These are grilled. So be sure you have help. Or solid grilling game. It can get pretty busy.
Chaat masala is the secret ingredient here. It makes the dish. There's chaat masala in the potato salad too. So think about getting some for your spice arsenal.
A little green chili. Spices. Butter. And a drizzle of mint raita. Definitely worth adding to your list.
If you've ever stuck asking yourself "what to serve with tandoori chicken" this one is always a hit.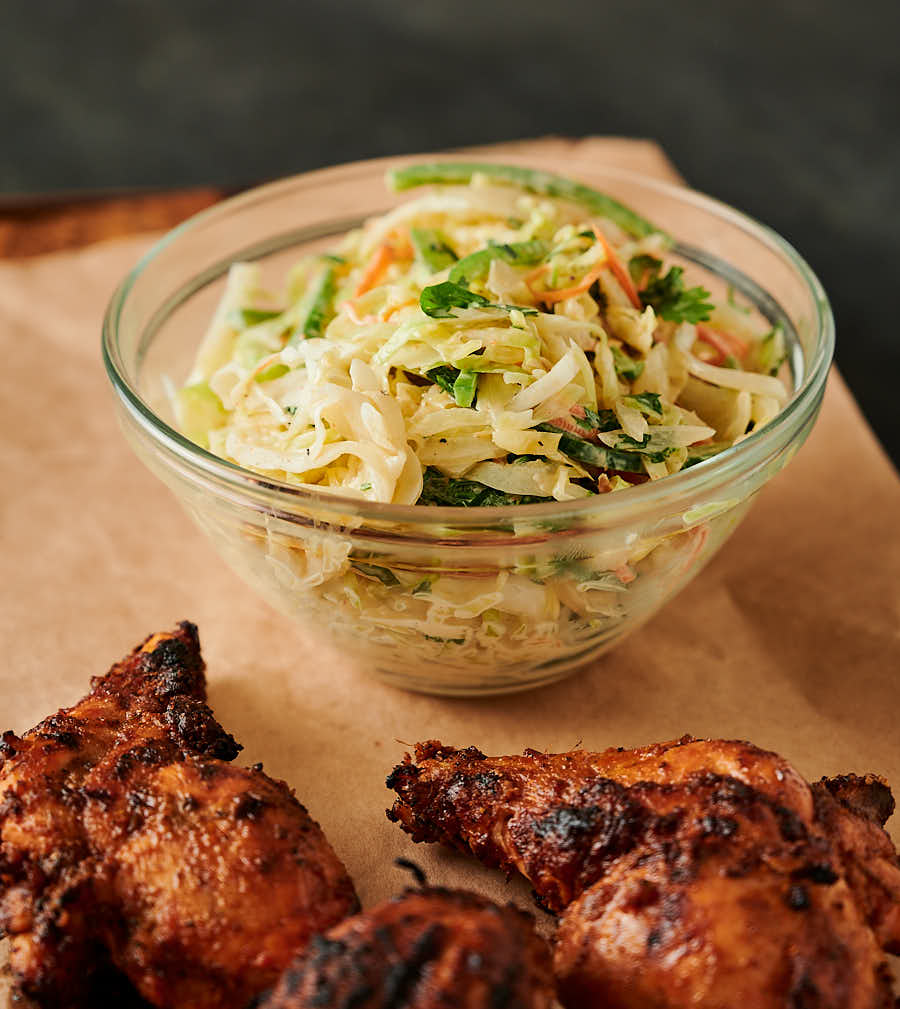 Slaw is another quintessential backyard BBQ staple. I make some sort of slaw for just about every BBQ I throw.
This one is a little different. I love it. With vindaloo pulled pork. And with tandoori chicken. Indianish slaw. It's slaw. But jacked with Indian flavours.
A little bit creamy. A little bit spicy. And a little bit tangy.
Like coleslaw should be. Good coleslaw anyway. Not that radioactive green stuff the Colonel serves.
This has no equivalent I am aware of in actual Indian cooking. It's pure Indian inspired. Indian flavours come to backyard classic.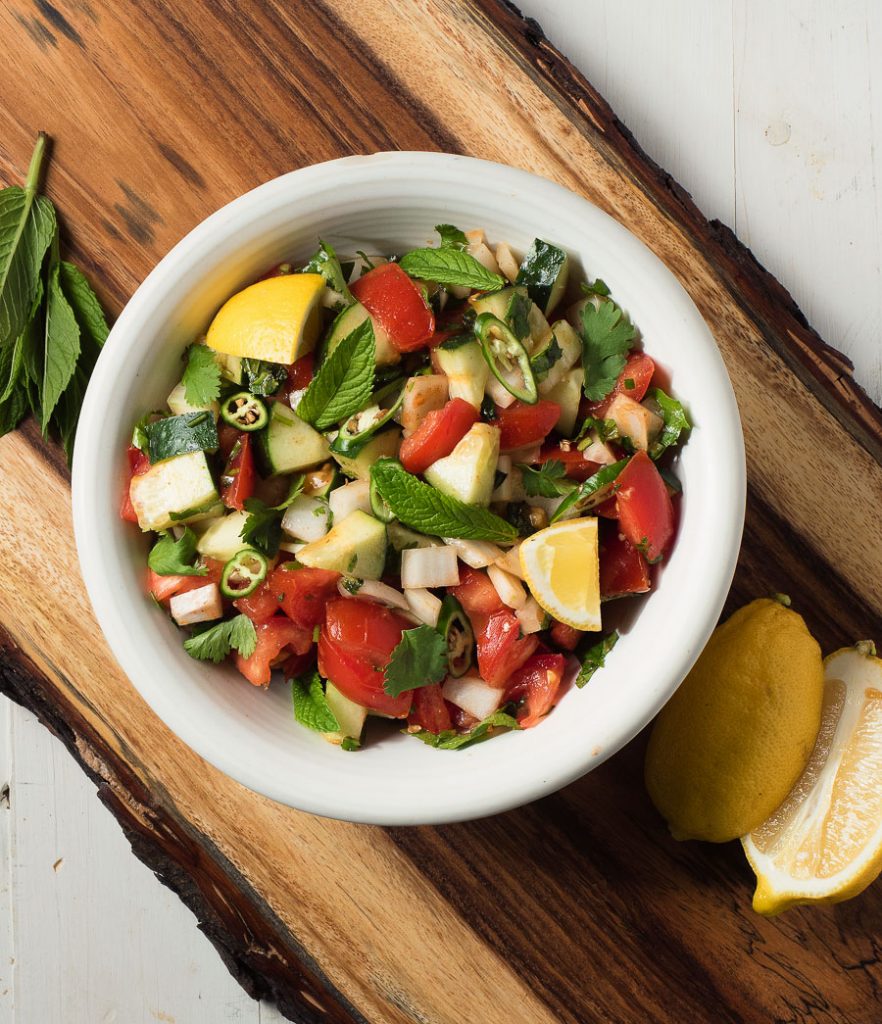 This is one you know. You may have never tried it. But it's somewhere on pretty much every Indian buffet.
You probably missed it. Busy loading up on all the tasty curries. Nobody can blame you.
Hard to get your veggies in when you have naan and lamb rogan josh staring you in the face. I know. I've passed it by too.
But it is a bit of shame. Kachumber is a celebration of summer. Tomatoes at their peak. Field cucumbers. Green chilies. Onion. And a lemony chili dressing.
Make this one when everything is at its peak. Should be easy. Backyard BBQ is a summer thing. At least where I live.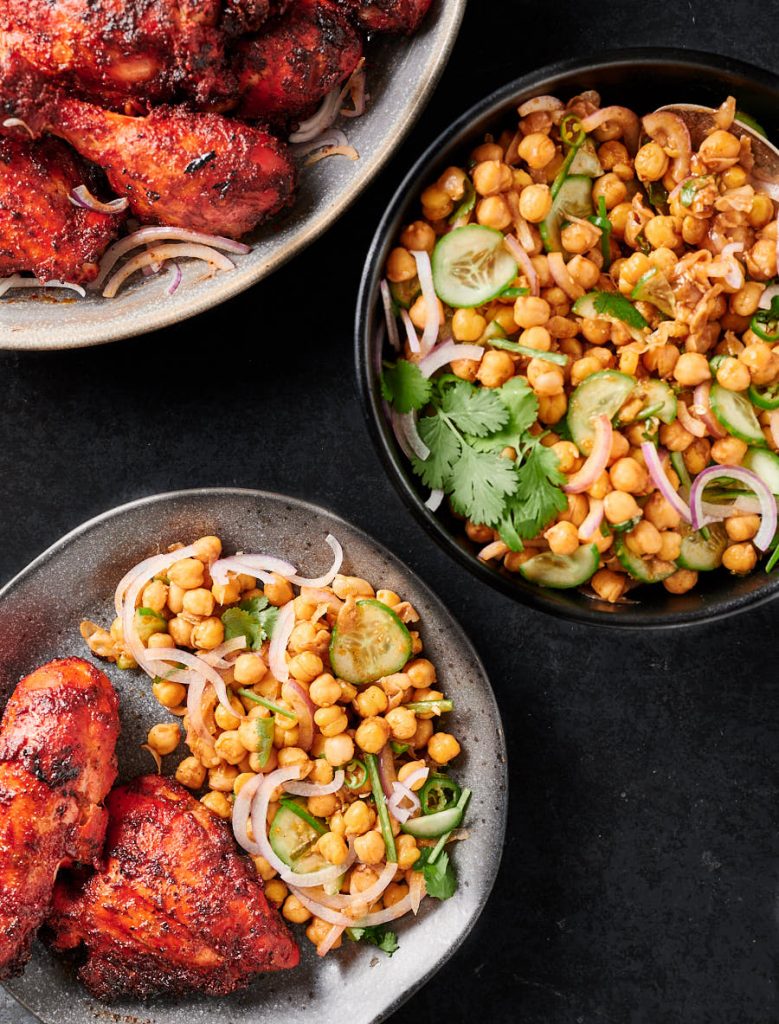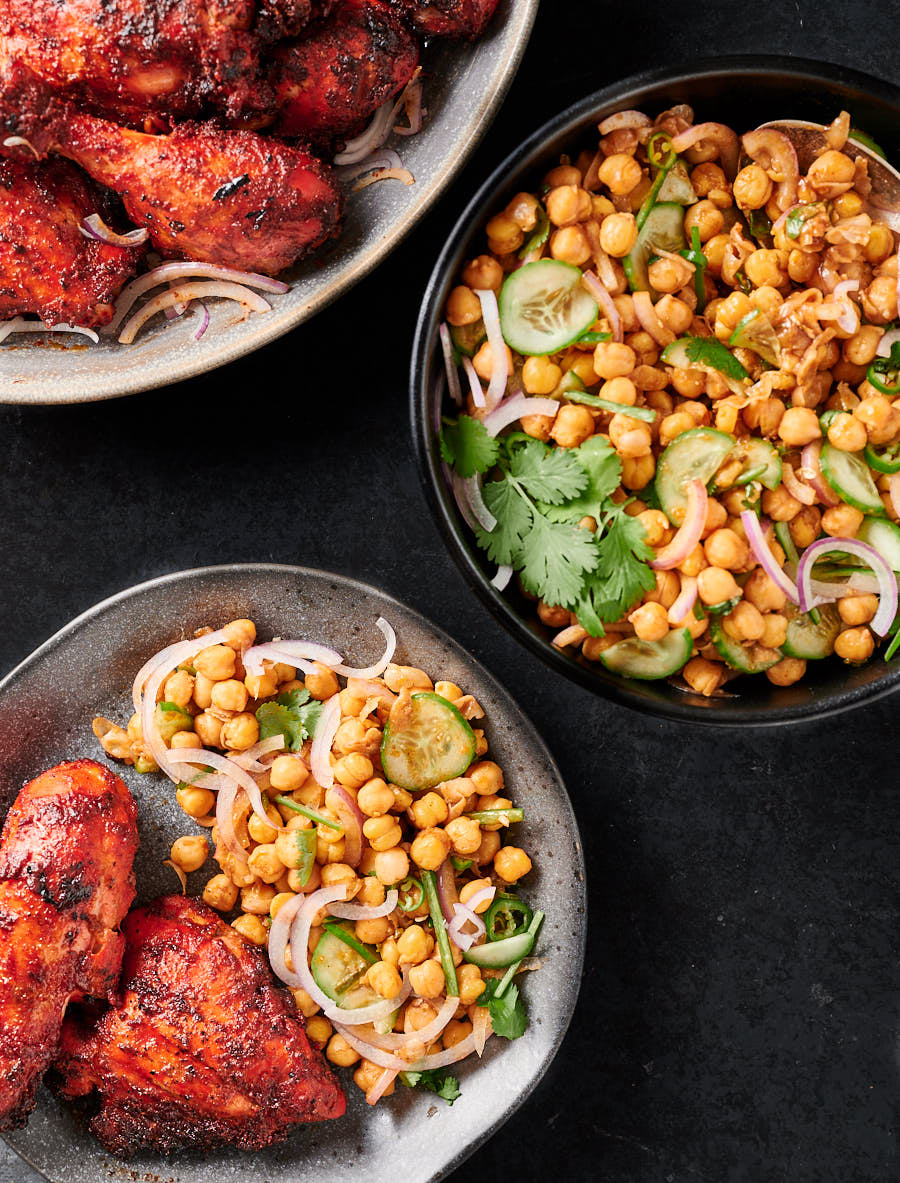 This one is legit Indian. Sort of. It's my take on a street food classic. An Indian chickpea salad. Cold chickpeas work. Trust me.
This is not your every day chickpea salad. It has seriously bold flavours. And a secret ingredient.
Chaat masala makes this one special too. I didn't set out to make this post about chaat masala. It just happened. Maybe that's a sign.
Add in some onions, chilies, tamarind sauce and cilantro. That is one seriously tasty dish.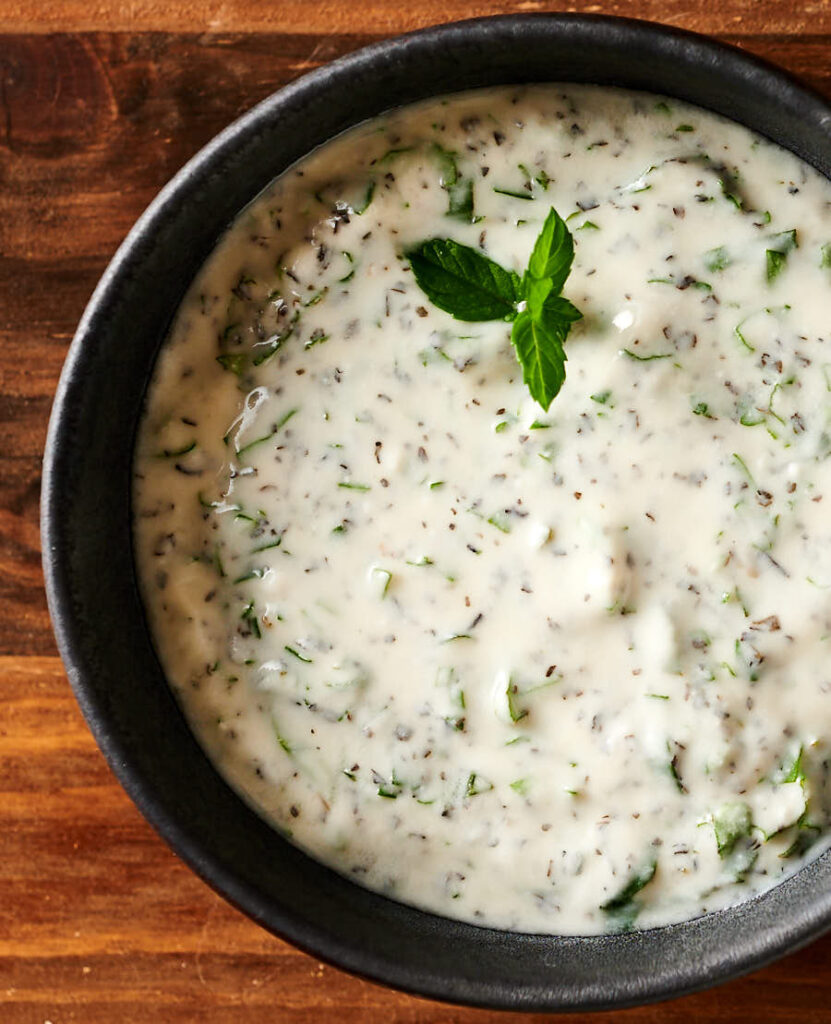 Mint raita – a little drizzle to bring it all together
Mint raita – at least this version – isn't particularly authentic. No cucumber in it. Not really Indian. Not much in this post is. So I feel good about it.
Not what you think of when you think what to serve with tandoori chicken. But it's a nice touch. A little something extra. Clean flavours. Light. Refreshing even.
Yoghurt. Mint sauce. Fresh mint. Salt. Cilantro. A little milk to thin it out. And salt. Super basic. Incredibly easy to pull together. Five minutes max.
But I think your guests will like it. Mine do anyway. It's a counterpoint to the chicken. You don't need a lot.
Put a bit on your plate. Let it mix with the chicken juices. Bump up against the chicken. A little burst of flavour.
Something to think about.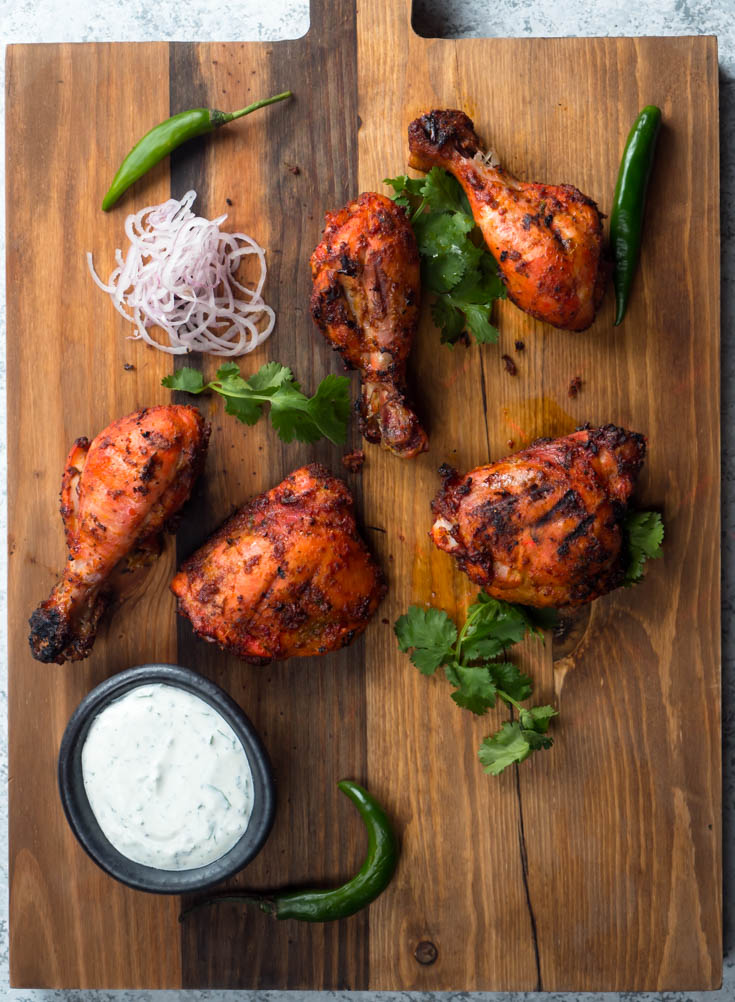 Tandoori chicken. With a side of tandoori chicken. I can think of worse things. But that's not why this is here.
Not all tandoori chicken recipes are the same. It took me a long time to figure this out. Took a trip to Bangalore in fact.
Here's what I learned. Leave the yoghurt out of your tandoori marinade. Just don't add it.
Crazy talk. I know. But it's true. I am consistently disappointed with restaurant tandoori chicken. And they have a tandoor to play with.
It's never great. And I think the yoghurt is part of the problem. I think ridiculously long marination times is the other problem.
Yoghurt denatures protein. Makes it "tender". To me "tender" is a nice word for mushy. So you need to blast it at 900F in a tandoor to fix it. Flaw upon flaw.
You are probably scratching your head at this point. Who's the lunatic behind this blog?
I know. It goes against conventional thinking. It goes against most of the internet. But it works.
I got this one from a famous Indian kebab restaurant in Bangalore. The concept anyway.
I tried it. And I was instantly converted. Haven't looked back since. It's a game changer. Try it. You'll see.
Make your next backyard BBQ special
Backyard BBQs are a bit sacred. I know. There are rules. I'm not saying throw them out. Not at all.
I love the whole experience of smoking brisket. Everyone loves brisket. And ribs. I can eat pulled pork until I hurt. And I think a really well executed burger is a magical thing.
Thing is – everyone does it. Maybe not the brisket. But the rest. Great. But not that uncommon.
I like to mix things up. Surprise my guests. They aren't complaining. A tandoori chicken feast always gets rave reviews.
Tells me that maybe people want something new. Something different.
Tandoori chicken. And now you can answer the question – what to serve with tandoori chicken.
Indianish potato salad. Or gunpowder potatoes. Slaw. Or kachumber. Chana chaat. A little mint raita. And lots of cold drinks.
All that's missing is the sun. You'll need to find that on your own.