Chicken with creole cream sauce on a bed of green chili, garlic mashed potatoes. It takes a rustic cajun dish up a couple big notches.
It goes from down and dirty stew to dinner party. Don't get me wrong. I love a creole chicken stew. It's comfort food with spice. But sometimes upscale is the way to go.
Same ingredients but done differently
Chicken with creole cream sauce takes the basic creole flavours and refines them a bit. Think cajun seasoning and the holy trinity (green bell pepper, onion and celery). Except I've dropped the celery. But for a reason.
Celery is hard to puree. Has that stringy texture. Texture that has no place in this dish. Something lost in flavour. Something gained in texture. This dish isn't light on flavour so it's a pretty good trade.
Low salt creole seasoning is key
There's no getting around this. You want lots of flavour. And that means lots of creole seasoning. Lots. So you can't use store bought seasonings
Commercial seasoning blends are mostly salt. And if you put lots and lots of commercial seasonings you are going to wind up a really bad meal. Like inedible bad.
So you have to make your own. Not such a big deal. Cheaper. And better for you. And more versatile. Because now you control the salt. And the flavour.
You can adjust salt up. That's easy. You cannot adjust salt down. That's impossible. Make your own low salt creole seasoning. Or dial the creole seasoning way back and be disappointed. Up to you. I know what I pick.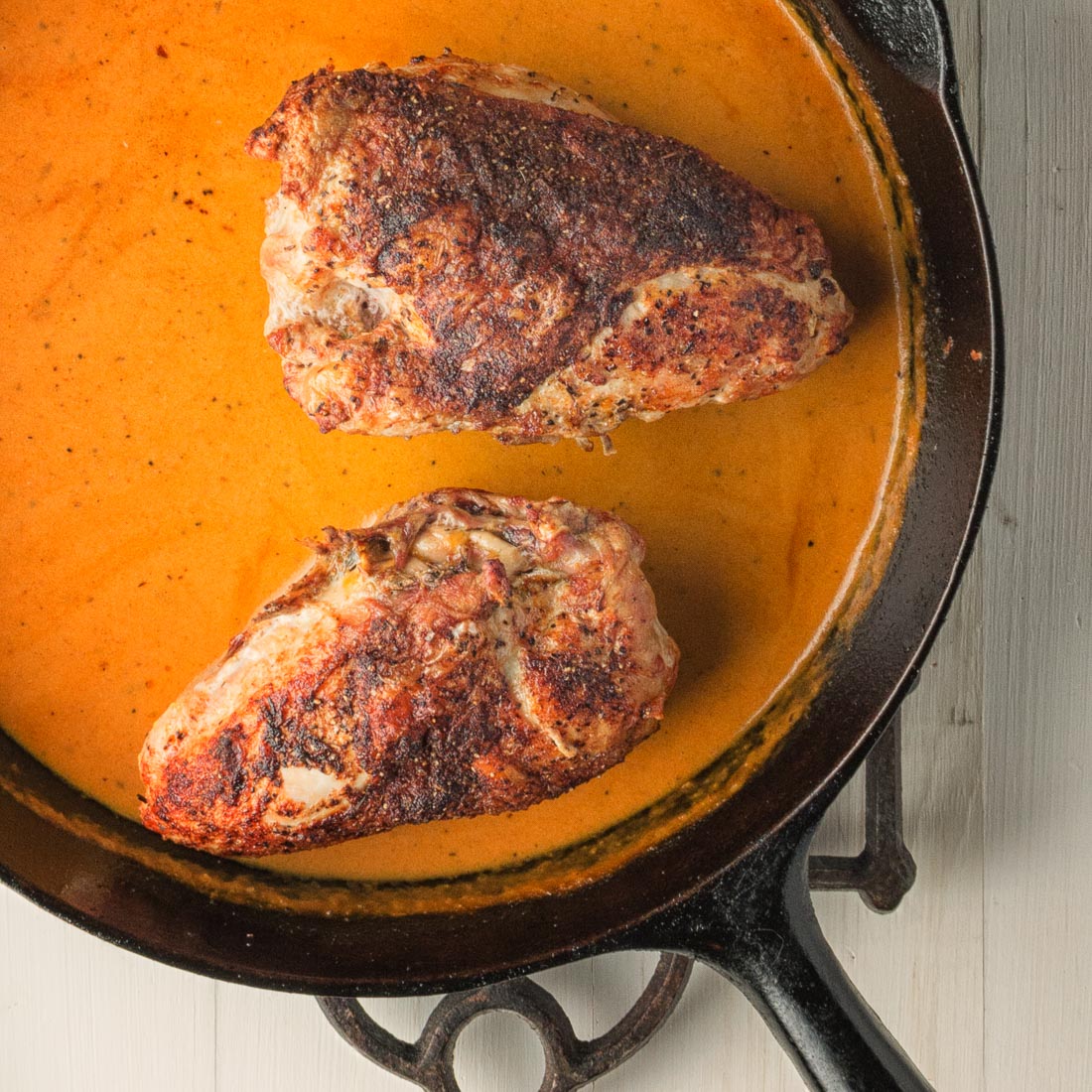 Fond makes chicken with creole cream special
You know those little brown bits in the bottom of your pan when you roast chicken? Those are pure culinary gold. They are what takes average to amazing.
You never want to leave them behind. Not ever. There is so much flavour there. When heat hits protein this thing called the Maillard reaction happens.
And when that happens all sorts of new, wonderful flavour compounds are created. It's science. But it's magic really.
And in the end that's what you want. Magic in the kitchen. I'm not sure chicken with creole cream sauce qualifies as magic. But it will put a smile on your face when you taste it.
chicken with creole cream sauce and green chili mash
Pureeing the sauce before adding the cream takes a rustic cajun dish into fine dining territory.
Ingredients
4

bone-in

skin-on chicken breasts

low salt creole seasoning

to sprinkle over the chicken

1-2

Tbsp

vegetable oil

to fry the chicken briefly
The sauce
1

small green bell pepper

coarsely chopped

1

small onion

coarsely chopped

1

large clove garlic

minced

2

Tbsp

low salt creole seasoning

2

tsp

tomato paste mixed with 1 Tbsp of water

1/2

cup

chicken stock

2

Tbsp

vegetable oil

1/2

cup

heavy cream

35% milk fat or higher

salt to taste
Instructions
The sauce
Heat the oil in a small saucepan.

Cook the onion and green pepper for about 5-7 minutes, until the onion is translucent and the pepper has started to soften.

Add the creole seasoning and cook another minute or two. Add the garlic and cook one more minute.

Add the diluted tomato paste and cook one minute more. Now add the chicken stock and simmer, covered, over low heat for about 20 minutes or until the green pepper is tender.

Allow to cool briefly and puree in a blender until smooth.
The chicken
Pre-heat your oven to 400F. Pre-heat a frying pan over medium heat.

Season chicken with creole seasoning.

Add oil. When it shimmers, add the chicken and sear, skin side down until just golden – about 2 minutes. Spoon off fat, turn the chicken skin side up and roast, uncovered, to an internal temperature of 165F – about 30-35 minutes.
To finish
Remove chicken from the oven. Set the chicken aside, tented with foil.

Deglaze the pan with a splash of chicken stock. Add the pureed sauce and cook, stirring constantly for about a minute. Add a bit of stock if the sauce is too thick. Add the heavy cream and stir to combine. Adjust seasoning.

To serve, mound green chili mash in the middle of the plate. Spoon sauce around and top with the chicken breast.
Notes
Green chili garlic mashed potatoes
Cook 4 large Yukon gold (yellow flesh mashing) potatoes in well salted water along with 3-4 cloves garlic.
Blister and char one or two poblano peppers under the broiler. Peel and seed. Chop finely.
Mash potatoes and garlic as you usually do with butter and hot milk. Add chopped, roasted poblano peppers and stir to combine. Adjust seasoning.
Use low salt creole seasoning for this.
Nutrition
Calories:
511
kcal
|
Carbohydrates:
7
g
|
Protein:
37
g
|
Fat:
37
g
|
Saturated Fat:
20
g
|
Cholesterol:
158
mg
|
Sodium:
140
mg
|
Potassium:
802
mg
|
Fiber:
2
g
|
Sugar:
3
g
|
Vitamin A:
1635
IU
|
Vitamin C:
28.8
mg
|
Calcium:
65
mg
|
Iron:
1.6
mg