Perfectly cooked prawns. Fresh curry leaves. Green chilies. Coconut milk. Are you feeling it? Prawn curry done South Indian restaurant style.
Prawn curry just like you wish they served you at your local Indian restaurant. But made in your kitchen. By you. For you. And your friends. Seem like a tall order? Read on.
I've been asked many times. More seafood please? More fish? This is the start…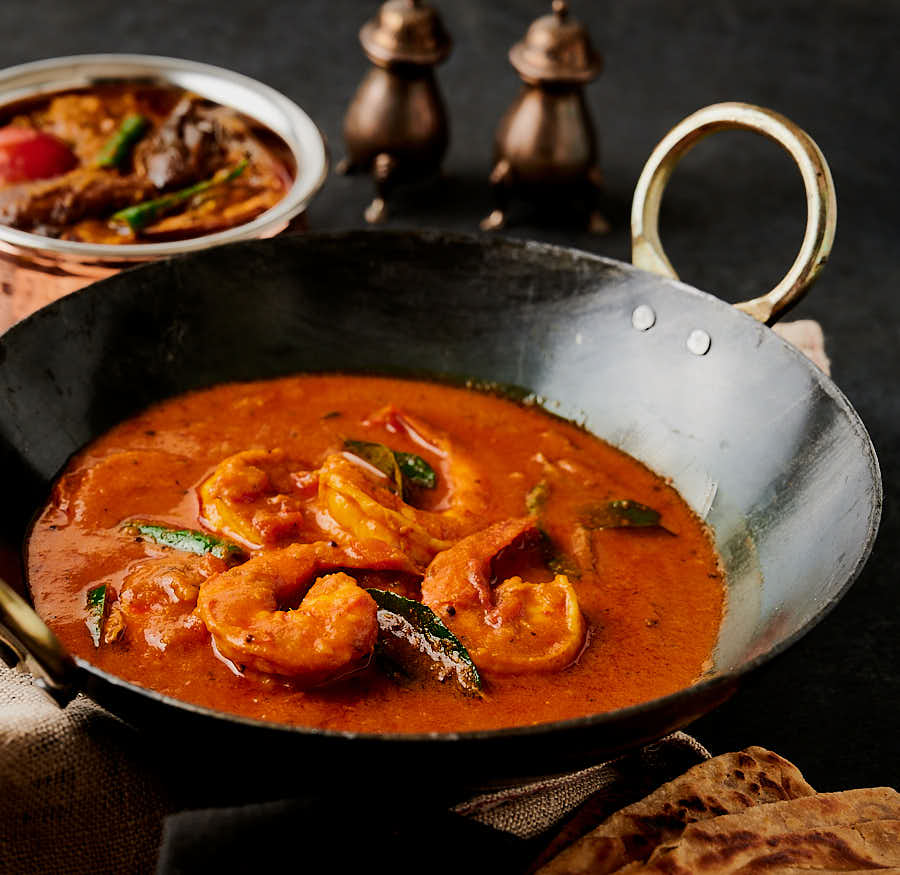 South Indian prawn curry
This is the first prawn curry ever on glebekitchen. So I'm pulling out all the stops. Bash you over the head flavours. But balanced as well.
It works. South Indian is all about big flavours. Flavours you should get to know. Because you are going to love it. Lots of coastline in Kerala. Coastal means shellfish. See why I think this works? Match made in India.
There's something magic about how South Indian flavours come together. A little spicy. A little peppery. The irreplaceable flavour of curry leaves. Green chilies and tomatoes. And coconut milk to bring it all together.
That's the backbone. The common theme. Not always. But often. Mustard seed, cumin seed, a hint of cinnamon and whole cardamom are the little bit extra here.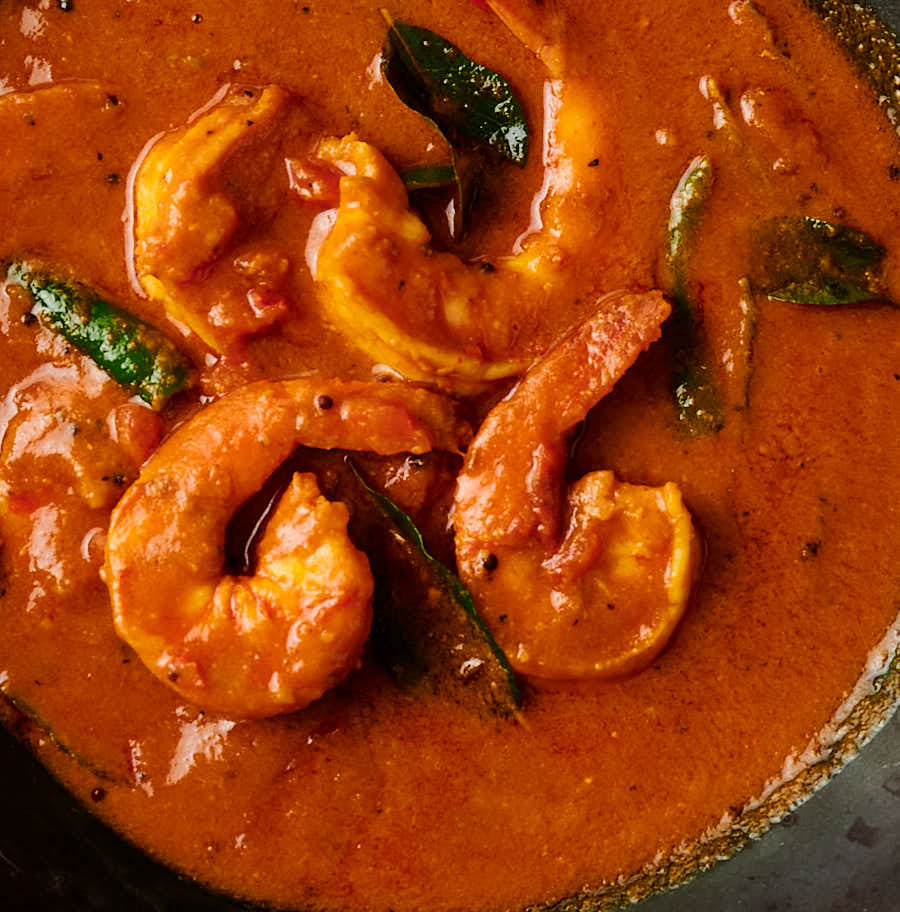 Prawns vs shrimps – it really doesn't matter in this case
Shrimp and prawns are different. Anatomically. And in habitat. But they are really close in flavour. I've only had real prawns a couple times. But in the dishes I enjoyed I could not really taste the difference.
I made this recipe with shrimp. The bag said shrimp. In Canada we call them shrimp. I don't actually think I can actually buy prawns. Not easily anyway. So this is south Indian shrimp curry.
Problem is – the world seems to want to call this prawn curry. So I'm calling this prawn curry.
I have lots of battles I want to fight. Use fresh ingredients. Don't use store bought garlic ginger paste. Do your prep. Bloom your spices. Use an instant read thermometer.
These are things I care about. Passionately. I want you to hear what I'm saying. So I push hard.
Shrimp vs. prawns. That I care less about. If they look like they do in the pictures you are probably OK. I am pretty sure I'm OK.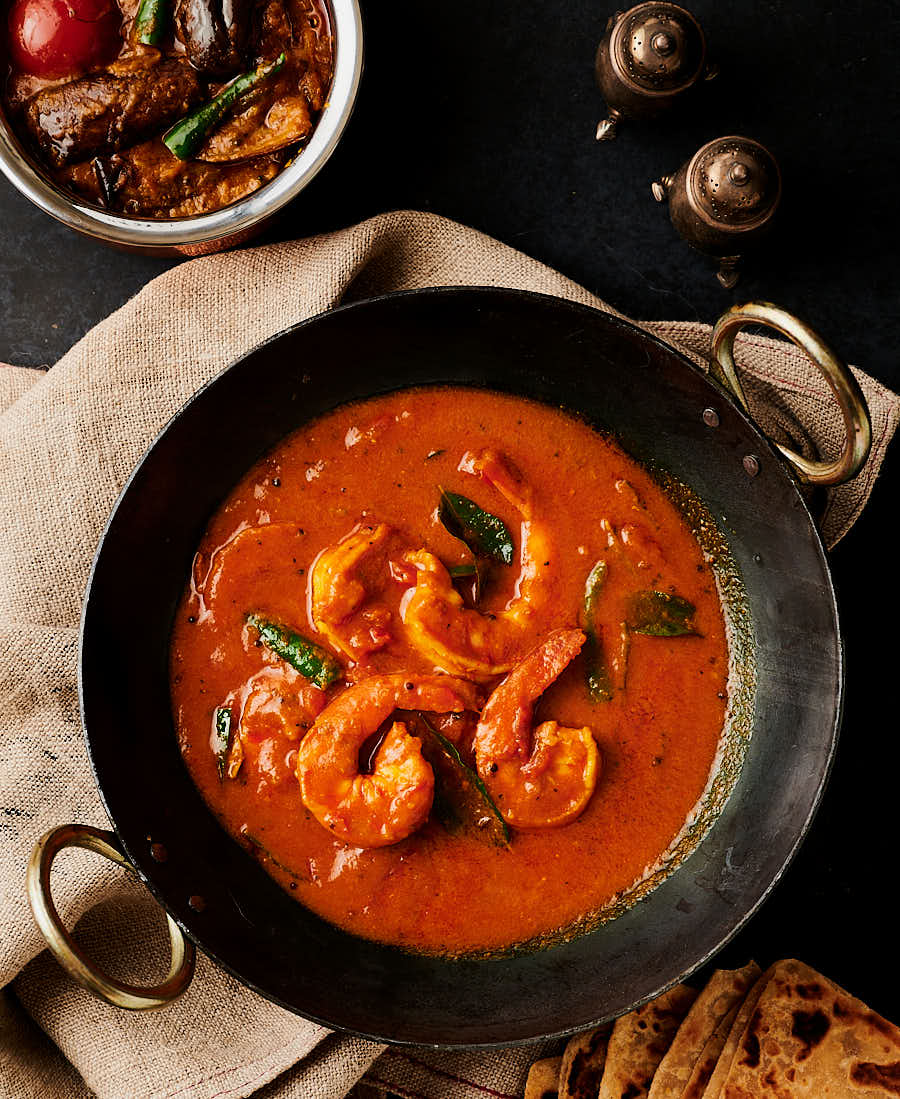 Fresh curry leaves are best
If you can get fresh curry leaves do it. Just do it. Seriously. Especially if you've never cooked with them before. They are special. There is no substitute.
Dried curry leaves are not a substitute. They aren't even a fleeting shadow of the flavour fresh brings. Seriously. Might as well throw dust bunnies in your curry. About the same flavour.
Think about fresh coriander leaf. Cilantro. Bright. Fresh. Distinctive. Nothing like it.
Now think about dried coriander leaves. Do they even exist? They shouldn't. Zero flavour. Dust. Curry leaves are exactly the same. There is just no point.
If you can't get fresh curry leaves just leave them out. It won't be what this recipe is about though. Tasty? Absolutely. Amazing? Probably not.
Seems I'm passionate about fresh curry leaves. Add that to the list on the side of my soapbox…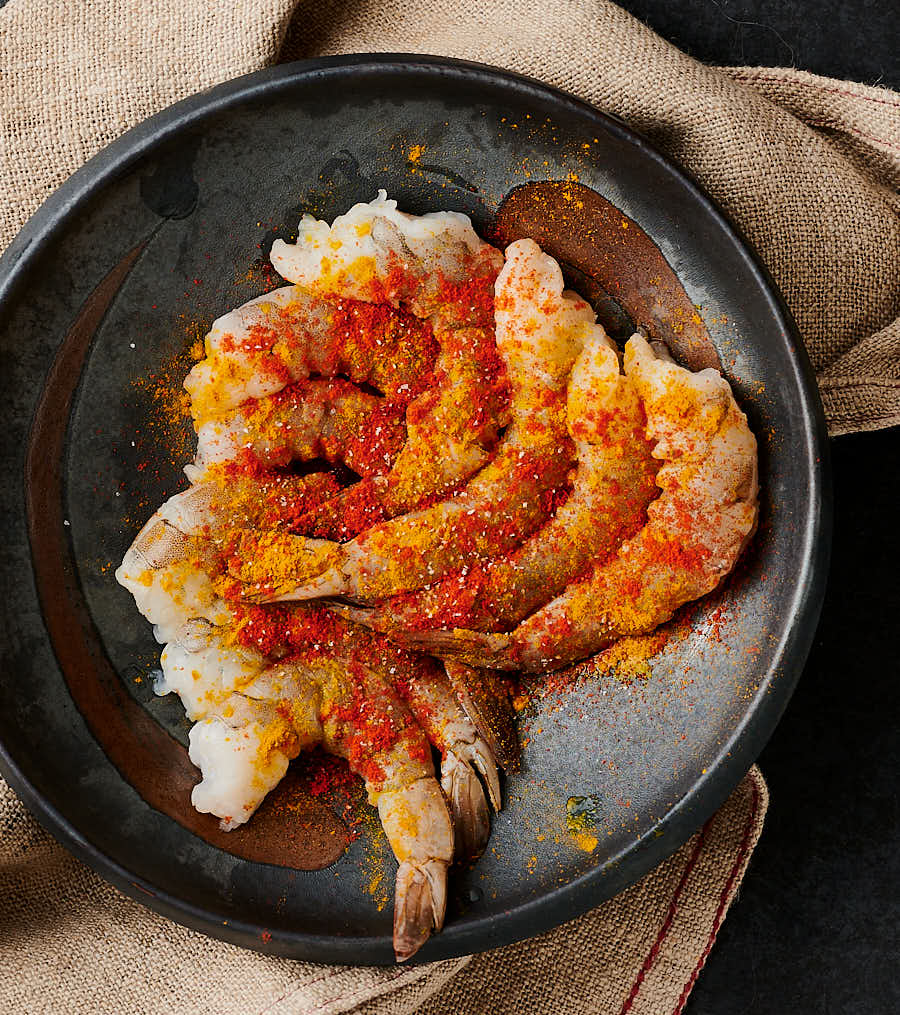 Season your prawns for an extra layer of flavour
I think a lot of people expect they can just chuck a bunch of prawns into the gravy and everything will work out.
They are probably right. Won't be bad at all. As long as the prawns don't get overcooked.
But it won't be as good as it can be either. There's definitely room for improvement there.
There's a couple things I like to do. I like to season the prawns. An extra layer of flavour.
Not complicated either. A little turmeric. A little kashmiri chili powder. Boosts the flavour. And it makes them look great.
The other thing I like to do is pre-cook them. That way I know what I'm putting into my prawn curry. I have control. No guessing what's going on with them in the dish.
How exactly do you tell when they are done if they are covered in a lush, thick and opaque sauce? Unless I bite into one I'm not sure I can.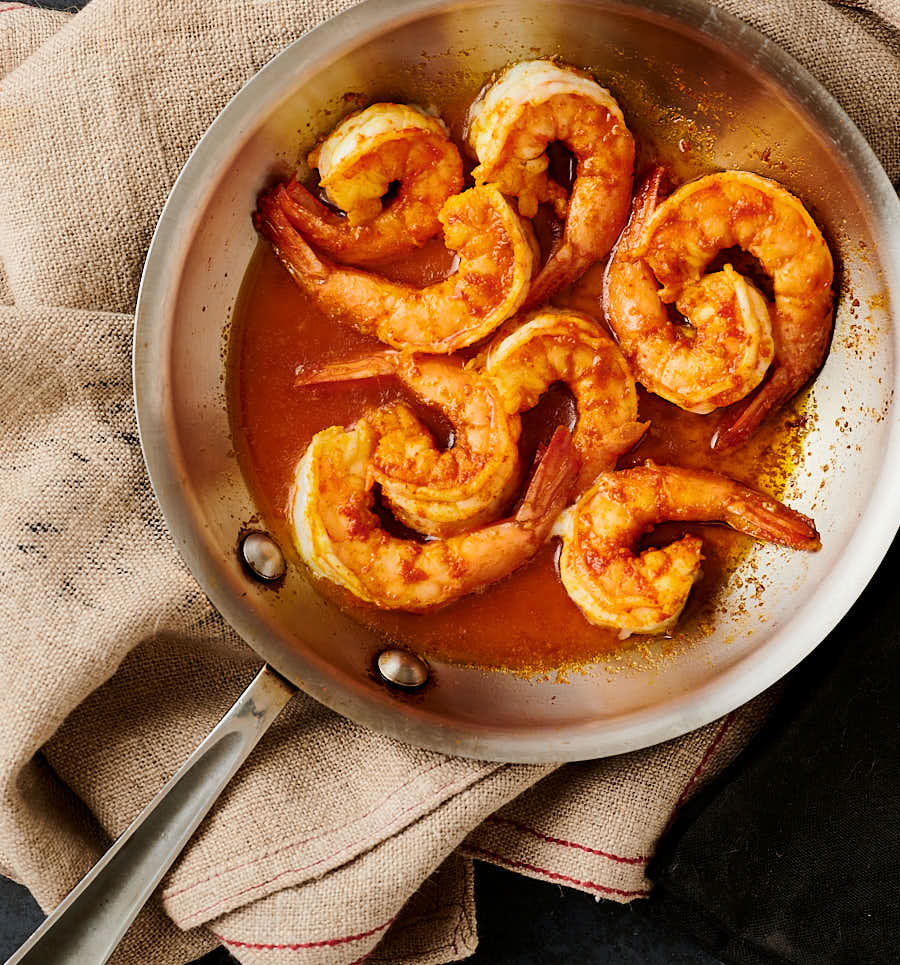 Shallow fry your prawns
I usually poach shrimp when I want them done perfectly. It's repeatable. And you can shock them in cold water to stop the cooking.
You can't beat that for a lot of dishes. And for perfect prawn cocktail. And I love prawn cocktail so I've worked pretty hard nailing down my technique.
But for this prawn curry I'm going a different route. Shallow fry. That's a restaurant trick. Coat the prawns in a bunch of flavour. Fry them. Enjoy.
It's a little trickier. There's a hard and fast formula for poaching. Controlled. Consistent results with zero stress. If you can work a timer you can poach shrimp.
Shallow frying is more about feel. Not precision. No formula here. Sorry about that. It's a bit of a test. Every pan is different. Every stove is different. I cannot tell you exactly how long to cook them.
But you don't have to full on guess either. There are guidelines here. You want to cook them until they just start to turn pink on the bottom. A hint of opaque up the side.

Then flip and repeat. Same story on the other side. You want to slightly undercook them. They will continue cooking as they cool. And they will likely cook a little more when you add them to the final curry.
It's a life skill. Part of getting your chops down in the kitchen. It's not trivial. But it's not impossible either. Have a little faith. You can do it.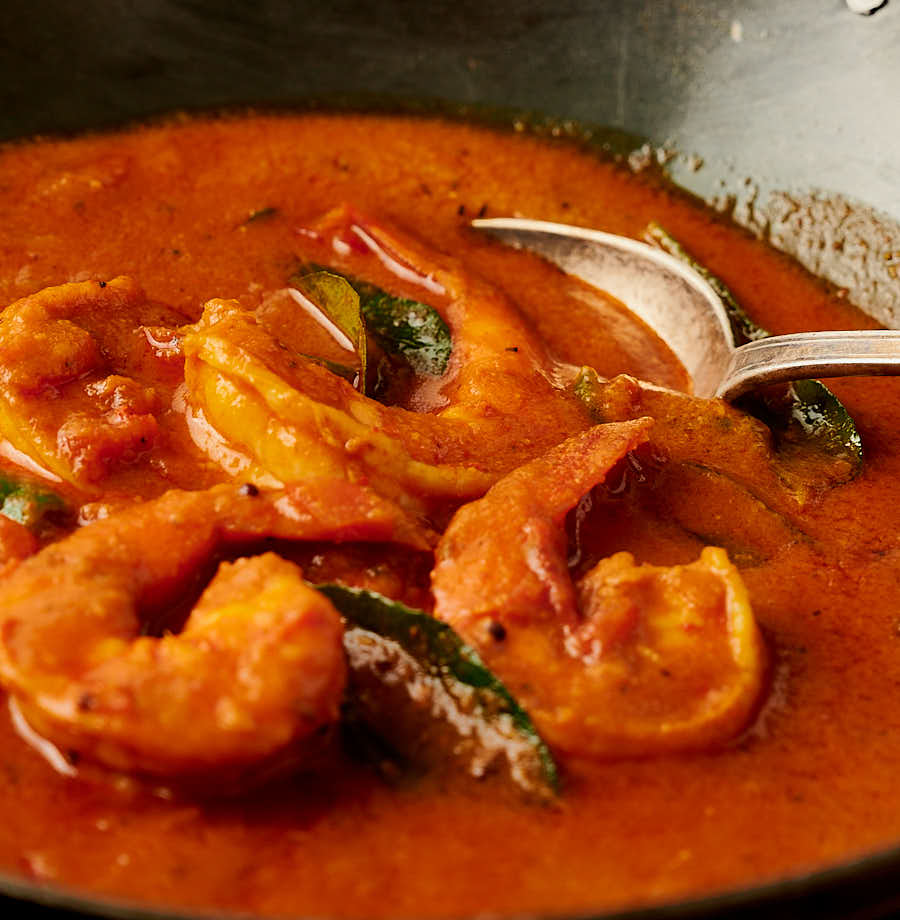 Restaurant style – real restaurant technique for real restaurant taste
This is a glebekitchen restaurant style recipe. That's pretty specific. It means you are cooking the same way they do in restaurants.
You'll get restaurant results if you pay attention. But you have to do restaurant style prep. No real way around it. I have an easy Indian restaurant series that comes really close if this is too much.
It means making curry base gravy. Not hard. But it has to be done. And it's best done ahead of time. You can portion it out and freeze it. Once you have this you can make restaurant curries in around 20 minutes, including prep.
You need to make Indian restaurant mix powder. That's just a fancy way of saying you need to make a spice blend. It's about as hard as it sounds. Measure out some spices. Mix. Done.
If this is your first time you probably should read this primer on making Indian restaurant curries. It covers everything in detail. There's also a video on technique.
This style isn't dead easy. There are a few techniques you need to get down. It's not impossible either. If you are able to make a meal that doesn't involve just opening a package you can do this.
It will take a bit of practice at first. But you can do it. I have faith. And so should you. You will be very happy with yourself when you get it down.
Prawn curry. Loaded with south Indian flavours. A lush restaurant style sauce. Perfectly done prawns. Are you feeling it now? I know I am.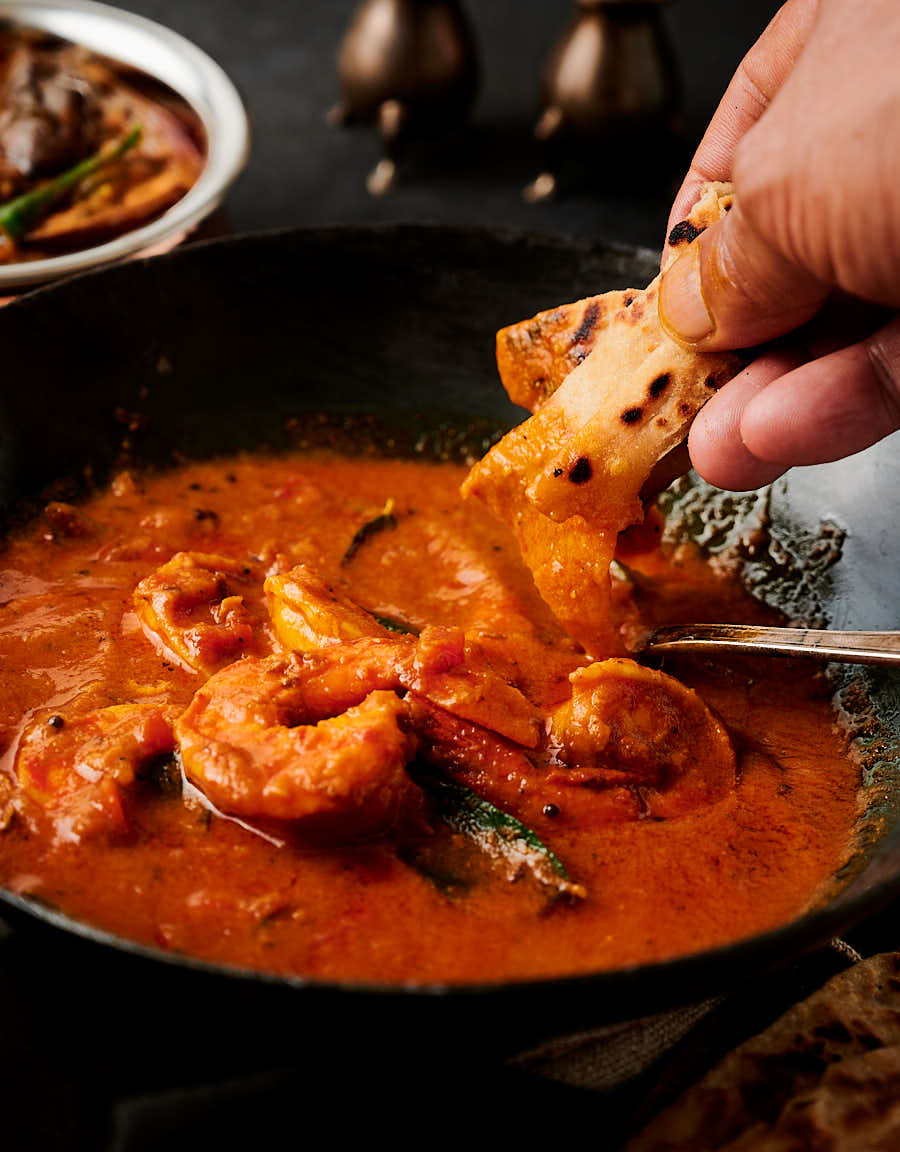 South Indian prawn curry
Indian restaurant prawn curry is loaded with big south Indian flavours.
Ingredients
Pre-cook the prawns
1/2

lb

prawns

16-20 count (that is 16-20 prawns per pound) so 8-10 prawns

1/2

tsp

turmeric

1/2

tsp

kashmiri chili powder

sprinkle of salt

enough oil to shallow fry the prawns

1

tsp

garlic ginger paste
The spice mix
2

tsp

indian restaurant spice mix

– recipe link below

1

tsp

kashmiri chili powder

1/4

tsp

black pepper

1/2

tsp

kosher salt
The curry ingredients
3

Tbsp

oil

– you can use the oil you fried the shrimp in. That's seasoned oil now.

3

cardamom

pods (green)

2

inch

cinnamon stick

cassia bark

1/2

tsp

mustard seed

1/4

tsp

cumin seed

12-15

curry leaves

fresh, not dried. If you can't get them fresh leave them out.

1

Tbsp

garlic/ginger paste

– recipe link below

2

green chilies

– cut in half lengthwise and then into 3/4 inch pieces. Seed the chilies to tame the fire a bit.

1

Tbsp

tomato paste

with enough water to dilute to the consistency of pasatta

15

oz

curry base

1/2

cup

coconut milk

(not coconut cream)

2

tbsp

tomato

diced

1

green chili

diced

the prawns from above

you are just warming them through in this step
Instructions
Pre-cook the prawns
Gently toss the prawns with 1/2 tsp turmeric and 1/2 tsp kashmiri chili powder. Sprinkle with salt.

Pick a pan that is just big enough to comfortably hold the prawns in one layer.

Add the oil and heat over medium low. You want enough to come up the sides of the prawns about 1/4 of the way up. That's why you want the smallest pan that fits. It will take less oil.

Add the garlic ginger paste and fry until it stops sizzling.

Cook the prawns until the bottom turns pink and they just start to go opaque on the sides. This takes somewhere between 30-45 seconds depending on how hot your pan is. Note that the times are for 16-20 prawns. You will need to adjust up or down based on the size of shrimp you use.

Flip the prawns and cook another 30-45 seconds or so. You don't want them fully cooked as they will cook a little more as they cool and then in the final curry. As soon as the slit in the back turns opaque you are done.
South Indian prawn curry
Make the spice mix.

Dilute the tomato paste with enough water to get to the consistency of passata.

Heat your frying pan (don't use non-stick) briefly over medium heat. Add the oil (you can use some of the oil from frying the shrimp). Use all the oil specified. It's important. You need that oil to bloom the spices. You don't want them to stick and potentially burn because you skimped on a bit of oil.

When the oil starts to shimmer add the cardamom and cinnamon stick. You should see little bubbles form around them. Let that go for around 20 seconds.

Now add the mustard and cumin seed along with the curry leaves. Stir and cook until the seeds start to crackle. This takes another 20 seconds or so.

Add the garlic ginger paste and large pieces of the two green chilies to the pan and cook, stirring constantly, until the paste stops sputtering.

Turn down the heat and add the spice mix. This is the moment of truth in any curry. Stir it constantly for 30 seconds. If it starts to darken lift the pan off the heat. You want the spice mix to cook in the oil but not burn. If it burns you are starting over. No way around it.

Turn the heat up to medium high. Add the diluted tomato paste immediately and stir until bubbles form (the oil will likely separate). This takes around 30 seconds to one minute depending on the heat.

Add 3 oz of curry base. Stir until you see small craters forming, around 30-45 seconds. If it takes much longer that's a sign that you can turn the meat up a bit more. Watch the edges of the pan. The curry can stick here. That's not a problem. Just scrape it back into the pan.

Now add 6 oz of curry base and stir briefly. Let it cook until the craters form again. This takes 1-2 minutes.

Add the rest of the curry base and let cook until the craters form. Turn the heat down to low. Add the coconut milk and stir.

Mix in the remaining diced green chili. Simmer for about 3-4 minutes.

Add the diced tomatoes. Stir to combine. Add the prawns and cook until they are just warmed through.

Serve with rice and/or parathas or chapatis.
Notes
The recipe for curry base is here.
The recipe for indian restaurant spice mix is here. 
The recipe for garlic ginger paste is here.
If you haven't read about Indian restaurant technique yet, do that before you start cooking.
Have all your ingredients prepped and ready to go.
If you are making multiple curries, have your curry base warming in a pot on the stove. If you are just making one, microwave it to warm it up right before you start cooking.
Nutrition
Serving:
2
servings
|
Calories:
494
kcal
|
Carbohydrates:
14
g
|
Protein:
26
g
|
Fat:
35
g
|
Saturated Fat:
12
g
|
Polyunsaturated Fat:
6
g
|
Monounsaturated Fat:
14
g
|
Trans Fat:
1
g
|
Cholesterol:
183
mg
|
Sodium:
1215
mg
|
Potassium:
784
mg
|
Fiber:
6
g
|
Sugar:
4
g
|
Vitamin A:
796
IU
|
Vitamin C:
134
mg
|
Calcium:
153
mg
|
Iron:
5
mg